I was languishing in the suburbs at my parents' house (like every recently graduated Millenial) when my two best friends started writing for this blog. Sure, I finagled my way as the designated driver or on hour-plus CTA rides to attend a few of their BYOB escapades, but I often found myself wistfully reading the blog post the next week, wondering what delightful bottom-shelf wines and witty banter I had missed.
Then, this spring I moved to a new apartment in Bucktown (close enough to the six corners to stumble there drunkenly, far enough to avoid drunk stumblers on off-days) and -- even better -- became roomies with my co-BYOB blogger, Ben.
Our new neighborhood is ripe for evaluation. But something amidst the quaint, hipstery, organic and grass-fed masses was lacking.
Enter The Lazy Parrot of the Caribbean. Owned by the same purveyors of Café Laguardia (on Armitage), the place promised Caribbean and Cuban-style foods and BYOB credentials. Ben and I anticipated a laid-back, affordable establishment where we could sip tropical drinks with umbrellas without fear of being judged for wearing fake TOMS or non-Warby Parker glasses. Plus, it's literally steps away from our apartment. Full disclosure: We were so excited about its opening, Ben and I literally pressed our noses against the windows to peer inside more than once this summer.
I finally visited the Lazy Parrot on the Friday of its opening week, and it easily lived up to our self-perpetuated hype.
The décor was a welcome departure from the exposed brick, curated art collections and "industrial chic" style that has been so popular at other eateries in the area. The host station is styled as a tiki hut, the bar is lined with reeds and the back wall displays painted palm trees. No pretension here at all.
Both the hostess and the server were very polite and gracious despite the fact that we arrived after 10 p.m., dying of hunger and already a bit buzzed. A glance at the menu revealed tons of delicious-looking dishes that probably would not have treated our stomachs well at such a late time. No matter. We ordered the Lazy Parrot nachos to start; that dish will probably become a mainstay of our dinner parties from now on. The cheese, guacamole, sour cream and tomatoes are arranged on individual fried plantains, avoiding the nasty conundrum of typical nachos where some chips are drenched in toppings and others are left out.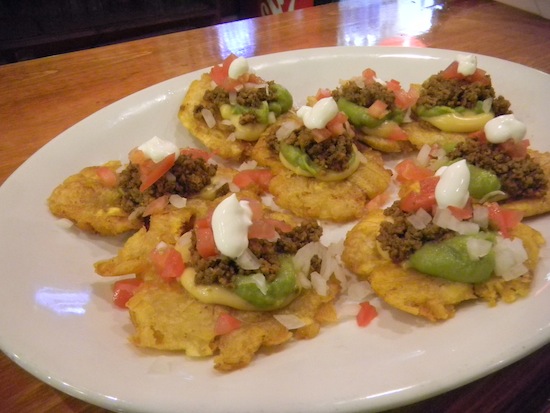 The perfect fried crispiness of the plantains boded well for me, since I had ordered the jibarito steak sandwich, which is served between two fried plantains instead of bread. I barely noticed the oiliness of the sandwich in my hands, because the steak was perfectly seasoned and cooked, and the combination of tastes was heaven.
My friend Eric said he was impressed by his roasted pork sandwich. He's the kind of foodie who is always complaining about things being too sweet or too salty, so when he said the pork was moist and well-seasoned, I was surprised and a bit suspicious. After all, we were really hungry.
Andrew is the opposite. I don't even know what he ate because it disappeared from his plate within two minutes of being placed on the table.
We gave unanimous ups to the nacho cheese sauce, which was delightfully gooey in a way that told us it probably wasn't real cheese, but it was delicious anyway. The server kindly brought out an extra cup for no charge. Then, we dutifully poured it over the remains of our sandwiches that had fallen to our plates during the initial scarfing.
The only negative point of the meal was entirely my fault -- I had ventured to a nearby bodega to grab some booze for the event. In an effort to not over-pay for beer, I went for a sixer of Corona, which I thought was reasonable at $7.99.
Then we pulled out a few bottles at the restaurant and realized I had actually bought a pack of "Coronitas," or 7-oz. bottles. So disappointing. We quickly made up for the loss by consuming tall boy PBRs as well. But they certainly didn't jive as well with the palm tree/sunset scene behind us.
After chatting more with the hostess, who turned out to be the daughter of the owner and chef, we found out that the restaurant will only be BYOB until next February, in time for Valentine's Day, she said. Then, they will have a full menu of tropical drinks -- decorative umbrellas not confirmed.
In the meantime, the restaurant plans on a grand opening on September 1, when they will begin selling virgin mixes of popular drinks like margaritas. That's right, they are also BYOT (tequila) or any other liquor that would be suitable for mixing. Call me a return customer.
TLDR: The Lazy Parrot serves up affordable, delicious Caribbean food with eager-to-please service. Definitely order something involving fried plantains. It's only BYOB until it gets a liquor license in February, so if you want to booze on your own terms, try it soon.

Food: 4.5/5

Atmosphere: 3/5

Friendliness to Partiers: 4/5
Price: Caribbean Ox Tail Special, $19.25; Lazy Parrot Nachos, $7.60 (pictured with ground beef, +$2); Cuban Sandwich, $6.45
The Lazy Parrot of the Caribbean
2257 W. North Ave
Chicago, IL 60647
(North and Oakley, between the Damen and Western stops on the Blue Line)