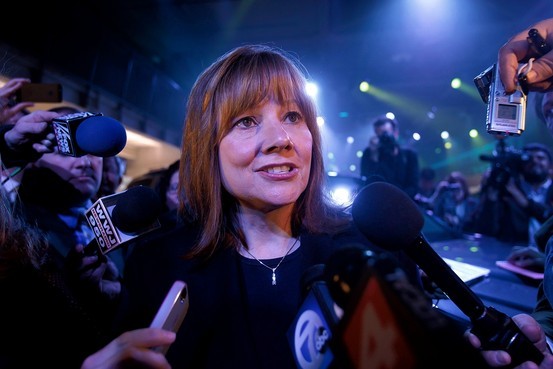 Wednesday marked the first day of work for Mary Barra, the newly-appointed CEO of General Motors.
As she sits down for the first time in the corner office, she'll have made history as the first female chief executive of an American automaker and now, only the 23rd woman currently running a Fortune 500 company.
And she'll find it is, indeed, lonely at the top.
The more chief executives I talked to for my book, Work Smarts: What CEOs Say You Need to Know to Get Ahead, the more they confessed how lonely the job is. Put aside the perks, the accolades, the power -- running a business, whether it employs 50 or 15,000 -- can be isolating.
According to a 2012 study by RHR International, 50 percent of the CEOs surveyed who ran businesses topping out at $2 billion in revenue said they experienced loneliness in their jobs. Sixty-one percent believed the isolation hindered their performance. It was worse for freshman CEOs.
As John Chambers, the CEO of Cisco, who has run the company for nearly two decades told me:
"It is one of the loneliest jobs in the world. You ask any CEO who's really been in the firing line . . . you might need to say, 'Is leadership really lonely especially when you're under pressure?' and you can watch their pupils dilate if you hit the person who's been through that. It is really lonely."
You can imagine then how much more isolating and distorting it can be when you're one of the few women in the country running a major corporation. Already, Mary Barra has become a rockstar CEO and she hasn't even begun. Reporters trailed her around the floor of the Detroit auto show like a mob of paparazzi, as if anything could outshine the gleaming hunks of steel surrounding her.
Marissa Mayer is another instant celebrity CEO. That is worrisome, some of her peers told me. Beautiful, smart and young, she still has yet to prove her strategy is going to deliver. Already, the sniping is underway that the real person to thank for Yahoo's resurgence is Jerry Yang, the former founder who made the lucrative investment in Alibaba. "You never want that much attention on you. That's when you start getting worried," one Wall Street executive told me.
And yet it can't be helped. Female CEOs get more invites to speak than U.S. presidents. They can be revered more than necessary and judged more than they ought to be. Until the demographic math works the other way, the situation is unlikely going to change. I'm sure many women hope one day, Barra won't be described as a "woman CEO" but just a plain, old "CEO."
Until then, women like Barra will find it is indeed lonely at the top, but it is exactly where they want to be.
--------------
If you liked this post, you'll love reading "Work Smarts: What CEOs Say You Need to Know to Get Ahead." You can purchase it on Amazon.com or get signed copies on her website, www.betty-liu.com. Please also sign up for her newsletter!
Betty is an Anchor and Editor-at-Large at Bloomberg Television.