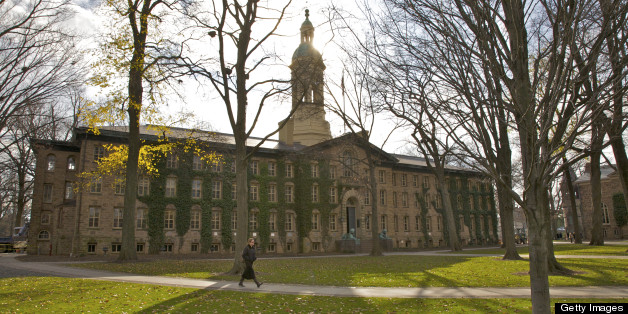 There are only a few remaining shopping days for Princeton coeds in the 2013 graduating class to capture a mate before the June 4 Commencement, according to the Princeton Tiger Mom (PTM). You know, the one who wrote a letter to The Daily Princetonian called, "Advice for the Young Women of Princeton."
In it, she writes: "For most of you, the cornerstone of your future and happiness will be inextricably linked to the man you marry and you will never again have this concentration of men who are worthy of you... Find a husband on campus before you graduate."
Really?! Her post-feminist manifesto on marriage and motherhood and career is worthy of Amy Poehler's tag line on SNL's "Weekend Update." Are women dependent on a man for their future and happiness? What about married women who have to deal with the Dreaded D's: death, divorce, disease, downsizing and depression? How many men and women are ready to commit to marriage at 21? Remember, the only time you can change a man is when he's in diapers. Her retro rhetoric is reminiscent of the "ring by spring" mandate for coeds to get engaged by graduation.
PTM later asserts in her letter that, by the time the women are seniors, "You basically have only the men in your own class to choose from and frankly, they now have four classes of women to choose from." She assumes men only marry younger women. See Agatha Chrisitie's advice on marrying younger men, below. Hint: Christie was a cougar!
I suspect the infamous letter was PTM's strategic ploy to create a media firestorm and public platform to get a book deal, a radio show, speaking engagements and fame and fortune. Perhaps she wants to star in "The Bachelor's Mother," "Real Housewives of Princeton," or "Worst Mothers From Hell." Or maybe she wants to start a PUDate.com matchmaking service for herself and her oh-so-eligible son, a Princeton junior, whose "universe of women he can marry is limitless." She notes, "My older son had the good judgement to marry a classmate but he could have married anyone." Really?!
Hence, PTM's name is purposefully not acknowldeged here. I do not wish to give her further publicity. Privately, I think of her as PTM (Provocateur/Parasite Terror Mom).
At a recent lecture, PTM elaborated on her marriage message by declaring, "A woman looking for a husband in her 30s gives off total desperation." Really?! How old was PTM when she married the man from the "school of almost no name recognition... that nobody has respect for?" Shockingly, the 27-year marriage recently ended in divorce. So now, PTM is linking her future, happiness, identity, self-worth and career with her two homemade Princeton princes.
Glass Ceiling vs. Glass Slipper: Lean In A Career Or Lean On A Husband
As Gypsy Rose Lee said, "You gotta have a gimmick." PTM espouses that young college women should lean on a husband and not lean into a career. The massive media coverage about the letter evoked a lot of attention and discourse, but did not include investigative reporting with backup data.
For example, did PTM consider or consult with her sons before submitting the letter? What is the response from her sons, the men at Princeton, and men in general? Were her sons admitted as legacy applicants? What is the data on Princeton marriages and young marriages success rates over all? How does the U.S. compare with other nations regarding marriage and motherhood and career issues? Why did she date, and then marry, a non-Princeton man?
Pity her daughters-in-law.... or will she accept a Princeton man as her son's mate? If she has her way, her grandchildren will enter the world swathed in a Princeton orange onesie and an application for early admission.
As the founder of two databases, "Celebrate Women Every Day In History & Making History Today - 365-Days-A-Year"* and "Celebrity Weddings & Love Stories - 365-Days-A-Year,"* I continuously study the convergence of women's personal and professional lives.
In the film Admission, the student tour guide showing prospective students around Princeton asks them to play a campus game, "Can you find the Nobel Prize winners?", because the university claims so many on its faculty and staff. PTM advises coeds to play, "Can you find your husband by graduation?"
Ironically, Tina Fey, who stars as a Princeton admissions officer in the film, was rejected by the university. She graduated from the University of Virginia with a BA in drama in 1992. Fey proves women can succeed without a Princeton degree or Princeton-pedigreed husband. PTM is the perfect prototype for a mean moms update to Mean Girls.
As an award-winning actress, comedienne, writer and producer who, at 40, is the youngest honoree of the Kennedy Center Mark Twain Prize for American Humor, Fey gets the last laugh. She was the first woman writer on SNL in 1999. Fey met her husband, Jeff Richmond, a composer, at Chicago's Second City comedy troupe. He graduated from Kent State University, where he co-authored campus musicals. They wed in 2001, following a seven-year courtship. She was 31; he was 40. They have two daughters. Happiness and success are the best revenge!
"Pioneer Woman?" No. Pining Women? Yes.
PTM identifies herself as one of the "pioneer women" to integrate Princeton. Actually, she was in the fifth coed graduating class, and I've compiled a list of female Princeton grads who, to me, can more justly be called "pioneers" in their respective fields:
Lisa Najeeb Halaby graduated with a BA in architecture and urban planning in Princeton's first coed class in 1973. She didn't settle for a mere Princeton prince. Halaby married King Hussein of Jordan in 1978 after meeting him at work, and became Queen Noor. She was 27; he was a 42-year-old widower. She had four children and three step-children, and is an international philanthropist.
Meg Whitman, BA in Economics in 1977, met her husband, Dr. Griffith Harsh, a neurosurgeon, when she was a sophomore and he was a Harvard senior. Her older sister tutored in his dorm and introduced them. A prescient indicator of her future callings, she made the bold move of inviting him to her sister's wedding for their first date, along with several other men for backup. Whitman earned her MBA at Harvard and married the day after he graduated from Harvard Medical School in 1980. She was 24; he was 27. The president and CEO of Hewlett-Packard, a self-made billionaire, donated $30 million to Princeton. The Whitman Residence College was inaugurated in 2007. They have two sons. (Methinks PTM doth protest too much. Perhaps she is jealous of her '77 classmate? )
Sonia Sotomayor, BA in History in 1976, graduated from Yale Law School in 1979 and was appointed to the Supreme Court in 2009
Elena Kagan, BA in History in 1981, graduated from Harvard Law in 1986. She became the first woman Dean at Harvard Law in 2003 and was appointed to the Supreme Court in 2020.
Michelle Robinson, BA in Sociology in 1985, graduated Harvard Law in 1988. She began her first job at a prominent Chicago law firm. A first-year Harvard Law student was assigned for her to mentor as a summer associate. At first, she was reluctant to date a coworker, but he had the audacity of hope and she agreed to spend a day with him. He proposed at a dinner, under the guise of celebrating finishing his bar exam, and had the ring served with the dessert course. She married Barack Obama three years after they started dating, in 1992. She was 28; he was 31. Obama was reelected president in 2012. They have two daughters.
Best-selling novelist Jennifer Weiner, BA in English Literature in 1991, married Adam Bonin in 2011. She was 31; he was 28. Her colleague at the Philadelphia Inquirer introduced her to the Amherst and University of Chicago law school grad. She knew he was the one when she shared the manuscript for her debut novel, Good in Bed, and he loved it. That was the first of her ten New York Times best-sellers. They have two children. Weiner was a senior and co-founder of the Organization for Coeducational Eating Clubs when the last all-male club was forced to admit women.
Since the days of these first pioneering women, the number of impressive female graduates
has only grown.
The Women's Center was founded in 1971, and a women's studies program was created in 1982, comprised of leading feminist scholars. Shirley M. Tighman became the first woman, and 19th president of Princeton, in 2001, breaking a 255-year-old male tradition. The class of 2013 is the
first to include equal numbers of male and female
students, forty years after the first coed class graduated.
I wonder if PTM would consider a college dropout to be a suitable mate... Bill Gates, Steve Jobs and Mark Zuckerberg are college dropouts. All of them married up, to women with graduate degrees from prestigious colleges. Melinda French met Gates working as a project manager at Microsoft. Valedictorian of her high school class, she earned BA in Computer Science and Economics and MBA from Duke University. She is an international philanthropist. They have three children.
Laurene Powell met Jobs when he spoke at Stanford Business School. She earned BA in Economics from the University of Pennsylvania and MBA at Stanford. She is a global philanthropist. They had three children. Priscilla Chan, a pediatrician, met Zuckerberg at Harvard. She was valedictorian of her high school class. They dated for nine years and wed days after her medical school graduation from the University of California, San Francisco. She influenced him to create an organ donor registration initiative on Facebook.
Agatha Christie Solves The Mystery Of A Good Marriage
Dame Agatha Christie, the world's best-selling author, advised: "An Archeologist is the best husband any woman can have; the older she gets, the more interested he is in her."
Christie's first husband divorced her to wed his mistress, leaving her with a 9-year-old daughter. She was fascinated with archeology and met Sir Max Mallowan on a dig. They married six months later. She was 40; he was 26. They were happily married for 45 years until her death.
Graduates' Choices: Lean In. Ring In. Dig In.
Sheryl Sandberg advises women who aim for top leadership positions, to "lean in" to advance their careers. PTM counsels women to ring in their groom before college graduation.
Broadly speaking, will the campus go into lockdown on June 4 so senior tigresses may take their final plunge to capture their prize prey on the Princeton preserve?
Graduates: Take a clue from Agatha Christie and me. As you march out FitzRandolph Gate into the real word, the cornerstone of your future and happiness is ultimately within yourself, not your mate. Pursue your personal and professional dreams. Dig in! Get a life! Really! Congratulations and good luck!
* June 4 in Women's History: "Celebrate Women Every Day!"

U.S. Senate passed the Nineteenth Amendment to the U.S. Constitution, granting women the right to vote, following 70-year campaign.

Source: "Celebrate Women in History & Making History Today - 365-Days--Year Database"
Founder: Beverly Wettenstein

* June 4 in Wedding History:

Billy Crystal married Janice Goldfinger in 1970, upon earning BFA from New York University. He pursued stand-up comedy career and cared for their infant daughter while she worked at a local college theater. He says she was his first and only date.

Source: "Celebrity Weddings & Love Stories - 365-Days-A-Year Database"
Founder: Beverly Wettenstein