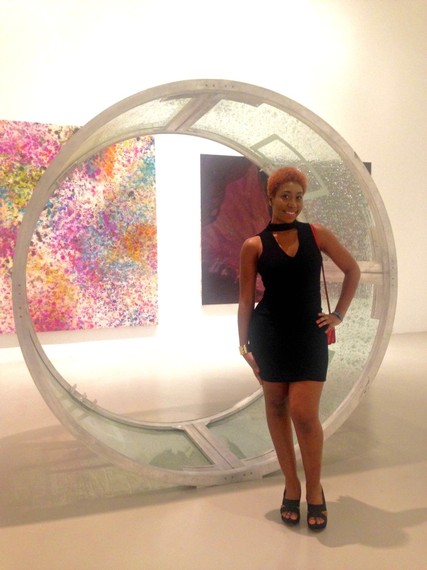 Kimberlyn McKoy, De la Cruz Collection in Miami Design District
By: Jaynelle Stewart

At just 23-years-of age, Kimberlyn McKoy is already making important moves in the art world.
After leaving George Washington University where she studied art history and fine art with a concentration in ceramics, she landed a job as a Curator at Picture That Art Consultants, a company that creates and purchases art collections for corporate entities including hospitals.
As a supplementary gig, The White Plains, N.Y. native curates for XY Atelier, an art gallery on the Lower East Side that encourages emerging artists to break boundaries with their work.
We caught up with McKoy as she prepares for her latest show at the gallery to find out what inspires her work and how she chooses the artists she works with.
BCB: Tell us a bit about the current exhibit that you curated.
KM: The exhibition is called Tiptoeing on the Edge of a Rainbow, a title which came solely from the artist's (Matthew Samuels) mind and falls directly in line with the artwork he creates. It's a fun show, very light hearted and the work is crisp and satisfying to look at because of it's geometric patterns. The artist actually initially reached out to me for an opportunity at Picture That, but I saw much potential in his work in a different light and also his work ethic, so I redirected him to my side project at XY Atelier. He was persistent, always followed up asking about new projects and its hard to find an artist like that so I immediately jumped on the opportunity. At this point I'd never curated an exhibition before, but I was confident that I could pull it off based on my experience at Picture That, my education, and just my intuition. I was ready to put these skills to use.
BCB: What is the inspiration behind the exhibit?
KM: Ideas constantly float around in my brain about the artwork I see, and I see a lot. It's sort of like I mark it and save it for later. So my artist, Matt, was a mark and save for me that finally was brought to life. I love abstract work - I think its always relatable and that's really important for the viewer. I also am a fan of color, not just one color, but all of the colors together, which Matt's work often contains. It gives you a euphoric feeling and to be completely surrounded by objects like this is sure to have everyone in a good mood.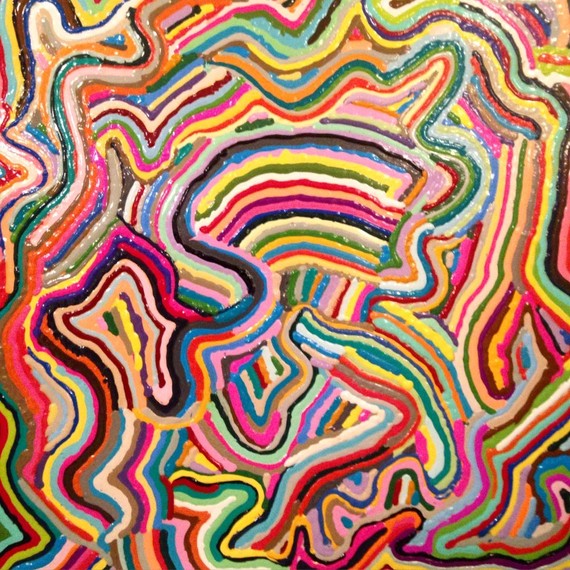 Artist: Matthew Samuels (Westport, CT), Skipping Stones on the 4th of July, 36 X 36 in, Acrylic on canvas, 2015

BCB: What can people who attend expect to see overall and describe the largest wall and what people will see on that part of the space?
KM: Color. Lots of color and patterns throughout the gallery. The largest wall will display the most striking work - Matt's signature splatter paintings, which he creates by heating up acrylic paint, in order for it to have better viscosity and thus better control while flicking, dripping, and splashing the paint onto the canvas. The idea behind this wall was that it would sort of be a false mural. The whole wall would be covered with artwork but there are still canvases hung. There is no paint directly on the wall. The verticality of the canvases is interesting because it shows how versatile the work is. It can be hung either vertically or horizontally depending on how you like it, depending on the space it is in.

BCB: How long have you been curating art?
KM: I would say professionally 3 years, but my first internship when I was 17 at the local town hall with an arts and culture director was the first opportunity I had to curate. My manager told me that curating can be based off of whatever you're feeling at the moment, whatever patterns you see or know about the set of artwork and that I should trust that. That's why my intuition is so important to me, however immeasurable it may be.

BCB: As a curator what do you look for to inspire how you choose or display the work for this exhibit and others?
KM: If I like a work it's natural for me to want to know more about it especially how it was created. I look to the artist for context; in Matt's case I asked him more about his process which proved to be quite interesting. I'm really big on process and medium so I can drill down on that for hours. More questions will keep rising and the physicalities of the artwork give me clues on what to ask.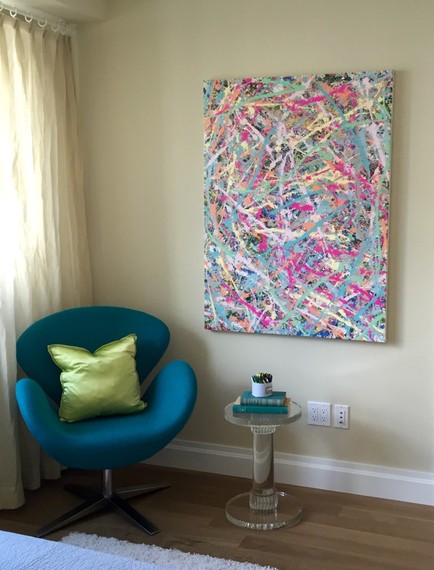 Artist: Matthew Samuels (Westport, CT), Tiptoeing on the Edge of a Rainbow, 48 X 36 in, Acrylic on canvas, 2015
BCB: Talk a bit about the artist, Matthew Samuels and his splatter paint artwork. Describe how it looks and what inspires his work.
KM: Matt travels between his studio in Westport, CT and his apartment in NYC. He has exhibited with numerous galleries in New York and Connecticut and is also included in many notable collections such as the Housatonic Museum, Bridgeport, CT and Lenox Hill Hospital, NY, NY. He's really an experimental artist with no formal training, who strives to find himself through his artwork. He believes that not attending art school was actually for the better because it freed him from the pressure of creating artwork the way society thinks it should be created. He left his job at CBS to become a full-time artist and that's the kind of dedication that can be seen in his work. The rich color appears carefully considered in his most intricate work...and even in his more looser work, such as the splatter paintings, patterns can be seen. If you look at the artist's body of work as a whole, it's controlled which is in parallel with his personality. He has a set process that he likes to stick with but part of that process is not being afraid to step outside of the lines. I believe this is the reason his artwork can be seen in corporations, private residences, and also galleries. It's been a pleasure working with him and I know that the show will be a great success.
BCB: When and where can people attend the show?
KM: The show opens during Armory Arts Week - Saturday, March 5th and it runs through March 20th, 2016. You can see Tiptoeing on the Edge of a Rainbow at XY Atelier at 81 Hester Street, NY, NY.
Visit BeyondClassicallyBeautiful.com to read more content that celebrates the diverse beauty of black women.
Follow Beyond Classically Beautiful on:
IG @BeyondClassicallyBeautiful
Facebook.com/BeyondClassicallyBeautiful