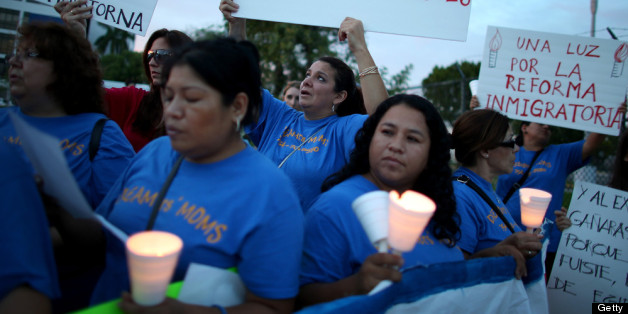 Click here to read an original op-ed from the TED speaker who inspired this post and watch the TEDTalk below.
As I write this, our leaders in the Senate have completed their debate over landmark immigration reform and by the time you read this they will have voted in favor of its passage. This is unprecedented in recent times because, a) little that is "landmark" gets a green light on Capitol Hill these days; and b) we have support on reform from both sides of a deep political divide. While we wait as the Senate passes the baton to the House, I would encourage our leaders to take some inspiration from Hyeonseo Lee's riveting narrative of one immigrant's journey. Granted, her delivery is deadpan and moving from being indoctrinated in the north to fluency in English and worldly freedoms in the south of the Korean peninsula may all seem a bit too "foreign" for our legislators. But Ms. Lee speaks the universal truths of the immigrant experience: a dream, of place not one's own; a journey, quite distinct from travel of any other kind; and what, V.S. Naipaul has so eloquently described as the "enigma of arrival." Her story is simultaneously, harrowing and inspiring; every immigrant can find a tiny piece of their life in it.

Regardless of whether one comes by rickety boat, swims the Rio Grande or flies in on Lufthansa (as my wife and I did), the immigrant's narrative is a powerful one. There is a standard cliché that has been put into service by the Left to justify reform: we are a country of immigrants. I disagree. We are a country that is an accumulation of the results of immigration, but the majority of us have experiences and concerns that are fundamentally American. We perennially fall into the trap of becoming overly concerned about what is going on in the U.S. and despite the status of being the sole world super-power and with our global ambassador, McDonald's, operating in 122 countries, we, on average, care too little about the rest of the world. The ongoing presence of the recent immigrant in our midst is a reminder to not forget that if we go a few generations back most of us came from somewhere else. And that "somewhere else" is a part of the world that we as Americans should care about -- for political, business, security and sociological reasons. We need a jolt, a reminder, of what it means to be an immigrant.
I am also, disillusioned by the implicit left-brain rationale from the Right for reform: a political calculation that rests on two facts. Fact One: about 71 percent of Hispanic voters and about 73 percent of Asian-American voters voted in favor of the winner of the 2012 U.S. presidential election. This came on top of a whopping 93 percent of African-American support. Fact Two: Asians and Hispanics are the fastest growing demographic in the U.S., according to the Pew Research Center. By 2050, only 47 percent of the U.S. population will be white.
As a realist, I have nothing against political calculation. I would simply like some inspiration to also be a part of the rationale behind "landmark" legislation.
This is where Ms. Lee can be of service. By the way, her tale is not entirely alien. Many of its elements will resonate with immigrants of all stripes who face Kafkaesque challenges right here in the U.S., in a way that parallel Ms. Lee's experiences in China, South Korea and Laos. Consider the fact that the backlog of cases of undocumented immigrants in U.S. courts is now 26 times larger than what it was in the year 2000. Yes, 26 times. About 11 million live illegally in this country. And the president who won the 2012 election has presided over the largest volume of deportations than any U.S. president in history. While three-quarters of those removals are convicted criminals and repeated immigration violators, this speaks volumes of the indignities that are borne by all the others who have to be "processed" by our system.
A wholly different kind of potential immigrant, the freshly-minted foreign graduate with an advanced degree from a U.S. university -- key to America's innovative future and global competitiveness -- faces obstacles of a different kind: the H-1B visa cap, job insecurity or of being trapped within the wrong employer or the interminable wait for permanent residency.
So, dear leaders, take 12 minutes and 15 seconds out of your busy calendars and watch the talk of the young woman who escaped from the land of the Dear Leader. Let us get this bill passed and send a document that the president can sign into law. For sheer doggedness and spirit of entrepreneurship, I would say, Ms. Lee herself deserves American citizenship. After all, she already is here permanently -- and everywhere on the planet -- on a TED visa.
Bhaskar Chakravorti is the Senior Associate Dean for International Business & Finance at The Fletcher School, Tufts University and founding Executive Director of Fletcher's Institute for Business in the Global Context. He is the author of the book, "The Slow Pace of Fast Change."
Ideas are not set in stone. When exposed to thoughtful people, they morph and adapt into their most potent form. TEDWeekends will highlight some of today's most intriguing ideas and allow them to develop in real time through your voice! Tweet #TEDWeekends to share your perspective or email tedweekends@huffingtonpost.com to learn about future weekend's ideas to contribute as a writer.