Lemon-Almond Cake is my new favorite summer dessert. It has so few ingredients and such a fresh, clean taste, I can't help but want to make it for every dinner party, every box of treats, every day.
One of its best traits is having no butter in it whatsoever. This is good for a few reasons, none of which is health. The main reason is Alex, my boyfriend, who is the best, strictest non-dairy eater in existence. When I bake for him, I love making recipes that have no dairy in them to begin with than those that require substitutions like margarine or oil. There are a lot of good oil-based cakes, like Carrot Cake and Chocolate Chip Banana Bread, of course. But those are fall and winter cakes. I think summer needs a different kind of sweet altogether.
Of course there's ice cream, sorbet, popsicles, fresh fruit and the other summer desserts that don't require you to turn on the stove. But even though all those are great, they aren't cake. Plus you can easily have a scoop of ice cream on this cake, which is what Alex's family did when I sent him home with a tinned one last month. That's another great thing about this cake--that though it's dairy free, it's not the kind of dessert you need to shield dairy eaters from, the kind that tastes every so slightly like margarine or soy milk.
The requirements of a summer cake that I can think of are that it is light and flavorful. When eating dessert after dinner, in the summer months, this seems to trump heavy, buttery, and chocolate-y confections. (Desserts like bread pudding, chocolate layer cake, and chocolate mousse cake are often things I'd rather eat as an afternoon snack anyway, as a small meal where they get all my attention and stomach space.) After lunch or dinner, a slice of this cake, which is sweet and tangy with lemon, won't weigh you down, or so overwhelm you that you forget what you ate for dinner. The egg whites and almonds give the cake its texture, somehow airy and dense all at once. I have a crazy idea to make it with pistachios and orange zest...I just can't stop imagining how good and green that cake would be.
As an aside, I have a 7-inch cake pan, which makes a really nice-sized dessert for small dinners or for gifts. It's what's pictured below--I guess I think there's something dainty and cute about it. But if you're baking in a 9-inch pan, I've included the recipe with larger proportions so more people can enjoy this cake.
--Cara Eisenpress of Big Girls, Small Kitchen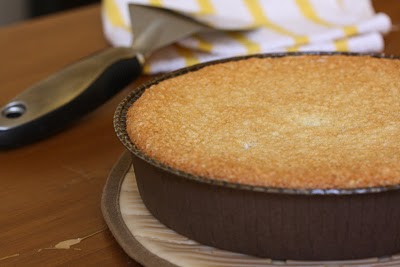 Lemon Almond Cake
Adapted from Marcella Hazan
While this cake is good enough to stand alone, it's great with strawberries and cream--or, I hear from Alex, strawberry ice cream.
Ingredients
6 ounces, shelled, unpeeled almonds (about 1 1/4 cups)
3/4 cups granulated sugar
5 egg whites
1/8 teaspoon salt
1/8 teaspoon cream of tarter
zest of one lemon
3 tablespoons plus 1 1/2 teaspoons flour
butter or oil for greasing the pan
7-inch round springform pan
Preheat oven to 350 degrees. Generously grease the pan.
Put almonds and sugar in a blender or food processor and pulse to grind to a fine consistency.
Beat the egg whites with the salt and cream of tarter until they form stiff peaks.
Sprinkle the ground almonds and the grated lemon peel over the egg whites, a little bit at a time, folding them in gently but thoroughly. The whites may deflate a bit, but fold carefully so as to keep as much volume as possible.
When the almonds are nearly incorporated, gradually shake the flour through a strainer over the mixture, continuing to fold it in as you go. Stop as soon as all the dry ingredients are mixed in.
Pour the batter into the pan, and gently spread it evenly around. Bake for 25-30 minutes Test the center of the cake by piercing it with a toothpick: if it comes out dry, the cake is done. If it does not, bake a little longer.
Let cool on a rack. After about 20 minutes, unlock the pan and loosen the cake from he bottom. Cool completely. Enjoy!
For an 8 or 9 inch pan, which is more standard, these are the proportions you should use:
10 oz., shelled, unpeeled almonds, about 2 cups
1 1/3 cups granulated sugar
8 egg whites
1/4 teaspoon salt
1/4 teaspoon cream of tarter (optional)
zest of 2 lemons
6 tablespoons flour
9-inch springform pan
butter or oil for greasing the pan
Follow the same directions, but bake for 45-50 minutes.