'Tis the season for relocation in New York, or so it seems. Perhaps it's the wide availability of once overpriced junior one bedrooms for a fraction of the price, or the large newly renovated Williamsburg lofts standing empty, but for some reason all of my friends seem to be moving these days. And more so than the requisite birthday fete, now more than ever, the new chapter of apartment living seems to call for a gathering, sometimes much larger than the new but still very tiny apartment.
In New York, the housewarming becomes very literal, as many hike the four floors to their friend's new walk-up, arriving out of breath and sweaty. At these events, there might be a stray cheese platter or two, but for the most part, the guests wind up vying for the one ice cube yet to fall victim to the collective body temperature created by the guests and unventilated in the tenement-like surroundings.
But sometimes as we move up in the world and upgrade our digs, albeit up a few floors and without an elevator, the occasion calls for a slightly more grown-up affair. A dinner, if you will. Most of the time the host handles the menu, and the warming assigned to the guests consists of wine, or if you really want to heat things up, a bottle of tequila. But in my world, the best way to warm my friends' hearts and homes is through their stomach. And for a foolproof roof raiser, this means one thing: chili.
Over the course of many Mexican-themed meals, I've come to understand just how much my friend Rodrigo loves chipotles. The fact that this is his self-proclaimed favorite food shouldn't come as too much of a surprise, considering he is from Tijuana. But somehow it doesn't cease to make Rodrigo (or me) happy when every time he comes over for dinner, some large amalgamation of smokey chipotle chiles are served, and all of the non-Mexicans in the room are popping Zantac and reaching for water.
One of these more notable evenings was a Chili Cook-Off, when my friend Keith and I went head to head, him with his Spiked Meat-Lover's Chili, and me with my Smoky Chipotle Vegetarian version. After initially scoffing at me for even daring to enter a chili contest with a veggie option, Rodrigo came around to the power of his favorite ingredient and shot me a mischievous, satisfied smile.
Perhaps it was this memory that led Rodrigo to invite me to be the "celebrity" guest chef at his housewarming. Or, on the other hand, maybe it was this memory of mine, and the fact that Keith was attending, that led me to bring over a 10-pound pot of chili to serve for the occasion. This time, it was a brisk October evening, one that in my mind called for brisket. The rich meaty pumpkin chili did its job to warm us, and we washed it down with some pumpkin ale, nearly disastrous jalapeno-cheddar scones for dipping, and a beautifully crafted apple tart for dessert.
The chili was a huge hit, and since it simply needed to be popped in the oven for a few minutes before serving, I managed not to over-heat my hosts. Whatever the fire or flavor, I was content to see the famous Rodrigo smile in his brand new, shockingly adult apartment, surrounded by plenty of friends (spice-loving and not), all reaching for water and an extra dollop of sour cream. Next time, all I need is someone to help me up the stairs.
--by Phoebe Lapine of Big Girls, Small Kitchen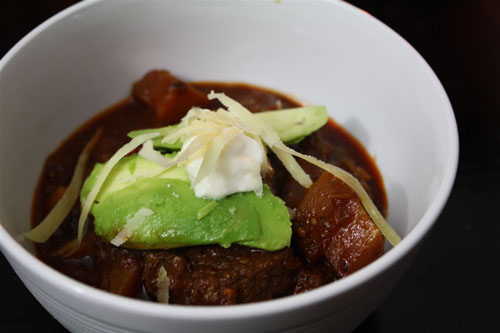 Autumn Brisket & Pumpkin Chili
8 servings
Based on the Bon Appetit Texas Chili Recipe by Bruce Aidells
I've made the Bon Appetit Texas Chili from last year's November issue and it was a huge success. To shake things up a little bit, I decided to use pumpkin instead of butternut squash, and I added chipotles to pack on the heat. The original recipe came out rather mild, and I felt it necessary to incorporate my Mexican host's favorite type of chile. You can certainly use just the ancho and the butternut squash from the BA version -- it's really a wonderful recipe.
Ingredients
For the chili:
3 oz dried ancho chiles, stemmed, seeded, coarsely torn
6 ounces beef bacon, diced
1 large vidalia onion (1lb), diced
4 lb beef brisket, fat trimmed, cut into 2 inch cubes and seasoned with salt and pepper
6 large garlic cloves
3-4 canned chipotle chilies in adobo (& 1 tbsp juice)
2 tbsp chili powder
1 tbsp ground cumin
1 tsp dried oregano
1 tsp ground coriander
2 tsp salt
1 12oz bottle Mexican beer
1 7-ounce can diced roasted green chiles
3 10oz cans fire-roasted diced tomatoes with chipotle
1/2 cup finely chopped fresh cilantro stems
4 cups seeded peeled pumpkin (from 3 ½ pound pumpkin), cut into 1 1/2 inch chunks
For Garnish:
Sliced avocado (doused in lime juice to prevent browning, and add flavor)
Shredded sharp white cheddar cheese
Sour cream
Preheat the oven to 350 degrees.
In a medium bowl, pour boiling water over the ancho chiles to rehydrate them. If they float to the surface, use a small bowl to submerge them. Set aside.
In a large oven-proof Dutch oven, heat 1-2 tablespoons of olive oil over medium-high heat. Saute the bacon until browned all over. Turn the heat down to medium, add the onions and continue to sauté until tender. Stir in the beef and return the heat to high.
While the beef cooks, at the garlic, ancho chiles, chipotle chiles, and 1 cup of the soaking liquid to a small food processor. Blend until smooth.
To the pot, add the chili mixture and the spices (chili powder, cumin, oregano, coriander, salt) and toss to coat. Cook for a few minutes until very fragrant, and then add the beer, green chiles, 2 cans of tomatoes, and cilantro stems. Bring the chili to simmer.
Cover the pot and place it in oven. Cook 2 hours. Uncover and cook until beef is almost tender, about 1 hour. Stir in the pumpkin, and the remaining can of tomatoes and return to the oven. Cook uncovered until beef and pumpkin are tender, about 1 hour longer. Tilt pot and spoon off any fat from surface of sauce.
Taste for seasoning, and serve with a dollop of sour cream, a slice of avocado, and a sprinkle of cheese.