I've been known to add the odds and ends of my pantry and fridge to my blondie, cookie, and brownie batters. Nothing gross of course, but a handful of raisins, a bit of lemon zest from a lemon I'd bought for some savory purpose, maybe some sweetened shredded coconut lingering in the freezer. It's all about being resourceful, really. And if what's leftover happens to be from the trick-or-treaters who never showed up, then all the more reason to bake candy into batters and doughs.
Back when I was catering, in college, I made great use of the flexibility of my go-to cookie-dough base, customizing it with chocolate, nuts, fruit, spices, and candy. I'd mix up a double batch of this basic dough (butter, sugar, brown sugar, eggs, flour, baking soda, and salt) and divide it into thirds or fourths. To one part, I'd add cinnamon, diced apple, and toasted walnuts; to another, milk chocolate and toffee. I'd stir regular old dark chocolate chips into a third, and tweak the last with white chocolate, macadamia nuts, and coconut. (And on and on.) That way, when I arranged the cookies on a plate to serve, the guests would be able to bask in the variation, giving themselves an excuse to have not one but four cookies.
All of which is to say that when you're working with such an enticing base, you've got a lot of leeway with what you add in. Everything goes with butter and sugar, and a whole lot goes with chocolate. In other words, it's hard to mess up.
I feared I finally would, though, when I poured the remains of a BJ's-sized bag of Peanut M&Ms, left over a retro-themed barbecue I'd thrown, into the blondie batter I was making. Would the vibrant colors from the candy shells melt into the batter? Would the blondies look radioactive instead of exuberantly colorful? Could I still cut neat little squares? What if I substituted regular or almond M&Ms?
But it all worked out just fine, and I figured I should share the recipe right about now, since I can't imagine I'm alone in having leftover Halloween candy. I purposely bought Starburst, which I hate and wouldn't have any problem not gorging on. But I also bought Reese's Peanut Butter Cups, and if you have leftovers of those, or M&Ms, Reese's Pieces, Snickers, Milky Way, Twix, or any other chocolate-y, nutty clusters, I would wholeheartedly recommend enhancing your next batch of blondies with the treats, cut up into pieces, of course, if not bite-sized already.
--by Cara Eisenpress of Big Girls, Small Kitchen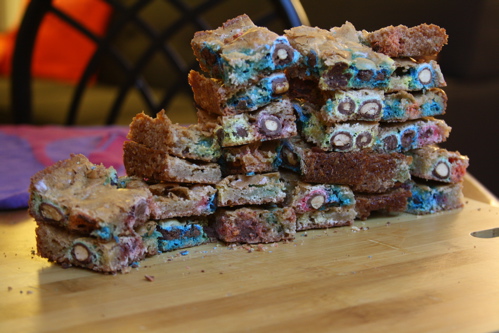 M&M Blondies
Makes 24 blondies
Ingredients
1 package light brown sugar (2 1/2 cups)
1 stick butter (1/2 cup)
2 eggs
1 teaspoon vanilla
1 cup flour
1/2 teaspoon salt
1 1/2 cups peanut M&Ms
Preheat the oven to 325°F. Grease a 9x13" baking pan. Use a smaller baking pan for thicker blondies--just bake a bit longer.
Combine the brown sugar and butter in a small saucepan. Heat over medium heat until the butter is melted and combined and the whole mixture just begins to bubble. Remove and let come to room temperature. This will take about 20 minutes; speed it up in the fridge if need be.
When the butter and sugar have cooled, beat in the eggs and vanilla. Add the flour and salt, then gently stir in the M&Ms. Pour into the prepared pan and bake 25-30 minutes, until the top has gotten slightly puffed and crusty. Cool, and cut into small rectangles.