There's quite an art to brown bagging. We are big believers in the benefits of bringing your lunch with you to work (we have a whole chapter about "packing the quarter-life lunchbox" in our book!), on planes and trains, and wherever your day may take  you. And though salads and such are nice, the sandwich truly is the brown bag nosh of choice. Here are some of the best of the genre.
--Cara and Phoebe of Big Girls, Small Kitchen
1. Curry Chicken Wraps. The curry takes to the mayo in this filling like peas to carrots, the celery and shallot add an awesome crunch, and the raisins provide a haunting sweetness that in turn makes the curry taste even better. Get the recipe here.
2. Chicken Tortas. The tortas are composed of many recipe parts you can find elsewhere on this blog, but it's the combination of them that make the sandwiches stand out. Spiced refried beans, smoky chipotle mayo, cumin-scented chicken thighs, and sweet-and-sour red cabbage crunch conspire to create an addictive, filling sandwich, as perfect for a Superbowl party or a picnic, as a brown bag lunch. Get the recipe here.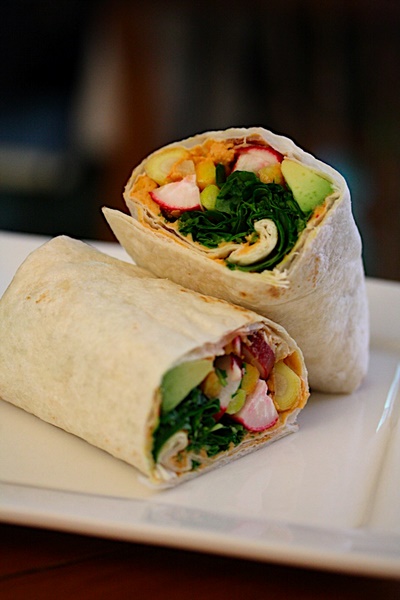 3. Crunchy Spicy Hummus Wrap. You can mix and match to make the most of the vegetables you find at the market, but a bunch of baby yellow carrots and vibrant French radishes were the perfect compliment to the chipotle-laced hummus and the rich, lemony avocado. Get the recipe here.
4. Chicken Salad Sandwiches with Bacon. Our philosophy with sandwiches is to add a little something extra, whether it's chipotle mayo, pickled shallots, or buttery pears. Here, bacon is the classic, indulgent "extra." Get the recipe here.
5. Lamb Meatball Banh Mi Sandwiches. Ever since we waxed poetic on the beauty of a good banh mi, we have been addicted to making different variations on this classic sandwich at home, in an effort to stop buying the real thing at Num Pang. Since these meatballs are packed with spices--cumin, cayenne, paprika--we tried out a Moroccan-fusion banh mi with harissa mayo instead of the traditional sriracha red chili version. The pickled carrots and handfuls of cilantro are a perfect complement. Get the recipe here.
6. Lobster Salad on Brioche Rolls. The creme de la crème of the sandwich involves, naturally, lobster salad. Also known as The Lunch That Will Make Co-Workers So Jealous They'll Hate You, packing your own lobster salad is definitely a less expensive option than buying a $20 sandwich come noon. Get the recipe here.
7. Roasted Eggplant Sandwiches with White Bean Spread and Chive Pesto. These sandwiches are lush, rich, and incredibly flavorful--nothing like an austere health-food sammy. Carnivores and veggies alike will adore them, and they only get better as they sit in your cube all morning, giving the flavors a chance to meld. Get the recipe here.
8. Hard Boiled Egg Sandwich. Here is a great bagged-lunch version of the egg sandwich. Its flavors--mustard and egg--are reminiscent of the classic egg-salad sandwich, but its texture is arguably more interesting. A slice of a summer heirloom tomato would be nice on this too. Get the recipe here.
9. Roast Beef Baguettes with Cider Onion Jam and Fennel Remoulade. Not far behind the lobster roll, this is definitely not a humble, scrambled-together affair. The roast beef is perfectly matched to its sweet/sour, creamy/salty condiments, and though the parts of this sandwich sound fancy and complicated, the sum is really kind of down to earth. Each can be made up to a week in advance and used for a variety of different dishes, not just this sandwich. Get the recipe here.