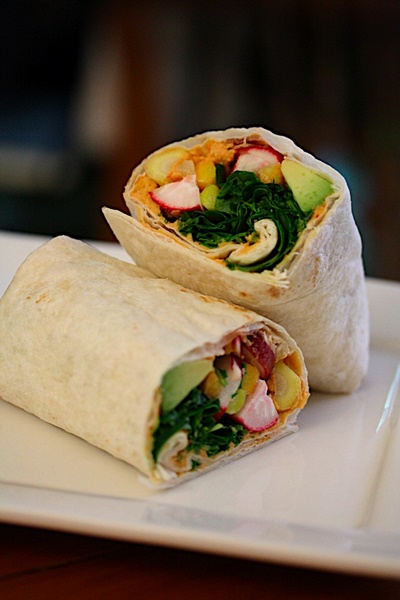 Photo Credit: Small Kitchen College
This week on Small Kitchen College, we're challenging our readers to Brown Bag It to work (or wherever your lunch brings you). We're big believers in bringing your lunch to work: whether you love it or hate it, you know that come noon, instead of hungrily browsing SeamlessWeb or roaming the streets of the Midtown food desert, you could be sashaying to the company kitchen, taking out your brown bag, and revealing a mouth-watering, healthful, and well-rounded lunch. To help you in this endeavor, we're giving away a slew of BuiltNY prizes! Read on for one of our favorite Brown Bag lunches:
I've been trying to get back in the habit of buying a bunch of carrots or radishes or whatever looks fresh, colorful and delicious at the farmer's market and making use of my loot over the course of the week. If I don't have these vegetables on hand to make my lunch out of, the risk of Thai take-out runs too high.
For this month's Mag Club, I made use of some leftover Chipotle Hummus, tortillas, and many random crunchy vegetables to create a healthy spring wrap. You can mix and match to make the most of the vegetables you find at the market, but my bunch of baby yellow carrots and vibrant French radishes were the perfect compliment to the spicy bean puree and the rich, lemony avocado. You can use store-bought hummus (or substitute this Spicy Black Bean Dip), and add guacamole instead of mashed avocado (or slice it up instead). The key is to have something crunchy, something with a hint of spice (try adding sriracha to your mashed avocado), and a rich, creamy puree to tie it all together.
-Phoebe Lapine for Small Kitchen College
**Recipe**
Crunchy Spicy Hummus Wraps
Makes 6 sandwiches
Ingredients
1 avocado, mashed
1/2 lemon, juiced
1 cup chipotle hummus
6 medium tortillas
2 cups sliced radishes
3 medium carrots, peeled, and cut into 4-inch match sticks
1/4 lb baby arugula
In a small mixing bowl, combine the avocado with 3/4 of the lemon juice and 1/4 teaspoon of salt.
On a work surface, spread a large spoonful of hummus over half of a tortilla. Spread a spoonful of the avocado mixture over the other half. Place a handful of carrot sticks in the center, top with a sprinkle of radishes, and 1/4 cup of arugula leaves. Fold in the top and bottom sides of the tortilla. Fold in one of the sides length-wise and roll the tortilla, making sure the top and bottom stay tucked. Repeat with the remaining tortillas.