This is a story about cooking an Indian vegetarian feast that's perfect for wintry nights. But it's also about the odd powers of Twitter to educate you when you least expect it.
I'd been reading a stolen (from my mom, with her knowledge) version of a really lovely little cookbook called 5 Spices, 50 Dishes, by Ruta Kahate. The book's premise is that if you own black mustard seeds, cayenne pepper, cumin, coriander, and turmeric, you will have quite a broad range of simple Indian dinners at your fingertips. (You'll also need serrano chiles at your fingertips to proceed.) But the reason I was reading the book, not cooking from it, was because of these spices, I had only two: coriander and turmeric. When I finally acquired the remaining three, suddenly everything in the book was just waiting to be cooked.
I started with two coconut curries for a dinner party, and I found that after the first--shrimp with eggplant--I got the gist of cooking with the combination of spices. This seems, after all, to be what the book is all about: making creative flavor combinations from a limited pantry. So as I moved onto the second--meatballs in a masala sauce--I began to improvise. Chicken instead of lamb, a little less coconut so as not to overwhelm the flavors of the spices, a bit of sugar to bring out the tomatoes. Before I knew it, I had created a sauce that tasted not unlike the sauce from restaurant chicken masala, only with coconut milk instead of yogurt or cream.
Then one freezing Monday, I was feeling thoroughly chilled, as though I needed to be heated from the inside out. Beyond that, my body felt exhausted, wanting nourishment and craving peasant food like chickpeas and potatoes. I started to wonder about how this new masala-ish sauce would taste coating beans and potatoes. Good, I thought, and I started in. When the first smells of spice started to permeate the apartment, delighted, I turned to Twitter. This was a creation our blog's followers ought to have a clue about before it appeared on the blog.
"Home from Christmas shopping," I wrote. "Making Spinach Paratha and Corn with Mustard Seeds to go with Chickpea-Potato Masala. Good cold weather food."
Refreshing the page, I found that our friend (like someone we actually know) had tweeted back:
"@BGSK Chick pea potato masala... Also known as "chana bateta" YUM!"
The dish of my fantasies already existed. How...odd.
As for the rest of the meal: I made the Saag Paratha that I've loved ever since my mom and I took an Indian Bread course at ICE about a decade ago. And then I turned to my new go-to, 5 Spices, 50 Dishes to complete the meal with a simplified version of the already quite simple Corn with Mustard Seeds. It was warming, spicy, and satisfying. Apparently my kitchen is a place where 5 spices and 1 tweet can create Indian magic.
--Cara Eisenpress of Big Girls, Small Kitchen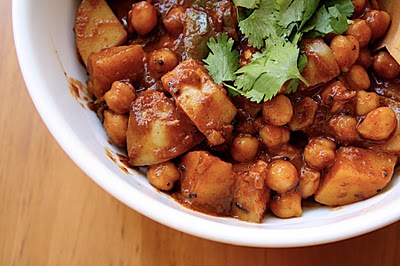 Chana Bateta
Serves 2
Ingredients
1/2 cup diced tomatoes
1 tablespoon tomato paste
1 1/2 tablespoons vegetable oil
1/2 teaspoon mustard seeds (black or brown, not yellow)
2 shallots, sliced
3 large cloves garlic, minced
1 tablespoon minced ginger
1 teaspoon cumin
1 1/2 teaspoons coriander
1/4 teaspoon cayenne, or more to taste
1/3 cup coconut milk
1 teaspoon salt
1 teaspoon sugar
2 large Yukon Gold potatoes (about 7 ounces), cut into an approximate 1 1/2" dice.
1 can chickpeas
2 tablespoons finely chopped cilantro, plus a few springs for garnish
1 teaspoon white wine vinegar
Combine the diced tomatoes and tomato paste in a mini food processor and process until smooth. Set aside.
Heat the oil over high heat in a large cast iron pan until smoking. Add the mustard seeds and cover immediately, and wait til they stop popping (15 seconds). Turn the heat to medium and add the shallots, garlic, and ginger. Cook for about 5 minutes, stirring nearly constantly, until the shallots are quite golden. Add the cumin, coriander, and cayenne, and cook for another minute or so, to toast the spices. Pour in the pureed tomato, and cook down for 3-4 minutes. It should be reduced to an almost paste-like consistency.
Pour in the coconut milk and the salt and sugar and bring to a boil. Add the potatoes and return to a boil, then turn the heat to low and cover the pan. Cook until the potatoes are soft--easily pierced with a knife--then uncover and add the chickpeas with some of the liquid from the can. Cook for 5 or 10 minutes, until heated through. Add the cilantro and cook a minute more.
This tastes best made ahead, so if you have time, cool it, then transfer to the fridge until ready to eat. Then reheat until piping hot, add the vinegar, stir to distribute, and serve, garnished with fresh cilantro.