One weekend this summer, at my friend's share house in the Hamptons, I got roped into helping the boys prepare a BBQ-centric birthday dinner for our friend Lydia. It was a rather refreshing experience, since I wasn't actually put in charge of anything, and, instead, helped Graeme, the grill-master, prepare a marinade for his famous ribs. The sauce, which was passed down from his grandmother, was as good as it was easy--so easy, that I managed to come away from the weekend with the recipe fully memorized, and so good, that I did so with full intention of stealing it (with credit to Grandma Lee, of course).
This year for our friend Jordana's Birthday, we ladies of Big Girls, Small Kitchen catered an Asian-themed feast. For finger food-oriented events, we love how things look on skewers. Back when Cara catered in college, she would stick anything and everything on kebab sticks and toothpicks, and last Magazine Club, Julie even got in on the game, stabbing mozzarella and roasted peppers on little sticks and arranging them around a bowl of pesto. For a nice veggie-carnivore pairing, we decided to put out two of the main protein sources at Jordana's in a similar manner, and we wound up with this beautiful arrangement of side-by-side satays, one tofu, one chicken. For both, we built the sauce right into the skewered protein, Cara with a nice classic, sweet soy sauce, and me with this Asian BBQ sauce.
As I was researching recipes for classic peanut satays, I remembered Graeme's ribs, and how freaking good they were. It's unclear why they come out tasting distinctly Asian, since Grandma Lee's secret ingredient is cheap cheap barbecue sauce. But for some reason, the mysterious liquid, bettered by an entire head of garlic, jalapenos, and cilantro, transforms in the oven to a sauce of such complexity and flavor, that the secret recipe could only have been passed down by someone's grandmother.
The chicken satays were no different, if a little less messy than the traditional rib the sauce was intended for. But, then again, that is the beauty of a skewer.

--Phoebe Lapine of Big Girls, Small Kitchen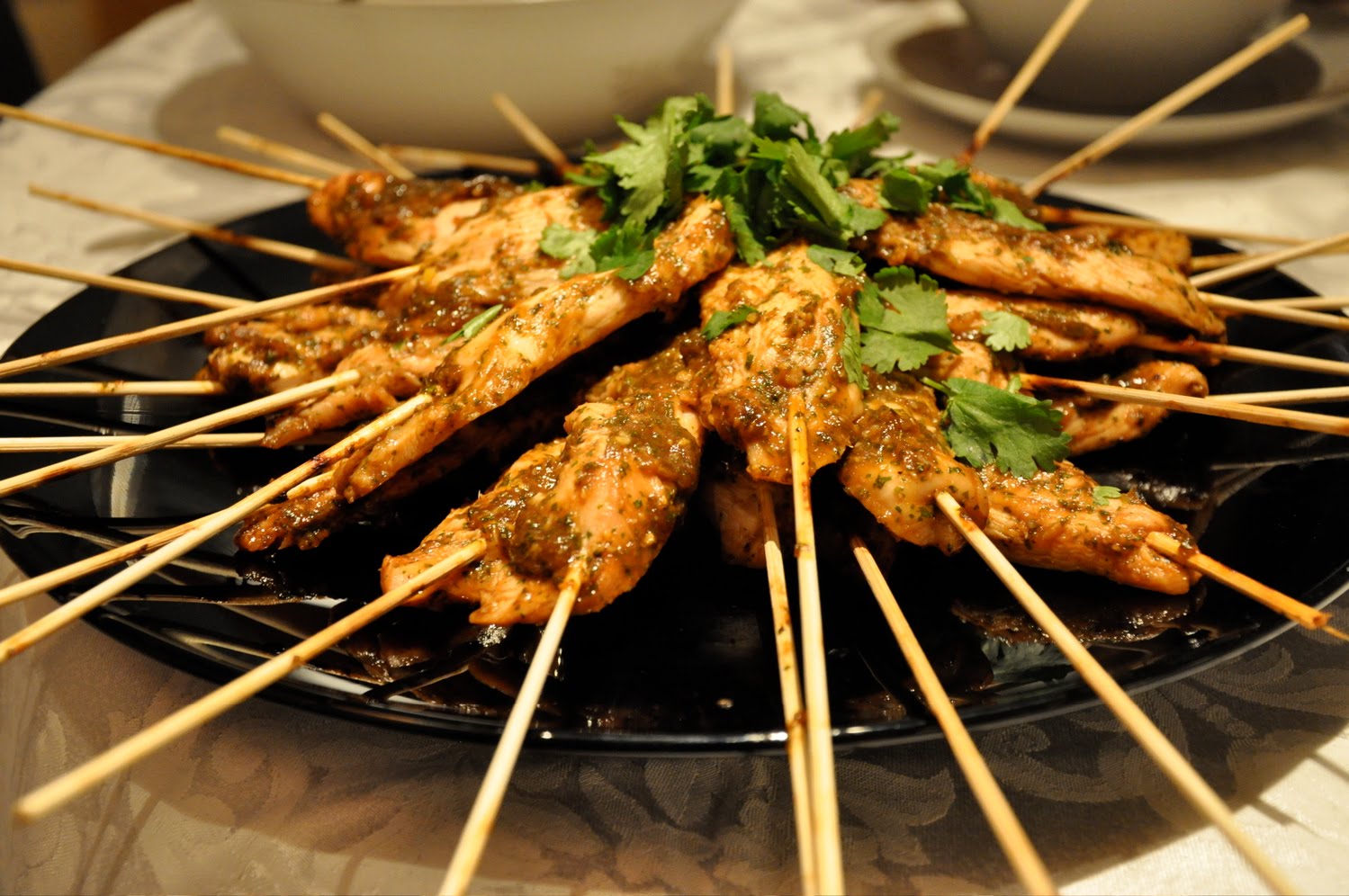 BBQ Chicken Satays
Makes 32 Skewers
Ingredients
2lb boneless, skinless chicken breasts, cut into strips (about 4-5 per breast)
18oz generic BBQ sauce (I used Sweet Baby Ray's, but it can be Kraft or whatever is cheapest)
1 bunch cilantro, lower stems (section without leaves) removed, coarsely chopped (plus more for garnish)
1 head garlic (about 15 cloves), removed from skin
2 jalapenos, seeded and coarsely chopped
3 inch knob of ginger, peeled, chopped
1/2 tbsp salt
32 bamboo skewers
Preheat the oven to 350 degrees.
In a small food processor, puree the BBQ sauce, cilantro, garlic, jalapenos, ginger, and salt.
In a large mixing bowl, toss the chicken strips with the marinade. Let stand in the refrigerator for at least 20 minutes, or up to 4 hours.
While the meat is marinating, soak your bamboo skewers in warm water.
Thread each chicken strip onto a skewer and place on a foil-lined cookie sheet. The skewers can line up next to each other in both directions, so the wood is meeting in the middle.
Cook in the oven for 10-15 minutes until chicken is cooked through, spooning the excess sauce over the pieces of chicken halfway through the cooking process.
Fan out on a platter, with the skewer ends facing out and garnish with a handful of cilantro leaves. Can be served room temperature.