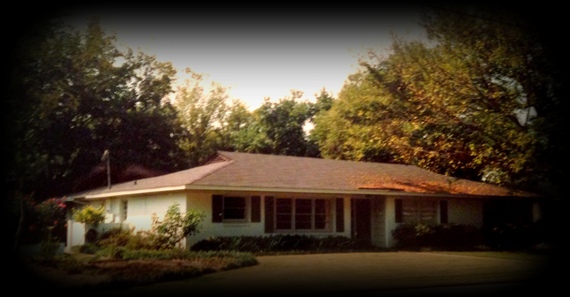 Does a house have a soul?
Yesterday my mom closed on this house in Montgomery, AL...a home she and Daddy, along with a lot of young children and innumerable dogs moved into 17, 872 days ago on June 3, 1966.
It didn't look just like this then...it had dark brown brick, a dark brown roof, dark brown paneling in the house, and dark brown, shiny Coppertone appliances. Over the years that changed, as our family changed. Browns disappeared and greens appeared, not only in and on the house, but in the barren yard that became lush gardens, full of trees, roses and countless plantings.
Walking though the house yesterday morning for the last time with my wonderful sister Sara, walking through the now-empty rooms yesterday before closing, walking through the yard, it was sort of funny....these empty spaces had a certain echo to them...an echo meaning nothing was in there, which is what I felt...and then it dawned on me.
This wonderful home had been through many changes through the years. As the family grew, so did the house, expanding with extra bedrooms, bathrooms, storage areas. I could picture where the Christmas tree usually stood in the living room, scenes of birthday parties, singing around the piano, lots of happy memories...parties, the large built-in kitchen table that was the scenes of countless meals..... as well as many sad ones....rooms where Daddy lived through his final fight with cancer, rooms where we all grieved after my brother John took his life so many years ago...and other unspeakable sad family situations had occurred.
What Sara and I were walking through yesterday was a wonderful arrangement of brick, mortar, wood, and vinyl floors...and nothing more. The soul of the house was moving...and not to a new address, but to places deep in our memories...and a new family was moving in, a family that will experience many of the wonderful, and yet sometimes sad situations that we all did.
This home had weathered many happy times as well as provided shelter from the many storms that life presents us...real storms or emotional ones...it dawned on me was that it was not the house itself, but the relationships inside that were the real protection from the storms, whether they were those presented by Mother Nature, or those we created for ourselves....and when you leave a home after a few weeks, or 17,872 days, that is what you take with you...it's the memory of the relationships within. In fact you leave with the soul of the home intact inside of you as you walk out of what is now just a house.
But for those 17,872 days, this was a home to many Hitchcocks and countless others who came in and out of our lives...and that is what we carried out of the door for the last time.
The house we left had no soul....the home we remember does, but now deep in our own souls.
I hope the family that moves in has the same experiences that we had....that they, like us, will have a multitude of happy experiences that far outweighed the sad ones as they, today, May 22, 2015 start day one of their lives in this house that was once our family home. Today the house becomes their home. As it should be. The house is still there...the soul moved yesterday afternoon in an attorney's office at closing, about 2:30 PM.
And a new soul moves into this house. May they be as blessed as we were, for those 17, 872 days.
Does a house have a soul?
No...we do...and are lucky enough to carry it around with us every day.