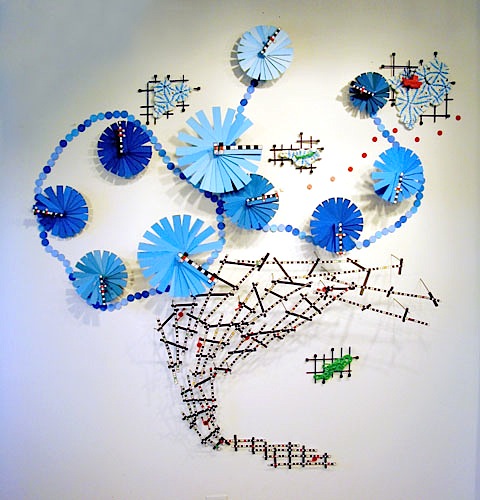 Nathalie Miebach: Changing Waters | For years, Miebach has been translating meteorological, ecological, and oceanographic data into woven sculptures and musical scores. Using the gridsystem of basket weaving as a base, her three-dimensional data visualizations are a revolutionary blend of the aesthetic and the informational.
Central to Miebach's work is her desire to understand and visually convey the complex interactions between weather and living marine systems. She collects recent weather data, then looks back one year, sometimes ten, to assess patterns. Utilizing artistic processes and everyday materials such as construction toys, spinning tops, model rollercoasters, and wooden reeds, Miebach expands the traditional parameters through which science data has been visually translated.
Nathalie Miebach: Changing Waters opens September 29 at the Craft and Folk Art Museum (CAFAM)


Image courtesy of MEM Gallery, Tokyo, and ROSEGALLERY. This exhibition is made possible in part by The Asahi Shimbun Foundation
Tomoko Sawada: Sign | Since her 1999 breakthrough series, ID400, Tomoko Sawada's work has remained at the cutting edge of conceptual photography and contemporary art. Until recently, Sawada's pictures have focused exclusively on her self and her assumed identities, employing an uncanny ability to alter her persona, producing simple, fresh images that raise questions about cultural identity, gender performativity, the perception of the self and authorship in photography. And like ID400, many of her series have relied on the repetition of images in grids, a format appropriate to work highly consistent in form but elastic in detail.
Her most recent work, produced during a residency with The Andy Warhol Museum in Pittsburgh, Pennsylvania, is both a startling departure from the past and an innovative use of her iconic style honed over the past decade. Sawada, who is acclaimed for her humorous and extensive self-portraits, collaborated with Heinz to investigate branding as a form of portraiture. The result is a tangle between an artist who has, up to this point, only used images of her self in a multitude of guises and a condiment company easily recognized on store shelves the world over.
Tomoko Sawada: Sign opens September 26 at RoseGallery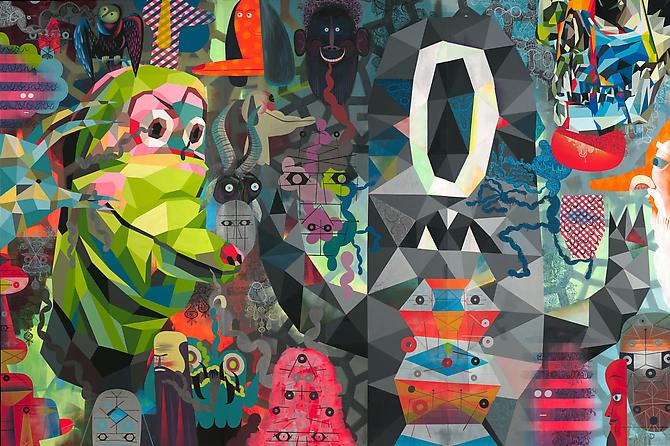 Tim Biskup: Charge | The title holds complex personal references for Biskup. To be 'charged' or to be 'in charge' is to feel psychologically or emotively 'charged' as in renewed, revived and empowered. In particle physics, the theory of 'color charge' refers to an abstract concept of positive and negative values. The visual perception of color has no meaning for these particles. Essentially, 'color charge' is a rather whimsical term alluding to abstract values for abstract forces constantly at work in the universe.
For Biskup, a 'charge' can be harbored by things constantly rejected as too abstract, too small or too anomalous. Biskup acts as a physical receptor to these alternative cultures, by producing works that channel musicality and vibrancy into a stream of progressive Modernism. Works such as A Subtle Advertisement For Mind-Numbing Pain, reflects a wealth of experience with contemporary graphic illustration, but rigorously defends traditional methodologies of composition, line and color gradients.
Tim Biskup: Charge opens September 28 at Martha Otero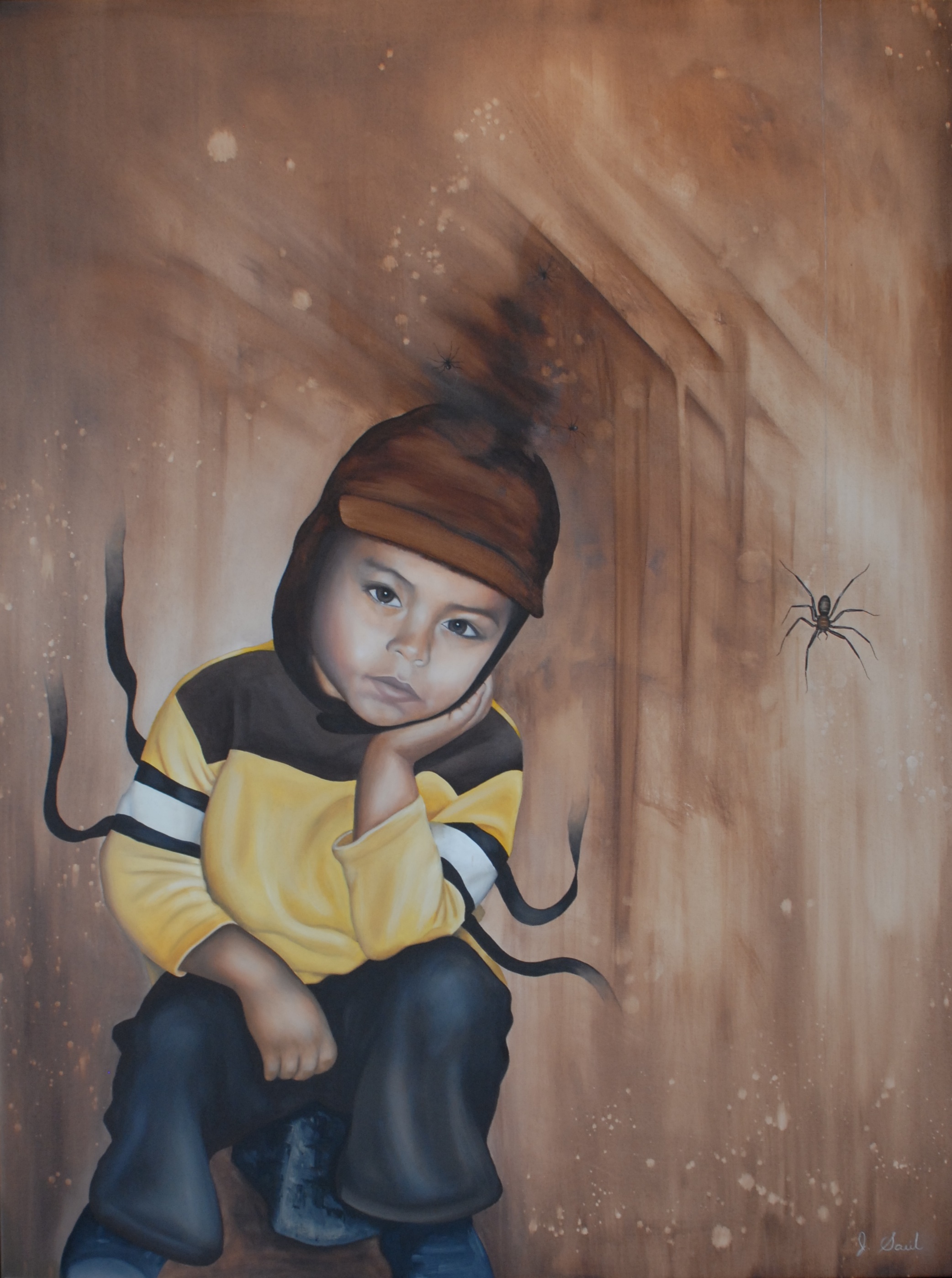 Saul Alfaro: Say We'll Meet Again / Decir Encontraremos | In Alfaro's debut exhibition in the U.S., the 25-year old El Salvadorian painter captures the dreams of the children of his home village. A strong surrealist current runs through all of the pieces as Saul takes us on a journey through the imaginations and fantasies of the young people around him as they hope and dream for a beautiful (and sometimes powerfully heroic) future. Many of the subjects in his works are homeless children in his city. He works with them and gives them money to sit and talk about their wishes and inspirations, which he expresses through superheroes and animated characters. His hope is that by giving them another way to earn money, outside of the sometimes less scrupulous options they have, will motivate their creativity and show them other possibilities.
Saul Alfaro: Say We'll Meet Again / Decir Encontraremos runs through October 12 at Hinge Modern, Culver City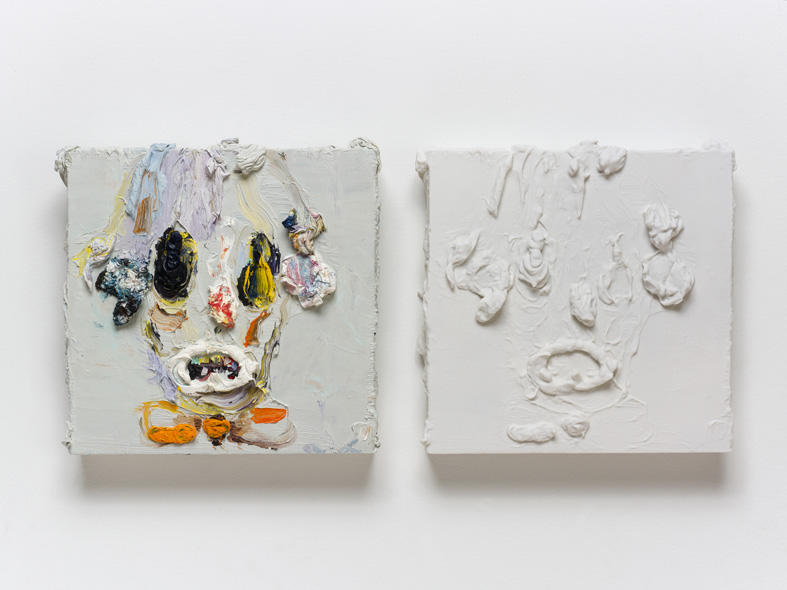 Alfred Steiner: Contrariwise | In a sense, Steiner is a contradiction himself. The artist first forged a successful career as a lawyer in New York City (where he currently resides), practicing copyright and trademark law for 15 years before shifting to his studio full-time. Drawing upon his extensive knowledge of intellectual property for fodder, the artist strikes a balance between two ways of thinking that many would consider incommensurable, using appropriation as a tool to challenge the validity of appropriation itself as a critical mode. In a very direct sense, Steiner's work is an inevitable result of the desire to retain the concept of intangible property in the age of mechanical reproduction. But it is also a challenge to conventional notions of authenticity.
Featured are works that challenge the creative property of Los Angeles's finest, from Mike Kelley and Ed Ruscha to relative newcomers such as Allison Schulnik. For example, Steiner uses 3D printing in a tech-forward re-visitation of Rauschenberg's famous Erased De Kooning to recreate a heavily impastoed painting of Allison Schulnik's in monochrome white. While some works in the show will reveal themselves more quickly than others, Steiner has crafted a body of work that clearly prompts the viewer once again to invest actual time in viewing art. To go one local nod further, it would be useful to remember the mantra from L.A. author Bret Easton Ellis' 1998 novel, glamorama: "The better you look, the more you see."
Alfred Steiner: Contrariwise through November 16 at 101/exhibit Los Angeles
For the most comprehensive calendar of art events throughout Los Angeles go to Artweek.LA.