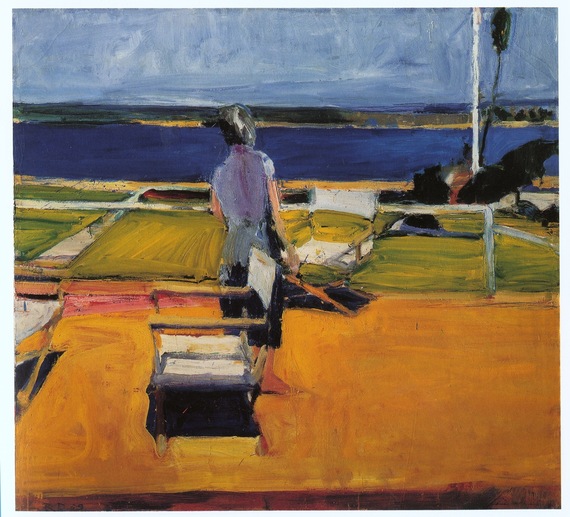 Richard Diebenkorn: The Berkeley Years, 1953 - 1966 | The exhibition is the first to examine one of the most complex periods in the distinguished career of Richard Diebenkorn. Featuring works created in the productive period between 1953 to 1966, it explores Diebenkorn's shifting conceptions of abstraction and figuration through his paintings and works on paper, and emphasizes the formal evolution of these diverse works, their interrelationships, and their possible meanings for the artist.
Deeply engaged with the unique setting of the Bay Area, Diebenkorn profoundly influenced postwar American art while he and his family lived in Berkeley, California from the mid 1950s through the mid 1960s. This pivotal period was a remarkable time of exploration and innovation in Diebenkorn's art, marked by vivid abstract landscapes characterizing the rich, natural conditions of the area, followed by a sudden shift to a representational style that played a leading role in the Bay Area Figurative Movement, which finally gave way again to abstraction after the artist's move to southern California in 1966.
Richard Diebenkorn: The Berkeley Years, 1953 - 1966 opens October 26 at the Palm Springs Art Museum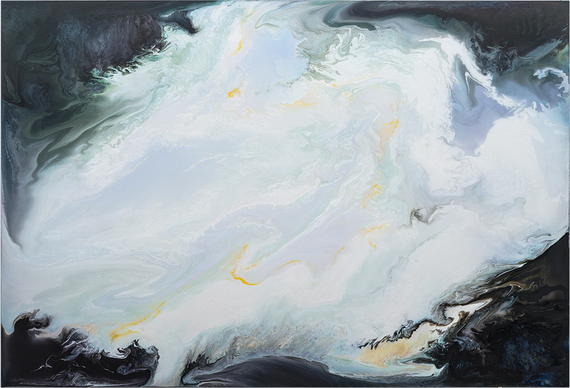 Suzan Woodruff: Echo Maker | Hungarian mathematics Professor Zoltan Suhajda defined Woodruff's work as "natural fractal pour paintings." Fractals, patterns, gravitational forces and chaos theory are all implicit elements of each painting. Her process, developed over a decade, is a delicate balance between the laws of gravity and the will of Woodruff. It allows for a combination of natural occurrences and controlled chaos that reveals the recurring patterns and shapes within. Woodruff's intent is clear that these particular shapes represent the sexual and psychological symbols of power and the feminist aspect of her work.
The migratory habits of cranes and the mythology that surrounds them, so well served in Richard Powers' wonderful novel The Echo Maker, acted as a catalyst for Woodruff's new series. Each painting is a conscious "'echo" of a life immersed in nature and enamored by space and science. Einstein advised: "Look in nature and you will find everything." Woodruff has taken that advice to heart. "My desire is to create cosmic dust. Both literally and not. Looking at the Hubble telescope images or any phenomena in nature is an unparalleled inspiration."
Suzan Woodruff: Echo Maker opens October 26 at Katherine Cone Gallery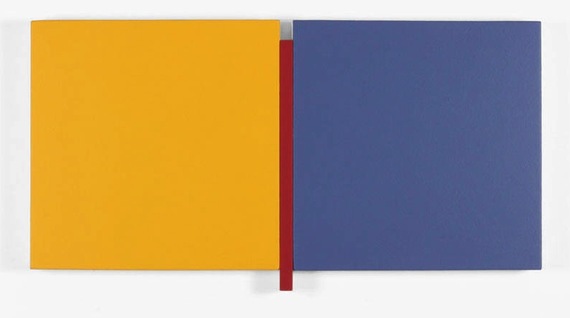 Scot Heywood: A Survey of Small Paintings | Heywood has pursued a course of non-representational, geometric abstract painting for over 30 years. Combining planes of color with his refined surface technique, he has crafted a personal interpretation of the history of geometric abstraction. In the evolution of abstract painting and sculpture, the use of geometric form within a limited palette is widespread, ranging from early twentieth-century Russian Suprematist compositions, to Mondrian's Neoplasticism, and finally to minimal paintings.
This solo show will run concurrently with Santa Monica City College's fall exhibition in the Pete & Susan Barrett Gallery, titled Scot Heywood: A Survey of Large Paintings, 2006-2013. Together, these two shows will present a broader look at the career of this self-taught, Los Angeles-based artist.
Scot Heywood: A Survey of Small Paintings opens October 26 at Frank Lloyd Galley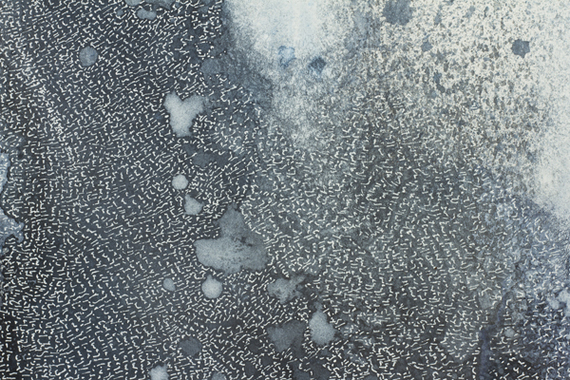 Debra Scacco: The Space Between | An exhibition in three parts, Scacco deals with the notion of place in past, present and future. The first part, made up of seven riverbed drawings, loosely recalls her past. The sources for these seven works are geographical references to places that have been integral to her life, and therefore act as symbols of identity. This includes places she lived herself, where her parents have lived and points of her family origin. Using the lines of specific boundaries as a guide, each of the seven pieces is representative of a personal geographic divide in cities and regions in Italy, the UK and the US. These boundaries are deeply engraved landmarks of personal history while also in constant flux; qualities that also apply to the formation of a personal understanding of identity and home that has always been the main pursuit of Scacco's work. The titles of the works--I will always love you being the most personal example--affirm those qualities by phrasing promises that are rooted in the past yet point to the future. Tracing the surface topography, the fine white lines of text form their own current of thoughts. Executed in Scacco's typical sedulous fashion of endlessly repeating the sentence, the entirety of the divide is inscribed with meaning.
Debra Scacco: The Space Between opens October 24 at Marine Contemporary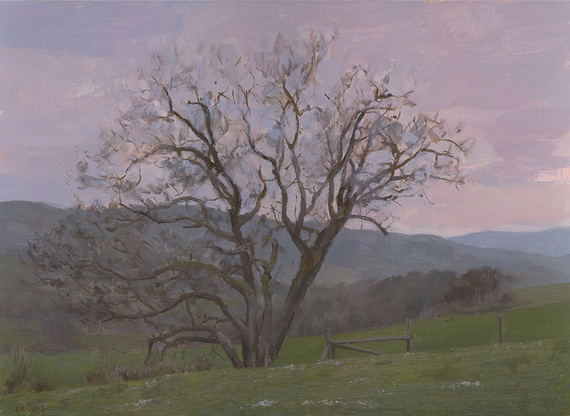 Kenny Harris and Judy Nimtz: Terra di Sienna - Paintings from Southern Tuscany | This exhibition of recent work by Los Angeles painters Kenny Harris and Judy Nimtz feature a collection of plein air landscape and interior paintings by both artists based on recent travels in Northern Italy.
The title Terra di Sienna: Paintings from Southern Tuscany, plays on "Siena" the province in Italy and "Sienna" the color, a fundamental staple in an artist's palette, as well as the color of the earth in southern Tuscany.
The paintings included in the show are a result of three consecutive Spring residencies in the region. The artists would arrive each time in early March, taking full advantage of the lull before the hectic tourist season begins. The landscape paintings in the show capture the essence of Spring overtaking the gentle rolling hills and picturesque villages that dot the Val D'Orcia.
Kenny Harris and Judy Nimtz: Terra di Sienna opens October 26 at Koplin Del Rio
For the most comprehensive calendar of art events throughout Los Angeles go to Artweek.LA.