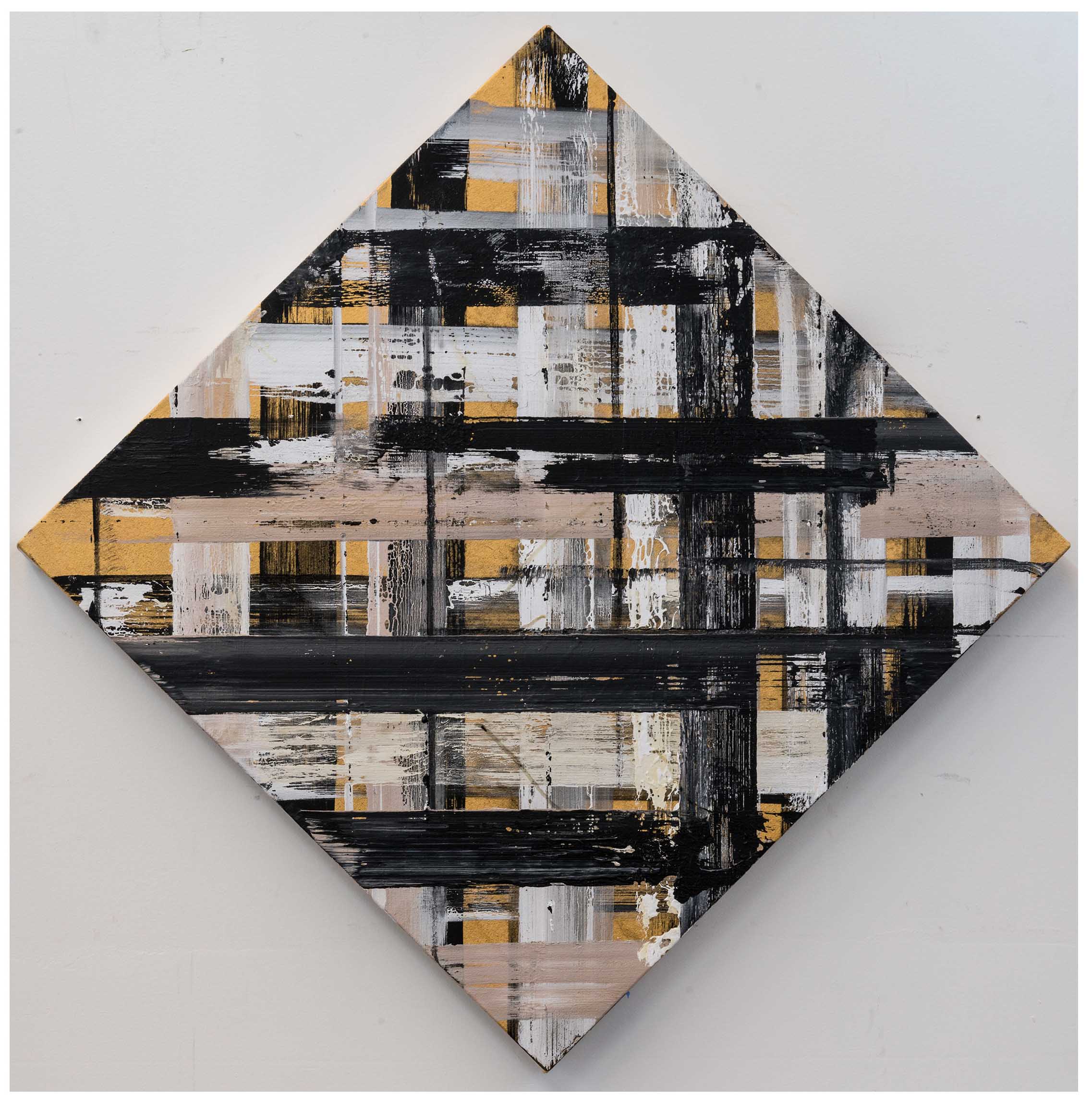 Ed Moses, Acrylic on canvas, 42" x 42"
Ed Moses: A Stone Mirror Reversed | Two new series of paintings by the 87 year old abstract expressionist painter. The exhibition title, A Stone Mirror Reversed, alludes to the collection of short stories, Ficciones by Jorge Luis Borges. A mid-century author of science fiction, Borges is known for his layered narratives that can be understood in multiple ways, allowing all the possibilities to unfold. Moses interest in Borges' writing has a direct connection to his practice as a painter.
In Moses' latest series of transfer paintings, known as the reversals, he takes older works and pulls the paint through the back of the canvas. To explain the idea behind these works, Ed Moses points to the stone mirror described in Borges' Tlön, Uqbar, Orbis Tertius another short story in Ficciones. The stone mirror is an object that embodies the temporal activity that occurs while making these paintings. Just as light travels to a stone mirror where it is absorbed and reflected as an image in reverse, the paint is absorbed through the canvas and reconstituted as a reflection or reversal of the former painting.
Ed Moses: A Stone Mirror Reversed opens July 27 at Leslie Sacks Contemporary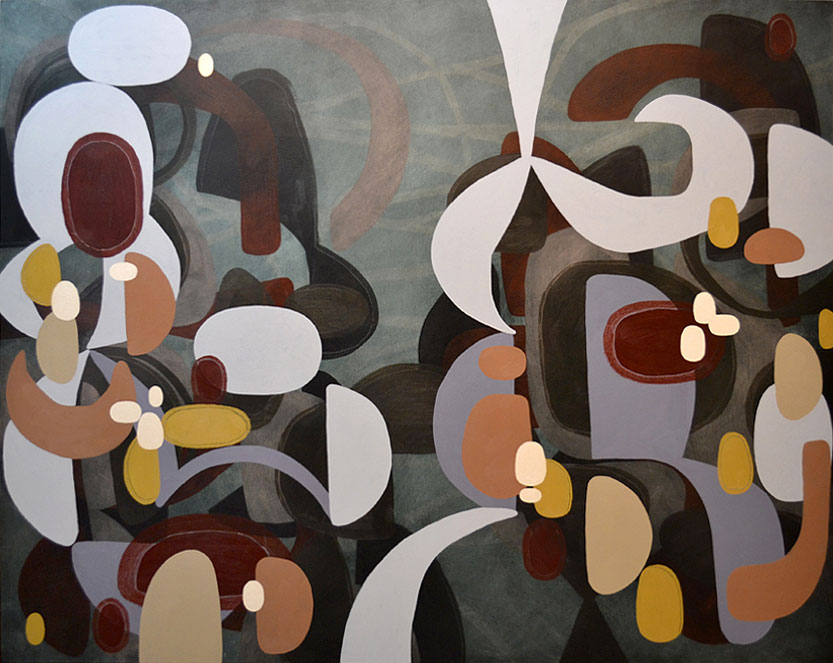 Tim Forcum: New Paintings | Heavily influenced by the works of Lee Mullican and Dynaton artists such as Gordon Onslow Ford, Forcum uses a personal pictorial language to describe a transcendental experience of nature.
With suggestions of landscape and figuration, the artist also recalls historic modes of abstraction; the cubist faceting of the early 19th century is played reductively and subdivided in his eccentric compositions. Forcum embraces history to speak of the same organic wonders of the world as his predecessors. Not as just a formal language, but a metaphoric, alternative reality. Different from the luminous and visionary Southern California landscapes of Frederick Wight, Forcum's work looks to describe the mystical yet universal; a micro/macro vision using naturalistic forms and abstract patterns. It is the rhythm and structure of his shapes, which allude to the unseen; a suggestion of form and shadow, or movement implied by a scraped palette knife or a surrealistic inversion of color and forms. His surfaces range from highly burnished to scratchy, a kind of impolite yet seductive, methodical interplay, mirroring his painting process of moving back and forth between spontaneity and calculation.
Tim Forcum: New Paintings opens July 27 at Western Project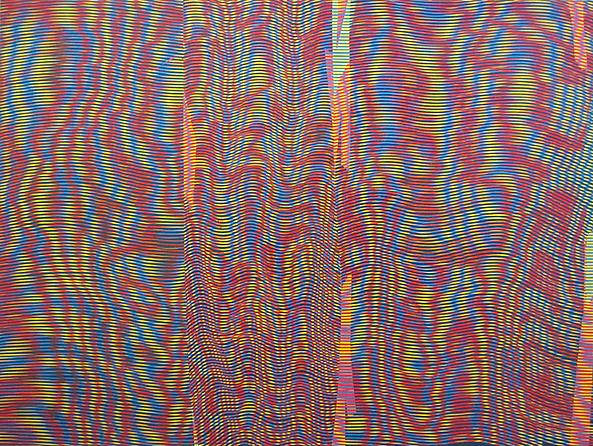 Julie Oppermann | Her recent series of paintings explore the contemporary idea of interference in relation to how information is disseminated, transmitted, and ultimately perceived, using painted moiré patterns created by overlapping multiple layers of nearly identical line patterns. Drawing from her background in Neuroscience, interest in perception and cognition, and study in Color Theory, her brightly colored, scintillating paintings recall the psychedelic, while maintaining a strong conceptual rigor. Oppermann's systematic and rule-based process is matched by her impulsive and intuitive approach, resulting in uncanny, often unsettling decisions that set up compelling tensions within the work.
Julie Oppermann lives and works in New York. Just this year, she completed two residency programs; Residência Artística, FAAP, São Paulo Brasil and the Spring Semester Exchange Scholarship, Universität der Künste, Berlin, Germany. She received her M.F.A. in Painting from Hunter College, New York in the Spring of 2013.
Julie Oppermann opens July 27 at Mark Moore Gallery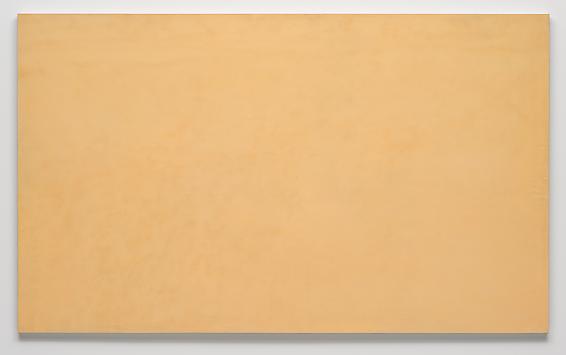 Sergej Jensen | Danish-born artist Sergej Jensen employs a range of ready-made materials in lieu of canvas including wool, silk, linen, and burlap. His works often eschew painting altogether, relying instead on sewing, bleaching, or staining. When used, paint has been applied subtly, sparingly, and at times from behind the canvas. In more recent works, however, both undersaturated acrylic paint and soft pastel are applied liberally. Exotic materials including money, saffron, and diamond dust have also been known to adorn Jensen's surfaces.
Flaws in materials are embraced and even foregrounded in Jensen's paintings, drawing attention to seemingly incidental marks and signs of distress. A lack of expectation lends itself to an economy of means, in which leftover materials are often incorporated into new work as a gesture of self-reflexivity. While the canvas continually serves as a locus of deconstruction, in Jensen's new works the physical temperament of paint is further investigated. Utilizing a wide array of media and formal references, Jensen's paintings engage with an aesthetic of removal and withdrawal, while consistently bearing the traces of their making.
Sergej Jensen closes August 3 at Regen Projects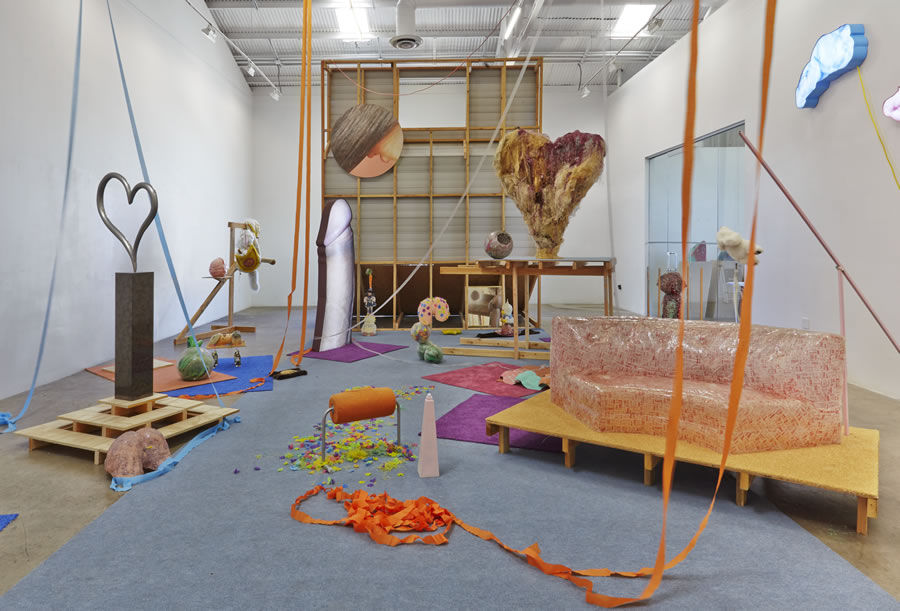 Ed Fornieles: Despicable Me 2 | Fornieles utilizes the Internet and social media as platforms through which to perform contemporary aesthetics and their variable currencies. Trapped within the iteration of cultural feedback loops, the artist's subject matter presents a cipher through which the theatre of the popular is funneled and expelled into a mitigated version of reality.
In his new show, Fornieles adopts a reality TV format to generate a new body of work following Britney Rivers as she navigates her way online: making friends, gaining likes and becoming the star of her own online reality. As the star of the show, Britney sets the tone and provides a guiding logic to the work, creating a feedback loop, which informs the material, humor and sentiment. Britney in a sense is an allusive 'third person', the sculptures themselves inherently allowing Fornieles to act as both voyeur and participant. Rivers provides a visual lexicon whose influences, tastes and opinions are assumed by Fornieles to create a new orthodoxy.
Ed Fornieles: Despicable Me 2 runs through August 17 at Mihai Nicodim Gallery
For the most comprehensive calendar of art events throughout Los Angeles go to Artweek.LA.