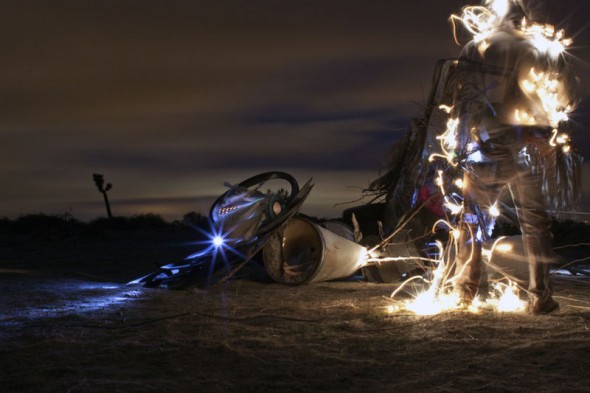 Nicolas Shake: Significance Swells | Returning to his home in the high desert of Palmdale in 2008, at the apex of the economic downturn, the artist found sections of his neighborhood abandoned and piles of domestic rubble in the surrounding landscape; an environment rife with debris and evidence of massive change. Out of the rubble emerged a lexicon of materials and possibilities. As a kind of transformative archeology, the artist began arranging the debris into sculptures and to photograph them at night, lit by rudimentary lighting equipment from Home Depot and the headlights of his truck. The outdoor still-life structures were ephemeral works existing for a few hours and only to be recorded; nocturnal apparitions in a landscape, reabsorbed the next day into the landscape, all sculptural qualities obliterated by the daylight.
Shake describes his work as, "pastoral and post-apocalyptic with one foot firmly planted in historical painting and the other in traditional still-life, so it is entropic and sanguine, gleeful, despondent, and matter of fact...my work celebrates the pastoral's everyday ordinariness, the capacity for the viewer to experience something wondrous amidst decline."
Nicolas Shake: Significance Swells opens May 11 at Western Project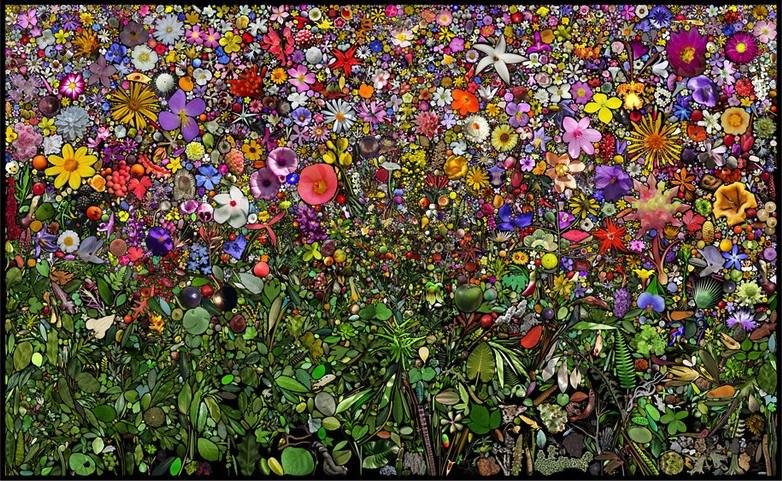 Simmons & Burke: Still Lifes & Common Names | Drawing their material from the vastness of the Internet, Simmons & Burke wrap their arms around entire bodies of data and re-contextualize images into the beautifully dense and saturated collages they have become known for. The nucleus of this show is a list of common names of plants that grow in the United States and its territories, initially chosen by the artists based solely off of their attraction to the names themselves. This body of work toys with the history of the still life genre in its acknowledgment of our innate desire to organize and control nature on a symbolic level. These dense composites of images and sounds re-imagine Nature Morte as a vibrantly lush and kinetic force in which the organization and obsessive relationship to these plants developed as the artists culled and cut the images from their original, digital source material.
Simmons & Burke: Still Lifes & Common Names opens May 10 at Michael Kohn Gallery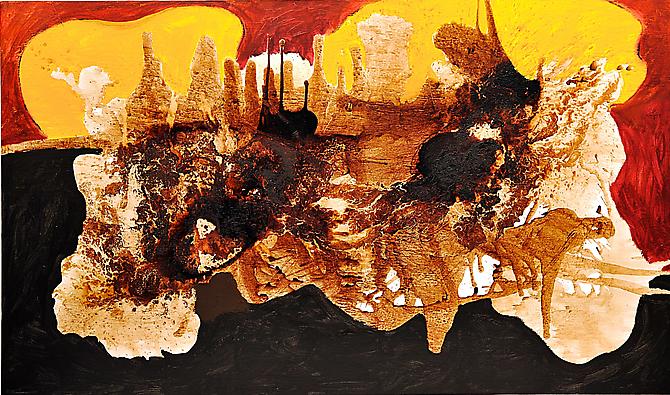 Herb Alpert: in•ter•course | In addition to his musical accomplishments, Herb Alpert has spent more than half his life as a respected abstract expressionist painter and sculptor, whose work has been exhibited all over the world. Just as the origins of Herb Alpert's music with the Tijuana Brass can be traced back to a Tijuana bullfight, his start as a painter likewise began with a trip south of the border. Though inspired by a number of different sources over the years, he cites his single greatest influence as artist Rufino Tamayo, whose work first sparked his interest in painting in 1963.
Alpert's philosophy as an artist has generally been to create from a purely internal place; "the feel," as he calls it. External considerations, such as social or political commentary, rarely factor into the work. "For art to appear," Alpert likes to say, "the artist must disappear."
Herb Alpert: in•ter•course runs through June 8 at Robert Berman Gallery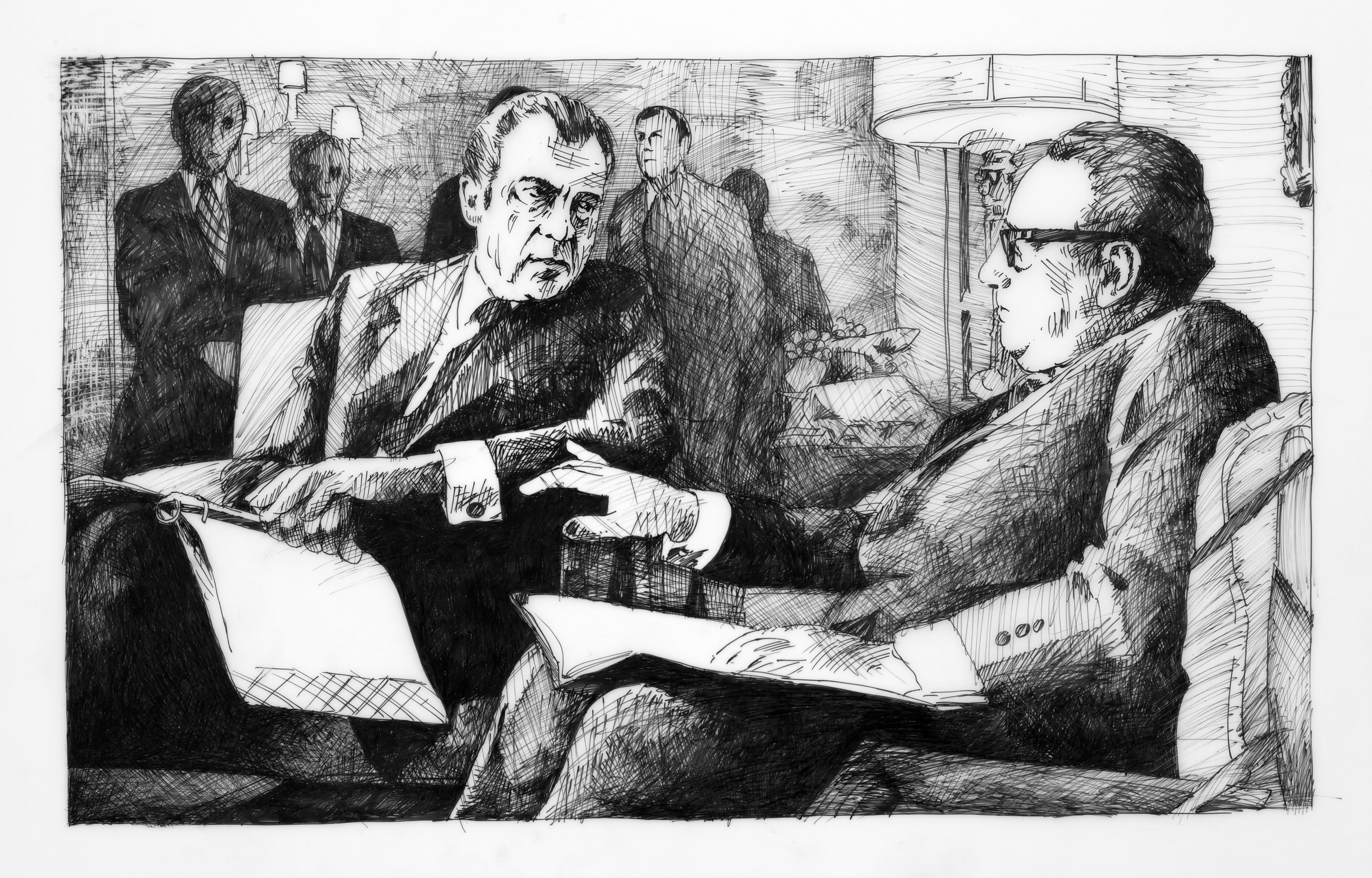 Deborah Aschheim: Involuntary Memories: Marine Corps Air Station El Toro and the Nixon Years | The reflected memories of a community spring to life as Deborah Aschheim's original drawings, sculptures, texts and films transform the Great Park Gallery into a walk-in community storybook.
In late 2011, the Orange County Great Park invited Deborah Aschheim to be one of its first artists-in-residence at the newly opened Palm Court Arts Complex. During her residency, she used the Great Park Artists Studios as a project office and lab in which she conducted field research by speaking to Park visitors about their remembrances of the base, city, and county.
Guest curated by Meg Linton, this thought-provoking exhibition artfully showcases excerpts of interviews Aschheim conducted with Great Park visitors during her six-month residency alongside dozens of Aschheim's hand-drawn illustrations based on images from the Nixon years and two new sculptures.
Deborah Aschheim: Involuntary Memories runs through July 14 at the Orange County Great Park's Palm Court Arts Complex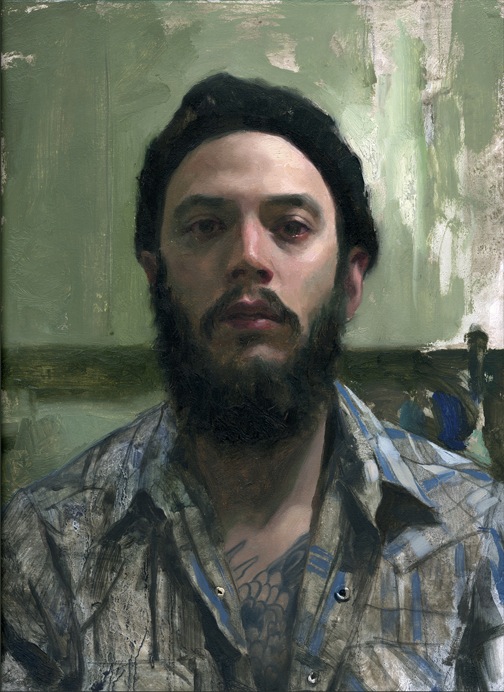 Selfish | A group exhibition curated by renowned painter Sean Cheetham, showcasing the exploration of self-perception through the medium of painting by twenty-one master painters.
The self-portrait has been a popular form of expression ever since man first saw his own reflection. Tragic and triumphant, self-portraits can reveal a telling story. From rags to riches, through sickness and health, from youth to old age, we can witness the changing face of an artist.
Intrinsically linked to identity, the self-portrait ultimately stands to reveal something deeper about the creator--an exploration of self and an examination of one's own conscious thoughts and feelings. At times, an artist feels they must repeatedly create a self-portrait in an effort to further research their inner-self and perhaps search for answers within the painted image. Famous painters from Rembrandt to van Gogh have relied on self-portraiture as a method to intensely study the self through art.
Selfish runs through June 22 at Katherine Cone Gallery
For the most comprehensive calendar of art events throughout Los Angeles go to Artweek.LA.