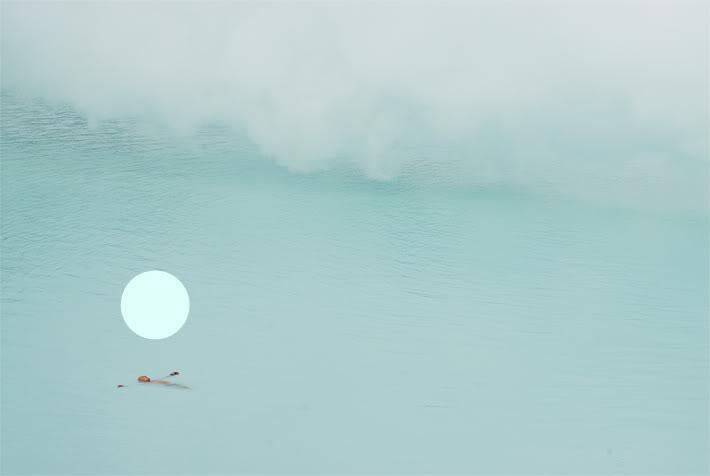 Summer Magic | This group photography show, curated by Shelley de Soto, features by Adam Ekberg, Nick Meek, Naida Osline, Katie Shapiro, Trujillo-Paumier, and Carlo Van de Roer.
The works in Summer Magic convey the hypnotic, chimerical, almost hallucinatory quality of a summer moment. Summer fosters adventure and optimism, opening the door to possibility and happenstance, magic, and synchronicity. Jung described synchronicity as "a causal connecting principle" in which events, both large and small, in the external world might align to the experience of the individual, perhaps mirroring or echoing personal concerns or thought.
To usher in the summer solstice, long ago celebrations and rituals were held on Midsummer's Eve, a time when the veil between the real world and an imaginary one was transparent, thus letting spirits, beings, magic, and fairies come to the fore. In the contemporary world, the power and magic of the summer solstice still lingers, with new technologies in photography to help raise the veil.
Summer Magic opens July 16 at Aran Cravey Gallery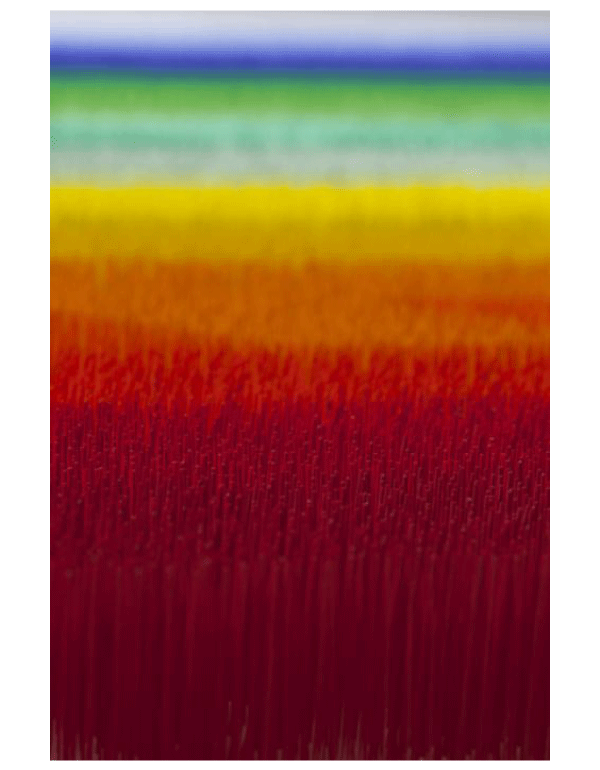 Liza Lou: Color Field | Contemporary artist Liza Lou expands traditional definitions of painting, sculpture, and craft in her mesmerizing installations made entirely of glass beads. At MCASD, Lou will premiere Color Field, her latest large-scale sculpture. Measuring 20 feet by 20 feet, its title pays homage to the original "color field" painters such as Mark Rothko, Richard Diebenkorn, Helen Frankenthaler, and Joan Mitchell. Lou's Color Field is a floor-bound experiential sculpture that will fill the main atrium with a shimmering field of color that references the grasslands of South Africa where she now works - with a grid of thousands of thin steel rods, each threaded with glass beads to form a kaleidoscopic moiré effect. Edges between the colors become blurred, blending to create new colors, and as the viewer moves around the field, the tones and hues ooze and wobble in a constant flux of radiant color.
Liza Lou: Color Field opens July 12 at the Museum of Contemporary Art San Diego (MCASD Downtown)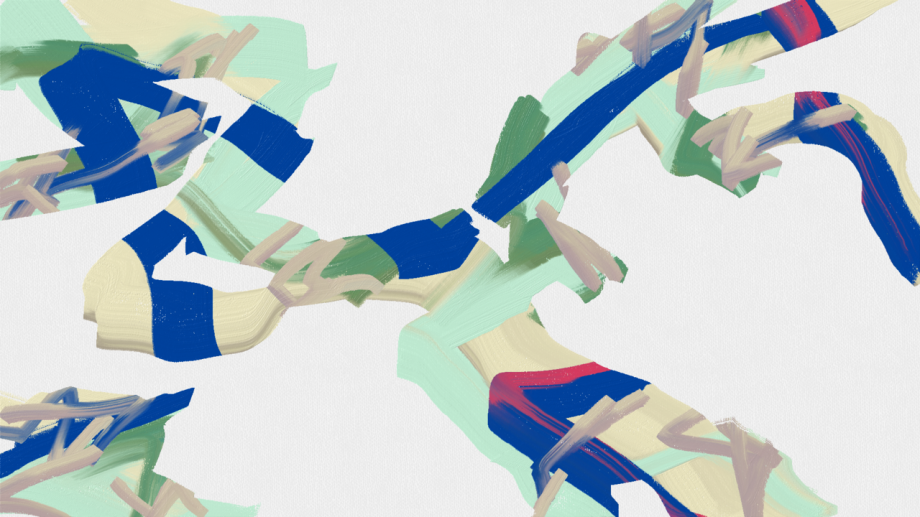 Over the Valley | Curated by Lucy Chinen, Over the Valley consists of works created over the last five years that reflect the distinct practices of three collaborative and three individual artists from Europe and the United States--Metahaven, Goldin+Senneby, Electronic Disturbance Theater, Michael Manning, Katja Novitskova and Andrew Norman Wilson. They are not part of any movement and they do not share common methods of production, yet all the works in this exhibition address the ever-expanding cultural influence held by the most powerful tech companies. The title refers to Silicon Valley, its influence, its promise and its failures. Companies such as Google, Microsoft, Amazon and Apple promise a better life served by innovation and the artists in Over the Valley use such new technologies in unexpected ways.
Over the Valley opens July 13 at Steve Turner Contemporary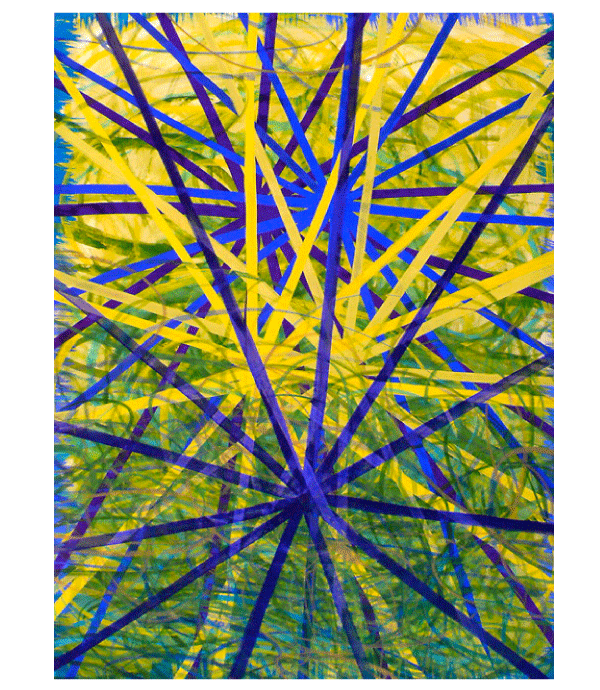 Robin Mitchell: Moment to Moment | Mitchell's exhibition of recent gouache paintings continues a line of visual thinking that has progressed through her previous three exhibitions at Craig Krull Gallery. In Code Paintings, her first exhibit with the gallery in 2007, Mitchell composed intricate arrangements of small marks and brushstrokes that were suggestive of landscapes and architectural cross sections. In her next two shows, working like a zoom lens, she moved progressively deeper into her compositions. The once tiny dots and dashes enlarged into more developed shapes which, according to Constance Mallinson, "recalled forms from Egyptian hieroglyphics and stylized decorative borders, Eastern Mandalas, early Modernist abstraction or popular 50's design motifs." In Mitchell's recent paintings, her brilliantly colored starbursts, orbs and linear overlays suggest that she is moving even deeper into what appear to be the molecular structures of her imagery. Like Zeno's paradox, one senses that Mitchell may continue to take a half step closer to her subject in an infinite exploration of form and color.
Robin Mitchell: Moment to Moment opens July 13 at Craig Krull Gallery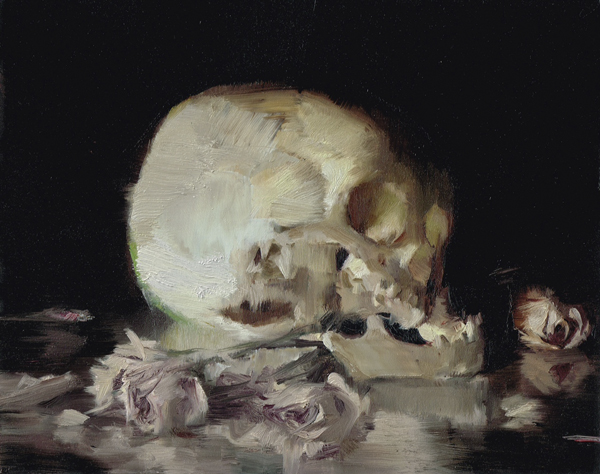 Grey Matter | A showcase of skull-themed paintings featuring the works of Andrew Smenos, Kim Cogan, Nicholas Coleman, and Vincent Xeus, among others. The artists were not restricted to just still lifes and could create anything they desired based upon the theme--any imagery that skulls conjured up for the artists including animal skulls, human skulls, a face painted skull, and so on.
Grey Matter opens July 13 at Maxwell Alexander Gallery, Culver City
For the most comprehensive calendar of art events throughout Los Angeles go to Artweek.LA.