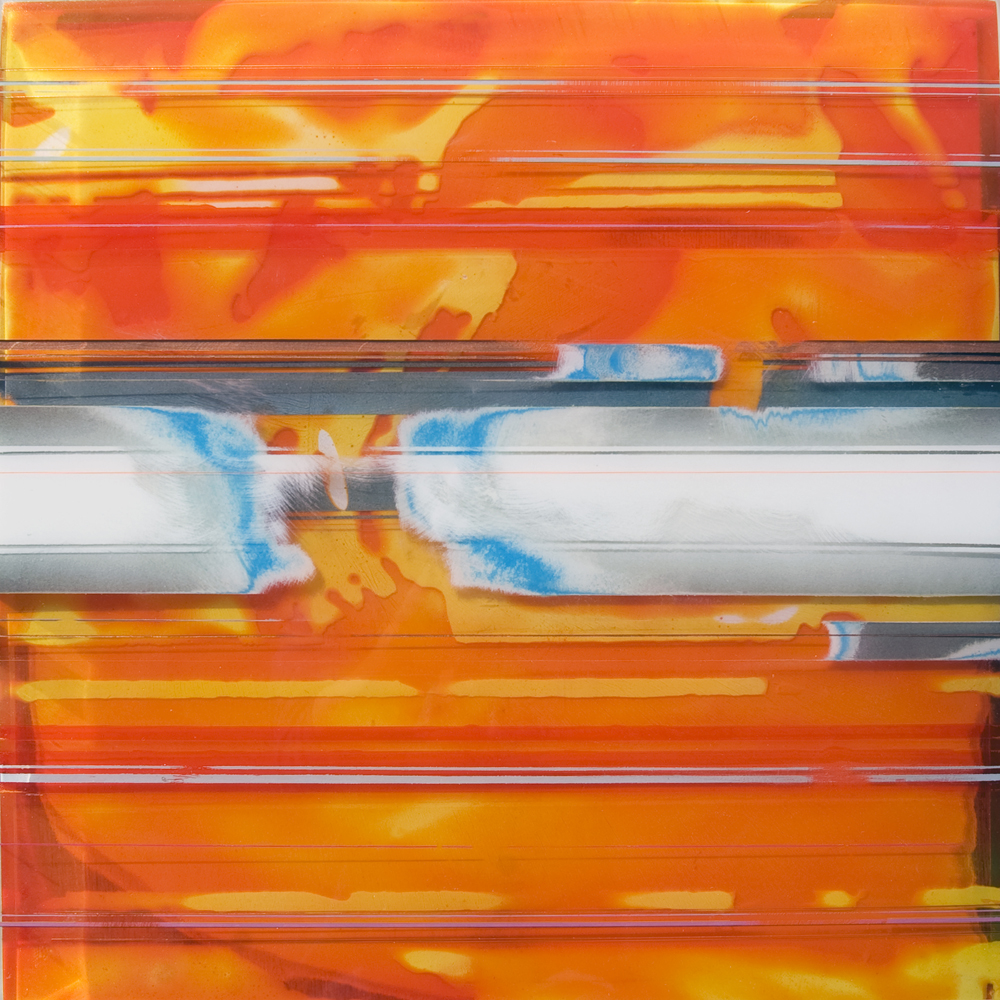 R. Nelson Parrish: streetseasky | Rendering a kinetic impression of the Southern Californian landscape, Parrish visually distills the iconic elements of surf, sun, and highway through glass-like resin, wall mounted objects.
Ultimately seeking the inter-connectedness of body and landscape, R. Nelson Parrish uses the speed and dynamism of athletics to inform his euphoric surges of color and pattern. Suspended beneath multiple layers of cured resin, the works evocatively blur the boundary between sculpture and painting and transcend the stasis of the art object.
Parrish's highly refined material process invokes the dexterity, agility, and dedication of the athlete. By painstakingly building these refined accretions of poured, cast, and polished environmentally friendly bio-resin in his studio, Parrish enacts the process of his work with an athlete's perfectionism and deliberateness. Seizing the "moment," Parrish's panels suspend time and seek to isolate this heightened experience of the athletic apex. When viewing Parrish's work, the viewer bears unlikely witness to a crystalline rush of adrenaline, literally apprehended within the material surface. Pigments are layered beneath and within the transparent material effectively capturing light and motion with a unique dimensionality. Parrish's work is neither entirely painting nor sculpture, but seeks to reconcile and integrate the two in a distinct way. His fascination with the confluence of seemingly opposing physical states, for example speed and stasis or land and sky, provides inspiration for the energetic transformations and experiential phenomena evidenced at the heart of his work.
R. Nelson Parrish: streetseasky opens June 22 at Edward Cella Art + Architecture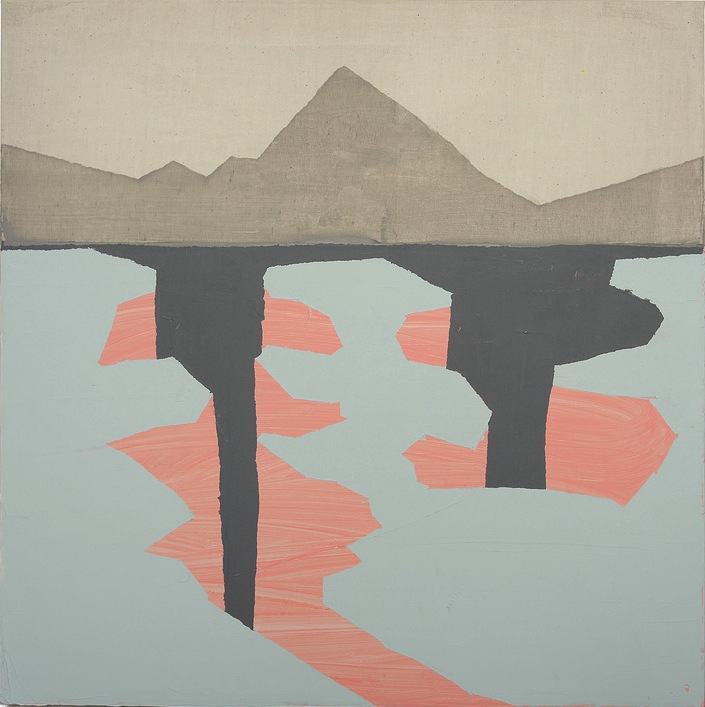 Tanja Rector: Travels | In this exhibition, Rector retraces a month-long journey through the southwestern United States via painting and sculpture. The resulting pieces of art are as raw, intense and unadorned as the landscapes of California, New Mexico and Texas.
Travels manages to be simultaneously deeply personal and universally accessible. As one views her work, one begins to engage in, even feel the power of her perspective: "From California, through Texas, we follow the long thin thread that divides the road through this 4,000 mile, month-long journey. It is a line that takes me past vast plains and mountain countrysides. They are marked by history...the landscapes are sublime in color and still. Through the broad window of this motorhome we drive, I imagine our human endeavors in these beautiful abandoned communities we pass." Her work exposes the heart of the Southwest; both the modern landscape and the untouched vistas before European settlement, even before the Comanche and Apache crossed its expanses - before it ever even had a name.
Tanja Rector: Travels opens June 22 at LAUNCH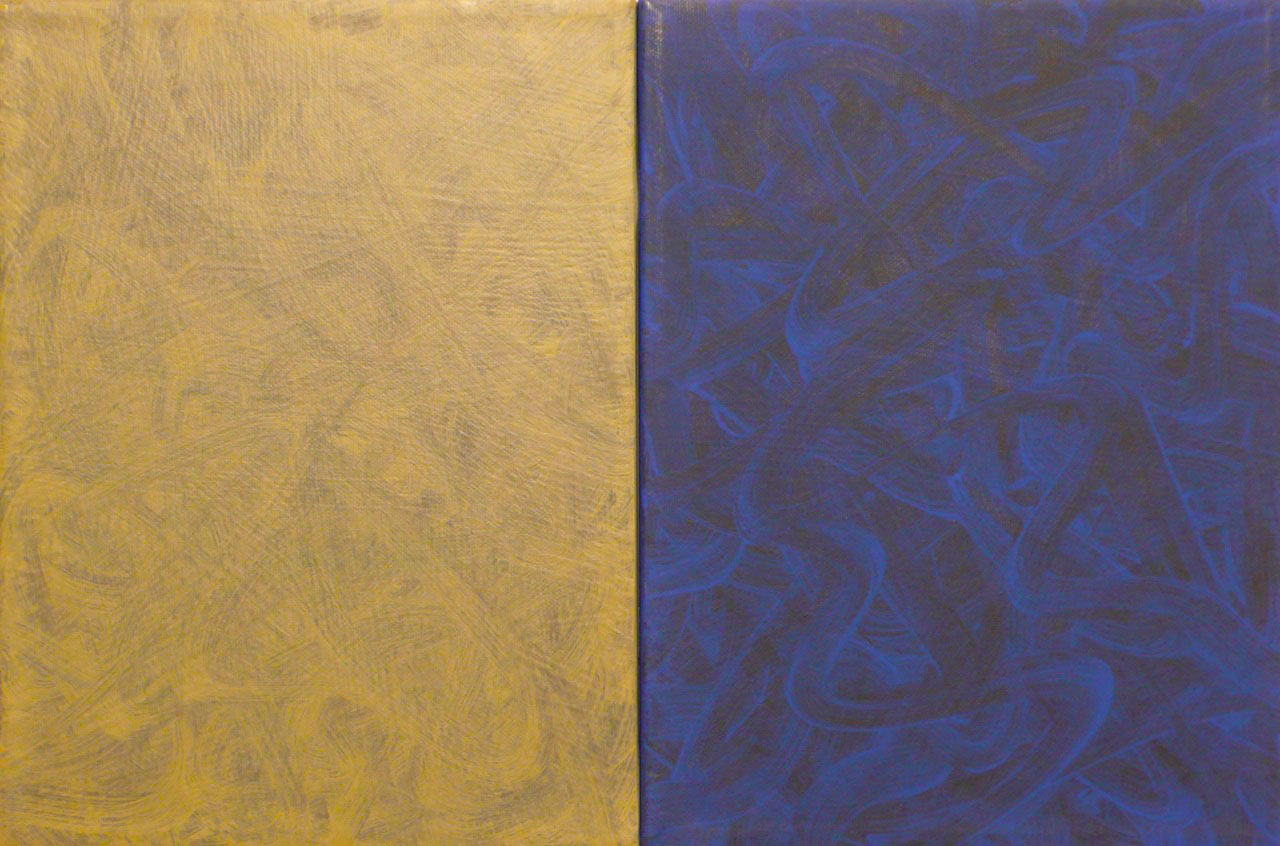 James Hayward: Variations on the Annunciation | Hayward is best known for the thickly encrusted monochromatic paintings that he began in the 1980s. This show is comprised of paintings that Hayward made in Rome in the late 1990s. During his time in Italy, Hayward was intrigued by paintings of the Renaissance masters Titian, Caravaggio, Bellini, and Botticelli. Fascinated by depictions of the Annunciation, Hayward says, "As Renaissance painting goes, the Annunciation is the high point of optimism. Quickly darkness and gore take over. I preferred to riff on the optimism and began a body of work called Variations on the Annunciation." While in Italy, Hayward also produced a series of paintings, inspired by Titian's Sacred and Profane Love. The current exhibition features paintings from both Sacred and Profane and The Annunciation series exhibited for the first time.
James Hayward: Variations on the Annunciation opens June 22 at Anna Meliksetian & MJBriggs Gallery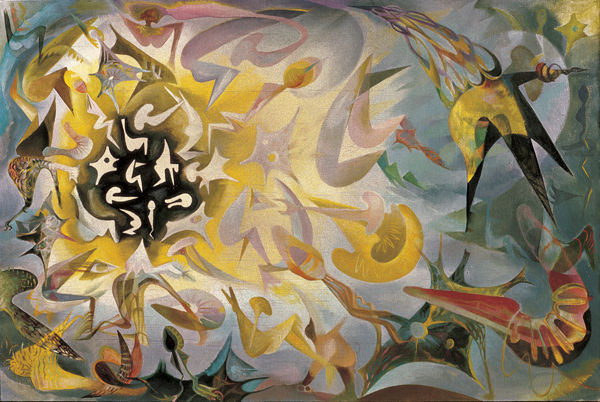 June Wayne: Eloquent Visionary | When considering the work of renowned artist and print-maker, director/founder of Los Angeles' Tamarind Lithography Workshop, June Wayne (1918 - 2011), the term "visionary" is almost too restrictive. Beyond her revelatory career as an artist, Wayne served as a lightening rod for arts advocacy. She wrote extensively on women's rights and artist's rights. By virtue of her exquisitely crafted examples and her meticulous instruction via Tamarind, she championed the legitimacy of all print media, almost single handedly rescuing lithography-as-art-form from extinction. She made an Academy Award nominated documentary film (Four Stones for Kanemitsu). She lectured, she moderated panel discussions and, in the 60's, earned a Ford Foundation grant to run her very successful business. She made tapestries, paintings, and prints of every imaginable variation. Unto her last days, she was busy; she remained passionately involved with an articulation of what it felt to be human via object, word or deed. She 'threw down the gauntlet' to anyone lucky or brave enough to spend time with her. In person and via her art, she was and is a force to be reckoned with.
June Wayne: Eloquent Visionary on view through July 27 at Louis Stern Fine Arts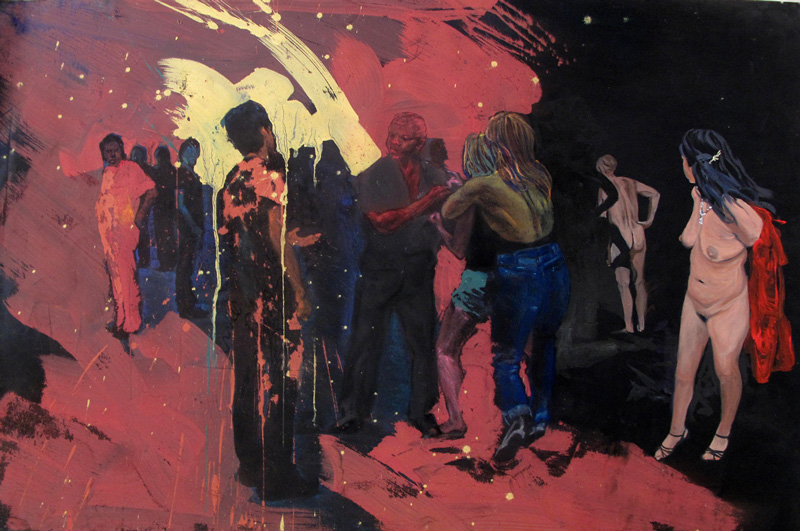 Artifex | Einar and Jamex de la Torre, Harry Gamboa Jr., Shizu Saldamando and John Valadez come from different generations, geographic conditions and cultural influences, but all with one thing in common; a commitment to artistically explore cultural artifacts that signify identity. These artifacts can be anonymous remnants from second-hand stores, found and used by Einar and Jamex de la Torre, or more personal artifacts such as the clothing, jewelry, and tattoos on the figures drawn by Saldamando, or Valadez's cautious use of Chicano artifacts like the low-rider car and the Virgin. Harry Gamboa Jr.'s characters in his photographs, films, and performances have become artifacts of a new Chicano culture that is being constantly (re)created through the organic evolution of Chicano artists themselves. These five artists both appropriate cultural artifacts and create new ones through their artistic vision that reflects their immersion in contemporary culture as well as their desire to contribute to the global visual discourse.
Notions of identity, culture, and community emerged in the 1960s and '70s during the civil rights movement with the Brown Berets and the Chicano Moratorium. Today in 2013 the world has changed. Artists are no less conscious of their identity, but that identity is a much larger assemblage of where they were born, where they have lived, where they exhibit, where they travel, and who they meet.
Artifex on view through June 29 at Koplin del Rio
For the most comprehensive calendar of art events throughout Los Angeles go to Artweek.LA.