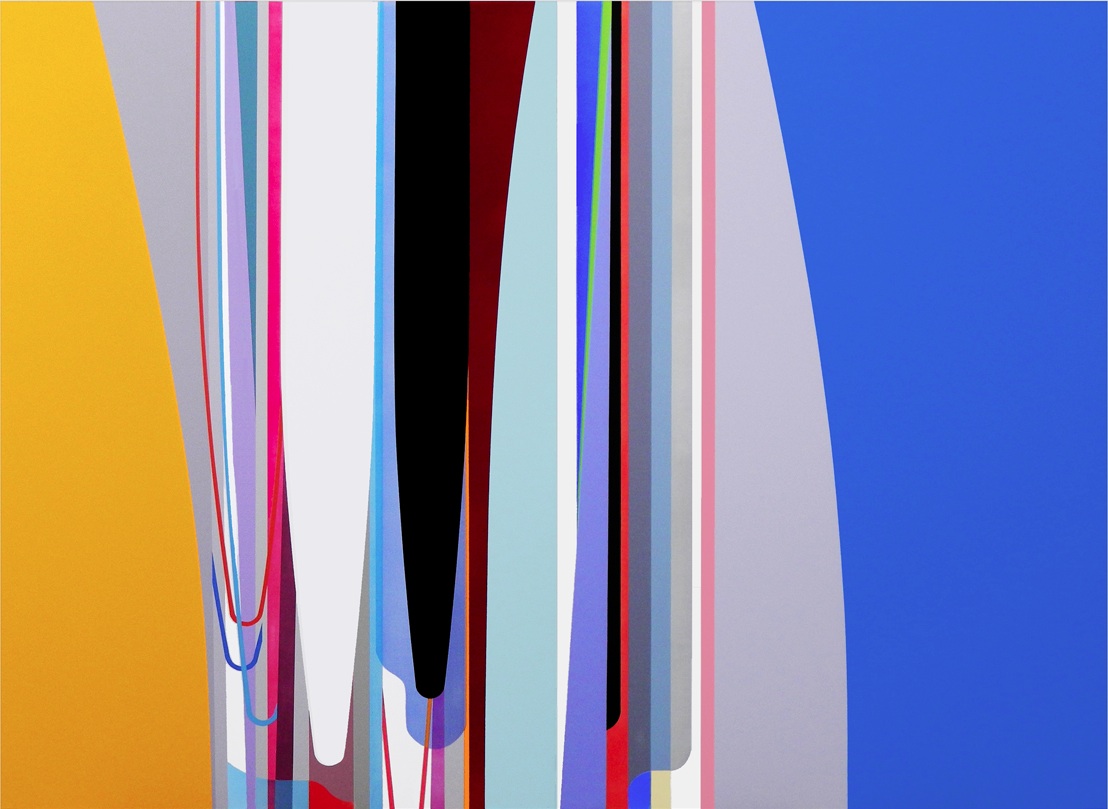 Dion Johnson: Vivid Slipstream | A new body of work of dynamic opposites; of expansiveness and compression, darkness and light.
In the tradition of Karl Benjamin and Lorser Feitelson, and their interest in the environment and landscape, Johnson uses color to evoke the contemporary urban, digital and natural landscape of Southern California. Influenced by the architecture of Eero Saarinen and geometric gestures of Ellsworth Kelly, Johnson skews the vocabulary of abstraction into a hybrid techno-language.
Johnson begins his images with drawings on his Mac Book Air and then creates each work by hand. His compositions use broad open shapes with convex/concave edges against multi-planed bands, evoking atmospheric spatial shifts. The diagonal structures possibly allude to car windows or an opening retina, each exposing a radiant vastness. More, the ten-foot long Propeller work suggests both a day and night window with its black and white panels. Johnson's use of color is intuitive, historically much the same as John McLaughlin, though his Pop inspired vision comes from the commercial tangle of cities and billboards of Southern California. Johnson's work is a clear balance of the harmonic and dissonant qualities of our environment; whether observing the curvature of freeway interchange or bright noon daylight, the paintings mirror the complexity of sensations lived on the edge of the Pacific Rim.
Dion Johnson: Vivid Slipstream opens June 15 at Western Project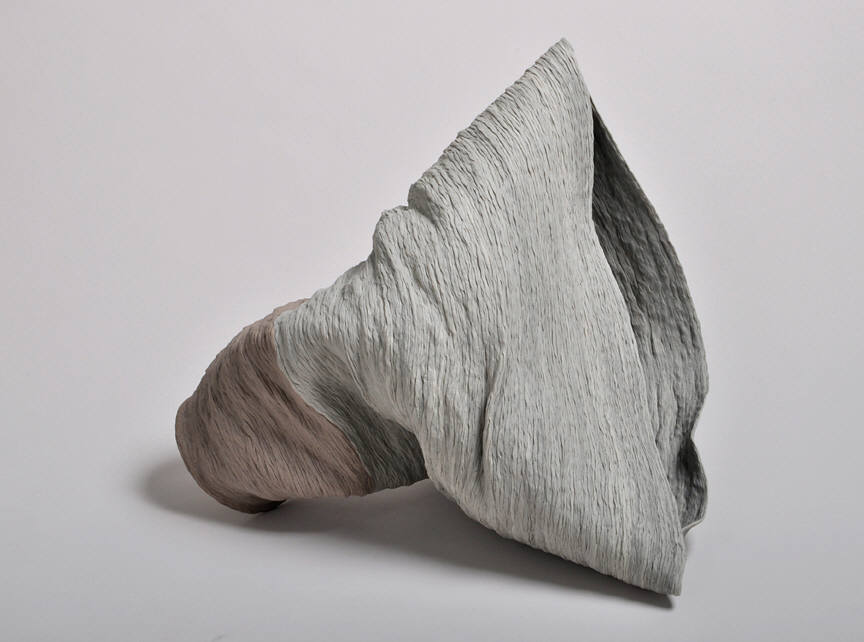 Cheryl Ann Thomas: Soft | This show demonstrates the artist's persistent stylistic development. Each stage of her evolution has been natural, with nothing forced or contrived in her transitions.
Thomas continues to form her work by coiling and pinching together impossibly thin strands of clay into vertical vessel forms. Rather than smoothing the ridges and furrows that characterize this process, she leaves the textured surface as a permanent record of her engagement with the material. When exposed to the heat of the kiln, the vessels soften or collapse unpredictably. It is by combining several collapsed vessels that she creates her larger sculptures, elegant and graceful compositions that are "exquisite and very delicate, richly open-ended in their associations," according to Constance Mallinson for Art in America.
Thomas has recently introduced soft, subtle colors into her previously black and white body of work. These new pieces are constructed of gentle shades of blue, brown, gray, cream, and white. The light hues lend a soft-focus quality to her work and make their delicacy, already a defining characteristic, even more pronounced.
Cheryl Ann Thomas: Soft opens June 15 at Frank Lloyd Gallery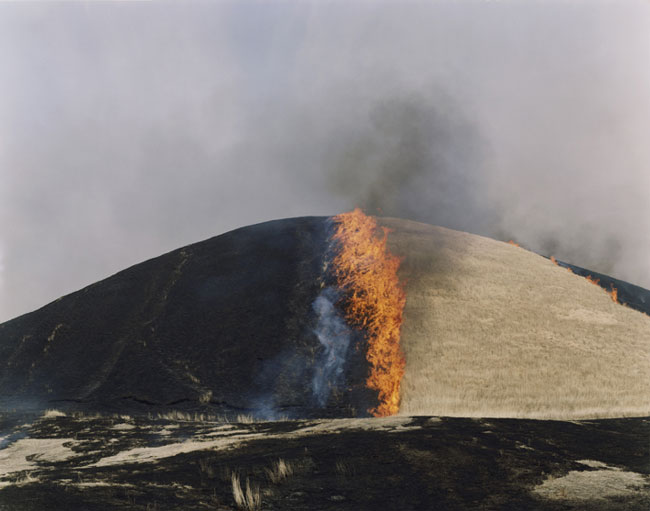 Rinko Kawauchi: Ametsuchi | Kawauchi doesn't think of her photography as documentation. Though her subjects are drawn from the tangible world around her, she is driven to take pictures by a belief in mystery, a love for things in motion, and a curiosity about the connectivity of everything she sees. Through the medium of photography she attempts to confront and comprehend what she finds puzzling about existence and to transcend the unavoidable flow of time by concentrating on a particular moment, which is neither past nor future.
For her latest body of work, Ametsuchi (Heaven and Earth), the artist has expanded her view of time and memory both figuratively and literally. She put aside her signature 6 x 6 inch Rolleiflex in favor of the more labor-intensive 4 x 5 camera and set out to explore the origins of civilization and culture. The results are photographs on a grand scale that focus on sacred time, ritual, and collective memory.
Rinko Kawauchi: Ametsuchi closes June 22 at RoseGallery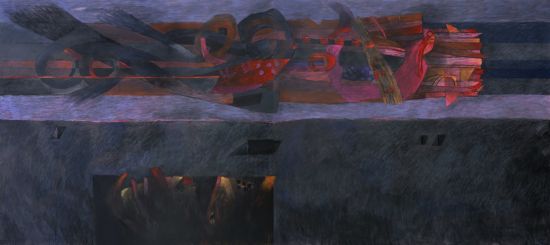 Fernando de Szyszlo: In Praise of Darkness | This exhibition of eleven recent paintings alternates between architectonic landscapes and figurative abstractions. Among the figural works is Death and the Maiden, 2012 (70 x 156 inches). The painting features a central totem-like figure, adorned in crimson feathers and backlit in a dark interior. What appears to be an altar or bed is visible in the background. A second figure, composed of stone and fluttering veils, watches the proceedings from a near by window. Contrasting effects of shadow and light enhance the paintings overall feel of menace.
Fernando de Szyszlo is regarded as a key figure in the development of Post-War abstraction. He is credited with having created an abstract language with roots in both European and pre-Hispanic cultures.
Fernando de Szyszlo: In Praise of Darkness runs through July 13 at Latin American Masters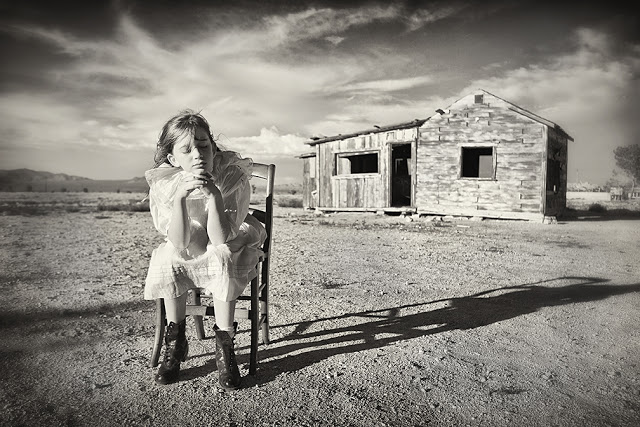 Carolyn Hampton: Childhood Dreams and Memories | Hampton's first solo exhibition contains a body of work seeking to recreate her childhood dreams. Hampton's childhood memories are recalled with her young daughter as subject of these dreamscape photographs.
Born and raised in Southern California, Carolyn Hampton first fell in love with photography at the age of 10 when her parents gave her a Pentax camera for her birthday. With camera always in hand, Carolyn went on to live in two European countries, travel the world, and learn to speak several languages. On a long trip by herself to Sub-Saharan Africa, shooting many rolls of film in that beautiful light amid a wild and unpredictable landscape, an artistic spark was ignited.
That passion for photography grew with the birth of her daughter, when Carolyn was inspired to recreate childhood dreams, memories, rituals and fantasies. With her daughter as her muse, and the use of artifacts that have been passed down through generations of her family, Carolyn's work is intensely personal and often carries symbolic meaning. Her intention is to create timeless images that call to mind the beginning of a story of childlike innocence, for which the viewer can determine what happens next. Many of us are captivated by the same visions, stories and themes, either subconsciously or consciously, because of our shared human experience.
Carolyn Hampton: Childhood Dreams and Memories runs through July 13 at Duncan Miller Gallery
For the most comprehensive calendar of art events throughout Los Angeles go to Artweek.LA.