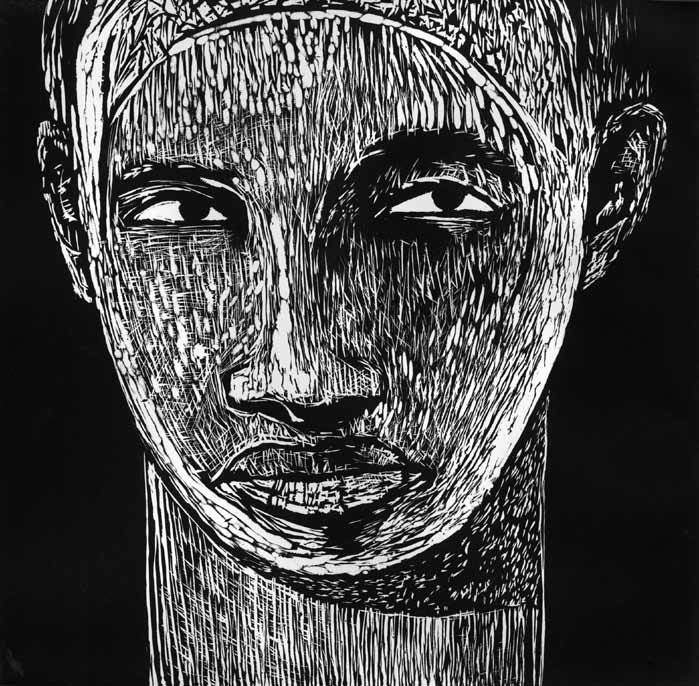 African-American Visions: Selections from the Samella Lewis Collection | Many dream but few have visions; visions require clarity, focus and force of will. This fall one can experience the power of the single eye in African-American Visions: Selections from the Samella Lewis Collections.
African-American Visions features many of the most commanding African-American artists of the 20th century, including Elizabeth Catlett, Richmond Barthé, John Biggers, Faith Ringgold, Betye Saar, John T. Scott, and Samella Lewis, herself. Many of the works featured in the exhibition originate from Lewis's personal collection, and may not again be available to the public, making this a most unique opportunity. And Lewis's collection of contemporary African-American art is one of the finest in the nation. Having devoted herself to the subject as artist, art historian, art educator, filmmaker, museum and publication founder, Lewis has been connected to the African-American art community for a lifetime. With consummate taste, she has created a collection of African-American art that is the envy of collectors. African-American Visions will highlight some of her most valuable pieces.
African-American Visions: Selections from the Samella Lewis Collection opens September 1 with a reception September 22 at the Williamson Gallery of Scripps College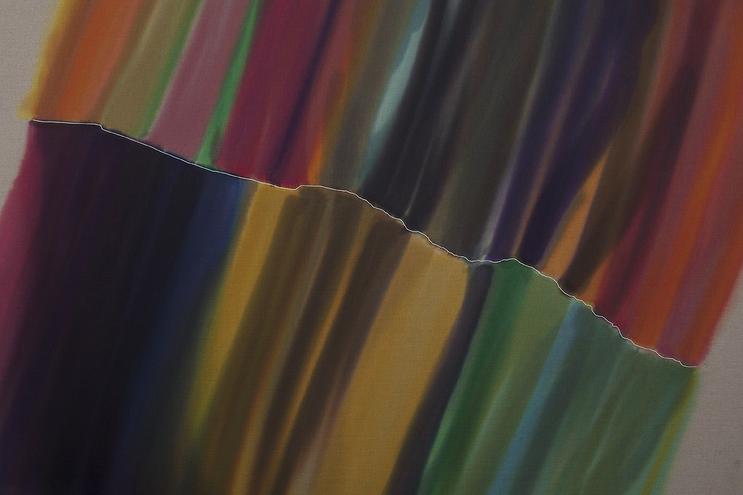 Tony de los Reyes: Border Theory | This new series of rigorous, visually tactile paintings contemplate abstraction as the foundation of both color field painting and the establishment of the U.S.-Mexico border.
In works that are both optically vivid as well as quietly provocative, Border Theory posits that the inclinations behind border-making and the aesthetic principles of abstraction are powered by the same habitual pursuit of spatial order.
Both abstract painting and border-making rely on the assumption that absolute space (the "free" space of the canvas or landscape, unresolved and contested), can be materialized through its transformation into a space of containment and law (the "painting," the "nation"). The relationship of a contemporary artist to his or her space (in this case de los Reyes to Los Angeles) is also the story of a space and its connection to the past (Los Angeles to Mexico) and occupation (artist to painting). In the Border Theory paintings, de los Reyes pursues the amorphous, layered structures of identity as found in the continuum of his location and profession.
Tony de los Reyes: Border Theory opens September 1 at Grand Central Art Center, Santa Ana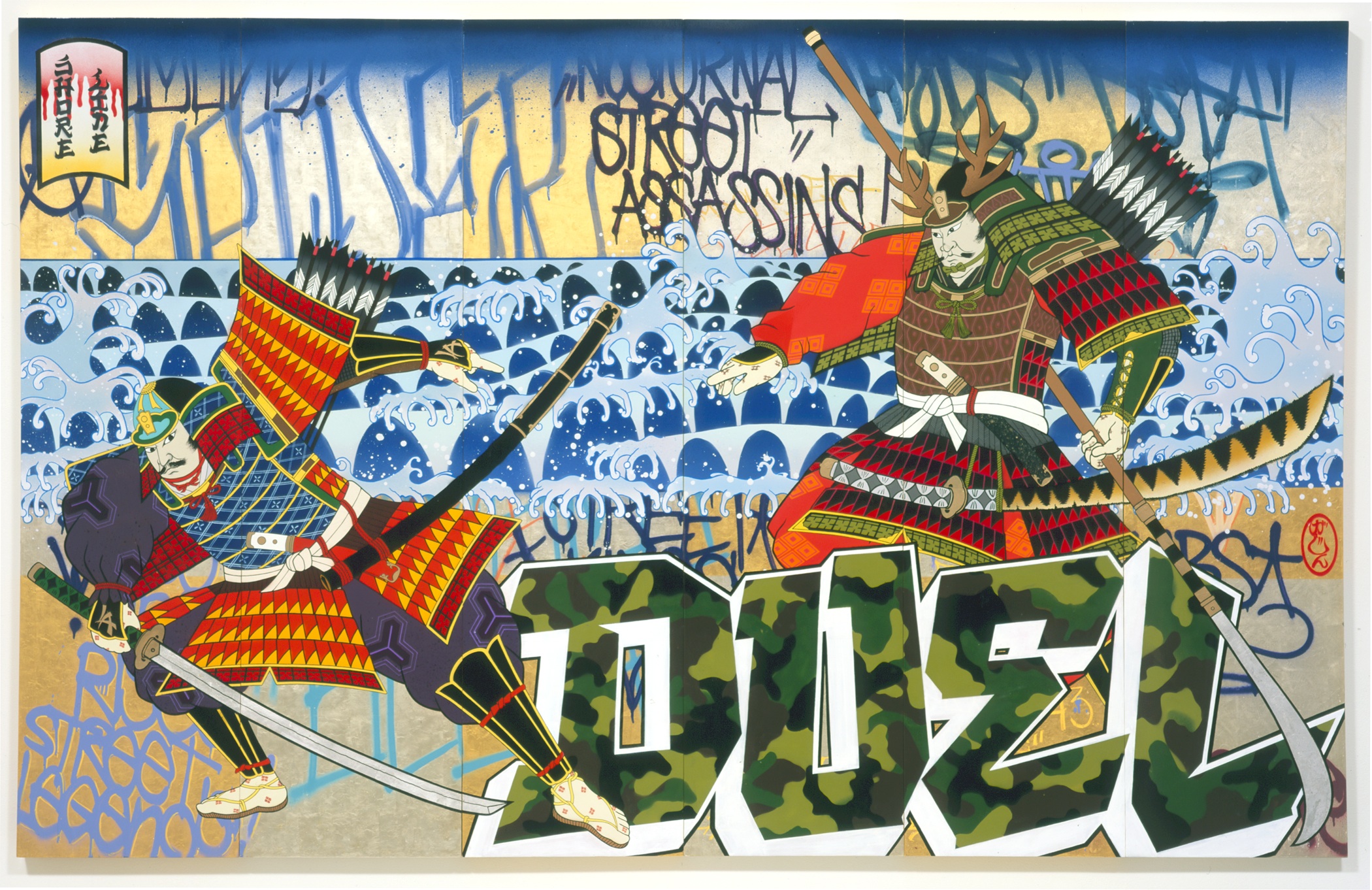 Gajin Fujita: Ukiyo-e in Contemporary Painting | A native of Los Angeles, Gajin Fujita (b. 1972) is a Japanese American artist whose work combines elements of traditional Japanese ukiyo-e art with contemporary American street art and Pop art, among other influences.
Fujita's panel paintings are rendered in the spray paint and markers frequently used in graffiti and street art, which would seemingly not allow room for the presence of traditional elements. His range of experiences, from growing up in Boyle Heights with a strong connection to the classical arts of Japan, to creating works both in studio and urban settings, gives him the versatility to move among several worlds simultaneously. It is through his unique approach that references to Japanese woodblock prints or ukiyo-e ("pictures of the floating world") materialize, and convey a singular mix of wry humor, cultural connection and respect for technique.
Gajin Fujita: Ukiyo-e in Contemporary Painting runs through October 7 at Pacific Asia Museum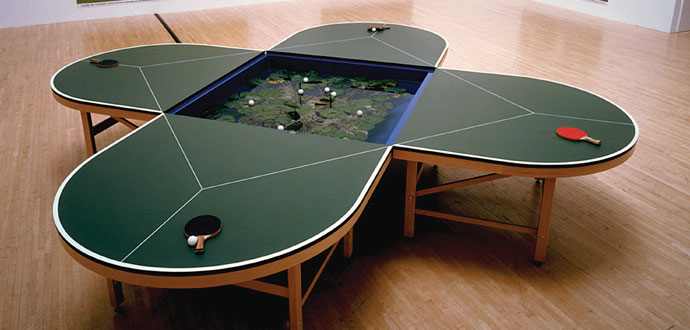 Play With Me | The exhibition explores the interactive potential of contemporary art within installation art. Play With Me seeks to dispel notions of distance by breaking down barriers of access to art by the public, so that contemporary art can be experienced by the audience as engaging and approachable.
Play With Me features 15 medium and large-scale installations by 14 artists interested in interaction and the relationship of the object with the spectator. The installations are meant to be thought provoking, unconventional and playful environments that engage the viewer while they challenge the way in which traditional mediums such as painting, for example, are perceived. Going beyond the established conventions and breaking down barriers between the viewer, the work of art and the institution, these installations allow an immersive experience within the artwork itself as opposed to observing it from a distance as an object within an enclosed picture plane.
Play With Me closes September 2 at Museum of Latin American Art (MOLAA)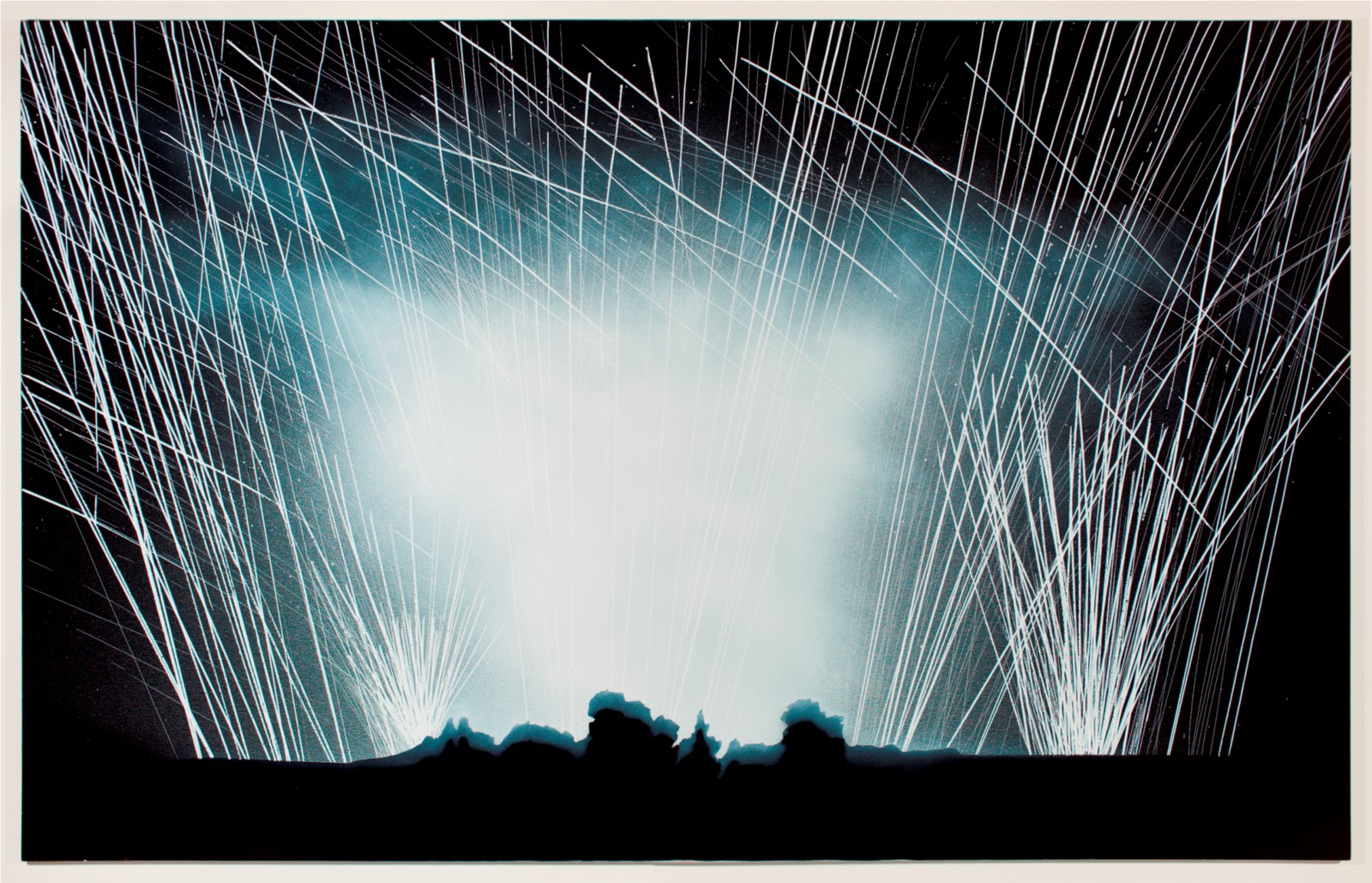 Jack Goldstein x 10,000 | This exhibition is the first American retrospective of Jack Goldstein (1945-2003), a central figure in Postmodernist discourse of the 1970s and 1980s. Goldstein's oeuvre developed over the years in an unusual breadth of media, from sculpture, performance, and film, to photography, records of sound effects, paintings, and aphorisms. The exhibition includes two immersive installations, 20 of Goldstein's films produced from 1971 to 1983, a representative selection of 22 paintings demonstrating their thematic breadth, and a selection of 18 records with listening stations. The exhibition concludes with Goldstein's Aphorisms (1982), Totems (1988-90), and other selected writings produced between 1982 and 2002. Given Goldstein's legacy and his increasing relevance to younger artists, a retrospective of his work is long overdue and essential to the larger re-evaluation of post-1960s American art. The exhibition will tour nationally.
Jack Goldstein x 10,000 closes September 9 at Orange County Museum Of Art (OCMA)
For the most comprehensive calendar of art events throughout Los Angeles go to Artweek.LA.