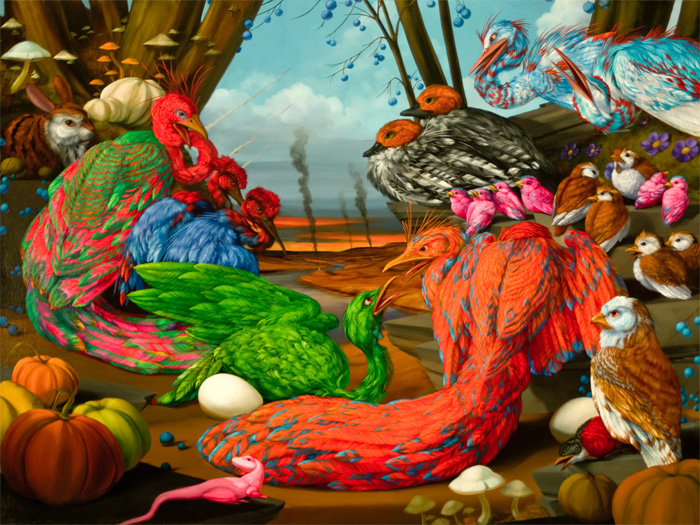 Laurie Hogin, "Habitat Diorama Illustrating the Effects of Substances in the Environment", 2012, oil on canvas, 36" x 48"
Sublime: Nature, Science and the Divine in Contemporary Art | During the 30 years since Marti Koplin first opened the gallery, Koplin Del Rio has continued to expand upon its original commitment of building and nurturing artists' careers. Its foundation was built upon exhibiting influential artwork based on historical, social and globally relevant themes.
Under the leadership of directors Eleana Del Rio and Sugar Brown, and gallery manager Ron De Angelis, the current program consists of established artists from its early history in the '80s, several mid-career artists, as well as a new generation of exciting, emerging artists.
Koplin Del Rio opened 2012 with a comprehensive exhibition of paintings and drawings by mid-career artist Kenny Harris titled, China. The artist spent seven weeks exploring the vast reaches of the Chinese landscape documenting his experience through on-site drawings and watercolors of landscapes and interiors. Long-time gallery artist Sandow Birk opened next with the second installment of his epic American Qur'an project of nearly 100 completed Qur'an pages, which are currently part of an extensive touring exhibition that originated at The Andy Warhol Museum in Pittsburgh, PA.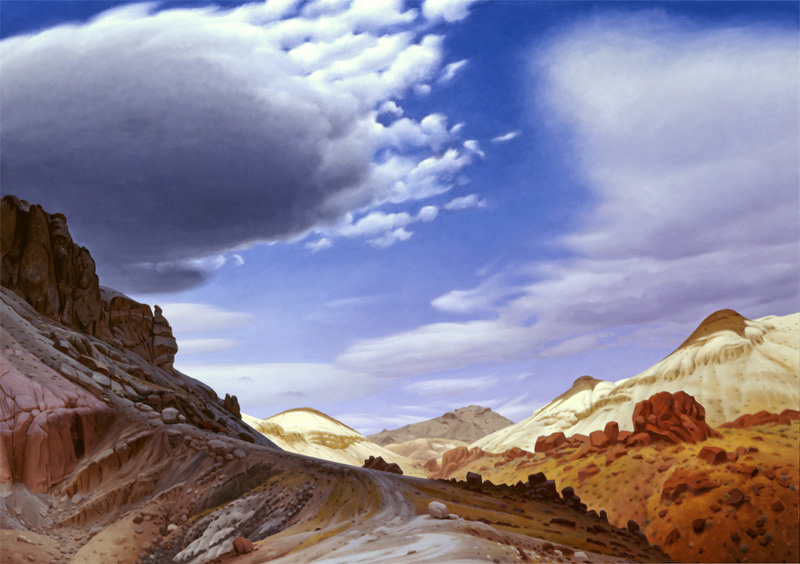 James Doolin, "Primal Landscape #6", 1993, oil on canvas, 72" x 102"
Following Birk, the gallery calendar featured consecutive solo shows by emerging artists: Melissa Cooke's monumental self-portrait drawings; Michelle Muldrow's lush interiors of retail meccas, and Shay Bredimus's expressive portraits in tattoo ink on drafting film.
To conclude 2012 and celebrate its 30th anniversary, Koplin Del Rio has planned a series of three invitational group shows beginning this week and continuing through the end of the year. The exhibitions are headlined with titles reflective of the gallery's strongest themes and notably diverse programming of the past 30 years. KDR will also acknowledge the many artists it has exhibited by extending invitations to a select group of artists outside of the gallery.
Sublime: Nature, Science and the Divine in Contemporary Art, the first of the series features new work by Eric Beltz, Shay Bredimus, Darlene Campbell, James Doolin, Josh Dorman, Martha Mayer Erlebacher, Mineko Grimmer, Kenny Harris, David Hines, Laurie Hogin, Joshua Levine, David Ligare, Marina Moevs, Barrie Mottishaw, Michelle Muldrow, John Nava, Len Paschoal, Tuan Phan, Bill Vuksanovich, and Yuriko Yamaguchi.
Sublime: Nature, Science and the Divine in Contemporary Art opens July 28 at Koplin Del Rio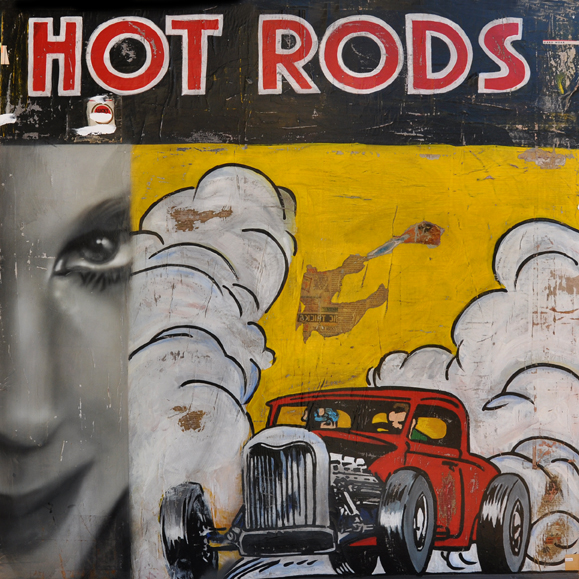 Greg Miller + Alejandro Gehry: New Works | Two solo exhibitions that oddly pair the "neo-pop" imagery of one, with the significance of historic military wardrobe represented in the work of the second of these native Californians.
Labeled a "neo-pop" and "post-pop" artist by such critics as Donald Kuspit and Peter Frank, Greg Miller does indeed draw from the pop-cultural imagery that saturated American consciousness during the 1950s and 1960s. It was a time during which advertising and text became indelibly encrypted into our experience of everyday life. Life as "advertised" and life as "lived" were insuperably intertwined on the pages of "LIFE" and "LOOK" magazines, on television shows, commercials, billboards, hotel signs, romance novels and even matchbook covers as never before. Miller's paintings excavate this imagery and often appear as unreconstructed fragments of these signs, drips, patterns and phrases. These form the layers of Miller's pop cultural imagery, both literally and figuratively.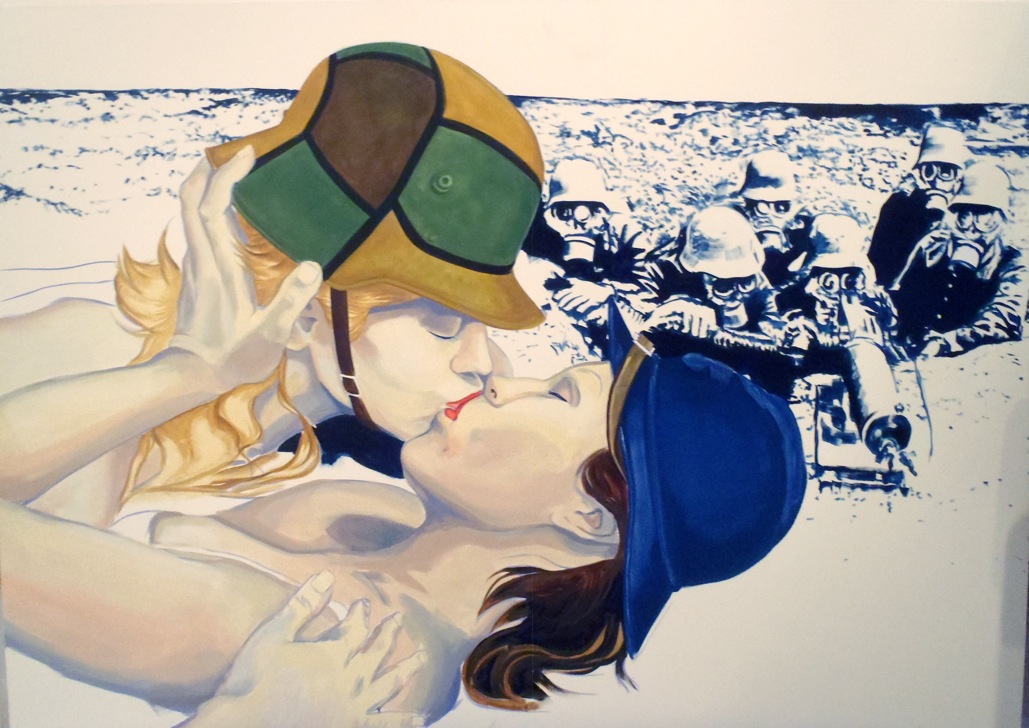 Since childhood, Alejandro Gehry has always been deeply interested in the history of military uniforms. He continues to paint the figure, and these new works address the significance of historic military wardrobe by incorporating the decorative and ornate headwear of the First World War. In the beginning of the war, helmets were beautifully designed as regalia for the countries they represented. However, as the war continued, helmets would evolve in design to better serve their utilitarian function as protection.
The women represented in these paintings are wearing designated helmets of the countries that fought each other. These paintings also focus on representations of women (or lack there of) in the portrayals of combat history, as well as the generalizations of the roles they played during wartime.
Greg Miller + Alejandro Gehry: New Works opens July 28 at William Turner Gallery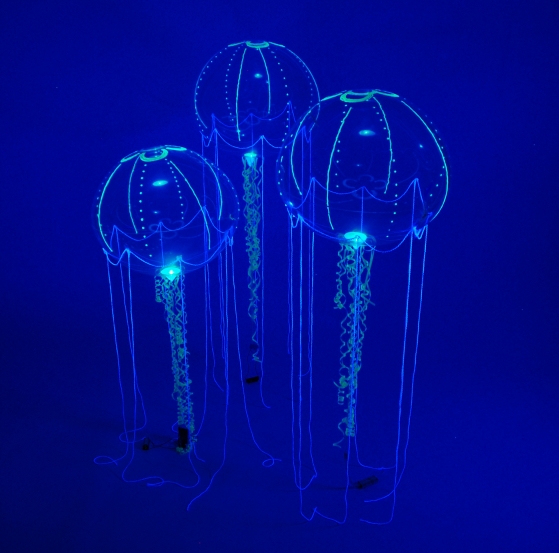 Aquaculture: Jed Berk + Oliver McIrwin | In this multimedia collaboration, Jed Berk and Oliver McIrwin stretch the boundaries of our perceptions of organic and synthetic, intertwining art and engineering to create an installation that challenges our perceived equilibrium with nature.
Through this intersection of art and technology, the sculptures, photographs and video work in the exhibition combine to create a dynamic, environmental prototype that explores our shared belonging and emotional connection to the living world. In Berk and McIrwin's artistically engineered ecosystem, flora and fauna interact with each other and the viewer in a self-prescribed organic exchange that questions the nature of natural. The paradigm of our natural environment is pulled apart, creating a tenuous balance between opposing emotions. It is within these states of flux, suspended between memory and time, that our ability to routinely regulate the everyday with the chaotic is questioned, allowing for the potential of an alternative narrative.
Aquaculture: Jed Berk + Oliver McIrwin opens July 28 at Aran Cravey Gallery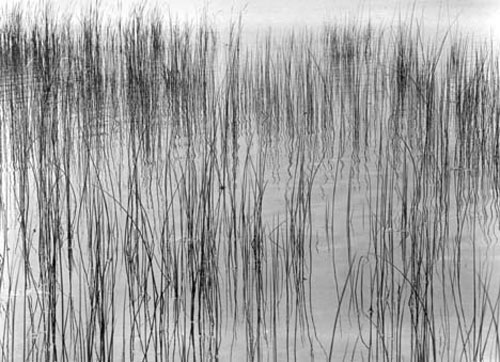 Harry Callahan: Nature Abstracted | This exhibition of black and white photographs by world renowned photographer Harry Callahan focuses on one aspect of his work; his elegant, abstracted, and often calligraphic images of the natural world. Lyrical reflections of sunlight on the water, delicate weeds in the snow, or reeds in a lake seem to transcend photography and cross over into the world of painting and drawing. Begun in the 1940's when realism was the dominant aesthetic, these sophisticated images foreshadow Abstract Expressionism, reducing nature to the abstract patterns and linear rhythms embraced by artists such as Cy Twombly, Franz Kline, or Jackson Pollock. Callahan's innovative approach to such themes embodies his search for new ways of seeing, which ultimately cemented his position as one of the seminal figures of 20th century photography.
Harry Callahan: Nature Abstracted runs through August 16 at Marc Selwyn Fine Art
For the most comprehensive calendar of art events throughout Los Angeles go to Artweek.LA.