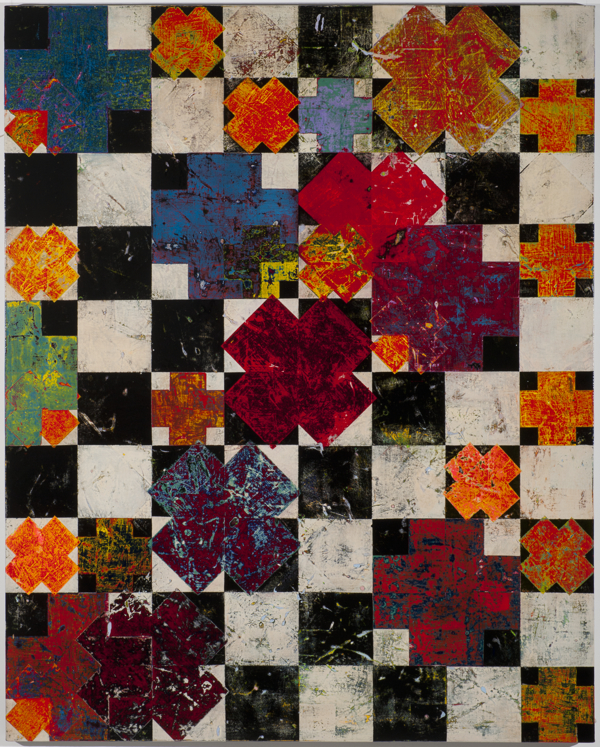 Charles Christopher Hill and Group Show | An exhibition of works tracking the artist's trajectory from his 1970s "stitch" pieces to his most recent paintings. The title "...and Group Show" alludes to the disparate aesthetics and techniques Hill has employed over the span of 40 years, leaving the impression that this is the work of multiple artists. Hill is fresh off of participating in four Pacific Standard Time shows, each of which highlighted a different era in his career. The exhibitions took place at the Museum of Contemporary Art, Los Angeles; Norton Simon Museum, Pasadena; Laguna Art Museum, Laguna Beach; and the Frederick Weisman Museum of Art at Pepperdine University.
Charles Christopher Hill was a member of a burgeoning art scene in 1970s Los Angeles. He became known for collaged tapestries, consisting of stitched fabric and newspaper bits, which were painted and then distressed through various means -- sometimes buried, immersed in the ocean, or blasted with water at a car wash. Texture and pattern were allowed to emerge organically in these works; the focus on surface, incorporation of chance, and the idea of process would become recurring themes in Hill's work.
Charles Christopher Hill and Group Show opens August 4 at Leslie Sacks Contemporary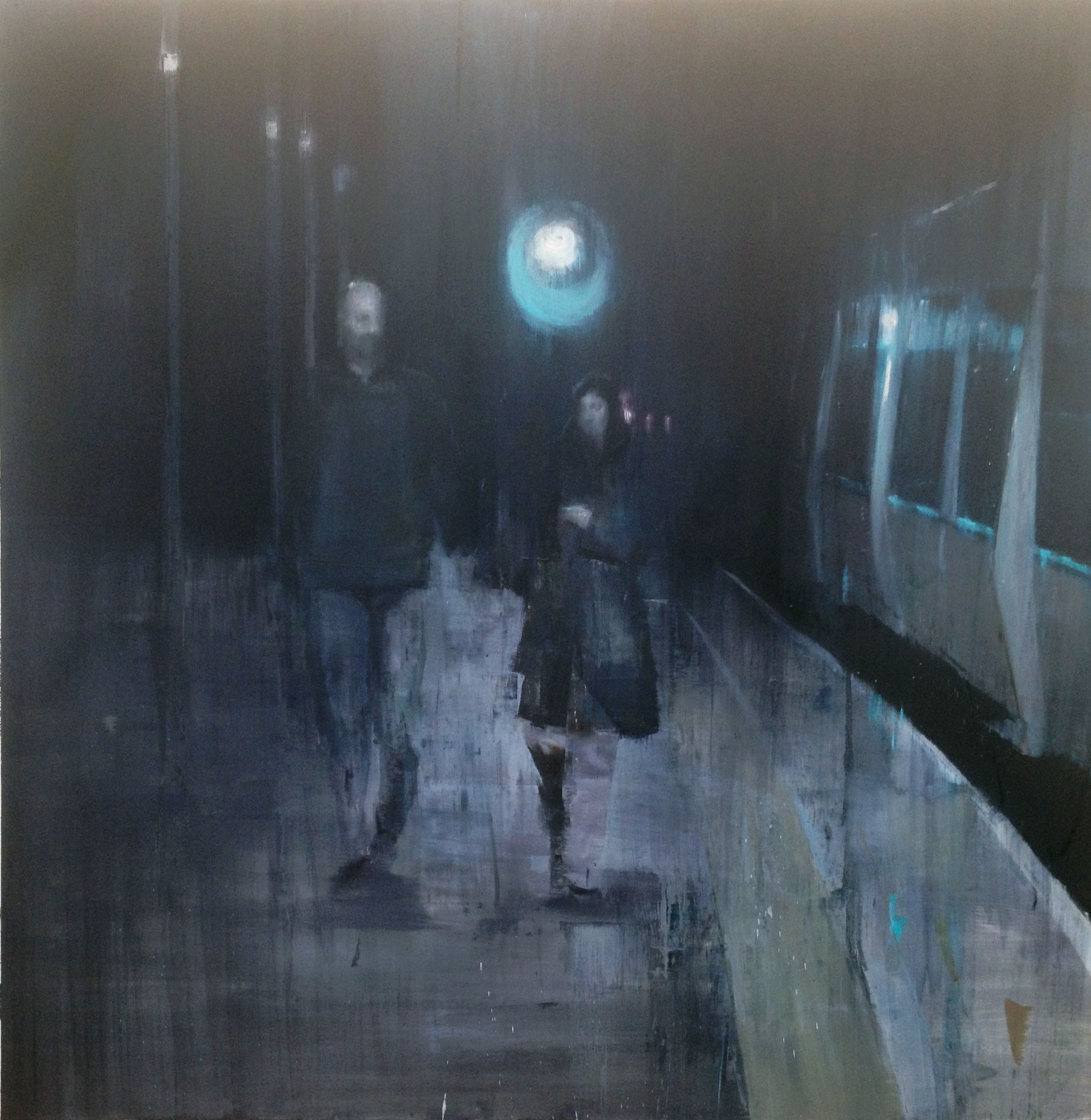 Brett Amory & Adam Caldwell: Dirty Laundry | Each artist mobilizes their unique representational strategies to invoke the modern day disconnect between time and space, self and other, and present and past.
Amory's atmospheric preoccupation with memory, the moment, and nostalgia, is dynamically in contrast to Caldwell's abrupt composites and recombinations of imagery, from sources spanning mass media to antiquity. Both artists approach their medium as a means of problematizing temporal identity, and the social experience, by exposing the nitty gritty polarities and paradigm shifts of an increasingly fractured reality of the self.
The artist uses photography as the primary point of departure in his process, and uses it as a social tool of observation to capture the world around him. He reduces these images to their most striking and elemental parts compositionally, and attempts to convey the fleeting quality of these moments through a painterly and impressionistic treatment of the photograph.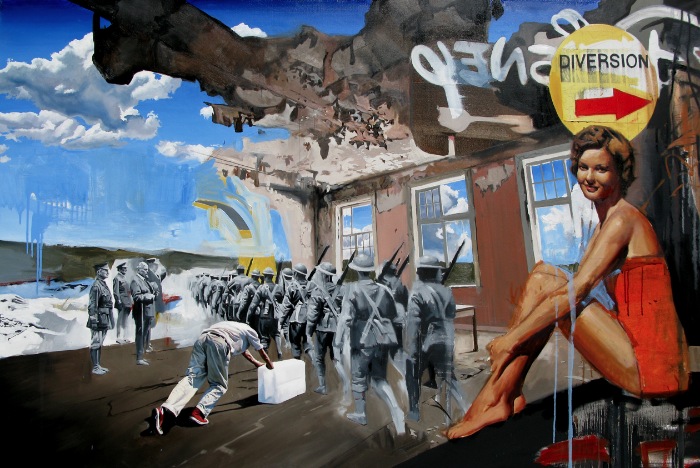 Caldwell's imagery is complex -- a sort of social architectonics. Meaning becomes a process, self-consciously crafted by the associative juxtapositions laid out for us by the artist. A common thread in this work is its intentional ambivalence and recombination, the viewer is left feeling the pull of unreconciled subjects and themes, and is unable to reductively ascribe a singular meaning to them. Aesthetically seductive and visceral, and consummately executed, the paintings are captivating and unrelenting. We are caught in their grasps and actively participate in their meaning.
Brett Amory & Adam Caldwell: Dirty Laundry opens August 4 at Thinkspace Gallery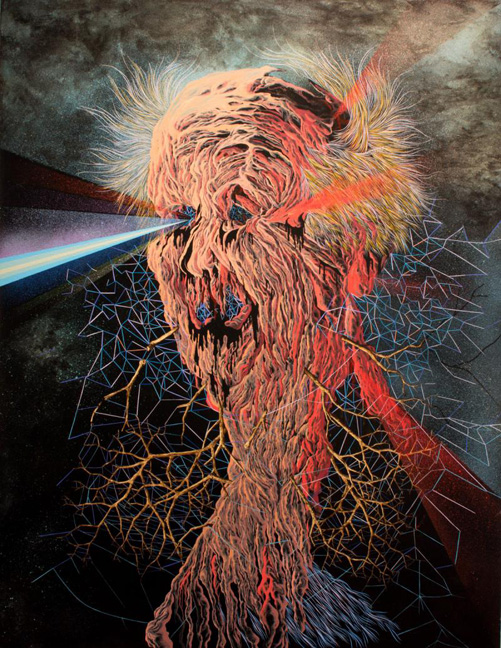 Scott Greenwalt: Phenomenal Specimens | For his first solo exhibition in Los Angeles, Greenwalt presents images that illustrate with uncanny precision the palpable horror of our physical situation. And like the alchemists of old, he instills in the work an element of the mysterious, a fantastical imagining of our souls and bodies transformed in matter and energy.
The result is landscapes and portraits populated and magnetized by cloudy æther, sinewy, degraded and corporeal fragile forms, fine filaments of hair and flesh transmutated by rays of energy streaming from eyes and orifices. The work captures a moment of profound fantastical physical change and refers to a thing larger than what we are able see with our own eyes: a nightmarish dimension of the alchemist's gaze made manifest in all its magnificent terror.
Scott Greenwalt: Phenomenal Specimens opens August 3 at WEEKEND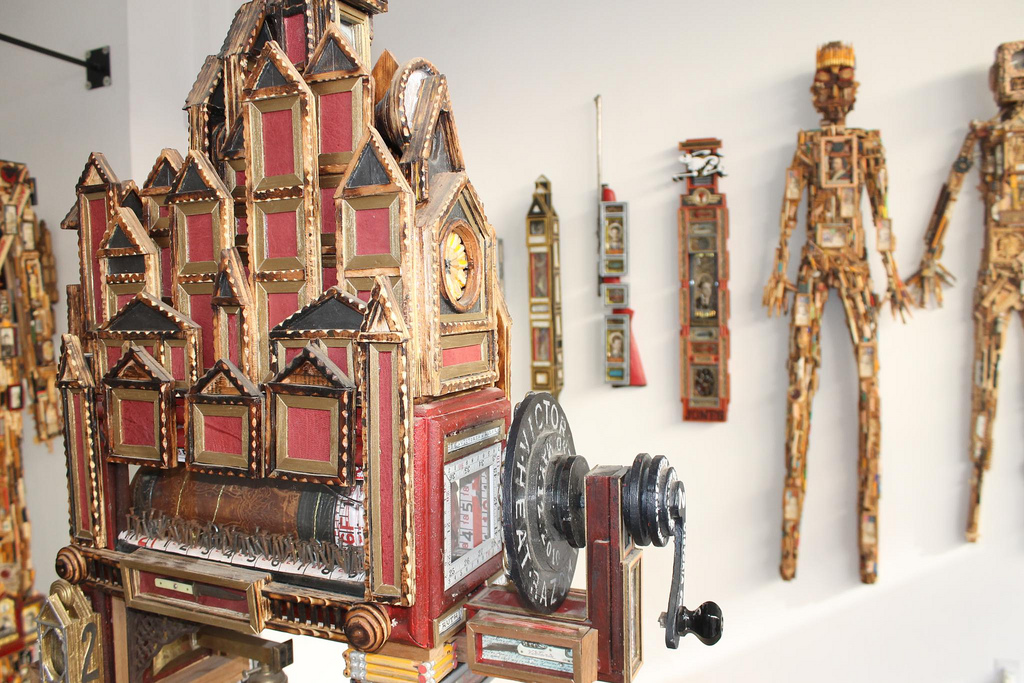 Matjames Metson: Method Attic | This "one night only" exhibition (extended with a closing reception August 4) is a must see and features more than 120 stunning works. Metson has been called a "juggernaut of the assemblage world." Known for his illustrative work as well as his assemblage sculptures, this self-taught artist spent the better part of two decades living in New Orleans. His work has been featured at the Craft and Folk Art Museum (CAFAM), Billy Shire Fine Arts, La Luz de Jesus, Barrister's Gallery in New Orleans, and the American Visionary Arts Museum in Baltimore Maryland. Metson is currently putting the finishing touches on his graphic novel, Survivor's Guild, Book 2, a story of the displacement and loneliness he experienced as a Katrina refugee.
Matjames Metson: Method Attic closing reception August 4 at Coagula Curatorial
For the most comprehensive calendar of art events throughout Los Angeles go to Artweek.LA.