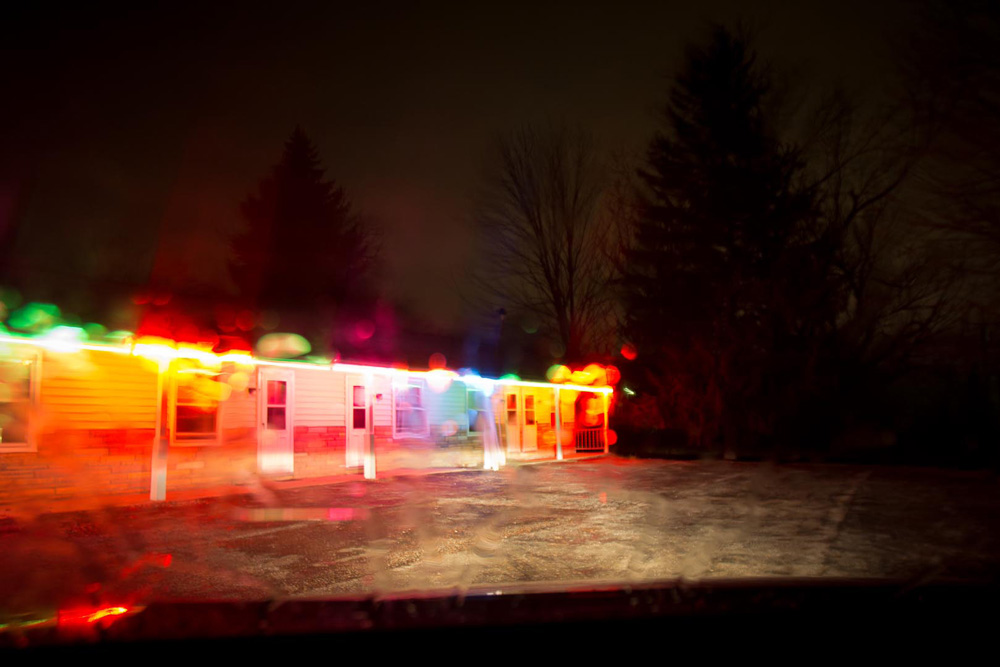 Todd Hido: Excerpts from Silver Meadows | A highly personal yet fictionalized return to what Hido refers to as "the architecture" of his childhood, Excerpts from Silver Meadows is a body of photographs brimming with sensuality and rich narrative threads.
At the core of this series is Silver Meadows, a very real street that runs through the neighborhood in Kent, Ohio where the artist grew up as a boy. It is the entry point for both a literal reexamination and a frenzied reinterpretation of a Midwestern suburban upbringing; a trip through the innocence of childhood and adolescence and into the darker aspects of life beyond. Like his breakthrough series House Hunting and his work from Roaming, which followed, Excerpts from Silver Meadows explores the familiar territory of mysterious suburban exteriors at night and the solitude of traversing the American landscape by car. But by juxtaposing his signature, moody landscapes with unsettling, provocative portraits of young women and the spaces in which they dwell, and by combining a documentarian's hard-edged clarity and a painter's expressionistic gestures, more than ever before, the artist has created a series of cinematic moments which draw the viewer into the universe of his own memory and experience.
Todd Hido: Excerpts from Silver Meadows opens December 1 at RoseGallery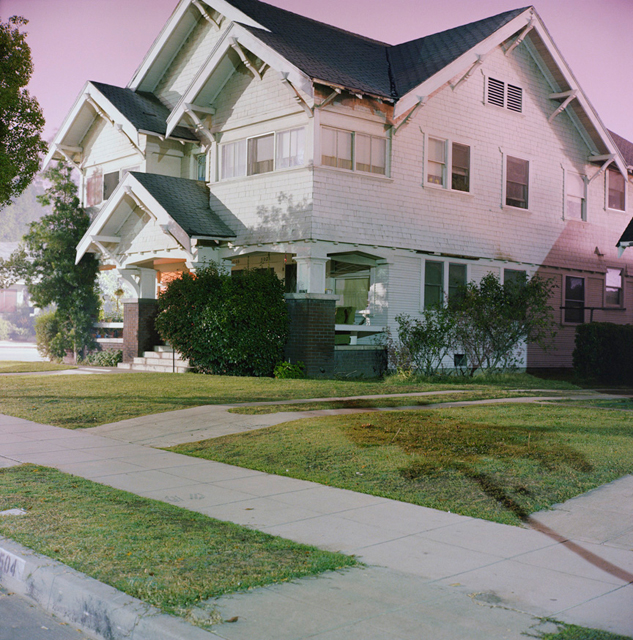 Tim Bradley: California Dwelling | In the late 1970s, Tim Bradley was a photography student living above a grocery store in Glendale. Inspired by the lush color photography of that period, he began a four-year project exploring the singular qualities of California light and space using his aging neighborhood as a backdrop. The resulting body of work, entitled California Dwelling, was shown only once and then put away for 30 years. In 2010, he started the slow process of having the original negatives restored and printed to recapture the soft palette that defines our regional light. He observed that "the layering of old bungalows, postwar apartments, vintage cars and traces of contemporary suburban life made the places look like no one know what decade it was. Sunlit pastel surfaces and night views with illuminated facades and impossible shadows projected a feeling of theatricality." California Dwelling consists of a selection of 32 x 38" archival pigment prints.
Tim Bradley: California Dwelling open December 1 at Craig Krull Gallery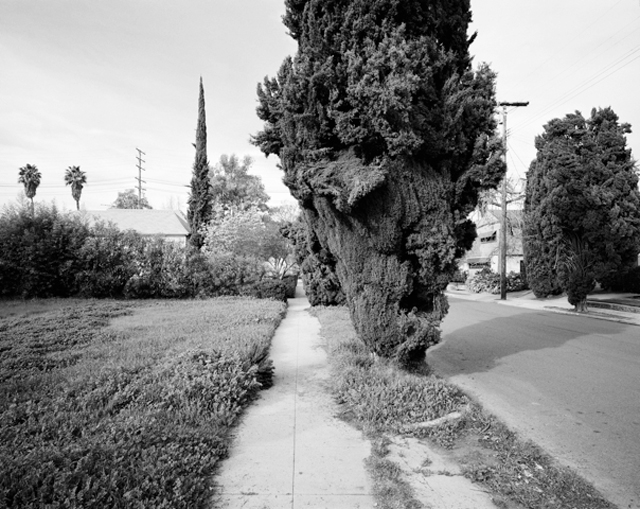 Mark Swope: Foliage | Like Bradley, Swope has focused on urban residential neighborhoods of Southern California, but with a specific interest in the relationship between the built environment and ornamental horticulture. His black and white images reflect an aesthetic and theoretical approach associated with the New Topographic movement in photography, and artists such as Joe Deal and Henry Wessel Jr. Some of the images document crisp, neat hedges that define yards and boundaries, or perfectly trimmed topiaries that suggest constant attention to detail. Others depict plant life wildly out of control, such as giant Hollywood Junipers whose tentacle-like branches resemble the tips of flames as they overpower tiny, modest bungalows. This exhibition, Swope's fifth at Craig Krull Gallery, follows previous photographic bodies of work on local subject matter including The Los Angeles River, The Cornfields, vintage rooftop signage, and the trees of Elysian Park.
Mark Swope: Foliage open December 1 at Craig Krull Gallery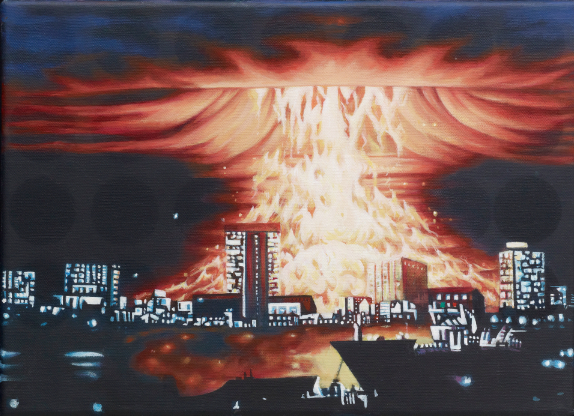 LOST (in LA) | This exhibition aims to discover the lost history of radical exchange between artists from France and Los Angeles and to participate in the re-birth of Los Angeles as an artistic capital.
LOST, one of the influential TV series of this decade, is considered by many artists as a source of inspiration as well as disappointment, as it struggles to deliver a true formal link that would connect the different layers of time and space. The exhibition LOST (in LA) comes from the desire expressed by many artists to create this formal link.
LOST (in LA), the premiere exhibition presented by FLAX (France Los Angeles Exchange) in partnership with the Palais de Tokyo, Paris, and the City of Los Angeles Department of Cultural Affairs (DCA), will feature a major installation of works by contemporary artists from both Los Angeles and France. The exhibition, curated by former director of Palais de Tokyo Marc-Olivier Wahler, will present visitors with a visual and experiential narrative loosely inspired by the hit television series LOST.
LOST (in LA) opens December 1 at the Los Angeles Municipal Art Gallery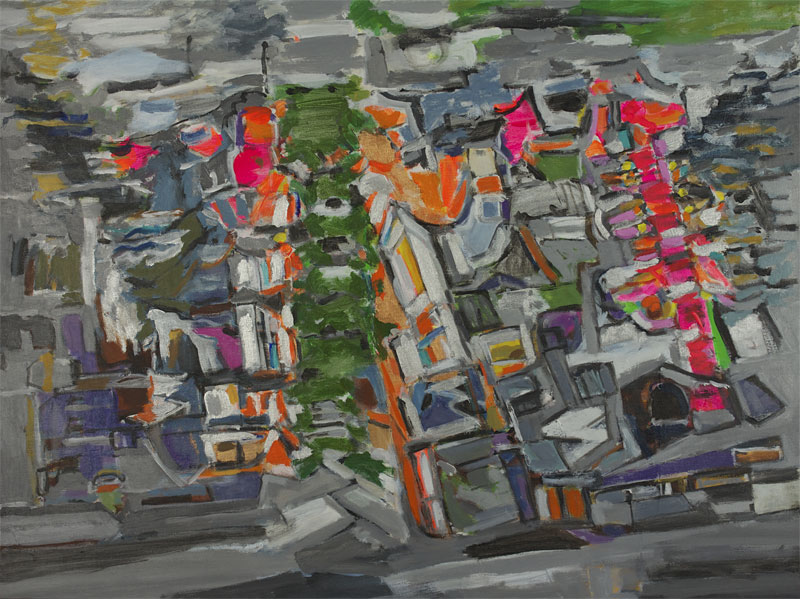 Claire Chene: Mapping | Sometimes you become lost and need to find your way. Claire Chene found herself desperately lost when her precious sketchbook disappeared. So many images and ideas gone. For many artists there could be no greater disruption. Then, she came to a logical solution... make a map and find your way. Chene's work has often referred to places she has lived, worked or traveled to, places that can be fading memories or recent explorations. In her latest work, the idea of mapping leads to aerial views of bustling city grids and desert vistas. These are paintings of electric vibrancy, pulsing traffic, swirling skies and blowing dust, gentle cherry blossoms and concrete jungles. And, somehow, by mapping her way through Japanese cities, the Arizona desert, wherever the maps would lead, she found she was back again. These paintings speak of that journey.
Claire Chene: Mapping runs through December 22 at FIG Gallery, Bergamot Station
For the most comprehensive calendar of art events throughout Los Angeles go to Artweek.LA.