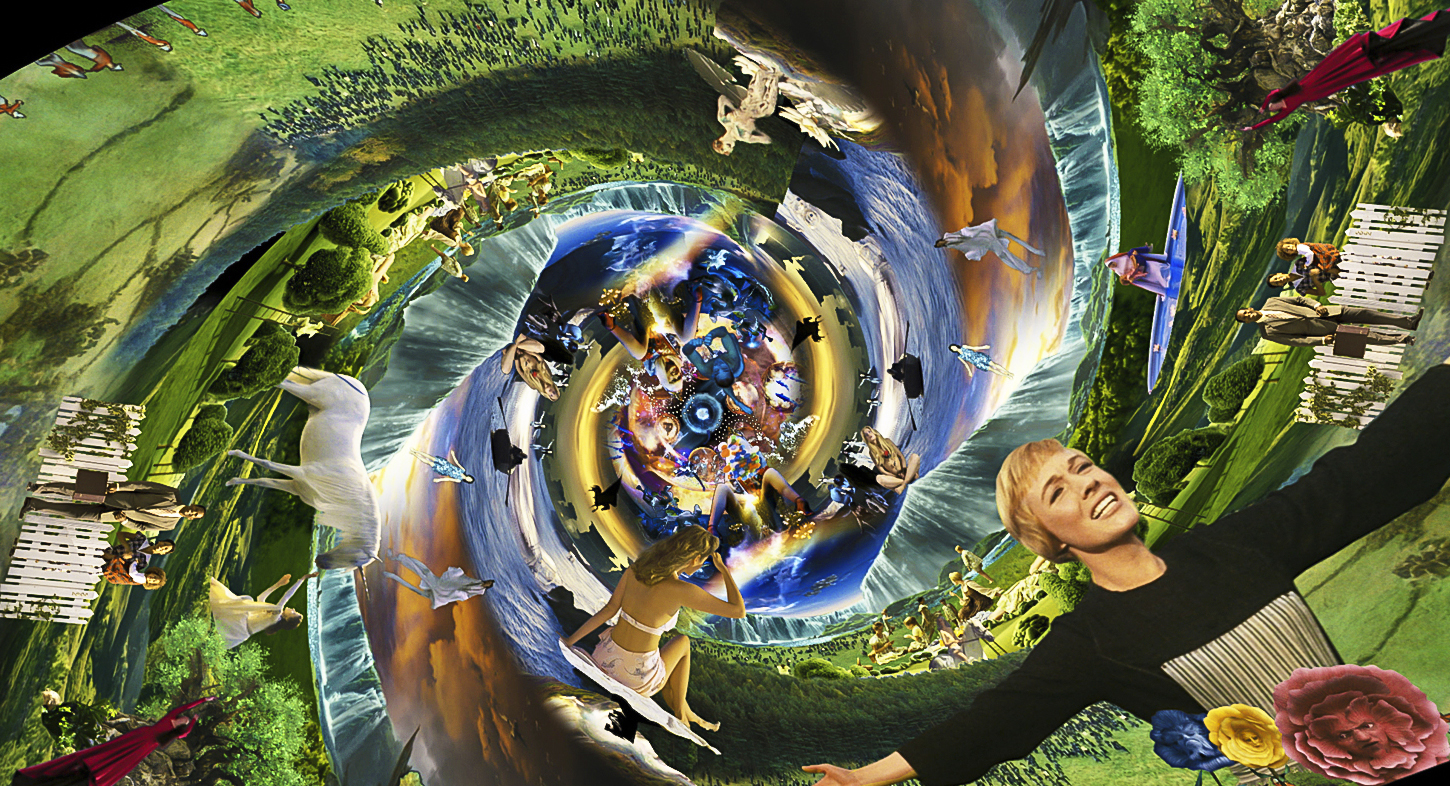 Marco Brambilla: Creation (Megaplex) | This is the completion of a trilogy of 3D video collages that began with Civilization (Megaplex) (2008) and Evolution (Megaplex) (2010).
Creation (Megaplex) presents a spectacle of hundreds of clips from a vast archive of iconic Hollywood and international films. Set within the form of a giant DNA double-helix, Brambilla takes the viewer on a spiraling trajectory that begins with a big bang and continues through embryonic inception, idyllic Eden-like bliss and decadence, and culminates in annihilation -- only to then interminably re-invent itself. Brambilla creates a hyper-realistic landscape of clouds, meadows and burning cityscapes against which this cycle of human endeavor unfolds.
Using groundbreaking 3D technology, Creation (Megaplex) is the most technologically complex work in the triptych. According to Christopher Eamon, "Brambilla's working method is unique. Not content to merely montage clips together one after the other as in the now-familiar 'collage film' genre where appropriated films are sequenced to create something new, Brambilla's approach crops and isolates figures and bits of action... collaging them together across space -- as in a painting -- as well as in time, as the piece unfolds temporally."
Marco Brambilla: Creation (Megaplex) runs through December 22 at Christopher Grimes Gallery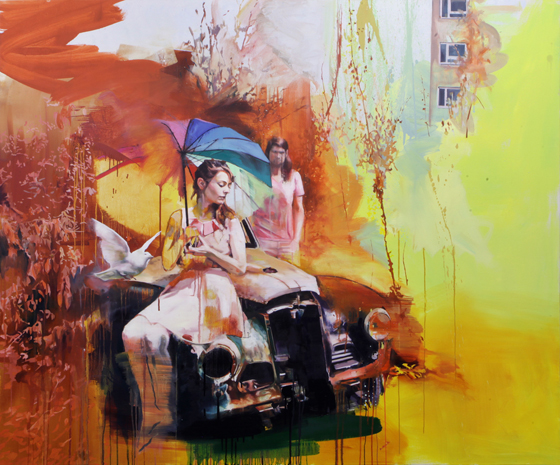 Chloe Early: Rainbow Ruins | A chromatic meditation on the lush contrasts of nature and technology. Lullaby Lost (image above) reveals an urban secret garden, characters reflective in an organic environment, where bright and autumnal abstractions frame tonal perception. As Early describes, Lullaby Lost is "an abandoned journey, a dead end, a downpour and a radioactive palette." Central to all the work is emotion, grounding mercurial worlds with human presence. "The idea was to create a kind of Lost scenario, people taken from contemporary society but placed in an ambiguous environment, surrounded by wild nature and various degenerate machines," says Early. The painting's thematic shifts reflect in the moods of its human figures, vibrant with transformation. "The changing pace of technology, the distance between how we live now and even 50 years ago, these old machines that I'm painting seem almost organic compared to our new shiny internet based world." As painting with oil on aluminum symbolizes change, Early's work explores evolutions of painterly consciousness, finding hypnotic dreams in aesthetic polarities.
Chloe Early: Rainbow Ruins opens November 10 at Corey Helford Gallery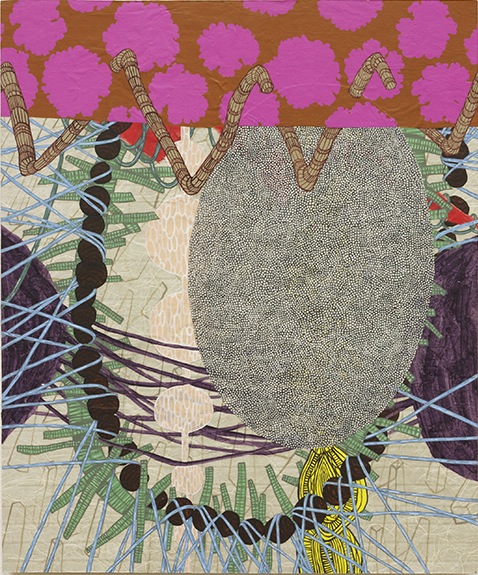 Loaded: Mary O'Malley and Laura Sharp Wilson | Loaded examines their interest in depicting something that has been imagined before it is drawn. Both O'Malley and Wilson conjure a world or system that's entirely their own. They do not draw from living motifs. Rather, O'Malley and Wilson prefer artificial sources -- often creating an alternate "natural" universe where hybridization is the modus operandi. Using paper as their primary medium, both artists individually create work that's quite rich in the layering of forms and patterns.
Wilson's recent series of brightly colored, acrylic and graphite paintings on paper is her least figurative and most complex to date. Continuing her interest to convey clarity amidst chaos, the artist explores the contradictory world by portraying systems of delineated and meticulously rendered forms that collide and intertwine in concentrated compositions -- a poetic reference to the everyday struggle. Wilson, who studied painting and color theory (Washington, D.C. color field painter Sam Gilliam was her mentor) and textile design, works primarily with Unryu -- a Japanese mulberry paper that's semi-translucent with long threads running through and preferred by Wilson for its tactile, fibrous quality. Her visual language is deeply rooted in her fascination with cloth patterns that range from Constructivist textile designs to 18th century Indian palampore.
Loaded: Mary O'Malley and Laura Sharp Wilson runs through November 21 at Sam Lee Gallery, Chinatown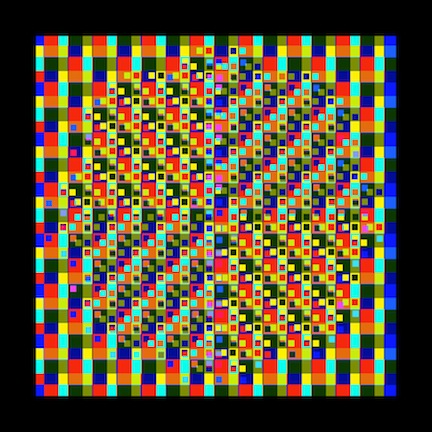 Wally Gilbert: New Work | The show features large images on paper from a recent series of abstractions in color made based on a well-known optical illusion. These pictures were created by interacting the basic image with itself, slightly moved in register, and set in different colors. The artist has created patterns in color contrasts that often swell from the paper and move out from the picture plane. In still other combinations of the underlying image, he has produced floating images or flat, abstract patterns.
As well, the artist shows digital images that lend themselves to a severe enhancement in color space. By driving all the pixels to full color saturation, he creates a striking image that looses some of the photographic clarity but achieves a "painterly" quality. By presenting these images on an LED light-frame, he creates jewel-like effects that light up the room.
Wally Gilbert: New Work opens November 8 at Los Angeles Center For Digital Art (LACDA)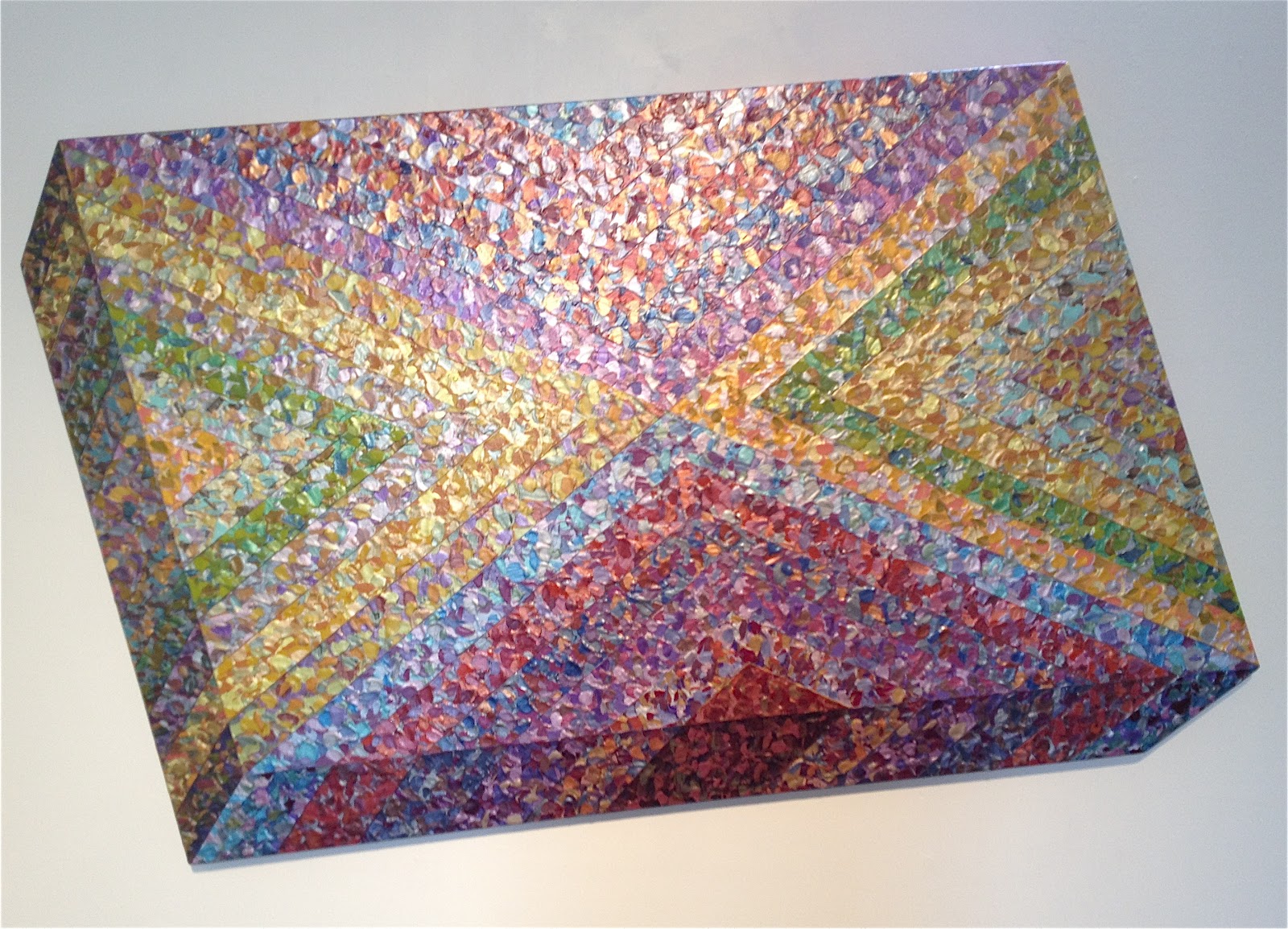 Jack Reilly | Reilly is known as one of the original artists from the Abstract Illusionism movement of the late 1970s. For three decades he has maintained an affinity for simplicity in painting through a visually complex and laborious technique. Thousands of brushstrokes in acrylic polymers and metallic pigment are painted on geometric shaped-canvas structures. Reilly combines theoretical systems and elements of serendipity arranged within linear formats that interact with the shape of the canvas, sometimes straddling the line between painting and sculpture.
Jack Reilly received his M.F.A. from Florida State University in 1978 and shortly thereafter he moved to Los Angeles. Reilly is a recipient of a National Endowment for the Arts grant and numerous other awards. His paintings are included in major public, private and corporate collections internationally. He is chair of the Art Department and professor of Art at California State University Channel Islands.
Jack Reilly opening reception November 8 at McNish Art Gallery, Oxnard College
For the most comprehensive calendar of art events throughout Los Angeles go to Artweek.LA.