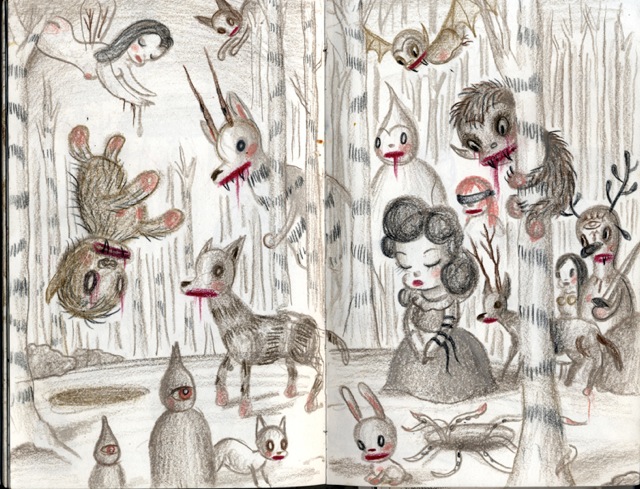 Gary Baseman: Mythical Homeland | This solo exhibition extends the narrative inspired by his recent retrospective, Gary Baseman: The Door Is Always Open at the Skirball Cultural Center. Basemen showcases again the motifs of home and nostalgia in creating another breathtaking installation honoring his family's heritage.
Mythical Homeland includes a three dimensional birch tree forest as homage to legacy of his parents. Both resided as partisans in forests, hiding from the Nazis, in the outskirts of Poland during WWII. Hung among over a dozen life-sized trees and on the walls of the gallery will be Baseman's familiar paintings, drawings and photographs of his lively creatures and young girls. This multimedia installation explores the myth of both place and space, while exposing shifting national narratives with regard to Communist, Fascist and Nazi perspectives. Overlaid is the artist's personal narrative. His subjects, then, become loaded with meaning as he creates fantastical, allegorical compositions.
Gary Baseman: Mythical Homeland opens October 5 at Shulamit Gallery, Venice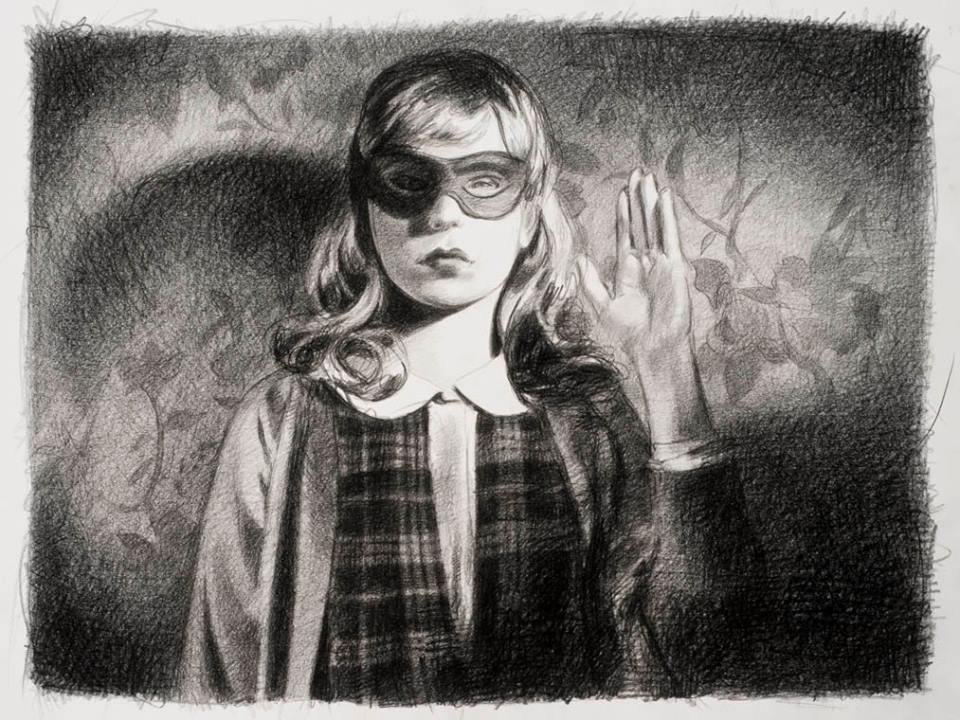 Mercedes Helnwein: The Trouble With Dreams | As is her custom, Helnwein uses bygone decades and the Southern and Midwestern states for inspiration. But with this series she explored more specifically the realm of domestic mysteries, the underbellies of small towns, living room noir, and the dangers of normality.
Helnwein attacks her stories from various angles and with a number of different media -- her trademark thick black pencil, watercolors, and large-scale oil-pastels. Despite the variety of styles and mediums, all Helnwein's works are united by their obscured or skewed perspectives - leaving the viewer in the dark about what exactly is occurring or why. "I always like the idea of finding a 'twilight zone' in really mundane circumstances or scenes, in a living room where everything apparently seems normal, with its wallpapers and patterned curtains, its claustrophobic nick-nacks and portraits of family members - I can't help thinking that this is a fake front to a far more interesting underbelly," she says.
Mercedes Helnwein: The Trouble With Dreams opens October 5 at Merry Karnowsky Gallery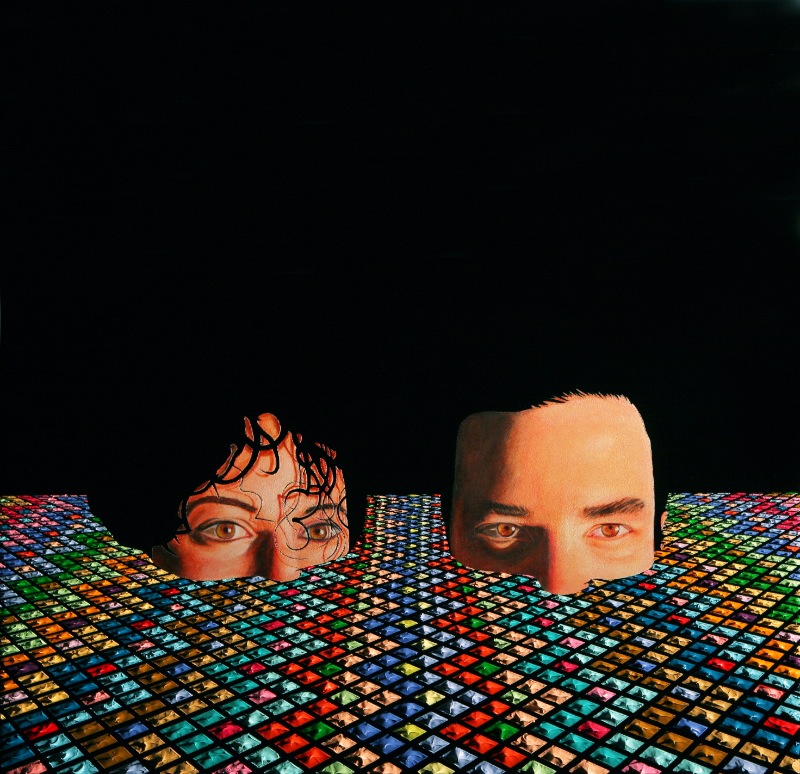 David Cooly: Ignored Epiphany | Cooley's work reconciles a feeling of visual chaos with the strategic restraint of composition. Combining abstract geometry and recognizably rendered imagery - everything from hot air balloons, swimming pools and ice cream cones, to statuary and landscape - David Cooly's work is psychedelic and visionary. His pieces are fearlessly experimental, both visually and materially, and truly seem to offer the viewer a visual revelation of sorts. Seeing the work for the first time is like looking into a kaleidoscope; we're offered a scopic view that challenges our assumptions about what is visually possible, all the while enjoying the delight of their fantasy. Whimsical and undeniably vertiginous, these works capture perspectival transition and movement in a way that suggests a deliberate orchestration of formal relationships. Beneath the seeming chaos of it all is a mastermind carefully controlling the matrices of this mesmerizing universe.
David Cooly: Ignored Epiphany Opens October 5 at Thinkspace Art Gallery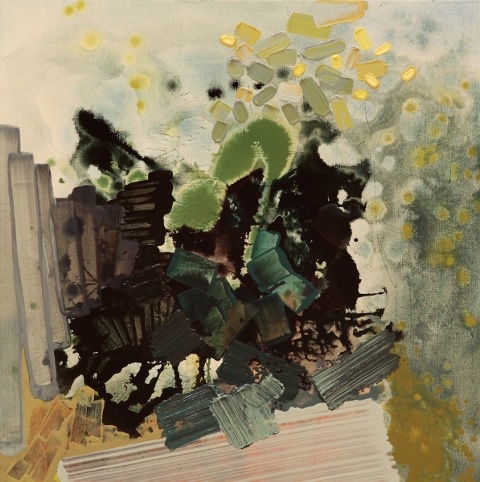 Bryan Ricci: Terra Incognita | Richly textured and brightly hued, Terra Incognita is an exploration of new territory in abstraction, coaxing the immaterial form of memory and time into the tangible universe of paint and canvas.
For Ricci, the process of applying paint "works as metaphor for the way memory is constructed". The bare canvas represents an actual lived experience, while each successive layer of paint represents a segment of time that has passed between the original incident and the present. As each layer of paint is applied, the original scene is more and more abstracted and distorted. The natural deterioration of memories takes its toll, and so too does the warping effect of the unconscious mind as it attempts to fill the gaps. As the emotional significance of the memory changes, so does the image - new details begin to accumulate over the first few layers as the detritus of each passing moment. When older details of Ricci's paintings are blotted out entirely by something new, it is as if a memory has been suppressed or altered to suit present circumstances. At the end of this process, we are left with nothing resembling the 'truth' of the moment far beneath the sculpted landscape of paint. We do however get an engaging piece of abstract art.
Bryan Ricci: Terra Incognita opens October 5 at LAUNCH LA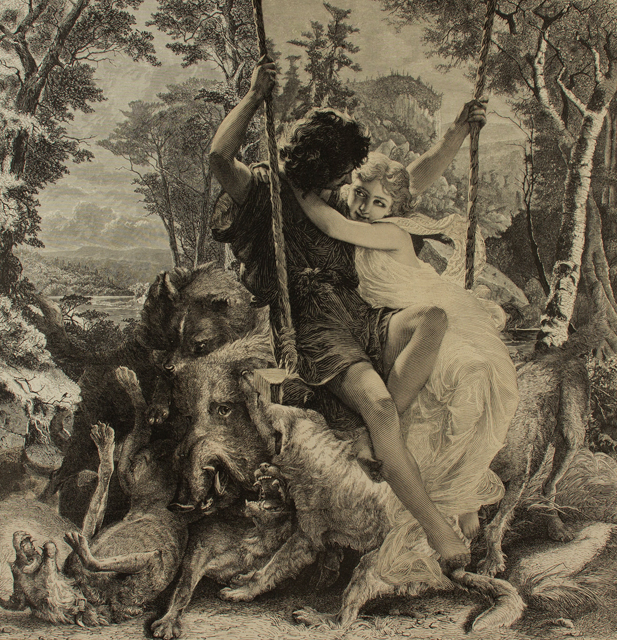 Stephen Aldrich: Intelligent Design | A pivotal moment in Aldrich's career occurred in 1968 when he met the influential photographer, Frederick Sommer. A musician and art student at Prescott College in Arizona, Aldrich was soon enlisted by Sommer to interpret his innovative, abstract musical scores, thus beginning a long relationship of mentoring and collaboration. In the last decade of Sommer's life, Aldrich worked with him on an extraordinary group of collages, while at the same time, developing his own unique approach to the medium. Working with fine 19th century engravings from books and journals as his source material, Aldrich cuts imagery with mind-boggling precision and complexity. There is an obsessive quality to the work in its overlappings, rhythms, repetitions and patterns that may, in part, be attributable to his background in music.
Stephen Aldrich: Intelligent Design closes October 12 at Craig Krull Gallery
For the most comprehensive calendar of art events throughout Los Angeles go to Artweek.LA.