This weekend art critic, publisher of Coagula, and Huffington Post blogger, Mat Gleason will cut the ribbon on another art world venture -- Chinatown's newest gallery, Coagula Curatorial. We pinned Mat down to find out what it was that drew him to the other side.
Bill Bush: Mat, it's been 20 years since you published the first issue of Coagula and obviously in that time you haven't learned that the only business tougher than publishing is running a gallery. Whatever were you thinking? What persuaded you to open your own gallery?
Mat Gleason: The difficulty is the allure. I wanted to write about art the way I felt without answering to an editor. I made that work out quite well financially without ever compromising the quality of the editorial coverage with Coagula Art Journal, so I want to curate shows for a living now, sure it is tough, but it would be tougher working for someone else doing something ordinary. I feel strongly that galleries don't put an emphasis on the importance or curating shows. After 20 years in the art business, I think it's time for a change.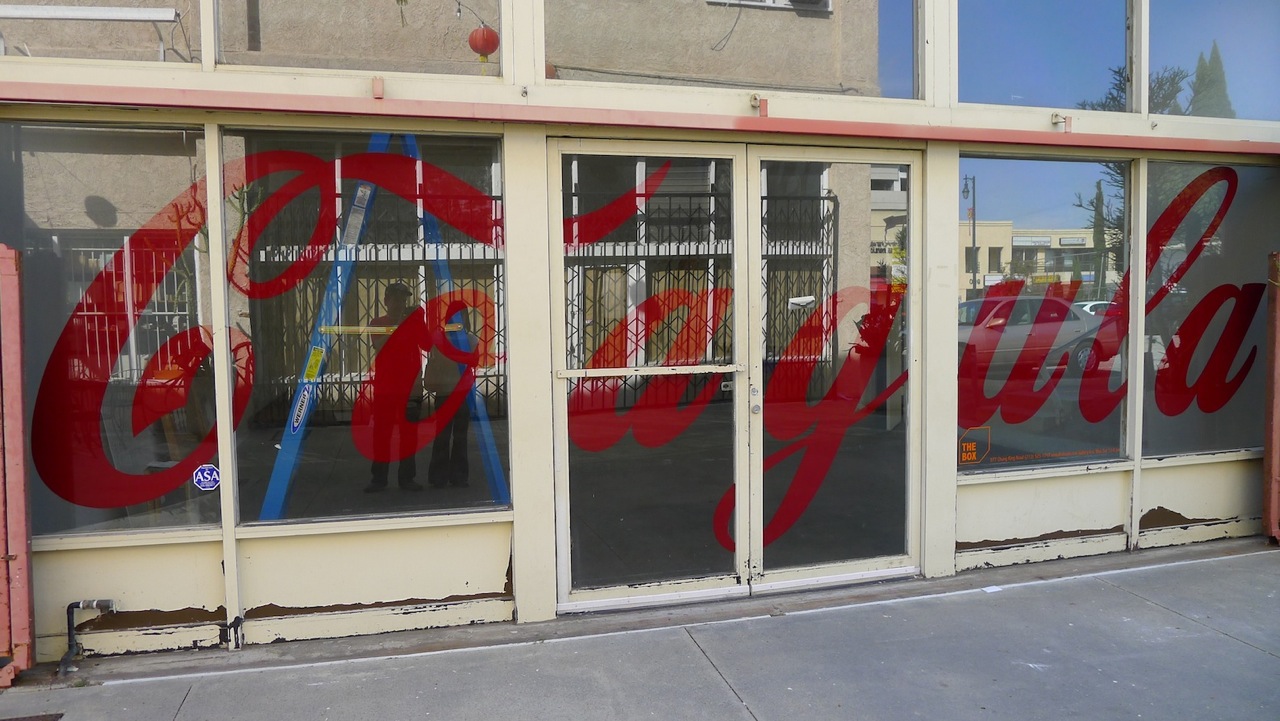 BB: And how does that change reflect in your vision of Coagula Curatorial? What will you be doing that isn't already being done by any one of the many galleries and alternative spaces throughout Los Angeles?
MG: I don't know that any curator has to be radically different to have a compelling space. It is four white walls, track lighting and free speech, simple recipe for all of us. The program here will be matching up emerging artists and more established names. The opening shows are a solo installation by Tim Youd and an exhibit of never before seen pictures of Michael Montfort's photos of Josef Beuys performing in 1969 (see images below). Curatorial content has truly been lacking in gallery shows. My gallery will be entirely focused on the curatorial process. Each of my shows is planned to fuel conversations and push the envelope of what is expected by artists and society. So that is the tenor of what I have always believed -- I don't think that an artist should have to die before they show with the biggest names in the art canon.
To read the complete interview click here.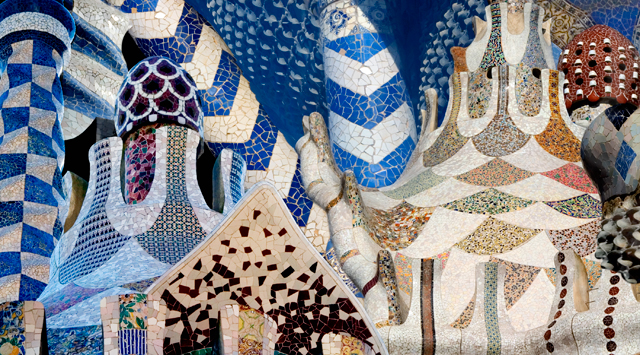 Jenny Okun: Dreamscape | For the past 20 years, Okun has been recognized for her multiple exposure photographic abstractions of architecture made with a medium format camera. With this process, the New York Times states, Okun reveals "the very soul of the buildings she photographs." In recent years, her photography has shifted to layering her photographs digitally and creating more complex montages on a broader range of subjects.
Okun's extensive travels provide continuing inspiration for her work. English garden mazes become even more twisted into strange Alice in Wonderland curiosities. The Art Nouveau/Spanish Gothic spires of Antonio Gaudi are montaged into a chimera of organic abstraction. In already extraordinary locations such as Talloires, France, Okun transforms mountain and sky into worlds of her own device, echoing the words of 15th century Venetian cartographer Fra Mauro, who said, "My map... was only one version of reality. It would only be of any use if it were employed as an instrument of the imagination. It occurred to me that the world itself should be seen as an elaborate artifice, and the expression of a will without end."
Jenny Okun: Dreamscape through May 26 at Craig Krull Gallery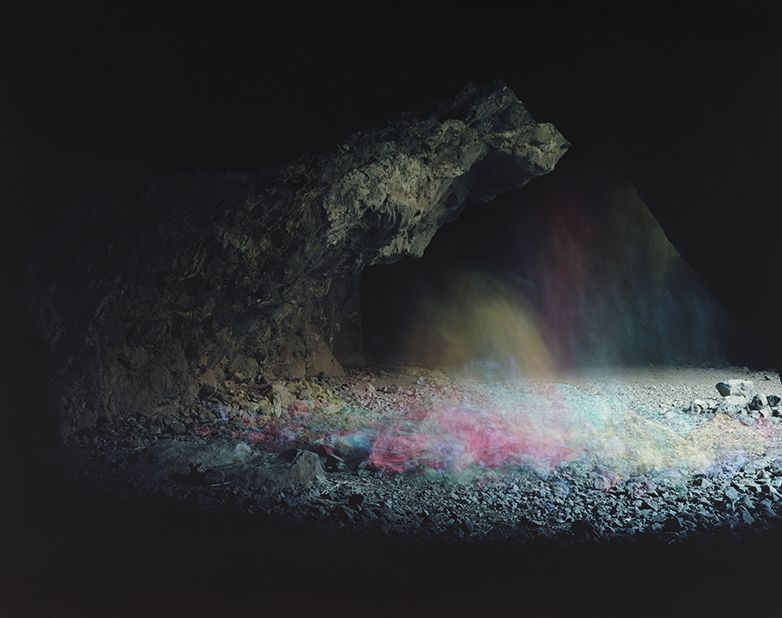 Brice Bischoff: Bronson Caves | Bronson Caves documents a performance done at the caves, located in Los Angeles' Griffith Park, specifically for this photographic series. The reception will include a performance, "Bronson Caves Reenactment," which serves as a visual surrogate to the performances that occurred at the Bronson Caves during the production of the photographic series. Instead of being performed exclusively for the camera at the caves, this performance will be executed for the audience at the Kopeikin Gallery.
The Bronson Caves are located in Los Angeles' Griffith Park and are famous as a filming location to countless motion pictures and television shows. The caves were actually created during the early 1900s by man and were used as outlet tunnels for a rock quarry whose material laid the streets of an expanding Los Angeles. Early after its creation movie studios began renting the site for filming, in these early silent films the excavation machinery from the quarry can be seen. The site is a truly unique and relatively unknown American landscape.
Brice Bischoff: Bronson Caves opens April 21 at Kopeikin Gallery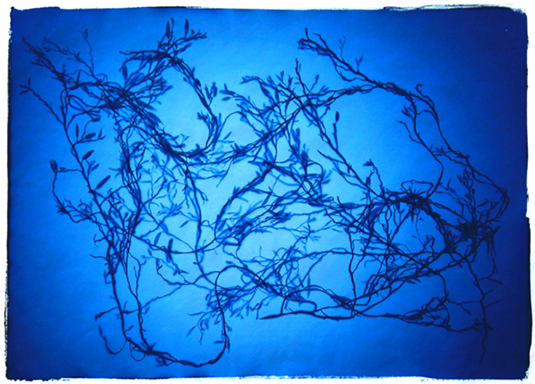 Nick Veasy: Cyanotypes | Inspired by the seminal work of one of the pioneers of photography, Anna Atkins, British artist Nick Veasey has created an intriguing body of work 'Cyanotypes of X-Rays of Seaweed.'
In researching the project Veasey, who hails from Kent, the same county where Anna Atkins lived and worked, visited her former home and placed himself within the same physical restriction of using seaweeds from Britain. Anna Atkins' father was a close personal friend of Sir John Hershel and William Henry Fox Talbot, both of whom were instrumental in the invention of photography. Mrs Atkins was a keen botanist and combined this passion with Herschel's new discovery -- the blueprint or cyanotype.
Nick Veasy: Cyanotypes opens April 21 at Joseph Bellows Gallery, La Jolla
For the most comprehensive calendar of art events throughout Los Angeles go to Artweek.LA.