For many storm victims whose homes were battered or destroyed by Sandy, the answer is "
rebuild
." Governor Cuomo has an alternative.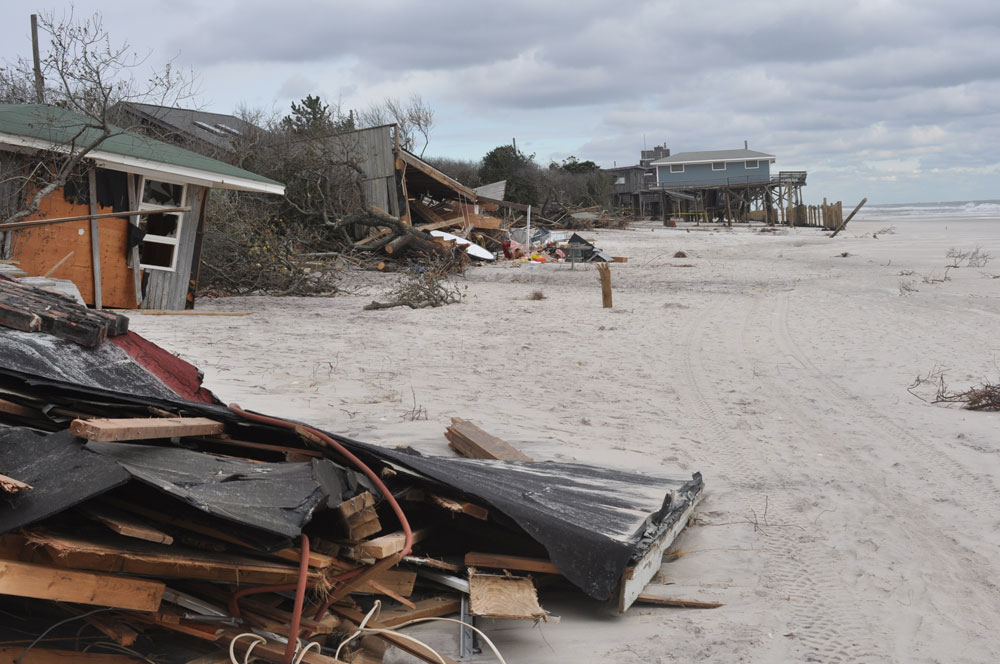 Homes destroyed on Fire Island, NY. (USGS/Cheryl Hapke)
Sandy's Legacy
On October 29, 2012, Hurricane Sandy was churning its way up the East Coast from the Caribbean when it made a sharp left turn into the New Jersey and New York coasts and collided with a cold front from the West, creating a
"ferocious Nor'Easter."
 The storm then
mixed with a 
high pressure air mass over Greenland
 -- what's known as a "blocking ridge" -- producing an even more destructive storm: a "
superstorm
." Hurricane Sandy had become Superstorm Sandy as it set its sights on the New York metropolitan area. When all is said and done, Superstorm Sandy may well turn out to be
second only to 2005's Hurricane Katrina in terms of cost
, and
second only to 2003's Hurricane Isabel in terms of energy
. (For more, see
this article
, this
photo set with running commentary
, and a
timeline
.)
The Associated Press reports that "the storm was behind the deaths of at least 146 people in the United States" and "71 additional deaths in the Caribbean." In New York Sandy "damaged or destroyed 305,000 housing units." The damages are in the billions. In hard-hit areas of Queens and Staten Island some residents are still without electricity and/or heat in frigid temperatures. And federal aid, which was super slow to pass through Congress (the second of two packages was approved in late January) apparently will be slow actually reaching troubled NYC businesses and homeowners -- who shouldn't expect the emergency and relief funds any time before April or even May.
Staten Island suffered some of the biggest property losses from Sandy. (FEMA/Walt Jennings)
And now, with federal aid finally on the way, the question facing homeowners and their political leaders is: what now? Rebuild ... and hope that another major storm will not soon follow, making it necessary to start all over?
It's a fair question any time a natural event decimates a community, but it is especially salient for coastal communities in a warming world with rising sea levels and an expectation of more frequent severe storms.

Cuomo Proposes a Buyout Plan to Nip Coastal Problems in the Bud
While many displaced New Yorkers had
rebuilding
on their minds in the weeks and months after the storm (
disaster assistance
 deadline is 
Feb 27)
, New York Governor Andrew Cuomo was apparently thinking of alternatives. He
provided a broad-brush vision
 of an alternative option in his State of the State speech on January 9:
"I've talked to homeowners who have dealt with serious floods three, four, five times over the past few years. Many of them are saying I don't want to have to do it again. I'd rather buy out the parcel and move on. There are some parcels that Mother Nature owns. She may only visit once every few years, but ... when she comes to visit, she visits. We want to run a program that will provide the funds to buy out those homeowners who don't want to rebuild and want to move on to higher ground literally, and that would be smart."
While Cuomo has yet to fill in the details, media outlets have reported that up to $400 million of federal recovery funds could be available for those who opted for the voluntary buyout, should the federal government approve it. Last week aides to the governor were in Washington, pitching the idea to the federal powers that be.

A Radical Idea?
This may sound like a wild proposal, but
for years FEMA funds have helped buy out property owners
whose homes were destroyed by storms and floods. Last July, in Pennsylvania's Lower Swatara Township 14 owners
received buyouts
 for properties damaged in Tropical Storm Lee, and in August FEMA
approved buyouts
for Hurricane Irene victims in Vermont.
In 1997 some 700 homes were bought out through a FEMA program in Grand Forks, North Dakota. And how did that turn out? Reuters reports: "When the Red River flooded next in 2006, losses had dropped to $6.5 million from $3.7 billion during the flood nearly a decade earlier, according to FEMA."
It's far from a wild proposal for many coastal scientists, such as the Nicholas School's Orrin Pilkey:
"The idea of purchasing storm-damaged homes is viewed by many as the most feasible approach to retreating from the shoreline that has a chance of success," Pilkey told me in an e-mail, calling Governor Cuomo's proposal "momentous."
He continued: "Although taxpayers will pay the bill, in the long run this will save money. It's what we should be doing anyway. Because if we don't, a lot of state and FEMA money will go to replacing buildings that will only be destroyed in the next big storm."

How Would the Sandy Buyout Work?
There are some
10,000 homes in the most flood-prone areas
that would be eligible for the governor's plan, of which only 10 to 15 percent are believed will opt to participate.
As the New York Times reports:
Homeowners would be offered "the pre-storm full market value of their houses. Homeowners who chose to relocate within their home county would receive a 5 percent bonus above the market value, as part of a government effort to encourage them to stay nearby."
Additional incentives could go to more vulnerable residents who "would be allowed to sell their homes even if the homes suffered little, or possibly even no, damage from the hurricane, and the state would pay them an additional 10 percent bonus, above market value, to sweeten the deal."
In the highest-risk areas certain blocks would be offered a 10 percent bonus on top of everything else if the entire to block agreed to be bought out.
Breezy Point, Queens suffered power outages and widespread flooding that leveled some homes. (FEMA/Andrea Booher)
And what would happen to all this newly acquired land? It could be turned into public parkland (like Manhattan's popular
Hudson River Park
), public beaches, or wildlife sanctuaries where 
"dunes, wetlands or other natural buffers ... would help protect coastal communities from ferocious storms."
All those parklands and wildlife sanctuaries sound idyllic to me and perhaps to you, but don't get too excited. Remember the program would be voluntary. And there will likely be "holdouts" who refuse to move. How do you maintain a wildlife sanctuary with John and Mary Smith stubbornly holding on to their beachfront bungalow smack dab in the middle of said sanctuary?  I guess that's one of the kinks that would have to worked out.

So What Are the Residents Saying?
Course the big question is: will folks move? Or will they opt to stay put and prepare to hunker down when the next storm comes?
The jury is still out.
There have been lots of favorable comments like this one from Assemblyman Joe Borelli (R-South Shore): "I was extremely impressed with his hurricane relief package, the new building codes and his buy-out relief option for repeat flood areas."
James Molinaro, the borough president of Staten Island, where some of the worst damage was done and where many homeowners are still displaced and/or without electricity or heat, agrees: "The buy-out, the rebuild, that's right up my alley."
But, not all that surprisingly, others are less sanguine:
"There's an expression: we have the sand in our shoes," said Harvey Weisenberg, a Democratic assemblyman from the badly hit Long Beach, N.Y. on Long Island. "Once you're here, you never want to leave, and if you do leave, you want to come back."
Another resident from the Far Rockaways in Queens told the New York Times: "Nobody wants to leave here. Where would I go? To Astoria? To Brooklyn? No!"
And there's another problem to consider: flood-vulnerable lands are migrating further inland with climate change, putting what used to be more secure residents at risk. Even if Cuomo's proposed buyout program is a success, and fully implemented it may be inadequate to deal with what's coming. In that sense you might say that Superstorm Sandy is just the tip of the melting iceberg.
Crossposted with TheGreenGrok | Join us on Facebook