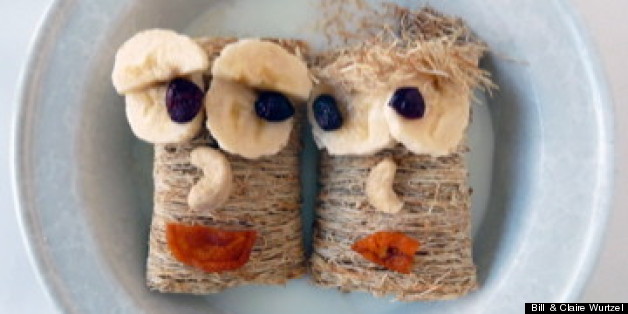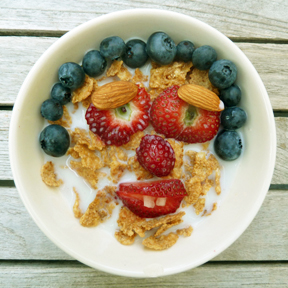 You can have fun making healthy, creative breakfasts that are quick and delicious -- without sugar.
Fruit not only makes breakfast look sweet, it tastes sweet too. Kids will eat unsweetened cold cereal if it's fun and tastes good. Appealing, delicious and nutritious can go together.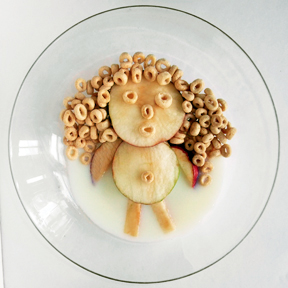 Fresh berries are wonderful on cold cereal, but when they're not in season try apple slices. You might be surprised at how good they taste in cereal and it's fun to slice apples into different shapes. Unsweetened canned fruit is another option.
With very little pre- planning you can make funny and nutritious cereal. Have healthy ingredients on hand and you're set!

Raisins, and other dried fruits such as cranberries, blueberries and apricots are very tasty in cereal and give us many important nutrients. Nuts and seeds keep for a long time, are very healthy and make great noses, eyes, hair and teeth.
Making a fun, nutritious breakfast together is a great way to begin the day. It provides a little family time and gets our creative juices flowing.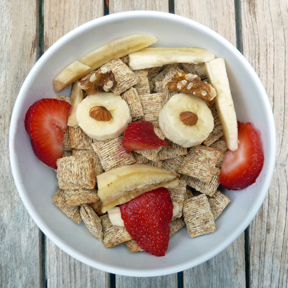 When you talk to your family about making the food healthy it gives kids a sense of power that they can create a meal that is wacky, delicious and healthy. You will be consuming less sugar and developing good eating habits.
I recently read a horrifying statistic-on average, a person eats about 130 pounds of sugar a year. Let's bring that number down.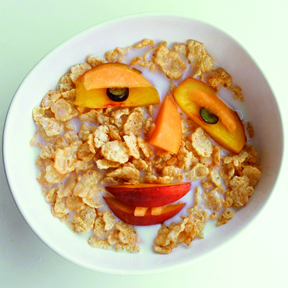 The way to sustain eating healthier breakfast is not to give kids a choice. If you stop buying cereals loaded with sugar the children will develop new taste buds and will enjoy the unsweetened varieties that are less expensive and more nutritious.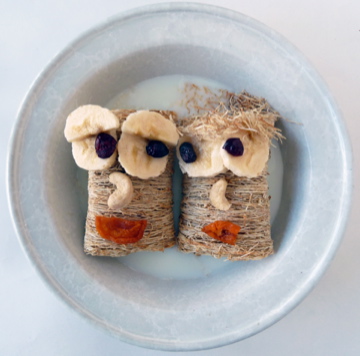 It's such a sweet way for a family to start the day.