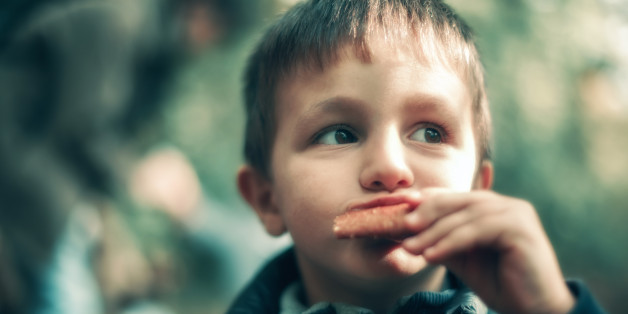 As a dad, despite the fact that my children are grown, I remember all too well my sins of shortcuts and convenience, throwing the colorful fast food bag in the backseat while two cherub faces smiled at me from car seats.
Eighteen years ago, when I stopped my three-pack-a-day Marlboro cigarette addiction, I embraced a new addiction: strawberry Twizzlers. Just like so many people, I too have weaknesses -- sugar is one of mine.
If I, of all people, struggle with things like sugar, what about more vulnerable demographics, like children? Children are not only included in but targeted by the marketing machine that sells cheap and toxic foods.
I understand that even in households with resources and education, there are poor food choices, which is why we have a responsibility to ensure children are eating well at school.
Just because it's good for you doesn't mean it has to taste bad. Even in my household, in the early days of convenient stopgaps, I did fun things such as making meals an adventure with healthy foods such as veggie pizzas with healthy crusts. I still do that, not only for the young people in my life, but for myself. A plant-based diet rich in vegetables, whole grains, legumes and fruits can reduce cancer risk.
Despite the evidenced-based science, junk food lobbyists interested in reversing White House-backed nutritional standards for school lunch programs are banging the drum that it's "too restrictive" to feed kids healthy school lunches, and I say "Whaaa whaaa" -- I am not buying it, and neither should you.
Reports of kids throwing out food is not news, but rather, history.
This is not an issue of "too hard"; this is an issue of making money at the expense of our children.
There is only one winner here, and it's not our children.
Childhood obesity is epidemic, and the price is not only the health of our children, but the health of their future.
The National Cancer Institute says:
A projection of the future health and economic burden of obesity in 2030 estimated that continuation of existing trends in obesity will lead to about 500,000 additional cases of cancer in the United States by 2030. This analysis also found that if every adult reduced their BMI by 1 percent, which would be equivalent to a weight loss of roughly 1 kg (or 2.2 lbs) for an adult of average weight, this would prevent the increase in the number of cancer cases and actually result in the avoidance of about 100,000 new cases of cancer.
The World Health Organization says cancer cases are expected to surge 57 percent worldwide in the next 20 years, predicting new cases will increase from 14 million annually in 2012 to 22 million. While there are several reasons for that, including that people are living longer, now is not the time to lower the bar on something we understand can impact a child's healthy future.

Healthy lunches for today's children are the foundation for a healthy future for the next generation.
We are a country that has a difficult time teaching our children to read, and now, because it may be "too hard," we want to lower the standards for school lunches. If we can do only one thing right, we need to, at the very least, feed our children healthy, nutritious, real food. Health must come first -- our future for a world without cancer depends on it.