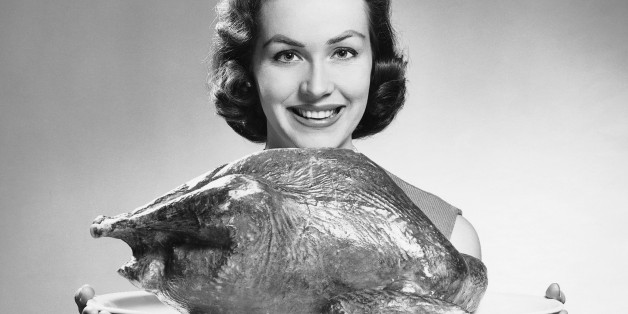 A couple of years ago I had to go to the drug store. I asked the pharmacist what the long line was all about -- was there a flu epidemic? He laughed out loud and said no, it's Thanksgiving, everyone is lining up for their meds. When I cocked my head, he whispered, "You know -- meds, anti-anxiety, anti-depressants. It's that time of year."
I think while Thanksgiving is one of my most favorite holidays it doesn't always come at the best of times. Who can't empathize with the people in the long line at the pharmacy? Like many, I too more than once have wondered how we are going to make the holiday work for any number of reasons.
Nineteen years ago my mother died of cancer around Thanksgiving, and it was anything but celebratory. As a distraction from the reality, rather than setting our traditional Thanksgiving table, I set up a buffet on the dining room table where we would normally sit. That way eating off our laps eliminated the pain of sitting at the table with a cavernous vacant spot. For me, I was just telling myself that mom stepped out of the room. Though the fact remained that my mom had not just stepped out of the room but more accurately the universe. I just simply needed a break if only for five minutes. I needed to think about anything but death, dying and cancer.
Many will be going into the Thanksgiving with an avalanche of challenges from the death of loved one to wondering how they are going to keep their home or pay for the turkey. Some won't have families or friends to celebrate with and some will.
For many Thanksgiving is all about survival mode. It is all about hanging on proverbial life raft and while not perfect, in hindsight, sometimes those are the journeys that can mean the most. Often they are the people that help you keep your head above water. Those are the people and situations while sometimes hard to recognize while going through it are what we are giving thanks for the following year.
We know this much about Thanksgiving: It will be always different from the one in your head. That is if you let Thanksgiving live in your head and not go with what the day presents. So breathe.