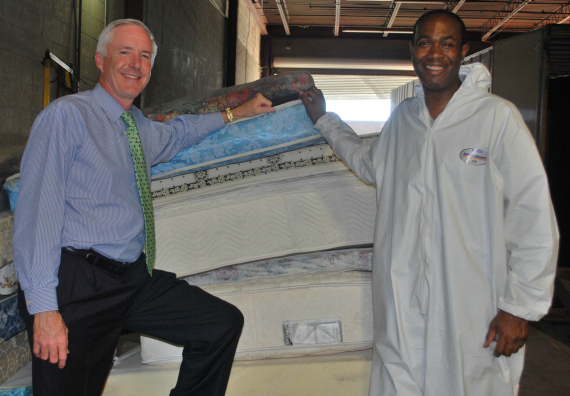 I tour Park City Green, a mattress recycling facility located in the city's Eco-Technology Park.
In 1970, I celebrated the inaugural Earth Day at the age of 14. I was an idealistic middle-school kid who couldn't wait to grow up. And even then, I encouraged folks to join me and the growing chorus opposing pollution and environmental injustices.
1970 was also a year when partisan gridlock wasn't as much of an issue in our nation's capital. A Democratic supermajority in Congress passed a set of national standards and goals for air quality. In addition, Congress passed the National Environmental Policy Act, which forced the government to assess the environmental effects of major projects that it funds before they receive approval.
Fast-forward 44 years and a lot changed.
I've got four kids, and two of them are fast approaching the 14-year-old mark. And I'm the mayor of Bridgeport, Connecticut's largest city, and also serve as co-chair of the U.S. Conference of Mayors Climate Change Task Force.
Unfortunately, another change has occurred: Despite great efforts by President Obama, Environmental Protection Administrator Gina McCarthy, and many members of Congress, partisan gridlock makes it virtually impossible to make sweeping reforms at the federal level that fight climate change.
So, it's up to us mayors to find ways to fight climate change at the local level. And we're doing just that. Every single day in cities across the country, mayors are making an impact by curbing emissions from transportation and energy use, reducing waste, and encouraging green business and job growth.
In Bridgeport, my administration has set out to make the Park City one of the greenest cities in America. As part of this effort, we created a plan titled "BGreen 2020." It outlines more than sixty different ways to create green jobs, reduce emissions, and improve residents' quality of life.
Creating green jobs. As an old industrial city, it hasn't been easy, but we're powering through and creating a plethora of green jobs. Our first step in doing so was to ensure we have the trained workforce that green companies need. And through a local job training program, The Workplace, we've trained or placed nearly 1,000 workers in Bridgeport over the last few years.
Because of this trained workforce, green companies have flocked to the Park City. In the Eco-Technology Park, Bridgeport's hub for sustainable growth and green job creation, we're now home to: the world's second largest fuel cell energy plant; one of the region's largest low-emission natural gas fueling stations; a mattress recycling plant; a company that recycles old tires and turns them into permeable pavement; and a biodiesel facility that's currently expanding its operation.
Beating back harmful emissions. Through our BGreen 2020 plan, we've cut carbon emissions by 55,290 metric tons per year, which is equal to taking 11,519 petroleum fueled vehicles off the road annually.
But it's not just transportation where we're beating back emissions. We're also finding ways to cut emissions in the residential energy use category. Earlier this month, a new solar company opened its doors in Bridgeport that focuses on providing low-cost home solar options for residential properties.
And we just received approval on a plan to put 9,000 solar panels over an old landfill, which will power more than 5,000 homes with a zero-emissions energy source. We're literally taking the sins of our past, and turning them into a green jobs creator.
Improving quality of life. We're improving our resident's quality of life through the creation of parks, increased recycling, and the development of green neighborhood initiatives.
Bridgeport is called the Park City, and we want to make sure we're living up to our name. So, as part of BGreen2020, we created a Parks Master Plan in order to create new parks out of formerly rundown areas, blighted properties, and unused waterfront. So far, we've created nearly 71 acres of new parks.
We've also launched a robust recycling program in order to help curb waste. It's working. Since the program began in 2011, we've increased participation by more than 70 percent. This increase happened in part because of the Mayor's Conservation Corps, a cadre of young adults who canvass city neighborhoods talking to folks about recycling, stormwater management, tree planting, and offering households the opportunity to sign up for a low-cost home energy audit.
The Mayor's Conservation Corps was originally funded by a Federal Energy Efficiency and Conservation Block Grant, but due to in part to partisan gridlock, these funds have been cut.
When I was 14, I didn't know a lot. But I knew that everyone should do their part to fight against pollution, environmental injustice, and actions that negatively affect our planet. Now, at 58, I'm doing my part as a mayor. And I'm teaching my kids that they should fight against climate change, too.
I hope partisan gridlock in the nation's capital doesn't keep sweeping changes to our country's climate change policy at bay for too long. But I'm not going to hold my breath. Until then, we mayors will keep making changes at the local level. Thankfully, we're up for the challenge.