"Little Billy's Letters" is a collection of my prank letters* written in the guise of a child (that would be the titular "Billy") to government officials, teen stars, serial killers, religious leaders and many others. I embarked upon this peculiar hobby back in 1994 when I was an out-of-work, would-be screenwriter, looking for a cheap form of entertainment. The giddy, stupid thrill I experienced from receiving the first replies from former Vice President Dan Quayle (supporting my candidacy for class vice president) and Supreme Court Justice Clarence Thomas (enthusing about Egg McMuffins) proved to be so addictive that I continued the hoax for over a decade. Almost all of the responses I received during my active career were of the written variety, but one night "Billy" and I received some extra special attention from the Church of Jesus Christ of Latter Day Saints.
In February of 2002, with the help of his "father," Billy wrote to the president of the Mormons (Thomas S. Monson) with an inquiry about their "cool underwear" and "extra wives." The fictive impetus for the letter was that Billy's parents were allowing him to choose his own religion, and he was writing to the leaders of various faiths in an effort to settle on one. It did not take long for the Mormons to seize upon this recruitment opportunity as they quickly dispatched a couple of missionaries (whom I will call Gannon and Friday because I have forgotten their real names) to go have a talk with Billy. When the Elders first arrived at my doorstep in Los Angeles, I had the epiphany that sometimes letters have consequences beyond just a stamped and sealed reply--a sobering thought considering I also wrote to Charles Manson and his Family about whether or not to drop out of school.
But curious to see where this unannounced visit would lead, I quieted my paranoia and invited the missionaries in to my extremely cluttered apartment and introduced them to my disheveled roommate, Scott. The clean-cut young men seemed not to notice the domicile's glaring lack of a feminine touch. Indeed, not an eyebrow was raised at the empty pizza boxes and bottles of beer that covered the coffee table or the Cold War film posters that blanketed the walls. But they were in a bit of a hurry and asked several times about my "son." I explained to the duo that my "wife" had taken Billy out to a parade (an odd explanation for a school night, but the first one that sprang to mind). Gannon or Friday then provided me with a copy of their marching orders from HQ in Utah and said that they would return on another night when Billy might be home. The sound of determination in their voices suggested that it would be fruitless to try and deter them from their mission, so I wished them a good evening, and they went outside and hopped on their bikes and pedaled away.
Several nights later the indefatigable Mormons returned, and I was ready with a camera and a better excuse for why Billy and his mother were not home--they were at the movies! Elders Gannon and Friday again said they would stop by another time but gladly indulged my request for a photo on their way out.
Realizing that my roommate's patience for this nonsense would not last forever, I resolved that the third visit by the missionaries would have to be the last. So when they appeared the following week I explained to them that my wife and son left me on the spur of the moment to become Catholics. After they offered their condolences on my shattered marriage, Gannon and Friday--who were clearly trying to make lemonade from lemons--inquired about my religious affiliation. When I told them in no uncertain terms that I was a strict Presbyterian, the ever present smiles faded from their faces, and they left for the final time. Or did they?
As we have seen with the controversy over the vicarious or posthumous baptisms of Barack Obama's mother and others, it is clear that the Mormons rarely take no for an answer when it comes to religious conversions. Billy, of course, is fictional, but this author is not, so it is out of an abundance of caution that I offer my certificate of baptism in the Presbyterian Church below as a kind of rosary or clove of garlic to ward them off forever!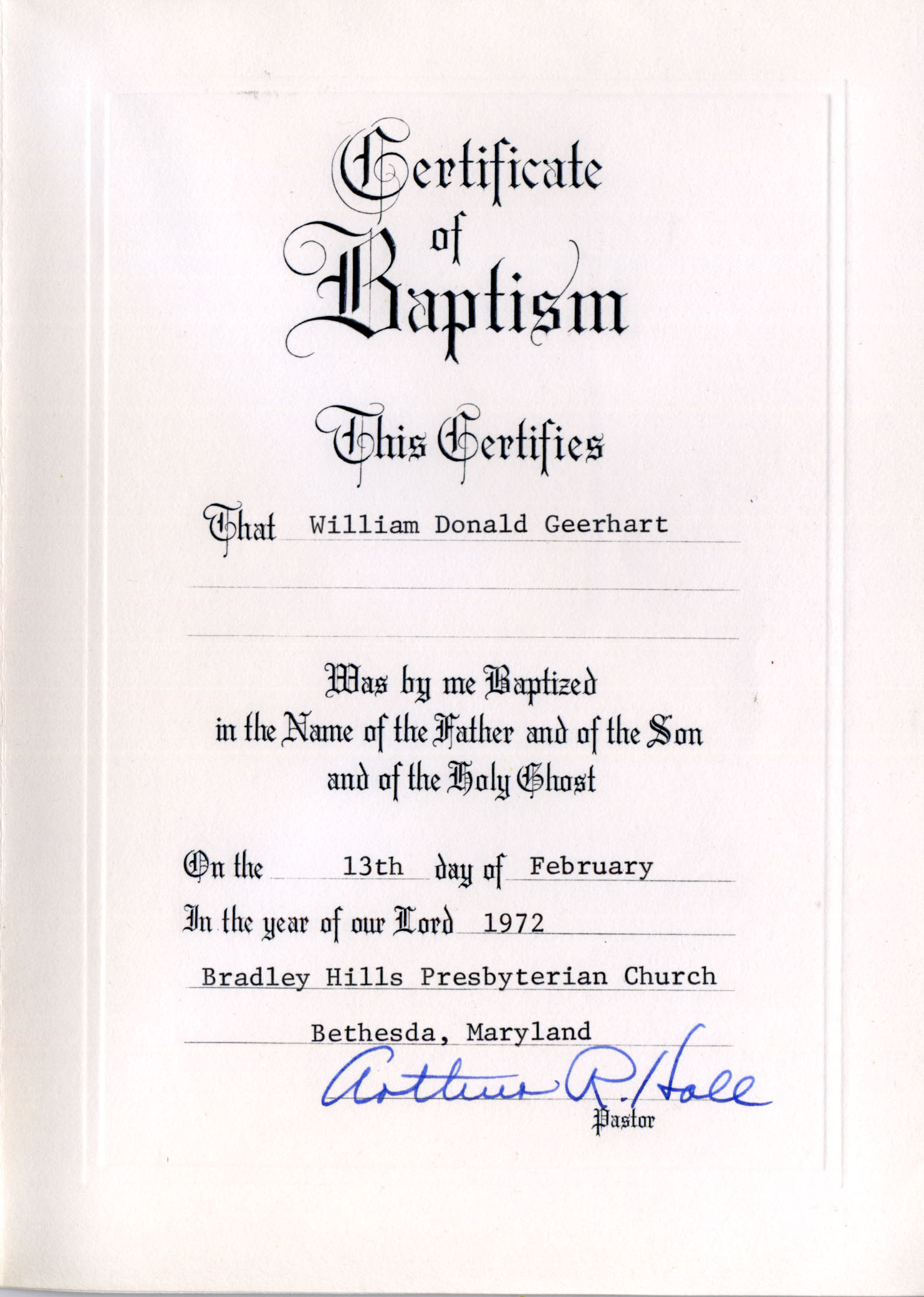 * Of course, mine is not the first book of prank letters, and it won't be the last, but the next one might be all e-mail (and what fun will that be?). The brilliant comedian Don Novello is undoubtedly the best known practitioner of this form--writing under the name of his super-patriotic alter ego, Lazlo Toth ("The Lazlo Letters" was first published by Workman in 1977 with two subsequent volumes). And decades before the unmistakably American writings of Mr. Toth, there was the correspondence of H. Rochester Sneath, the fictional headmaster of a fictional British boys school created by Humphrey Berkeley (The 1948 vintage letters were finally published as "The Life and Death of Rochester Sneath" in 1974). Both of the aforementioned works are hilarious, seminal classics that spawned a modern literary genre that boasts many other authors including William Donaldson and Ted L. Nancy. Not published as a stand-alone book, but well worth mentioning is the "correspondence art" of Jeffrey Vallance who, as a junior college student in 1977, handwrote letters to all 100 U.S. senators and asked them to offer a drawing or a sketch for his school art project. Examples of some of the replies from lawmakers who believed their correspondent to be a child are excerpted in "Pranks!" (Re/Search # 11, 1988). Suffice it to say Billy has a lot of esteemed company in a crowded field.
PHOTO GALLERY
BEFORE YOU GO
Little Billy
PHOTO GALLERY
Little Billy