It's rare to work in an established art form where you can work with and be influenced by those who invented the genre.
Not so for documentary filmmaking.
Bob Drew, D.A. Pennebaker, Albert Maysles, Ricky Leacock and Charlotte Zwerin, so often forgotten, whose last film project was our West 47th Street, were as spectacularly talented in their creation of documentary film, as they have been generous with every student or seasoned filmmaker they encountered.
There is not a documentary filmmaker working in the field who has not been influenced in some direct way by these -- or one of their close disciples.
And now Ricky Leacock is gone. His documentary films, and his programs at ABC News, helped change everything, from what subjects were worthy of having a film made about them, to how they were shot and edited.
In Peter Wintonick's 1999 documentary film, Cinéma Vérité: Defining the Moment, Leacock recalled his own critical moment when he first took his camera off the tripod, and began shooting what he saw:
"It was electrifying. We had a whole bunch of rules. We were shooting hand held, no tripods, no lights, no questions. Never ask anybody to do anything.

Along came this guy, Roger Tilton. He wanted to shoot young people dancing in a hall in New York. Everyone told him the only way to do this was with the big cameras. The big sound machines. The clap sticks. The whole thing. He said 'no.'

I will never forget that night. I fell in love 20 times It was wild. I was standing on tables, jumping around on the floor, all over the place. Just shoot and shoot and shoot. It was freedom. Screw the tripod."
I think of Ricky, and his sage, Zen-like advice for cinéma vérité filmmakers, whenever a shot is missed or a critical moment does't end up on film or tape, as will happen when shooting without a script.
'If you didn't get it," Ricky would console. "it didn't happen."
Somewhere Ricky Leacock's camera is still rolling.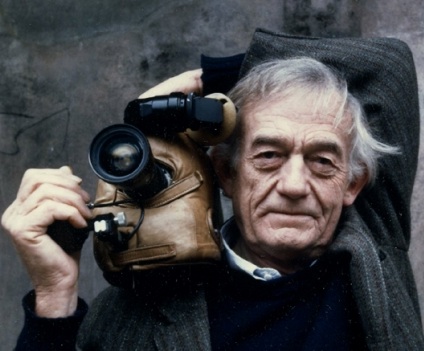 Ricky Leacock and Aaton (1921 - 2011)
Creative Commons 3.0