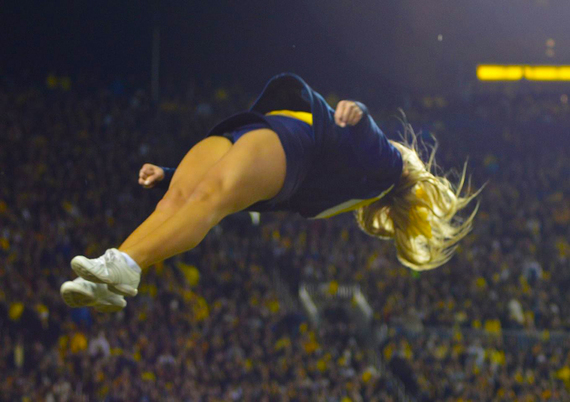 Like most things in the past 30 years, the face of cheerleading has drastically changed. The days of the cutesy, scantily clad girl with an indelible smile, randomly shaking her pompoms on the sidelines, are gone. Today, cheerleaders are highly skilled, well-trained, disciplined student-athletes who combine gymnastics, acrobatics and choreography in complex routines that rival Cirque du Soleil. The new millennium brings fearless girls putting themselves in positions that would make Gumby scream, while flying through the air in perfect synchronicity to land high atop multi-level human pyramids, and guys with the upper-body strength of alpha-male apes, effortlessly holding the girls above their heads with one hand. Then they fluidly transition into meticulously choreographed flips, jumps, and dance moves with the precision of German technology, while helping the crowd support the team.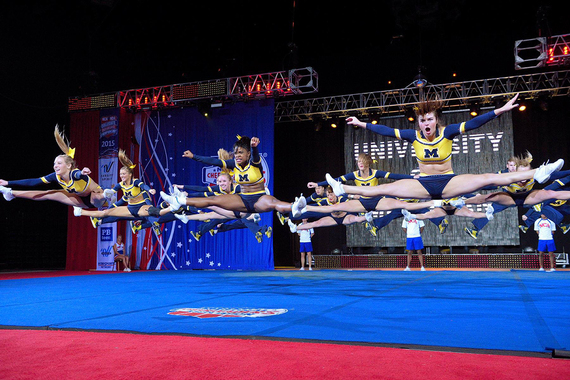 Anatomy of a Champion
The University of Michigan's cheer team won its third consecutive Intermediate Coed Collegiate Division I National Championship at the National Cheerleading Association (NCA) College Nationals held in Florida earlier this month. They beat the runner-up by eight 100ths of a point. Yes, cheerleading has become that serious, and that competitive.
"We were in third place going into the finals," says Pam St. John, who has coached cheerleading for more than 30 years. "The competition was tough. We had to change our routine at the last minute to secure the win. Being able to do that speaks to our kids' mental toughness."

Michigan's academic reputation, athletic tradition and reasonable tuition have always made it a top choice among the nation's elite students. Joining the Common Application has increased that 10-fold and may account for the sheer mental toughness the competitors displayed in their comeback title win.
"The academic environment at Michigan is much tougher than it has ever been," St. John says. "These kids are extremely bright, which, with proper training, makes the best student-athletes. As a coach, I never expect to win, but I am never surprised when we do."
She went on to say, "As science advances and we learn more about ourselves and our bodies, we better understand how humans function as athletes. This allows for better training results and, subsequently, better athletic performances."
Coach St. John also credits former Athletic Director David Brandon for a large part of Michigan Cheerleading's rise to national prominence. "He made facilities and resources available for the Cheer and Dance teams that we simply never had before." she says.
St. John feels that she and her assistant coaches couldn't have achieved their success without the resources that Brandon's vision provided.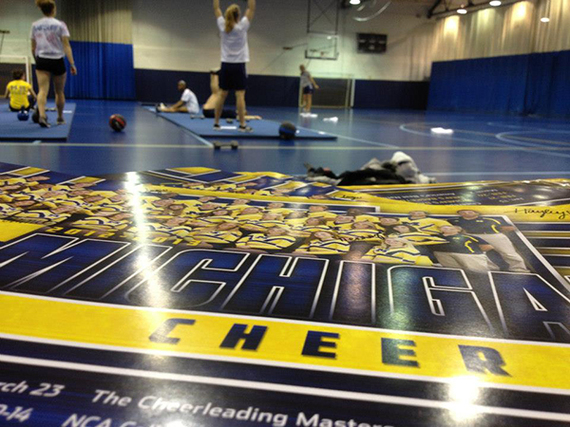 A Different Reward
Michigan's football and basketball team have one season per school year; the cheer team's season encompasses them both, spanning from the middle of August to mid April. This represents a 15- to 20-hour weekly time commitment. One might ask: Why would a student in a very academically competitive environment like Michigan devote the time and effort cheerleading requires?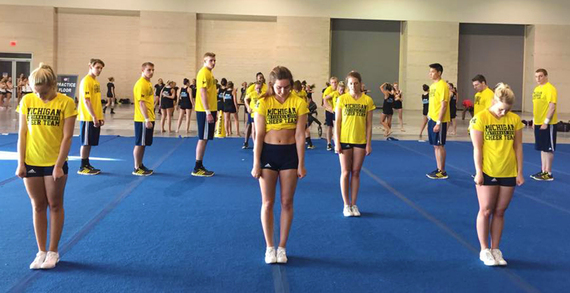 "Unlike other varsity sports, there are no big rewards down the line in terms of multimillion-dollar pay-offs. The rewards of cheerleading lie in the life skills you acquire, such as gaining an understanding and respect for the value of teamwork," explains St. John.
Does the coach think Michigan would win a fourth straight national championship?
"I don't know," St. John says. "It depends on the students and how driven they are to achieve it. I think it is possible; ask me next year. Every team is different. Sometimes the rewards are in the destination; other times they lie in the journey."
Jim Harbaugh, Michigan's head football coach, said that as a freshman, he asked Bo Schembechler if the coach thought the football team would be good. Schembechler responded, "I will know in 20 years when I see what type of husbands and fathers you have become."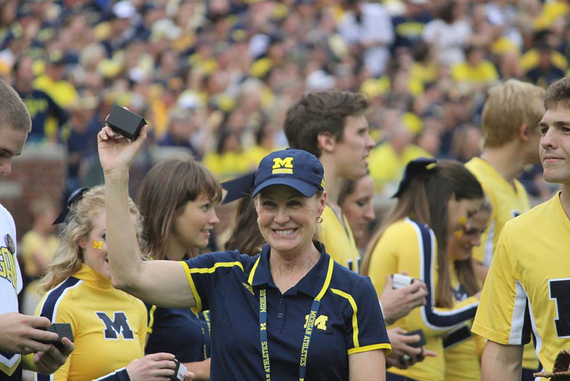 "It doesn't take me 20 years," says St. John. "I know what kind of person I am dealing with when I see who shows up early to practice or who stays after and makes sure things are put away; this is important because I teach life lessons through cheerleading."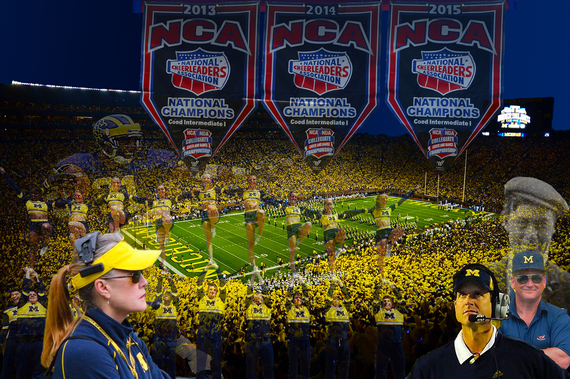 Not only is that a noble approach; it's refreshing. It hasn't distracted from Michigan's competitiveness either, considering the school won the NCA Collegiate Intermediate Coed National Championships in 2013, 2014 and now 2015.
The Bigger Picture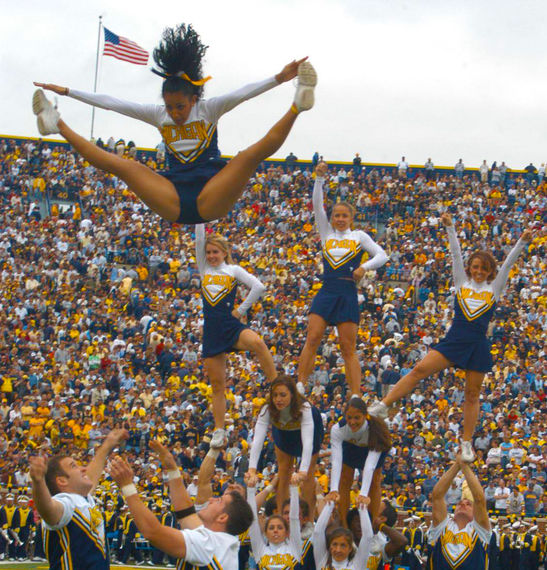 Cheerleading is a unique sport in that it focuses on supporting other athletes. Still, it requires serious discipline and more hours of hard work and training than most other collegiate sports. However, there's no glory, because when the cheer team takes the field or the floor, it is in support of the football or the basketball team. Thus, it requires a type of selflessness and humility that is rare in NCAA Division I collegiate athletes. You will never read in the sports pages how many double-downs, basket tosses, herkies, or helicopters the cheerleaders executed. However, it matters -- to the crowd, and ultimately to the team playing.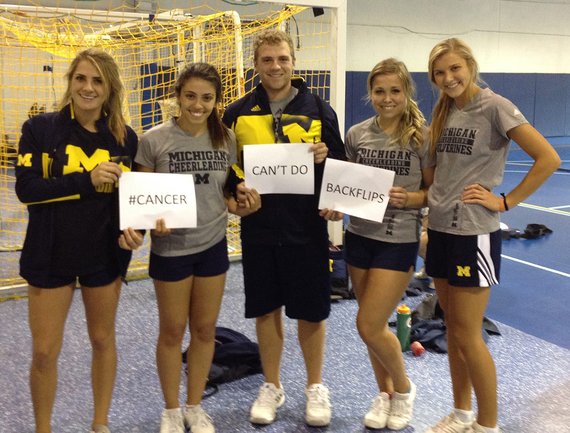 More importantly, before, during and after the game, humans are a social species. There is no better example of our social nature than one group of people working hard to function as a cohesive unit (the cheerleaders) to encourage another group of people (the crowd) to galvanize a third group of people (the team) to achieve a common goal. So, in essence, cheerleading is an acrobatic, well-choreographed artistic expression of our basic social nature. Perhaps this is why cheerleaders can put in so much hard work without the motivation of the future multimillion-dollar rewards that often inspire other NCAA Division 1 athletes. Or perhaps cheerleaders realize that the past and the future are only valid when they are the present. Also valid: the uniform ($300), the megaphone ($50), the pompoms ($20). The life lesson: Teamwork and encouraging others is what nature intended for humans to do -- priceless.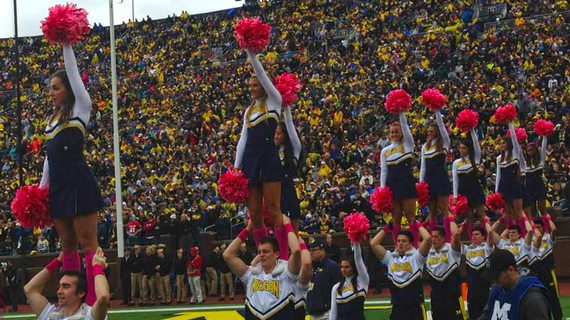 Photos courtesy of University of Michigan Cheerleading
Dr. Gordon on Psychology Today
Dr. Gordon at the Center for the Neurobiology of Stress at UCLA