If you have arthritis like me, you know that sometimes the pain can feel unmanageable. But I am here to tell you there are ways to manage it. The key is to keep moving and take part in some form of physical activity every day.
Exercising and staying active can help relieve arthritis pain, and in some cases, even delay the onset of the symptoms. That is the important message behind a new arthritis campaign I'm supporting in collaboration with the Arthritis Foundation, the United States Tennis Association and the Ad Council. It debuts today at the US Open.
Exercise has worked for me. I have had osteoarthritis -- the most common form of arthritis that breaks down the cartilage in your joints -- since I had my first knee operation in my 20s. I know the years I spent playing tennis helped to manage my pain and extend the longevity of my knees. But I was in pain and it wasn't until last year that I finally had double knee joint replacement surgery. Today, I feel fantastic.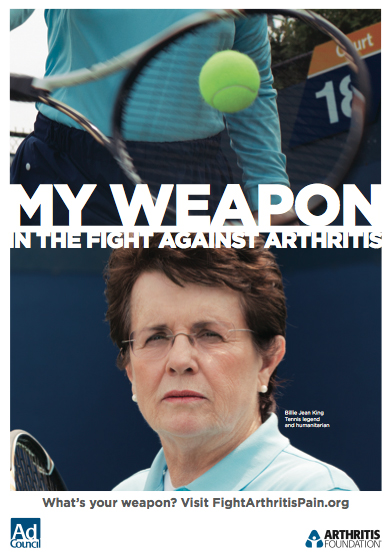 Tennis is my weapon of choice in battling arthritis because it is what I love to do the most. There is no better feeling for me than hitting a ball or running to a ball. It is what makes me happy and keeps me healthy, even if I am not moving as quickly as I used to.
If you have arthritis, don't think you should be sedentary. It's just the opposite. Think positively and make sure you keep moving. Even my mother, at age 89, says you have to keep moving, or it's over.
Choose whatever activity you enjoy -- walk in the park, play tennis, go to the gym, take a hike, or swim. Whatever works for you -- just make sure you get off the couch and do something that involves moving your body.
Arthritis is the nation's leading cause of disability. According to the Centers for Disease Control and Prevention it affects one in every five adults and 300,000 children each year. However, research released from the Ad Council shows that only 16 percent of people with arthritis actually feel confident that they know the best way to manage their pain. Most people think taking medication is the best treatment. Through this campaign, I hope to educate and empower people to get physically active because it can change the course of your arthritis and your life.
To learn more about how to manage your arthritis and increase your mobility, please visit www.fightarthritispain.org.