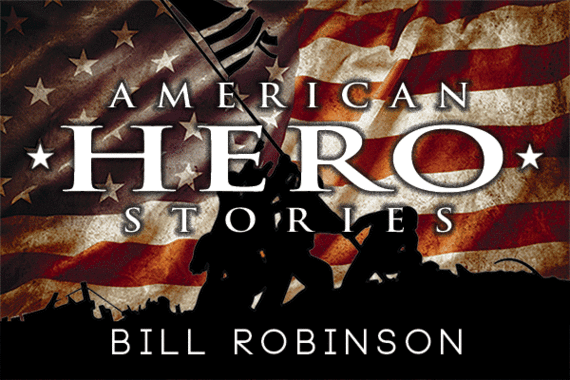 I felt compelled to make it a frequent focus of this column to give voice to the military wives and families. It's so rare for them to have an opportunity to let the rest of us civilians know what it's like to say goodbye to your mother, father, sister, brother, son or daughter and have them disappear into the unknown. Perhaps never to return. Writing this story, just like the first, has been a real education for me. I didn't know what these real, first-hand experiences of military people were but I knew there was a great untold story there.
Stacy Shea is a Navy SEAL wife. Stacy's the wife of Thom Shea who was the subject of my first AHS column. She's also one tough lady. Not gratuitously so, but she has learned how to withstand the pressures, the difficulty and the sadness that comes with being the woman left behind while her husband goes off to some Godforsaken place or the other and defends America, our liberties, our flag.
The Shea's take America very seriously, as I suspect most military families do. When Stacy Shea talks of how great America really is, there's no doubt or missing the conviction in her voice. She talks of her husband's and family's sacrifice without qualms or uncertainty, perhaps because their family values this country above anything.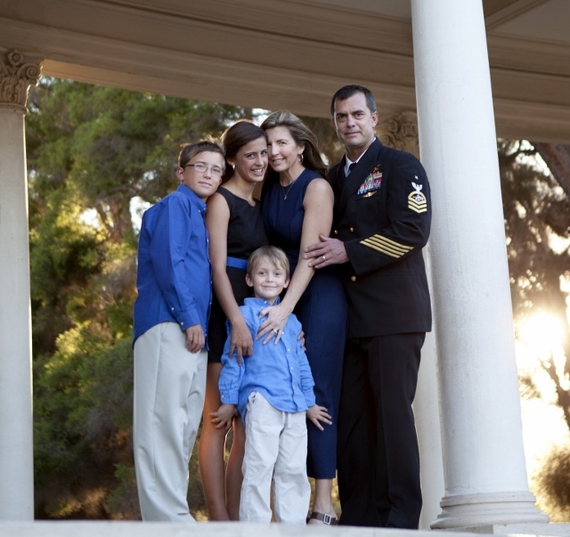 And like the SEALs themselves, Stacy never whines or complains; she understands the importance of what her husband does and how important it is to her, their children and this country. Stacy is firm in her understanding of her role -- and it's a big one -- as a SEAL wife and mother. By necessity.
Stacy's toughness is perfectly balanced by a caring, loving and emotional side which hopefully, you will feel in her comments to me below. In many ways, she may well be the perfect military wife. Another military wife who's just tough as nails and not loving, is probably a straight-out b ... well, no fun to be around.
It's also clear that Stacy's patriotism (and that's what it is), predated her becoming a SEAL wife. It was something she had, a belief system she supported, long before she married SEAL Chief Shea in 2005. You see, Stacy was Thom's second wife and she has labored in love as the mother and step-mother to three children (Autumn, 16; Garrett, 13; and Chance, 7). Keeping the children happy, healthy and strong seems to be a SEAL wife's all-encompassing, never-ending duty and Stacy has fulfilled this assignment with panache, style and grace.
Though Thom is retired after 23 years in the Navy and home safe with his family forever, one gets the strong impression that these memories of sacrifice, longing, sadness and joy will never entirely disappear in their minds. Fade a bit, maybe ... but never be forgotten.
It's hard to understand how and why a person rises to an occasion. Just as her husband Thom rose as he did to the many tough tours of duty in horrible places, Stacy similarly rose to the occasion of taking care of their children, while ensuring their minds were at ease (or, as at ease as possible) and safeguarding the fears of all of Thom's relatives and friends too. It could not have been easy, quite the opposite. And it had to be doubly hard for a second wife managing a blended family, who had never had any military life experience or background. Stacy Shea was a 'newbie.'
I asked Stacy three questions that I thought might lead to an orderly experience for the reader:
1) What was it like for you and the children to have to say goodbye to Thom as he went off to Iraq or Afghanistan?
2) What was it like for you and the children when Thom was off fighting? How did you manage and cope?
3) What was it like when you all welcomed Thom home?
So here are Stacy's responses to these three questions:
Number One -- "Saying Goodbye"
"It's always difficult when you're saying goodbye and they're going off into battle," Stacy began. "You don't want to speak the words, 'I'm afraid' and you certainly don't want to say the words, 'I'm afraid ... I'm not going to see you again.'"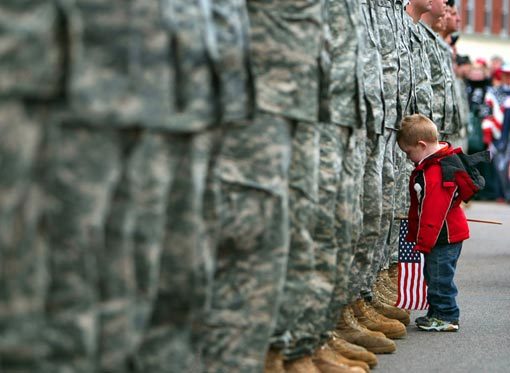 Photo Credit: John Tlumacki/Globe Staff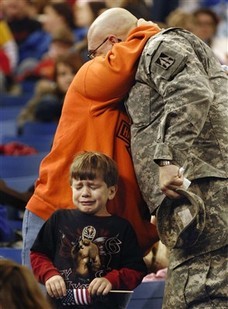 Photo Credit: U.S. Army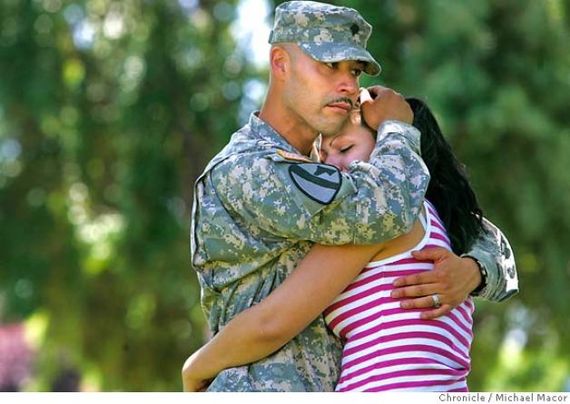 Photo Credit: Chronicle/Michael Macor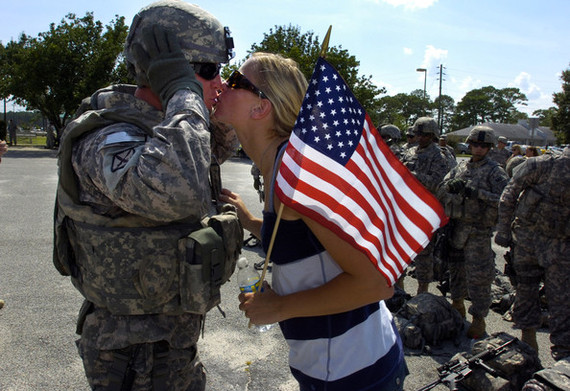 Photo Credit: Stephen Morton/Getty Images North America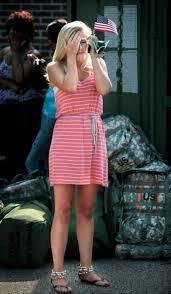 Photo Credit: Jim Weber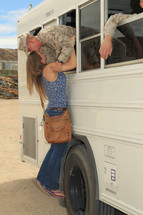 Photo Credit: Militaryfamily.org

Photo Credit: Rhett Bulter/The Daily Reflector
"In the time leading up to their departure -- for about two weeks before they leave -- it's incredibly tense, very difficult. We're all struggling with his leaving. He's lashing out at me because he's trying to put some space between him and his family. All of us had a very hard time when Thom was going away."
One such goodbye to Thom's SEAL Team Seven occurred in April, 2009 at Naval Base Coronado, California. "Thom was going off to Afghanistan with his SEAL team (Ed. note: This deployment was for amongst other things, the same rescue mission I wrote about in the first AHS column), and we had to say goodbye to him three times over a week or so because there were multiple problems with the aircraft or supplies or whatever and they kept delaying his departure. This happens a lot when there's a deployment."
"Making it even more difficult was the fact that Thom's SEAL team was the first one going back into Afghanistan since 'Red Wings.' ('Red Wing's' was Stacy's reference to the "Lone Survivor" SEALs, whose 2005 "Operation Red Wings" resulted in the SEALs' greatest single loss of life since World War II.) But me and the kids having to say goodbye to him and all the emotions that involves, then driving him to the base three separate times, only to get a call to come pick him up again was terrible and so tough on us all."
"So Thom calls me for a fourth time and I immediately say to him, 'Don't tell me you're delayed a fourth time!' He said 'no,' saying that they had a little more time and asked me to come down to the base and could I bring Chance (their two-year old son) down to have dinner with him, just the three of us. Of course, I did. Now military families have different ways of handling their goodbyes. For us, we usually say our goodbyes at home and let Thom go off to the base alone. Some families go down to the base on the day of deployment and spend the whole day down their with their departing family members and it's a very long day before finally saying goodbye. We couldn't do it that way. So Thom's asking for dinner on base with me and Chance was very special and different." I cannot understand and appreciate how hard this regular situation must be for military families.
"There's a common theme among military spouses: 'It's really hard to say goodbye and then you just want them to leave.'"
"Thom's children mean everything to him," Stacy stated forcefully. And that made me think of my ultimate mission in writing this column: highlighting, communicating and educating about the real sacrifice these people make. After risking their lives, the very next most important sacrifice they make is being away from their spouses and children, which for a Navy SEAL who doesn't fear death, has got to be the most painful part and difficult sacrifice they can possibly make.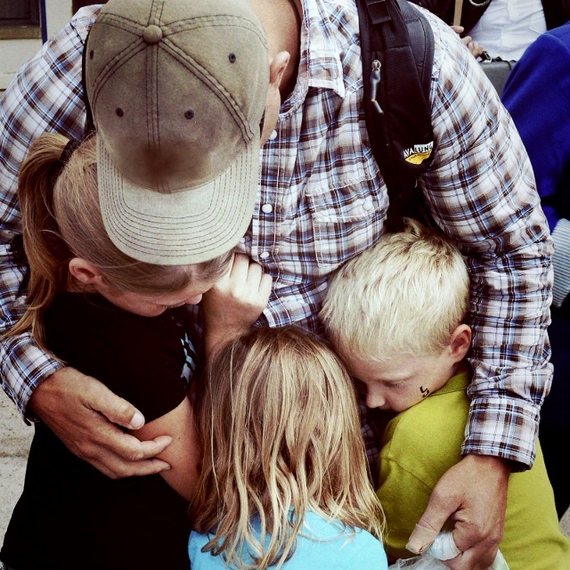 Charming story alert: "Thom and I almost never called each other by our first names, always using one term of endearment or another," Stacy recalled tenderly, "so when Chance and I were driving Thom to the base to say goodbye, Thom said to me, 'I love you, Stacy.' I said, 'I love you Thom.' And then this little two-year old voice pipes up from his car-seat in the back and says, 'I love you too Thom!'"
Number Two -- "Surviving Alone"
"The first few days after he leaves, it's a relief -- it's OK -- they don't even get in-country for a number of days, so I know he's still safe. Usually Thom goes through Dover AFB, and it takes several days for him to arrive."
Worried story alert: "Once, when Tom was on his way to Afghanistan, he had told me his phone wouldn't work in Europe so when he was off U. S. soil that was it for our cell phone communication. So while he was in Dover, I missed a call on my cell from him. 'Was that the last time I would speak to him?' I wondered."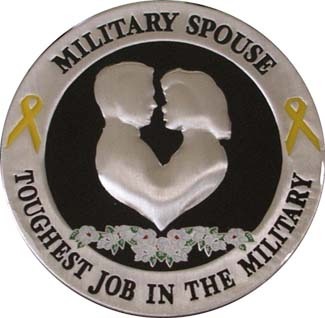 We civilians meanwhile, should pay especially close attention to what we're saying to a military spouse all the time but particularly when their spouse is serving in a battle zone. "The hardest thing thing is having non-military people pitying you and looking at you sadly," Stacy said.
"We never talk about what happens if your husband dies." (See "Things Not To Say To A Military Wife.")
"I had an inherent feeling that Thom knew what he was doing over there; that he was impeccably trained and fit. And that he would definitely not take any chances that would leave us without a father and husband."
"It's absolutely necessary for the wives to step-up and support your children and husband's family. Because you can either imprint your fears on your children and family ... or, you can imprint you courage on your children and family."
"There's a military family saying: 'The moment the wheels are up and he's gone, the refrigerator breaks; the house floods; the registration expires ... or some other little disaster happens.'"
Stacy talked a lot about the importance to her -- to all military spouses and children -- of support and community while their loved ones were away. In wartime especially. Family members, older siblings, other military wives and the local community can all have a gargantuan impact. They all come together in a symphony of caring.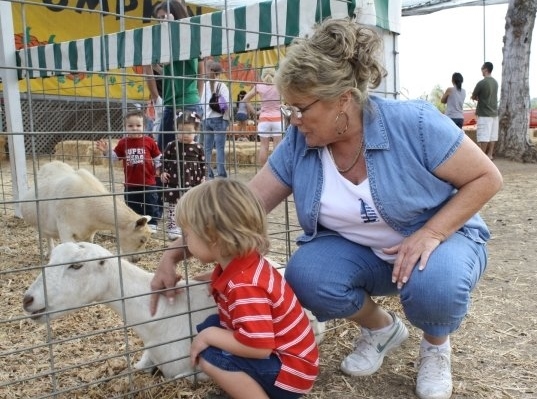 Two-year old Chance Shea figures out a goat with his grandmother, Charlie
"Whenever Thom went on a deployment," Stacy observed, "my mother, Carol -- who's a world-class Grandma -- would come and stay with me for at least three months to help out. I couldn't have survived without her being there for me and the children." Check, for the family' support.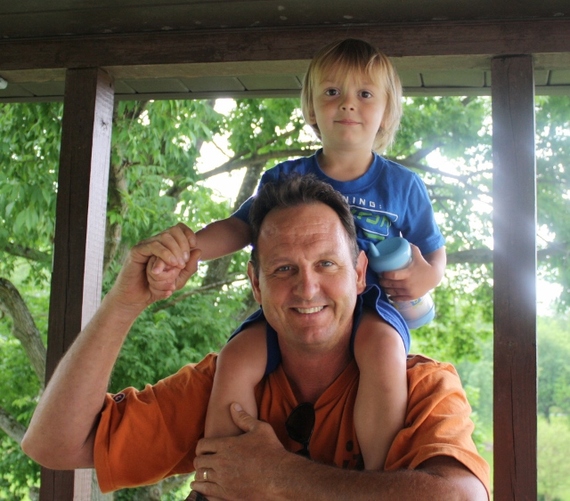 Uncle Mark spends quality time with Chance
Older siblings provide imperative oversight, care-taking, cheerfulness and safekeeping for their younger siblings. I know, I was an older brother. Check, for the older sibling' support.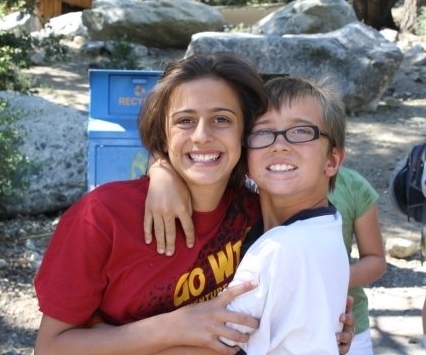 No worries Garrett (8), your big sister Autumn (11) has your six o'clock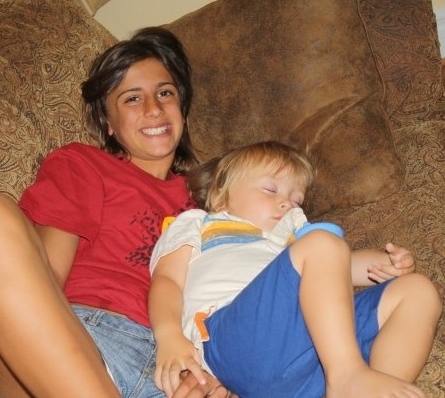 Someone's snoozling. About Autumn and Chance, Stacy said, "These two are so close. She is the best sister a little brother could ever hope for."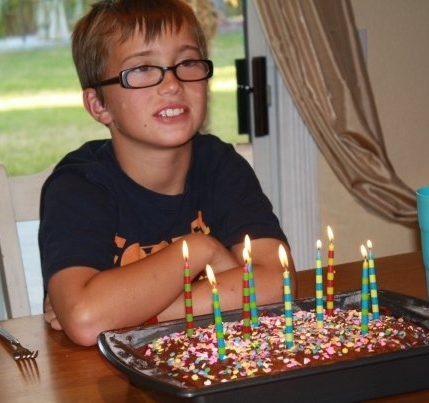 Though Daddy's not there, birthdays carry on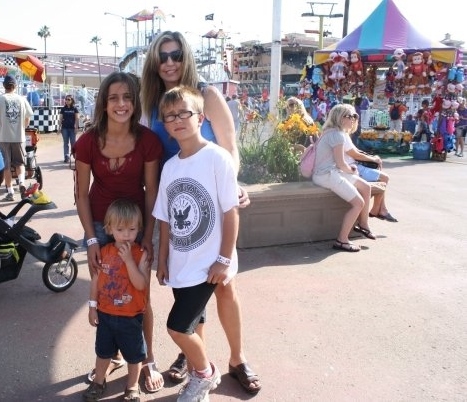 While Daddy's gone, a military family must find fun and a State Fair can do the trick
"You are so close to your military sisters," Stacy said yearningly. "They're a real sisterhood. We spend so much time together while the men are gone." Check, for the military-wives' support.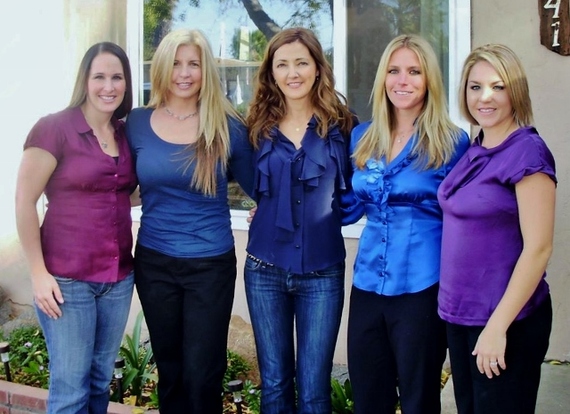 Casual attire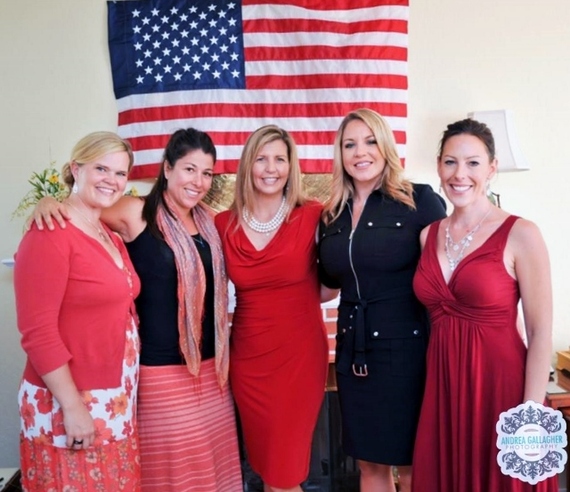 Dressed up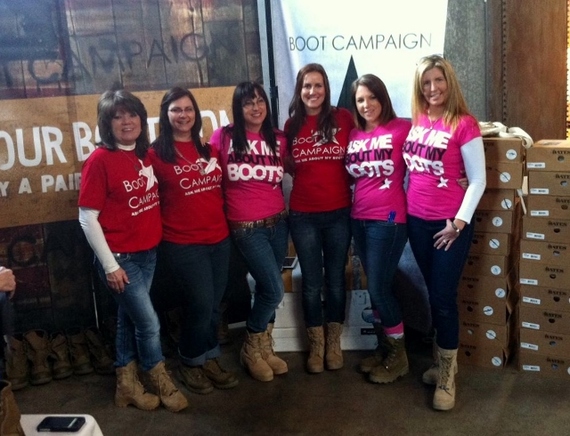 And the ladies on a mission for "Boot Campaign" which donates to all branches of the US military with the tagline "when they get back, we give back."
The SEAL' wives support the "Boot Campaign" indefatigably.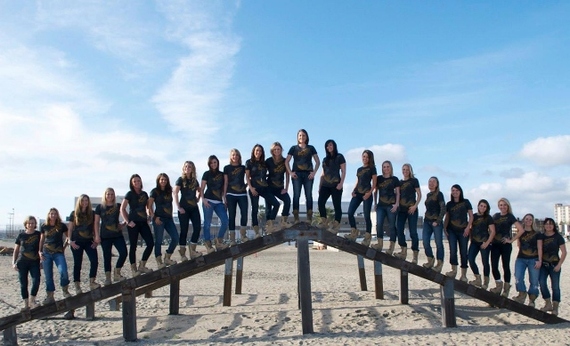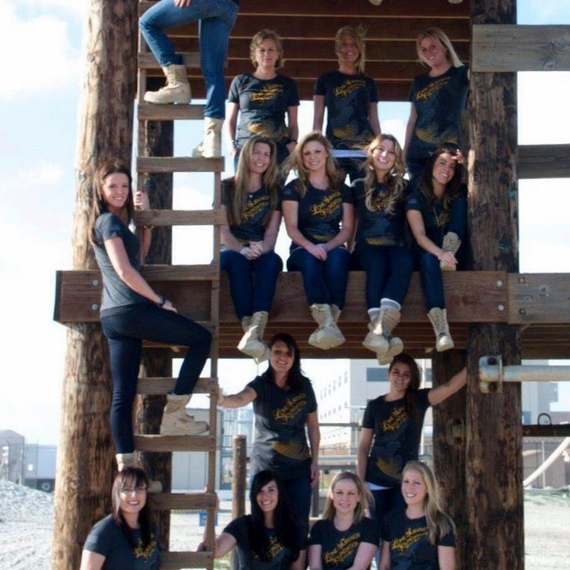 Humorous "while they're gone" story alert: "When they are gone, oftentimes the spouses get together to commiserate," Stacy said. "After the plane left, the ladies all went to one wife's house for wine. Later, when all the wives had left and gone home, my friend had gotten the baby to sleep; was in her jammies; and had had some wine in her but decided to take out the trash. Well, she steps outside and realizes she's locked herself out of her house. There she is, outside in her undergarments at night; her husband's left on deployment; she's probably over the legal limit on alcohol; and no way to get back inside to her sleeping baby. First thought: hop in the car to drive across town and get her spare key from a friend. But she'd been drinking so that was out. Well, she hops on a bicycle and peddles over to get the spare. When she finally got home and got inside, she thought to herself, 'That's never happening again; I'm putting a spare key under the doormat right now.' When she went to place the key under the mat, there was another spare key already there!"
For two years while Thom was frequently on deployments, Stacy Shea found something to apply herself to and she "absolutely loved it." Stacy was a "Family Liaison Ombudsman." "It gave me the opportunity to serve the other military families -- I adore them -- and acknowledge their sacrifice. I was given a very respectful understanding that I was the 'delivery woman' between the command and the families."
Profound story alert: Stacy told me, "We don't say 'Daddy could die.' NOT. "When Thom left once, he told Chance, 'When people ask you 'where your Daddy is,' tell them your 'Daddy's fighting.' So the kids say, 'My Daddy's fighting for our freedom and he's really good at it.' YES."
"I always felt like there's two parts of a deployment: the first five months and the last four weeks. The first five months fly by -- hopefully. But then for the last four weeks, time slo-o-o-ows down. You're so excited he's finally coming home after all the worrying and struggle but then it starts again and you start telling him in your mind, 'please don't die now, when you're coming home so soon.' All that anxiety and emotions are spinning in your mind."
"The hardest thing about not having your husband home is the great days and the bad days ... facing them alone. You can't celebrate the good and you wish you had their help for the bad and difficult."
"I never let go of the worry, until Thom's walking down the tarmac and he's here safe."
Number Three -- "Happy Home"
"We don't do goodbye photos. It's a very tense time ... nobody wants to capture that moment." Stacy told me pensively. Fortunately, photographers do want to capture the unsurpassed exhilaration of this homecoming moment.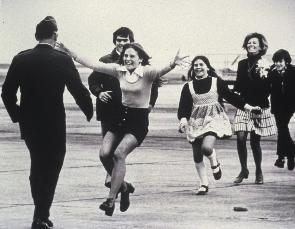 Photo Credit: "Burst of Joy" is a Pulitzer Prize-winning photograph by Associated Press photographer Slava "Sal" Veder, taken on March 17, 1973 at Travis Air Force Base in California
"There's nothing like the moment when you know he's safe and home with you." That's the overwhelmingly simple yet enduring quote Stacy gave me which despite all the other details, agony and complications of a military deployment, absence and then homecoming, should be remembered.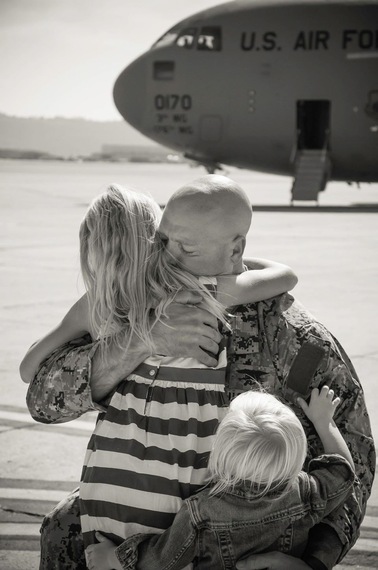 Heartfelt Homecoming Hug
It seems horribly ironic that a homecoming's sheer joy might be derailed or problematic in any way. But they frequently are. "When they're coming home, nothing ever goes as scheduled," Stacy recalled. "When Thom was coming back from Iraq, he was supposed to arrive at 1:30 pm at the base. Now military wives go through a lot of planning anyway but when our husbands are coming home, it is serious. I was trying to coordinate my two-year old Chance's nap-time well before his Daddy came home, so that Thom could see a rested and happy baby; I was making sure the house and yard were in order; and I was going to go to the salon and make sure my hair and make-up was perfect for Thom's arrival home. Around 11 am, I got a call and Thom said, 'Hello love, where are you?' My heart sank: his plane was early. So I rushed off to greet him without looking my best and with a tired and grumpy baby in tow. When I got there, everybody had been picked up and Thom was standing there all alone."
"A lot of families struggle with the return because you've been independent for so long with the routines and patterns while they're gone. Being married to these men -- with the unpredictable schedule they keep -- you have to be very independent when they're gone but then you have to turn that independence and self-sufficiency off immediately because they're home again. It's unique to military spouses that we have to take what time you can, when you can get it. Flexibility is a requirement."
Of course, a military return does involve the romantic reunion of a husband and wife. Though I got no details from Stacy on Thom's returns home -- nor did I request any -- it's obvious they're reunions were amorous ones.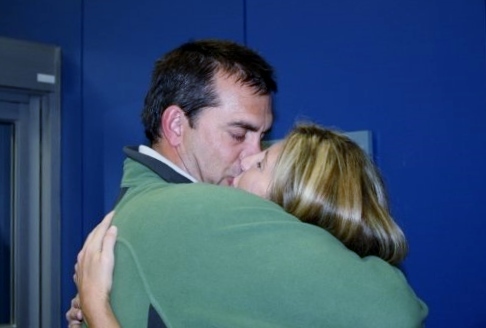 Humorous homecoming story alert: As Stacy told me of one such husband-wife reunion, the wife posted on Facebook, "Just want to let you all know that 'Steve' is home and safe. Now, don't call."
Glenn Beck of The Blaze recently said, "We tell stories of love and courage, where the good guys win." Damn right, we do Glenn. In fact, I'm stealing your quote as the new motto for my "American Hero Stories" column.
As the non-SEAL Shea's look forward to having their husband and daddy home and safe in retirement, one might think Thom is relaxing in a smoking jacket and resting on his laurels. Nope. He's got a new book out, "Unbreakable: A Navy SEAL's Way of Life"; is speaking on the lecture circuit about leadership; and is building Adamantine Alliance, a new kind of "Human Performance" consulting firm, offer consulting, training and events for organizations.
There's truly no way to stop a SEAL ... retirement only encourages them to look for another mission; another mountain to climb. And without this SEAL's wife and children unwavering by his side, his mission could not be accomplished and the mountain would remain unconquered.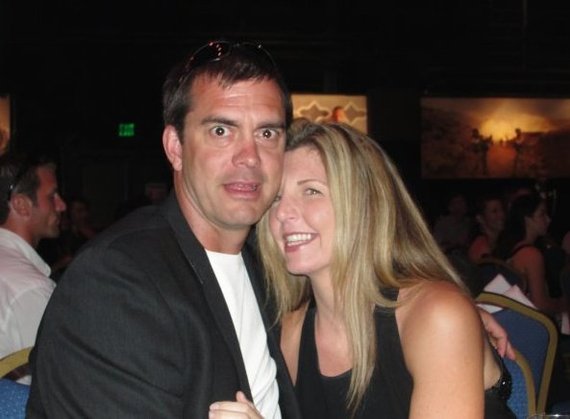 Stacy & Thom shortly after his return home from Afghanistan in 2009. "This was at one of our homecoming functions. To me this photo captures my sense of relief."