George Naddaff is nearing his 84th birthday but still thinking entrepreneurially. It is a tribute to America that George Naddaff could come from humble, new-immigrant beginnings and succeed beyond anybody's wildest dreams.
Now youthful, reader, you may be thinking, "Oh great, some 'old guy' reminiscing; why would I want to read that?" Well, I've learned that old guys reminiscing can be among the most important things to be listened to. Especially successful old guys like George Naddaff.
Just for now, don't think of George Naddaff as an octogenarian but as a five-year old boy, new to America and growing up in a 'melting pot' Boston.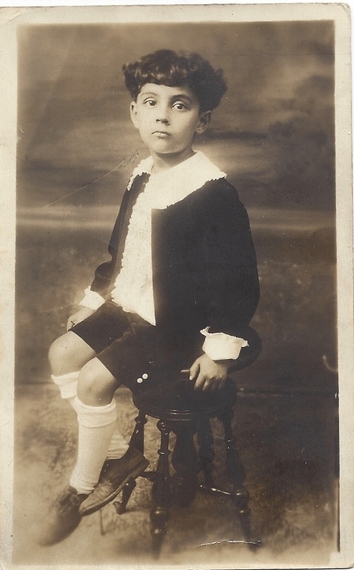 Naddaff's parents came over to Boston from the "old country" in 1920 he told me--the old country being Lebanon, which at the time Naddaff's parents emigrated was just on its way to becoming independent from Syria. "They were no different from any other immigrants," Naddaff said, "and they really had heard that 'America's streets were paved with gold' back home. It's a story that's been told thousands and thousands of times."
"I was born in 1930, when my parents had been here 10 years and were just getting settled in," Naddaff said ominously. "Right about 1927, things started to look a little funny to them and in 1930 I was born right into The Great Depression. My parents who were living in their own apartment previously, did what everybody did at that time, they moved into a very small apartment with 12 other relatives."
A Young Naddaff Shines Shoes
"When I was abut 12, my father made me a shoe-shine box. Well, I set-up a little operation where I offered 'spit-shines' and sold newspapers. I started doing pretty well and learned how to 'hustle.' Now a shine in those days was five to ten cents. And I would get the drunks coming out of the bars in Boston wanting a shine and a newspaper." He points out the area was referred to as the 'Combat Zone.' "I quickly learned, that by digging around in my pockets, looking for their change from a quarter and keeping them waiting and waiting, that more often than not, they'd get frustrated and just walk away saying 'keep the change' from a quarter. I called this 'hustling' for the money our family desperately needed. Sometimes, if I came home from a busy weekend with $3.75, which was a huge amount of money in those days, and gave it to my mother, she'd give me a quarter so I could go see a movie and buy a Mr. Goodbar."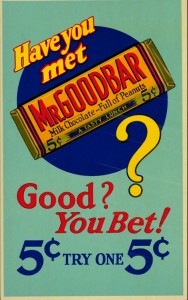 Key Point: When an entrepreneur starts out hungry--really hungry in terms of both needing food and being ambitious, there's a strong correlation between their probability of success and their level of hunger. Naddaff has always been hungry and ambitious without being desperate.
When a young friend asked Naddaff to teach him how to shine shoes too, Naddaff had the seedling that would create and then bloom in his franchising mind and then into future success.
Before I go more into the great story of this wonderful man, I'll do something contrarian to what most media do, which is make you the reader, wait for it. Here at the get-go are George Naddaff's "Lessons of Success:"
1) "It's About Who You Are"--"This little business miracle of Boston Chicken (later Boston Market) will probably never happen again in my lifetime. There I was, the king of franchises, and the king of Opportunities America, and it had taken all of the things I had done to that point. You see, it's not just an idea. When it comes to that critical point in your life when you have to make a decision, making the right decision depends on who you are, where you've been and what has happened to you in your life. You make the right decision because of the accumulated knowledge of all your successes and failures."
2) "The Decision to Franchise"--"I had an amazing opportunity with Boston Chicken. However, the name of the game was to get out there before others with greater resources took it away from me. In the first year alone, I had 18 independent mom-and-pop competitors with names like "Chicken Out," "Chicken In" and "Chicken Express" popping up all over the place. I was very worried Boston Chicken would get lost in the shuffle. At that point, it was clear to me that I had to franchise. I knew the springboard of my success would be quick replication. I needed to overcome the mom-and-pops that were trying to envelope me and franchising was the key to doing it."
3) "The Franchising Wars"--"I had learned a great deal about franchising when we went to franchise Boston Chicken. I knew we had to build company-owned units to please both Wall Street and the franchisees. This simple act shows people you know your business."
"Owning units was one way to show franchisees you understood them, but nonetheless, franchisees and franchisers will always be at each other's throats. There is a constant war between them that occurs day in and day out."
"From the franchisee' perspective, he or she is asking, 'What did the franchiser do for me lately?' One must remember that the franchisee writes a check every month, the royalty check, to the franchiser. After the owner learns the business, it is really difficult to write those checks. I've often heard franchisees saying, 'I hate that man because he's got a wart on the end of his nose,' or 'because he combs his hair this way.' Then the franchisee often goes beyond just hating the franchiser and tries to find something wrong with him, so the franchisee can sue the franchiser and get out of paying the royalty check"
"If you're going to be successful with franchising, you really have to service your franchisees to death. The theme in franchising is ongoing royalties for ongoing service. If you stop servicing your franchisees you won't get royalty checks, you'll get lawsuits. But if you service what you sell, franchisees will love you. These are the simple business realities of franchising."
4) "Concept, Management, Money and Then Implementation"--"After all of my experiences with business I have to say that it comes down to four things that really matter. You need a good concept, you need good management, and you need money. I believe that these things need to come in that order. If you have a good idea with bad management, you will fail. If you have a good idea with good management, you will succeed, but only if you have the money. You need to start with the concept first, management second, and then the money third."
"Once you have the first three essential elements, then you need implementation. People can talk about several ideas, but if they can't implement the ideas, they are nothing but a pontificator. There are millions of people, educational derelicts, who have incredible ideas, but can't implement them. The operative word, in my opinion, is IMPLEMENT."
5) "Think Young and Never Retire"--"I've seen people who have retired, and they get old. I don't want to deal with that. People say I look much younger than I am and I think that has something to do with my attitude. I refuse to be in that old senior citizen crowd."
"My wife and I went to a movie and she said, 'Honey look, senior citizen discount.' I said, "Don't you do it! I'm not going to do it, I'm going to pay full price.' She just laughed. I refuse to think old. I'm old, but I don't think old."
"It was thinking young that has always kept me looking for my next opportunity. I left Boston Chicken in 1992 when I was Chairman and CEO. The new owners changed the name to Boston Market, moved to Chicago and kept me out of the business. They were concerned enough about me though to pay for a five-year non-compete agreement. I guess others must agree that my thinking young keeps me in the game."
There they are. Simple, elegant and edifying. These are the tools Naddaff has used to succeed time and time again.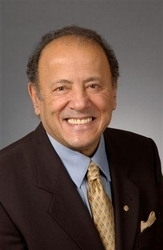 Growing up in South End Boston in the Great Depression as Naddaff did, wasn't easy but Naddaff made the best of it. "South End was a poor area, nobody could find jobs and Dover Street was like the Bowery, where all the drunks slept it off and it could be very dangerous," Naddaff recalled.
Starting with his great, first entrepreneurial experience shining shoes and hawking newspapers, right on through to watching Boston Chicken public with one of the biggest IPOs, Naddaff had a number of other working and sales situations which were pivotal in making him the wildly successful businessman he is today. It's the in-between that's important too.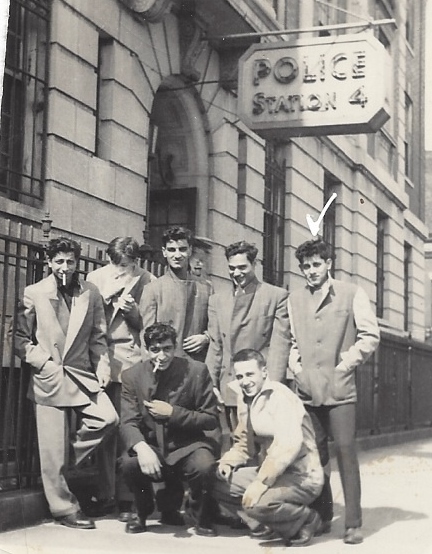 Naddaff, standing far right, with his buddies. "I'm the handsome one," he joked
Key Point: George Naddaff has a shining sense of humor and jokes regularly. I've long felt, that people love doing business and working with someone who is funny and fun. This might be one key to Naddaff's success: he's funny.
Naddaff Gets His First Real Job
Naddaff's first real job at 14 was at an upscale Beacon Hill restaurant, Huyler's. It's not there anymore, and though Naddaff thinks it might be a McDonald's now, his memory of it remains unabated. Huyler's was kind of an early hybrid for its day; it was a soda fountain and all that that entails, bobby-soxers, kids 'hanging out' before the term was popular and it was a central place to congregate--and, it was a sit-down restaurant. A perfect place for a boy with ambition to advance. "Huyler's was a restaurant that was a soda fountain and fine dining restaurant," Naddaff said, "but it also sold baked goods and great candies from New York. In those days, everyone who was shopping in the area would go to Huyler's to eat. I started as a baker's helper during the summer and did so well, they asked me if I could come and work after school. I accepted the job." From baker's helper, to waiter charming the ladies, to cook when the cook didn't show up one day, Naddaff rose to the occasion and in the hierarchy. And though Naddaff already had a way with charming the ladies, he took this craft to a whole new level by sharpening it at Huyler's.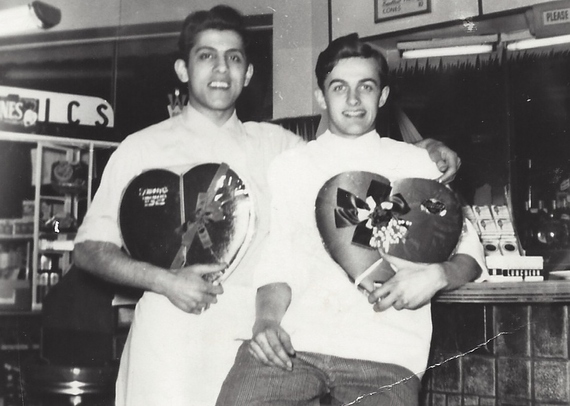 Naddaff, left at Huyler's, apparently on Valentine's Day 1950
As if talking about a girlfriend, Naddaff says, "School and I didn't work out." It is this simplicity of talking that these days that the world may have lost forever. And it's also the source of Naddaff's ability to breakthrough as a salesman, then entrepreneur.
Naddaff Joins the Army and Gets Discipline
In 1948, Naddaff joined the Army. "The greatest gift gleaned from my time in the army, was the value of friendships. Learning to take orders was also something I needed to learn! Learning to drive a tank was interesting, although not necessarily the most practical skill. Although, there are times when I wish I was driving a tank on the Mass Pike," Naddaff joked.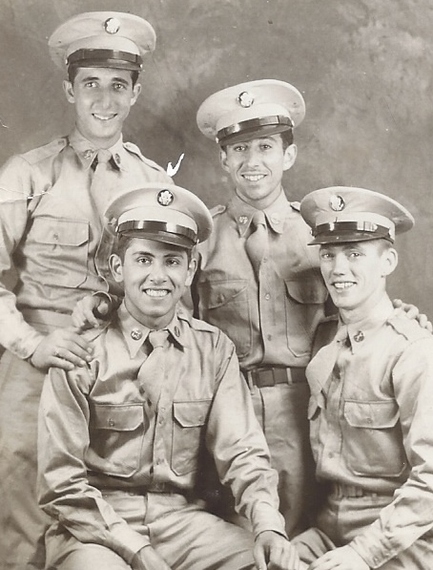 Naddaff Finds An Innovative Product to Hawk Door-To-Door
Then Stroll-O-Chair happened to Naddaff and gifted to him perhaps the most important personality trait for his success moving forward: sales ability and a gift for gab. And training in stone-cold, no-lead, door-to-door sales calls.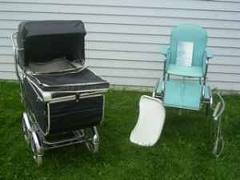 "I remember that day on the train," Naddaff reminisced, "it was 1950 and I was still in uniform on the way home from my Army stint. In my breast pocket, along with my discharge papers, was a fat envelope with $420.16 in mustering-out pay. As we rumbled along toward Boston, my mind was going clickety-clack, clickety-clack, a mile a minute; 'What next?' I thought. I had no idea."
Arriving at South Street Station in Boston, "What next?" was soon answered for Naddaff. "I picked up the first Boston Globe I'd seen in months, sat down on a bench and took a bite out of a Baby Ruth." Turning to the "Help Wanted" section, Naddaff spied the business opportunities area with an ad for "Man with Car Wanted." "Well," Naddaff thought, "I was a man, I had a car ... I'm qualified!!" and the next morning was in Stroll-O-Chair's offices.
A classic scene awaited Naddaff in those offices: Hymie Braverman, behind a small desk in a tiny office with a single bulb light hanging directly over his head. Cigar firmly planted in his mouth with the requisite cigar-juice drooling down the corner of his mouth, Braverman must have seemed like a character out of a Bela Lugosi movie.
Showing Naddaff his baby product that converted from a plain, old stroller into 16 different form-factors such as a high chair, carriage, table and chair set, bassinet, car bed and more, Naddaff was fascinated. The conversation ended with Naddaff being outfitted with all the gear necessary to sell the Stroll-O-Chair and the all-encompassing instruction by Braverman, "Now! Go find some babies!"
"How do I find some babies?" Naddaff pondered a question of the universe. Pretty quickly he solved this advanced equation, "I went looking at apartment buildings for the clothes-lines with diapers on them," he said, "then, I'd ring the buzzer for that apartment and say, "Are you the lady with the new baby?" And, for Naddaff, the rest was history. He was off to the races.
"Next thing I knew, I was selling juvenile furniture for Stroll-O-Chair, a national manufacturer selling direct to mothers." Naddaff, as always, advanced like a meteor. "Within a year, my partner Aaron Spencer and I had our own distributorships; and within several years, I owned franchises in several states. By 1959, the company wanted us as National Sales Managers. It was eight years of the intensive experience in selling. I spent eight years recruiting, training and supervising dealers throughout the country and overseas. I never realized so much money could be made selling."
It was this immersion in the 'Art of Selling' ... this ability to knock on a door, cold and start up conversations with new Moms that would, I suspect, lead to Naddaff's ultimate future successes in building his own companies; negotiating with franchisees and prospective buyers; and taking his companies public.
Undoubtedly, after 16 years at Stroll-O-Chair, Naddaff's old question, "What's next?" made a reappearance. "Just about that time, Kentucky Fried Chicken came on the scene and I heard that even the secretaries in Colonel Sanders' office were becoming millionaires with KFC stock." Naddaff was on the move again.
(A Stroll-O-Chair can still be bought to this day on eBay for $250.00.)
Naddaff Learns Chicken
After Naddaff's serendipitous conversation with a friend who owned several Kentucky Fried Chicken (now KFC) franchises, Naddaff didn't hesitate to move ... quickly.
"So the next think I knew," Naddaff stated, "I was flying down to Nashville to meet John Y. Brown the president of Kentucky Fried Chicken corporate; he eventually became the governor of Kentucky. John and I hit it off really well because he had been an Encyclopedia Britannica door-to-door salesman.We were these two hustlers, selling each other on a great business deal. I was trying to convince him that KFC would be great in Boston and he was trying to convince me that I was absolutely right." Don't you know, Naddaff and his partner, Aaron Spencer acquired the rights to KFC in the Greater Boston area and over the next couple of years, built it up to 19 stores. 19 perfect, little money-machines.
But while Naddaff was strictly focused on building his Boston KFC empire, something unexpected happened. "When we finally stopped for a minute to look around, we discovered that KFC corporate had been selling all the other territories around us. Our growth was confined to the area we had; we were locked in. I saw that this lack of opportunity was no good and I realized I would have to look for new opportunities. Aaron and I did eventually get out and Aaron went on to launch Pizzeria Uno."
It is this first experience with selling chicken that perhaps best foretold the incredible success Naddaff would achieve later with Boston Chicken/Market.
Naddaff Meets F. Lee Bailey's Mother & Learns Childhood Education
As I tell these small stories, I hope you the reader will see the giant jigsaw puzzle piece each represents in Naddaff's learning path. Without any one of these experiences, Naddaff couldn't have risen to such success.
"At the time of the KFC deal in 1970," Naddaff recalled, readying himself to launch into examples of his humorous personality and, revealingly, his love of his wife and family. We had adopted a child, Georgie and I was very concerned because at age three, he could only speak Greek. I really didn't want him to have the same problems I had with Arabic early in my life."
"So a neighbor suggested a school called Green Acres that F. Lee Bailey's mother, Dr. Grace Bailey Mitchell had been running for 22 years. It sounded like a great place for Georgie to interact with other kids and learn to speak English."
Naddaff quickly visited Green Acres and liked what he saw: 22 acres of beautiful campus and kids playing ecstatically. When he walked in the office and told them he wanted to enroll his child, he was handed an application and then quickly found out there was a three-year waiting list. Now Naddaff doesn't take "no" for an answer--due to his door-to-door prowess--and immediately piped-up, "Wait a minute. Stop!! He's three years old now and I can't wait three years until he's six ... he's got to learn English now." "I'm sorry," came the curt reply from the receptionist.
Regrouping but not quitting, Naddaff got in his car and thought to himself, "God, there's got to be other nursery schools." So he drove around endlessly searching and then came to the conclusion that "I had seen places in church basements and homes in which you wouldn't put your dog, let alone a child. Nothing looked like Green Acres, which had been so vibrant and alive."
So Naddaff did just what you'd expect him to do and drove right back to Green Acres. "I want to speak to the owner of the school," Naddaff trumpeted. "Well, she's sleeping," came the reply from the woman at the desk. "Then I'll wait until she wakes up," Naddaff promised. This seemed to do the trick. "Sure enough, 'Her Highness' finally descended and she was a beautiful looking lady about 65; everything about her was so lovely," Naddaff said. "She invited me upstairs for tea, which was interesting because I had never had tea in my life. We sat and had tea and I told her about my dilemma. She started saying,"George, I'm sorry. I understand how ...' So I interrupted her right there and told her about my early life, and the difficulties I had faced but she kept saying, 'We're enrolled. We have everybody from MIT and Harvard on the waiting list.' I said, 'Mrs. Mitchell, I think (and I hit her right between the eyes), that you're a very selfish lady.' And she looked at me and said, 'What do you mean?' I told her that Maria Montessori gave the world her philosophy of education. She didn't just house it in one little place for the rich kids; she brought the education to everybody. I told her that schools like Green Acres needed to be accessible to everybody."
"I told her I would build another school and she could take the three-year waiting list of those wanting to enroll and put them into that school. She thought I was out of my mind. Here was this Anglo-Saxon, God love her, white-haired lady talking to this Lebanese robber baron. We were two completely different people from different sides of the world but I really liked her and she liked my craziness. She looked at me in the craziest way and then asked me for my business card. Three days later, she called me and told me her lawyer sons, F. Lee and Bill had checked me out and said I was okay, so she was ready to talk."
And talk they did. The result of this story was that Mrs. Mitchell (Bailey) and Naddaff, different though they were, took Green Acres' business model and created Living and Learning Centers, building it into the fourth largest childcare company in America. They were the largest such program in New England and referred to as the "Harvard of Preschools." Naddaff said, "We weren't custodial daycare, we were educational daycare which was a big difference from what was out there."
Shortly thereafter, Living and Learning Centers was acquired by Kindercare. "If I kick the bucket tomorrow," he concluded solemnly, "put on my tombstone, 'This little Arab kid built schools.'"
Sylvan Learning Centers Meet George Naddaff
From 1985 through 1988, Naddaff worked with Sylvan Learning Centers. "I was a principal and director of franchising the concept. When the owner of the company decided to sell, he asked if I would make that happen. All it took was one phone call to the same company (Kindercare) that had acquired my Living & Learning Schools. They jumped at the opportunity because they saw that their concept had enough space in their facilities to accommodate the Sylvan program, and beyond. The transaction was closed within 6 weeks! Sylvan had 375 units at the time of closing." The old Naddaff magic had worked again.
Naddaff's Pièce De Résistance: Discovering Boston Chicken (Boston Market)
George Naddaff has been widely quoted as saying, "I always look for lines." And he does.
So it was then that in 1988, Naddaff found some lines.
"One day my bride of 42 years, Marti (Martha) called me and asked me to bring home some rotisserie chicken, steamed vegetables and corn bread," Naddaff recalls fondly. "I told her, 'I'll pick up a bucket at KFC.' 'No,' she said, 'I don't want that fried stuff, I want rotisserie.' I don't argue with my wife," Naddaff wisely shared. Naddaff also wisely points out, that without Marti's call for chicken, Boston Market wouldn't have happened at all."
"Well, the line was out the door. Ninety percent women," Naddaff's attention was peaked. These were women; the same feminine profile he had sold to by knocking on doors with diapers on the clothesline; and the same women that had gone to work in the 1970's and used his daycare centers to mind their children. Bingo! "Now they needed food to take home to their families" Naddaff said excitedly. "It was like a lightning-bolt. Daycare. Chicken. Unbelievable."
And the staff was frenetic; constantly in motion serving happy customers. Naddaff, religious observer that he is, was sold. "I spent two months in negotiating with the two owners," he said," they wouldn't let me in the back-of-house, thinking I wanted to steal their marinade recipe." But Naddaff had bigger chicken to fry, "I wanted their concept. They were doing $1.4 million in 700 square feet and the average check was $13.75. I finally bought the rights to take it national."
I'm going to rush ahead and greatly oversimplify here: By 1992, Naddaff had 48 units open and more than 200 sold. "I had decide to push the franchise button, quick. It was like putting a match to lighter fluid. Revenue was about $42 million."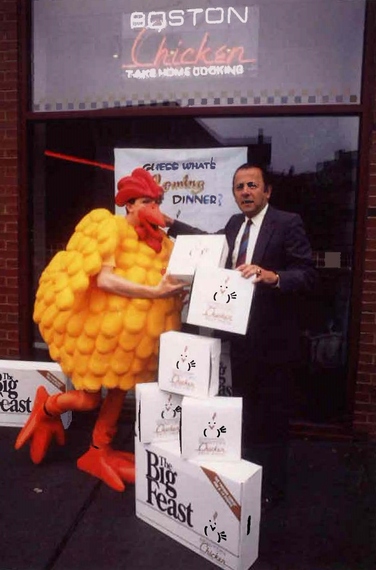 The always-joking Naddaff hacking around with the Boston Chicken' Chicken
Eventually, "Some guys from Blockbuster approached me about buying the company. They asked me to stay on as chairman but I don't work for other people." Sounds like a mighty fine policy.
Key Point: The strong policy statement that Naddaff doesn't "work for other people" seems to embody the entrepreneur's viewpoint that it's better to work for oneself than for someone else. Were it not for this personal view, not as many people would start their own businesses and this would be bad for the economy but also for America.
Naddaff stayed involved in the newly-christened Boston Market until 1993, right after his baby went public in the biggest, hottest IPO in history up until that time. That a man who started shining shoes would be the man behind this kind of financial and entrepreneurial success is a shining 'American success story.'
Though some might wear this badge of success on their lapel in perpetuity, that isn't Naddaff's style. To him, he's only as good as his last accomplishment and this mindset is perhaps what keeps him going, always foraging, always keeping his eyes peeled for a long line and that next potential success he can build.
Naddaff Learns About Failure
Now, I wouldn't want to give the reader the idea that every time Naddaff applied himself, he succeeded. And now came a period where Naddaff would have to admit failure, regroup and try, try again.
He tried a drive-thru coffee/bakery, "Coffee by George." Failed. Worked with or sat on the board of a number of start-ups or small companies with franchising/growth potential. Failed. Delivery-only pizza. Failed. A company with a mortgage software product. Failed. Naddaff also got involved with a small chain of stores called, "Totally Wireless" and an African-American art company which Naddaff just loved. And so many in between because, well ... Naddaff gets around. He never stops moving.
"Now you notice that some of these things aren't food-related. I'm not stuck with food because I'm not classically a 'foodie.' I just happened to fall into KFC; but that doesn't make me a chef. I happened to do Boston Chicken; but that doesn't make me a chef. I just know one word: REPLICATION. So that's what I do for a living and I enjoy it."
Taking his massive successes and integrating the lessons of his infrequent failure into a sort of instructional-entrepreneurial 'salad,' Naddaff shares what he's learned with anybody who'll listen. "I speak a lot to the young entrepreneurs' organizations (YEO and YPO) and have speaking engagements with Inc. magazine. I love young entrepreneurs. I love helping them and working with start-ups."
Naddaff Builds a Healthy Fast-Food Restaurant
In 2007, Naddaff came across another food operation in true Ray Kroc fashion.
Key Point: Naddaff is truly like Ray Kroc because he doesn't invent the great businesses he builds and franchises, he finds them. He recognizes them and then promotes them. Ray Kroc didn't create the McDonald's hamburger; he found the McDonald brothers' burger stand in San Bernardino, California, while he was selling malted milk machines. Kroc was so flabbergasted by the McDonald's burger, that he immediately set about negotiating with the brothers to buy the rights to franchise the operation nationally. And another American fortune resulted. This is precisely what George Naddaff does and does well. But this uncanny business ability is not infallible.
Zeroing in on UFood Grill as a "feel great, eat smart," fast-food, casual-dining restaurant, Naddaff spent the next several years for his life, from his late 70's to early 80's, fully immersed as the chairman and 'rainmaker' for UFood. He really gave it his all; out-energizing others four and five decades his junior. He developed strategic relationships with George Foreman and his omnipresent grills and with Dr. Oz, the health expert. And in addition to his ever-present master strategy of franchising and replicating, Naddaff also injected the location strategy of placing UFood Grills in airports, on military bases and in hospitals (where of course, eating healthy is critical but sometimes shockingly absent) such as Dallas's Parkland Hospital where Naddaff's UFood replaced a twenty-year old McDonald's restaurant. I thought Naddaff's thinking was truly differentiating and that UFood Grill was going to replace fast-food; that their time had come.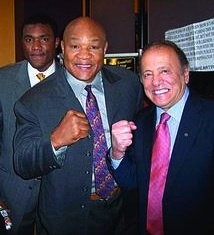 The "Two Georges.' Naddaff on the right with ex-heavyweight champ George Foreman is on left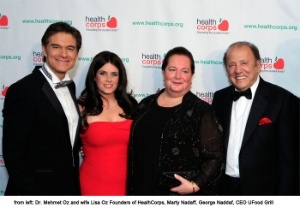 But surprisingly, Naddaff failed. But he didn't give up his search for the next big thing.
So as George Naddaff moves on with new ideas and projects, he does what we all do at some point in our lives. He looks back at his past; at the shoe-shine box his father made for him and which got him started in business. Then presumably, he wonders, "How did I come so far?"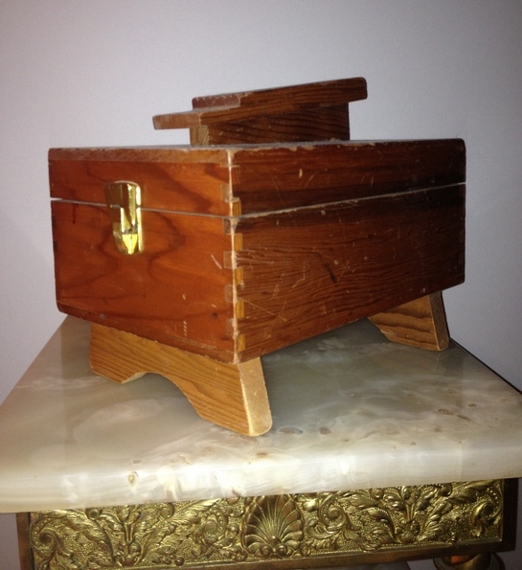 The humble shoe-shine box that started it all off
This post has been modified since its original publication.