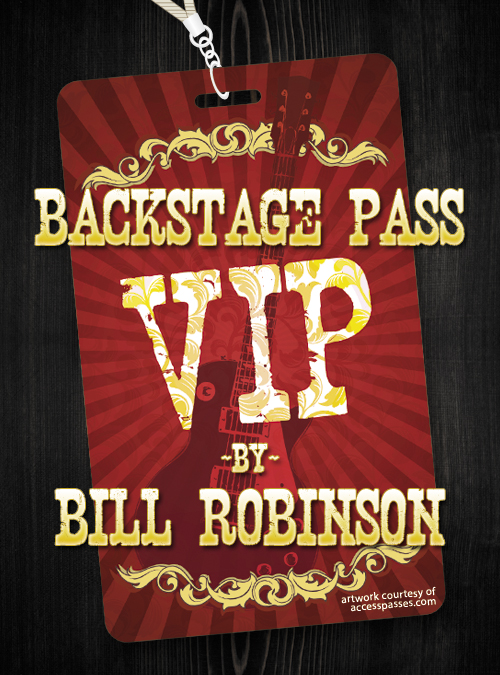 Many rock bands who've been around for four decades have a 'biggest fan;' you know, the sad, tragic, middle-aged individual whose life revolves around one performer or another who is coming round for one last hurrah tour. These uni-dimensional people virtually eat, sleep and dream their hero. (Like me with Eric Clapton.)
These enduring fans--whether of The Stones, Who, Beatles or any musical group or artist for that matter--generally have a few gray hairs with receding hairline and an expanding waistline. (Again, sigh ... like me.)
But every so often, we are treated to a young person who has the vision, the retro-attitude and the bravery to actually like and follow a band from their parent's generation. How refreshing this is. It is discernibly clear that these young people simply like what they like; know what they like; and their peers' temporal, fickle likes which are constantly changing, be damned. And these young people are even more cemented as fans than the older lot of us; they're unshakably faithful and unrattled by scandal because they know their hero is straight and true and nobody better tell them otherwise.
I'm sure the music industry (though I'm not sure what constitutes the 'music industry' anymore in this age of the Internet, P2P free downloading and the "Pro Tools Revolution"), would value the younger fans more over time given their longer life expectancy, increased future revenue and loyalist ferocity.
The band Styx and their beloved front-man, Tommy Shaw have one such fan and she's so knowledgeable and so tuned in to what is happening with Shaw that she's hard to compete with and certainly, impossible to defeat when talking all things Shaw or Styx. Talking Shaw to her is to see a huge smile encompass her face and start spreading around the room.
Mairin Hayes is the self-proclaimed (and well, who's going to challenge her?) "Tommy Shaw's Biggest 15-year old Fan."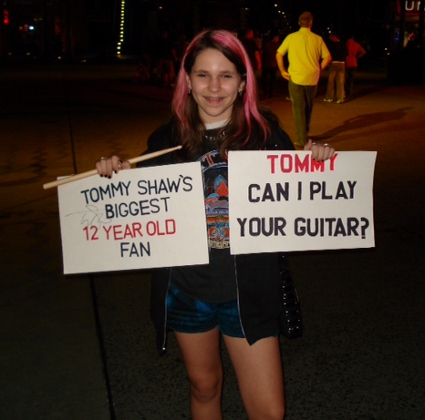 A 12-year old Mairin Hayes being Styx' "biggest fan"
(Photo Credit: All Mairin Hayes' photos by Elin Hayes)
This young lady has actually converted many of her friends who'd never heard of Styx right over to listening to their CDs; waiting anxiously for their tour or new release news; or going to their shows. If Mairin Hayes ever became a political consultant ... watch out--her candidate would always win.
Everybody in Styx knows Hayes as some variation of "the little, pink-haired girl" because she always manages to be up close with her distinctive, two pink-shocked swatches of hair. She's created her own brand within Styx.
But originally, Mairin was a serious Beatles' fan. Then she first viewed Styx after her aunt and uncle came home from a Styx concert one night and showed the 12-year old a Styx video on YouTube of the Tommy Shaw song "Crystal Ball." When I asked the wise-beyond-her-years Hayes what she thought "Crystal Ball" was about, she told me, "I think it's about how Tommy wanted to find his way in life because I know he started to write that song before he joined Styx and I think he was probably feeling lost at that time in his life." How's that for a penetratingly insightful psychological analysis from a 15-year old? Wow.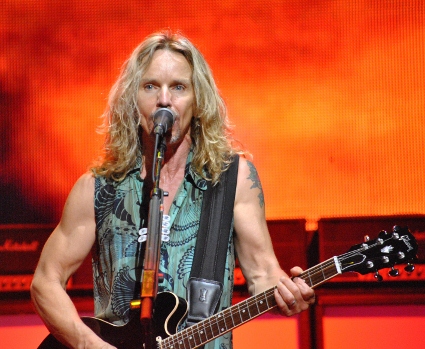 Over the last few years, Hayes' Mom has taken her to 12 Styx' concerts in five states and while doing so has gotten to spend some rich quality time with her daughter; keep her daughter safe; and also become quite the Styx fan herself. We're talking about two generations of Styx fans here--though reverse-generated from daughter to mother--how many more future Styx fans in this family alone could this create? Not counting their non-familial converts, that is.
"What was it that first drew you to Tommy Shaw?,' I asked Hayes. "When I saw that first smile as he was singing the beginning of 'Crystal Ball,' (at the end of the first verse while Shaw's playing a 12-string acoustic guitar) I fell in love with him," she said with a still girlish giggle. "Then there was his beautiful voice; Styx and Tommy were so fresh." Fresh? Really? How fascinating that a teenager--a mere 'whippersnapper'--would consider a band that's been around for more than 40 years, "fresh." This must be because all her generation's music has somehow grown stale to her or perhaps she never liked it in the first place. It is interesting what compels us to become these undying fans of musical artists; too bad it can't be bottled.
Now I never really appreciated Styx until I saw them live ... a couple of months ago. Isn't extraordinary that a person could live 53 years on Earth; be an absolute Rock n' Roll fanatic--a rock insurgent--and never have seen this magnificent band live? Well, I'm glad I finally did because I discovered something important I'd been missing: a great band with wonderful guys who really care about their music, their instruments and their fans.
I felt terrible that I hadn't seen Styx decades ago. Any band that can create excitement like this onstage is a band I've got to see.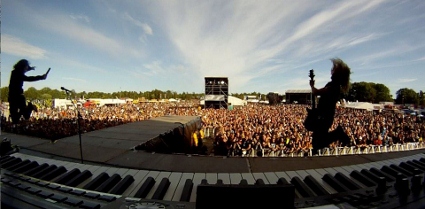 Lawrence Gowan and Tommy Shaw ... airborne
Photo Credit: Styx keyboardist Lawrence Gowan's "keyboard-cam"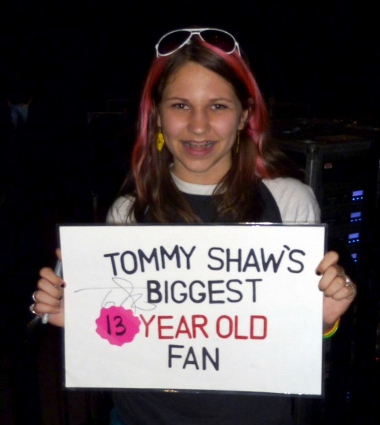 For Styx and Tommy Shaw it's been a wild, wonderful ride. And for the fans like Miss Hayes that they've taken along for the ride, it's been an experience that compliments the fans' lives tremendously instead of overtaking them completely. (Again, like me with Clapton.)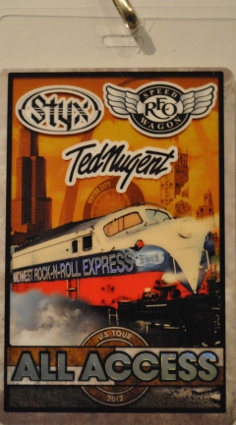 THE PERFORMERS
Styx started as a band much earlier than most people know: starting first under another name on the south side of Chicago in 1961 finally adopting the name Styx in 1972.
Founded by Dennis DeYoung and brothers Chuck and John Panozzo on the gritty south side of Chicago, the band was first called, "The Tradewinds." It wasn't until 1970, that James "JY" Young joined the band and in 1972, the Styx name was chosen and stuck.
Without a hint of the future Styx to come, here is what Styx looked like circa 1970.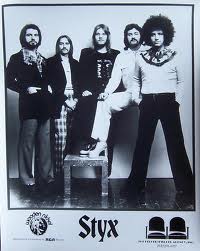 In late 1975, something cathartic occurred: the Styx guitarist left suddenly and a frenetic search came up with Tommy Shaw. Shaw was a major catalyst for Styx: bringing songs he had written (the aforementioned "Crystal Ball" most notably), perhaps a missing enthusiasm and a fresh attitude.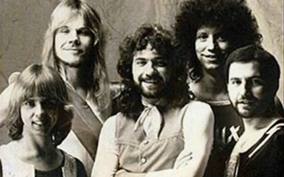 A fresh-faced Tommy Shaw is at front left
Styx is very much a product of the persistence of the original band members who then either passed away, moved on, passed the baton or had it taken away from them depending on who's side of the story you listen to. I'm of course referring to the split which took place within the band in 1999 when everybody but founding member Dennis DeYoung wanted to hit the road and tour again. As Tommy Shaw said in this clip from a VH-1' "Behind the Music" program, "The one thing about Styx--and you can look at their history," Shaw said forcefully, "Styx carries on."
THE VENUE
Mohegan Sun is centrally located to NYC and Boston and provides an all-inclusive entertainment mecca where one can dine at elegant restaurants, grab a burger at Johnny Rockets or ice cream at Ben & Jerry's, catch Neil Diamond, Robin Williams or Linkin Park at the large arena or The Outlaws. Dickie Betts or Eddie Money up close and personal in the cozy Wolf Den. Add to these experiences shopping, Black Jack and slots and you'be got one heckuva weekend.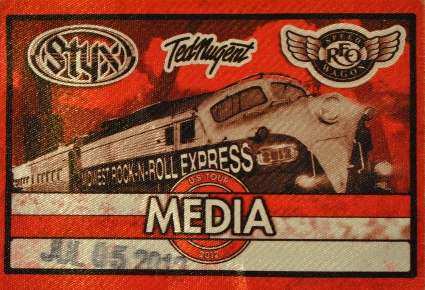 THE MUSICIANS
Tommy Shaw, Vocals, guitar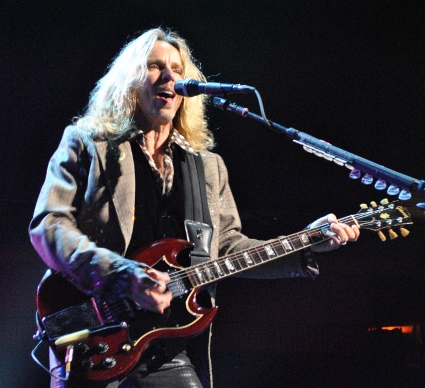 Tommy Shaw is the quintessential 'Rock Star.' And then again, he's not. Personally, he's about as nice and down-to-Earth as one could imagine a rock star to be. Onstage he's an unstoppable force to be reckoned with--never stationary, always engaging the crowd, offering the crowd his guitar for mass strumming festivities and then there's that smile that Mairin Hayes referred to with such excitement. Shaw uses that smile of his to disarm and magnetize men and women; boys and girls but he doesn't use it gratuitously. He's genuine.
James "JY" Young, Guitar, vocals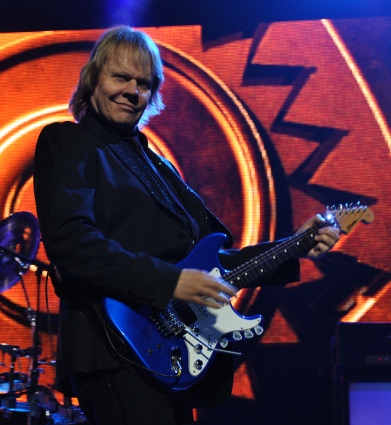 From the 'Bet You Don't Know Department:' JY has a degree in Mechanical and Space Engineering from the Illinois Institute of Technology; this guitar player might just as well have pursued a career with NASA. Chicago-born and bred, Young is the the only original member of Styx since the first band break-up in 1983.
Ricky Phillips, Bass guitar, vocals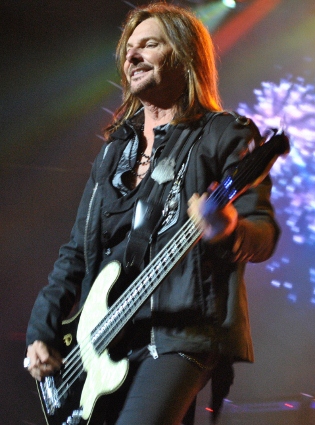 Ricky Phillips was born in Iowa so he retains those Midwestern Styx' roots. Phillips has also played with Bad English, The Babys, Neil Schon (Journey), Sammy Hagar (Montrose, Van Halen) and Denny Carmassi (Montrose, Heart, Whitesnake).
Lawrence Gowan, Keyboards, vocals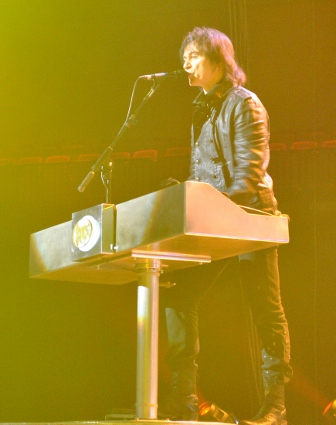 Born in Glasgow, Scotland (which makes him a Glaswegian--a tough lot of lads), Lawrence Gowan was raised in Canada. Gowan has a deep and rich background in playing keyboards and piano for not only his own band but also tons of theatrical and orchestral events. In 1996, Gowan's band opened for Styx in Montreal and impressed Tommy Shaw to the extent that Shaw called Gowan three years later to tour with Styx in replacement of Dennis DeYoung.
Todd Sucherman, Drums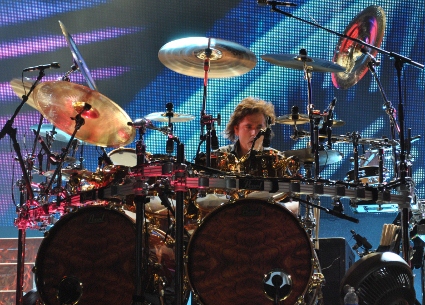 Todd Sucherman has been the Styx drummer since 1995 and as one might expect, also a Chicago native. Sucherman started early at age two, then working paying gigs by age six. After going to the prestigious Berklee College of Music, Sucherman played with Brian Wilson (The Beach Boys) Peter Cetera (Chicago), and Spinal Tap.
THE INSTRUMENTS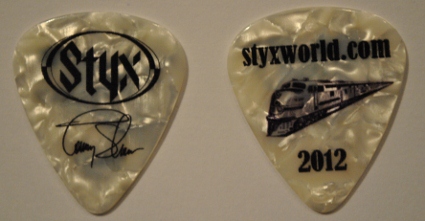 Tommy Shaw's guitars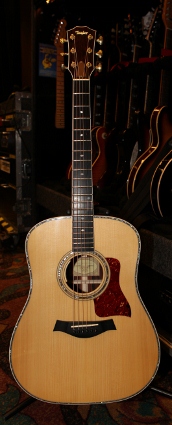 Shaw's guitar technician, Jimmie Johnson said about this guitar, "This guitar is a Taylor Dreadnought, custom made to Tommy's specifications. Tommy was looking for a full-bodied acoustic with the characteristics of a pre-war vintage instrument. The back and sides of the body are Madagascar Rosewood, while the top is Adirondack Spruce. The bridge and fingerboard are Ebony with diamond inlays. The short scale (24 7/8") neck is Mahogany with a V shape profile. The color has a lightly aged tint and with the exception of the satin finished neck, the guitar has a high gloss lacquer. The pickup system is supplied by LR Baggs. What makes this guitar really special, along with all of the aforementioned options is the V bracing, replicated from studying pre-war Martins. Tommy originally had this guitar built for playing his bluegrass material but these days it's found a home on the road and is played on 'Fooling Yourself' and 'Man in the Wilderness.' The strings are GHS Lawrence Juber True Mediums."

Johnson says, "This guitar is a 1967 Gibson SG. The body is solid mahogany finished in dark heritage cherry red. The bridge is an ABR-1 and the tailpiece is the Maestro tremelo system. The neck is a through the body type with rosewood fingerboard and figured trapezoid inlays. Tuners are Kluson Keystones. Tommy opens the show with this guitar for 'Blue Collar Man' and 'Grand Illusion.' Strings are GHS GBCLs."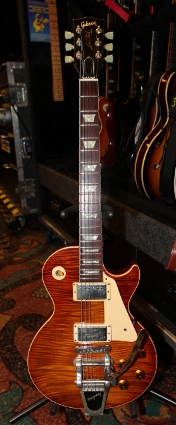 "This guitar is a Gibson Les Paul Standard from the Historic Series. The body is mahogany with a carved flame maple top finished in a sunburst. The neck is a through the body type with a rosewood fingerboard and Kluson Keystone tuners. Pickups are Gibson Burstbuckers. Two years ago a Bigsby B7 tremelo system was installed in place of the stock stop tailpiece, giving Tommy the option of adding subtle vibrato when needed. This is Tommy's 'Go To' guitar. He plays it on 'Too Much Time,' 'Castle Walls,' 'Queen of Spades' and the second section of 'Crystal Ball.'"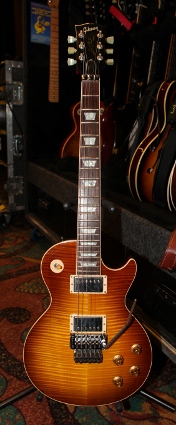 "This guitar is a Gibson Les Paul Axcess. The body is chambered mahogany with a carved maple top finished in a sunburst. This guitar is slightly slimmer and lighter than a standard Les Paul and the neck heel has been carved down to allow easier axcess to the higher notes, hence the name 'Axcess.' Pickups are Seymour Duncan '59s. The Floyd Rose bridge that came stock on this model has been upgraded throughout using parts supplied by Floyd Upgrades.com. Parts replaced are a solid titanium 42mm big block in place of the standard steel sustain block. All saddles and string blocks are also titanium upgrades. Floyd Upgrades has also supplied us with noiseless springs (necessary at the gain levels we run) and stainless steel string lock screws. Tommy plays this guitar on 'Miss America' and 'Come Sail Away.'"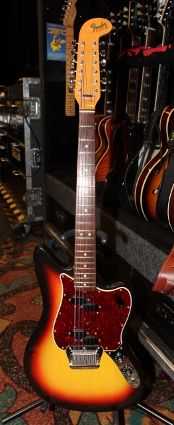 "This guitar is a 1966 Fender Electric 12. The body is alder and finished in a nitro cellulose lacquer sunburst. It has a maple neck and rosewood fingerboard with pearloid dot inlays. It features 2 'Electric-12' split single coil pickups with a 4 way selector switch. It has a string through bridge with 12 adjustable saddles. Tommy plays this guitar on 'Suite Madam Blue.'"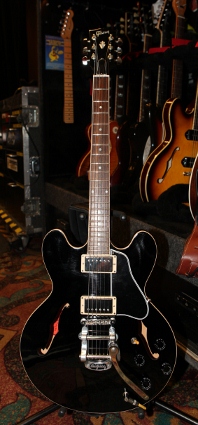 Tommy's black Gibson ES-335 which he "loves"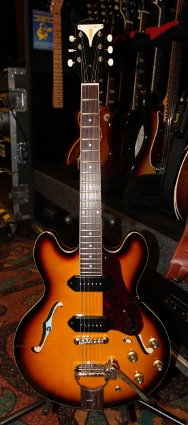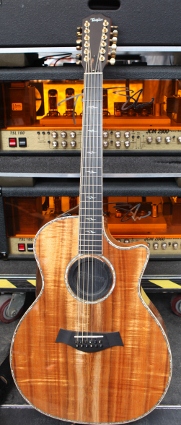 Man, oh man, does Tommy Shaw like his guitars.
James Young's guitars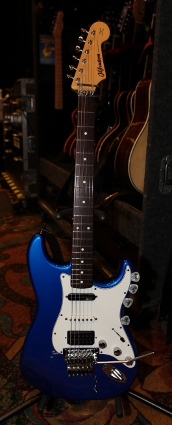 According to Greg Mandelke, Guitar Technician for James "JY" Young, Chuck Panozzo and Ricky Phillips, "This blue Strat-like instrument was built by Bill Nash of Nash Guitars in 2010. The beautiful blue finish is not the only custom feature on this guitar. Essential features on a James Young Strat are the sustainer electronics and Floyd Rose locking tremolo. The Sustainer electronics provide access to infinite sustain and/or feedback with a flick of a switch. With the Floyd Rose trem setup properly, you can enjoy endless dive bombs and crazy trem usage with little or no tuning issues. We also upgrade all of our "Floyds" with parts from Floydupgrades.com These parts include titanium trem blocks, stainless coated capscrews, titanium saddle blocks etc...which enhance the tone of the instrument as well as make the bridge stronger and more reliable."
Ricky Phillips bass guitar

Greg Mandelke told me, "Safe to say this is Ricky Phillips #1 bass. This bass is a one of a kind creation made by the Fender Custom Shop. The looks of this bass are enhanced by the checkerboard binding around the body and fretboard. The F-hole on this bass looks great and serves to lighten up the thick slab body with the hollow chamber underneath. Other features include the ebony fretboard with no dots or inlays, headstock painted to match, silver spaghetti style Fender logo and EMG pickups."
Styx' bass player Ricky Phillips then added, "In the 80's the only 5-string basses I could find looked like a coffee table with exotic woods but no sex appeal. I'm a rocker at heart so I took the features from the basses I loved in my collection and put them into one. The feel and aggressive sound of the '68 Telecaster bass became my beginning template and from there I added the 'checkerboard binding' from my '73 Rickenbacker and the EMG pickup figuration from my '80s Spector basses. Ebony has an amazing feel for the neck and the matching head stocks of the '60's Jazz Basses has always caught my eye. The F-hole not only lightens the weight but adds a unique tonal quality and gives a bit of the lonseome cowboy look to the finished product. When Fender green-lighted the making of this bass for me I was ecstatic. I'm currently designing a bass for another manufacturer and LPD Music to make some of these specialty features affordable for the younger player."
Chuck Panozzo's bass guitar

(Photo Credits for guitars: Styx Productions, Jason Powell, Jimmie Johnson and Greg Mandelke)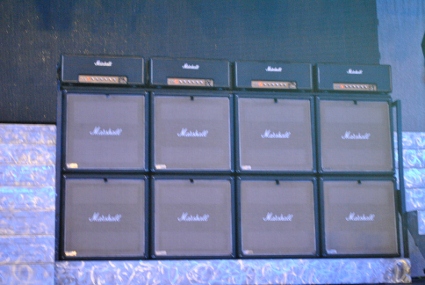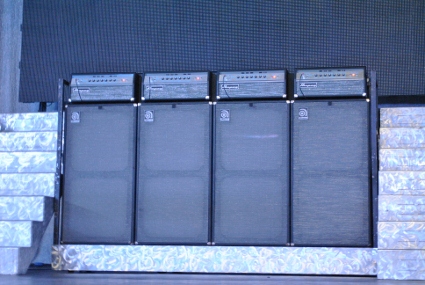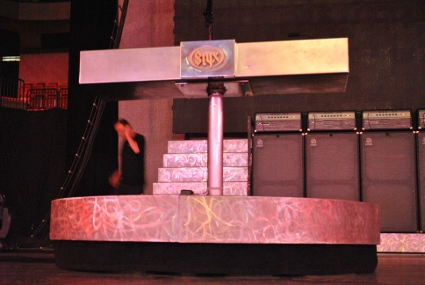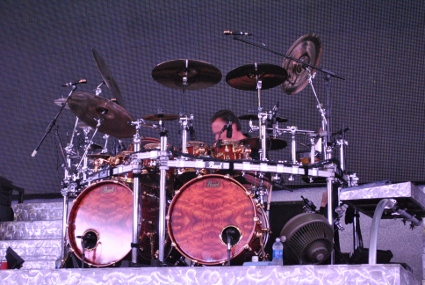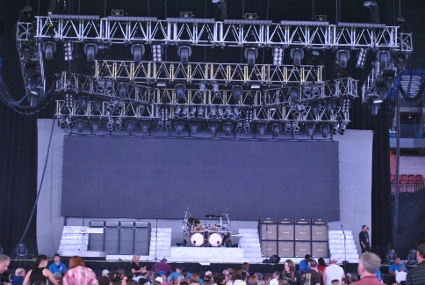 THE AUDIENCE
The Mohegan Sun Arena crowd was amped up and ready for a great Styx show. Styx fans seem different from other fans. I'll bet there's a discernibly different demographic about them. This concert had fans of the big three bands: Styx, REO Speedwagon and Ted Nugent. Though REO fans seem vaguely similar to Styx fans there are differences, I'm sure. Styx was the headliner, closing the show this night so the Styx contingent was ready for a show-stopping performance by their band. Comprised of mainly 40, 50 and 60-somethings, there was a teen and 20-something smattering throughout the crowd. The Styx audience did not disappoint Shaw, JY and crew one bit; they were on their feet and cheering most of the Styx performance and the front barriers were jammed with pretty women. Overall, it was hard to believe this was the 2012 Styx and Styx' crowd and not the 1979 version--only the clothing belied the year.
THE ARTIST COMMENTARY
Tommy Shaw sat with me for 30 minutes chatting about the Styx' journey. When you first meet Shaw, it is impossible to believe the man will be 60 next year; it's just inconceivable, he looks that good.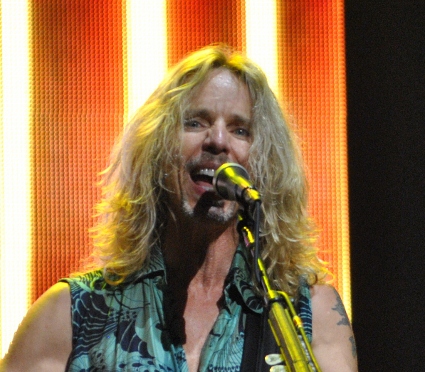 "Well, you see what it's like back here (backstage)," Shaw began, "we're all (Styx, Nugent and REO) friends and fans of one another. I just love music so much. The thing I love about our shows is that we want everybody to come--it's supposed to be a break from all the screaming and hollering ... all the tension that's out there."
Before talking with Tommy, I had been sitting with Ted Nugent in his dressing room down the hall. As I was talking to Ted, Tommy walked in to hug Ted and congratulate him on his smoking set and then said to Ted, "I love that Byrdland sound" referring to Ted's legendary Gibson Byrdland guitar (View Byrdland image). Ted dropped everything and greeted Tommy like a long lost brother. It was clear to me that these two rock stars love each other. What an interesting insight.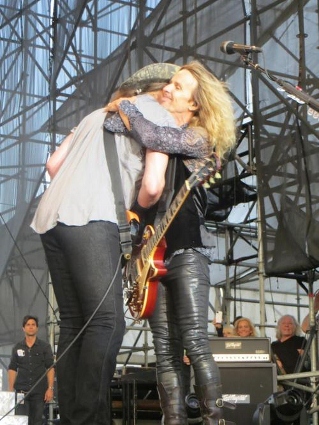 "My mother passed away recently," Shaw said, "and I got a note from Ted; it was so warm and personal and like something you would get from your best friend at a time like that. I forwarded Ted's note to my brothers and sister and they read it and said, 'Wow, this man's got such a big heart.'"
"Well I eat meat now," Shaw said changing an emotional subject quickly, "so at least I can sit down at the same table with him. When we were first in Damn Yankees, I was a vegetarian ... or pescetarian. I'm glad I didn't know that word then, Ted might've shot me," Shaw joked.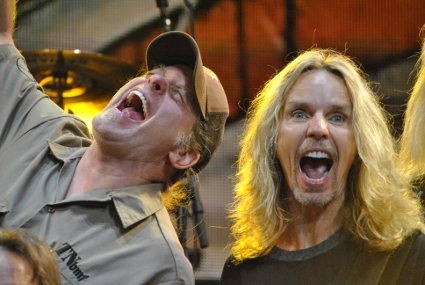 'The Nuge' and Tommy Shaw hacking around
When I turned the conversation to guitars--a love of Shaw's and mine--Shaw beamed. I had seen pictures through the years of Shaw playing a white hollow-body electric with a black pick-guard that I thought was Gibson ES-335. "Yes that's a 335," Shaw confirmed, "now I have a black one too. I love those 335s," Shaw said, "and I love (Gibson) Les Pauls too. I have a Sunburst Les Paul that I play onstage and that's one of my favorites. I have a '68 Cherry SG that I start the show with and that really sweet--somebody took really good care of it and I bought it off eBay about five years ago': Shaw recalled excitedly. "Really, off eBay?," I said. "Yep, I'm always looking for guitars," Shaw grinned.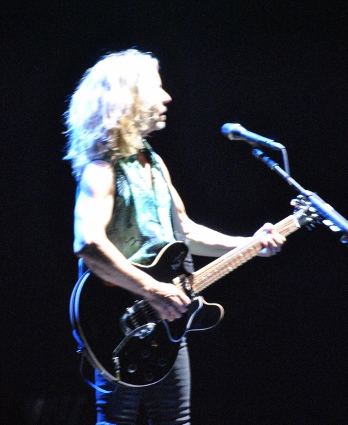 Shaw with his black Gibson ES-335
When I asked Shaw which guitar was his absolute favorite, he replied, "Favorite guitar? I can't narrow it down to one. When you see Styx in concert, those are all among my favorite guitars. And when you see my guitar tech Jimmy Johnson switching me out with the next one, you'll usually see me smiling."
"I play mandolin too," Shaw told me. "Are you going to play some tonight?, I asked." "No, not tonight" he said somewhat dejectedly like he really wanted to play that mandolin. "I had a Bluegrass album," ("The Great Divide") he said more upbeat, "on my album Sam Bush did all the heavy lifting on mandolin but to learn it and promote it I had to learn to play the mandolin and I've been working on it so I'm getting better."
Meanwhile, I had asked Mairin Hayes, "If you had one question for Tommy Shaw, what would it be?" She didn't miss a beat: "I've always wondered," she began, a smile creeping into her voice on the phone, "Tommy's worked with so many people like Ted Nugent (in Damn Yankees) and Jack Blades (Shaw-Blades), if Tommy could collaborate with anyone dead or alive, who would that be?" So I asked Tommy Shaw her question.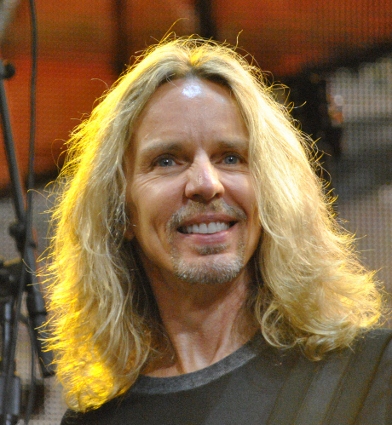 "Please tell Mairin," Shaw said in repsonse, "as far as someone I wish I could hang with as a writer, the first names that come to mind are Hank Williams and John Lennon."
As we finished talking, Tommy offered to walk me out of his dressing room. On the way, he reached into his pocket pulling out a couple of guitar picks and handed them to me, "Good luck," he said like he meant it, a big sincere smile on his face. He then headed out to the stage.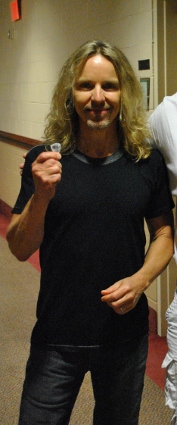 STYX CHARITABLE ENDEAVORS
With the exception of Styx' fans, most people are unaware of the great interest Styx has in giving back to those less fortunate. Founded in 2002 by Tommy Shaw and Styx, "Rock to the Rescue" (RttR) and known for giving a series of post-9/11 fundraising concerts, RttR is a non-profit organization that makes it its business to support worthy causes in every town Styx visits on tour.
Spearheading this great, kind effort is Tommy Shaw's 25-year old daughter, Hannah. "Earlier this summer, my Dad and I were talking about a new vision for extending out Rock to the Rescue to smaller towns and charities," Hannah Shaw said happily but intensely, "so in every city we go to on tour, we pick a new, local charity to benefit. We don't work with the really big charities but the small 'underdog' ones for whom our donations are really big and really helpful."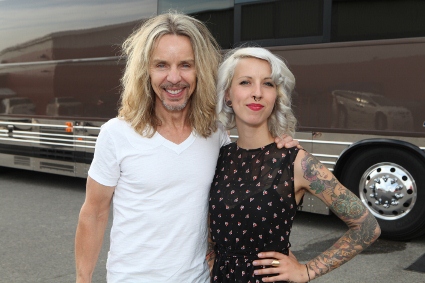 The Shaws, Elder & Younger
So the young and idealistic Miss Shaw (what would the rest of us indolent codgers do without these bold youngsters saving the world?), now starts off every Styx concert by addressing the audience before the show begins to talk about the local charity that evening's performance will be benefiting; she "gives a little talk onstage," as she puts it--in front of a very large audience. "We invite the charity organizations to the concert; hold raffles of autographed Styx guitars; and do as much outreach work as we possibly can. After I give my talk about the charity onstage, I go out and talk with all kinds of fans about the charity, giving them information and sometimes having them donate."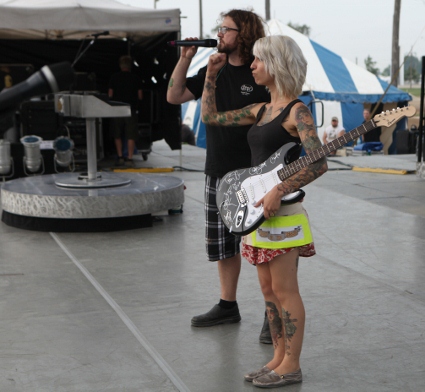 A 'little talk' courtesy of Miss Hannah Shaw
RttR works with three main categories of charities currently:
**Domestic Violence shelters (such as Working Against Violence, Inc.);
** Animal Rescue organizations (such as Forever Pets);
and perhaps most fittingly,
**Music Education programs (such as Girls Rock)
"Styx is an incredibly charitable band," Hannah said, "it's like a great, big family--not just the band and the crew--but the fans too. The fans are so inspired by the music and they've inspired the band to do this work." Tommy Shaw must be very proud indeed.
THE SETLIST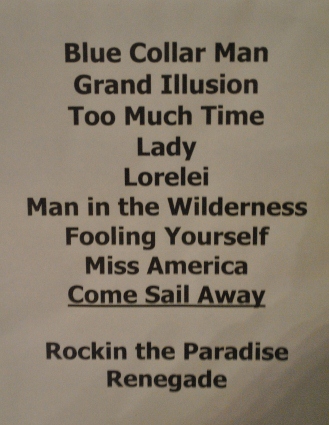 THE SHOW
Opening with the crisp, hard-driving "Blue Collar Man," Styx hit the stage--and I mean hit it--with everything they had.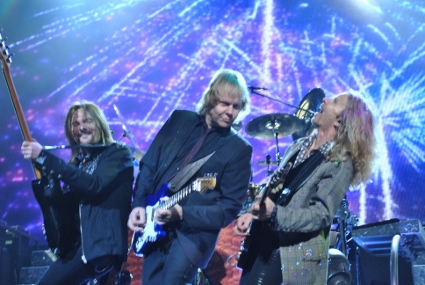 "Grand Illusion" rocked from beginning to end.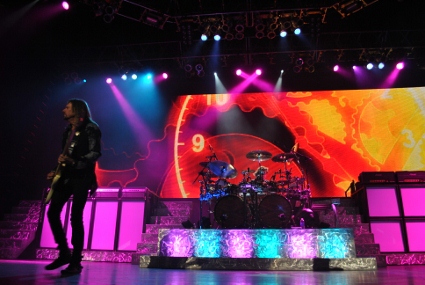 On "Too Much Time on My Hands," Ricky Phillips seems to be saying, "Hey! Where'd everybody go?"
It's a hoot to see the severe difference between the 1983 version and 2011 versions of "Too Much Time On My Hands."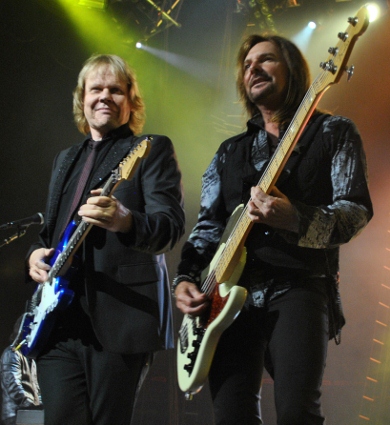 JY and Ricky Phillips enjoy a riff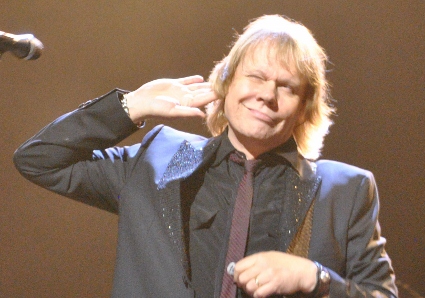 JY teases the Styx crowd mercilessly
I was absolutely amazed at Tommy Shaw's guitar playing ability--he ripped some soaring solos on almost every song.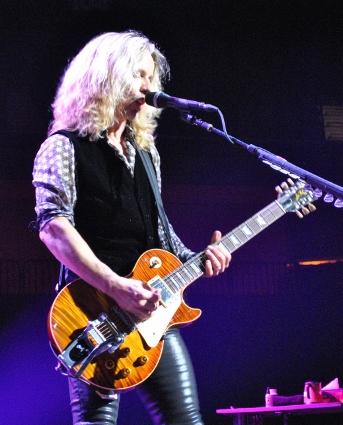 And JY of course provided a strong series of guitar leads throughout the show.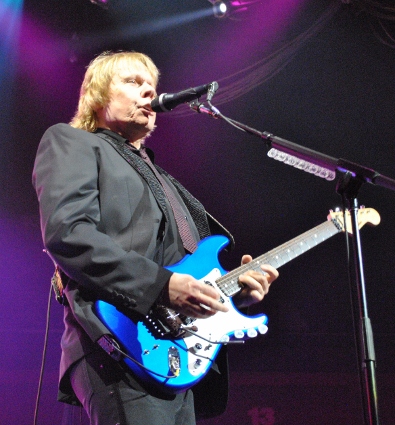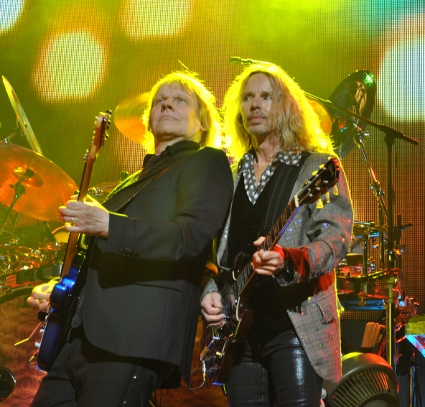 One of those quizzical onstage moments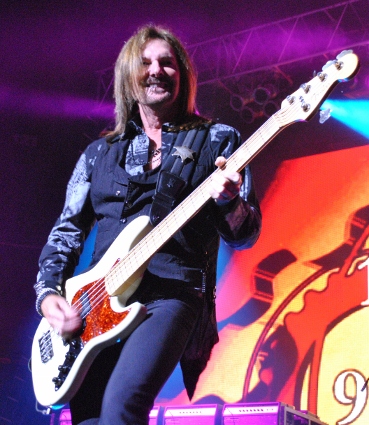 Ricky Phillips enjoys strumming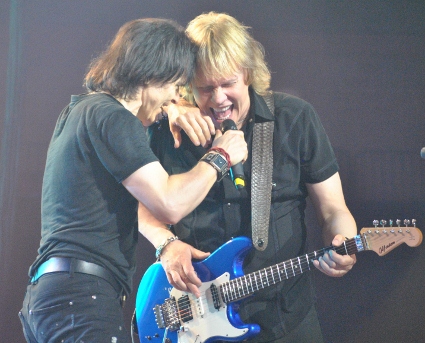 Keyboardist Lawrence Gowan gives JY the lead vocal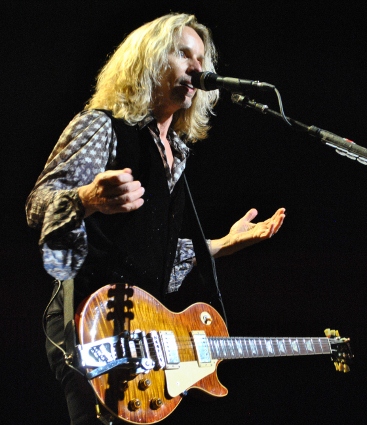 Shaw cajoles the crowd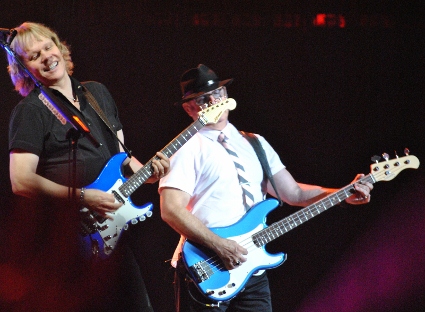 JY and original bass player Chuck Panozzo share a high note and low note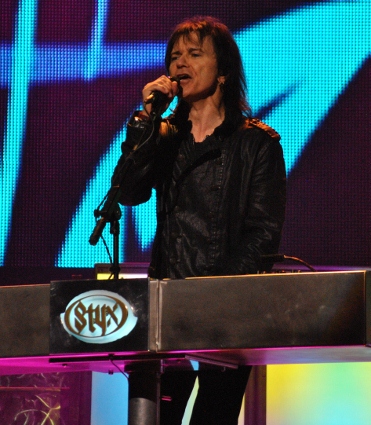 Keyboardist Lawrence Gowan sings "Come Sail Away"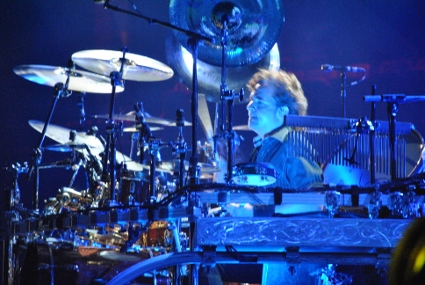 Todd Sucherman's 'cage'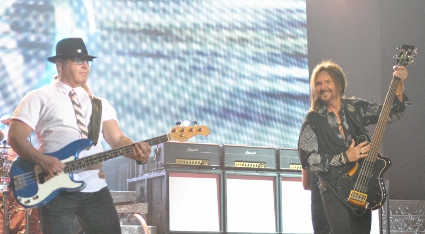 The two bassists pound away; Ricky Phillips on the right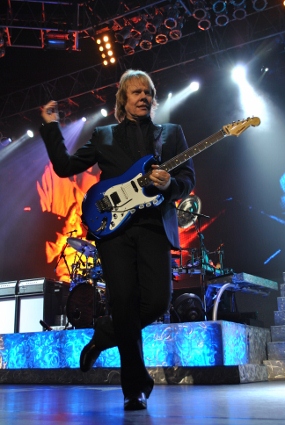 JY has a real flair for the dramatic as he roams the stage authoritatively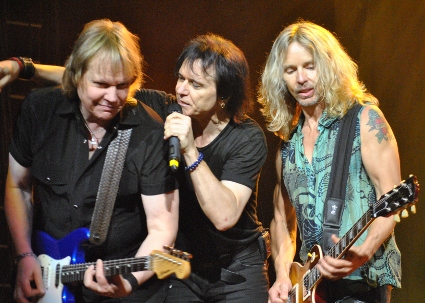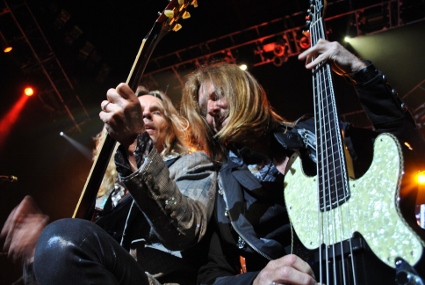 Shaw and Phillips up close and personal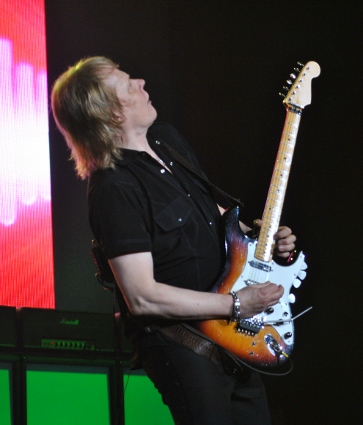 The show then closed with a tremendous encore of "Renegade" which brought the house down.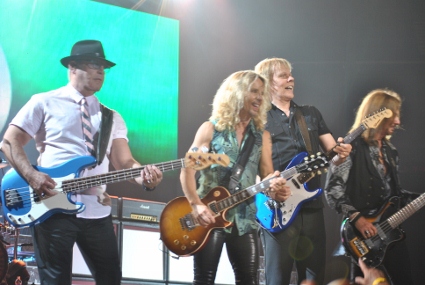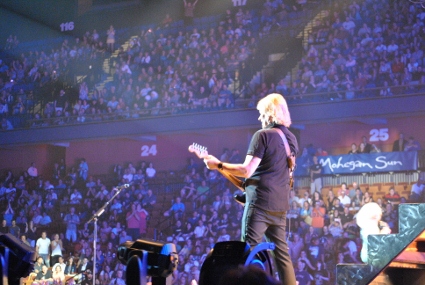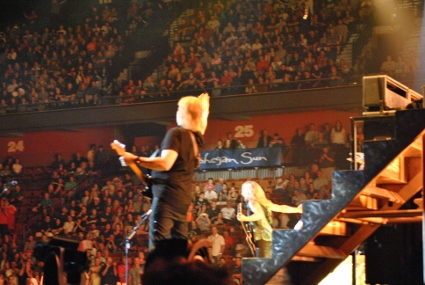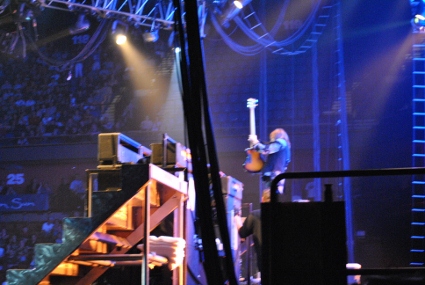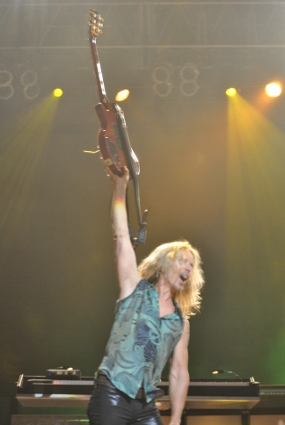 Tommy Shaw bids the crowd adieu
Like the ever-rising pencil marks on a kitchen door jamb, Styx has become a kind of yardstick for measuring Mairin Hayes' growth. Now after almost four full years of adoring fan-ship, Miss Hayes is a 15-year old going on 16 and shows no sign of letting up. Her passion for Tommy Shaw and Styx continues unabated.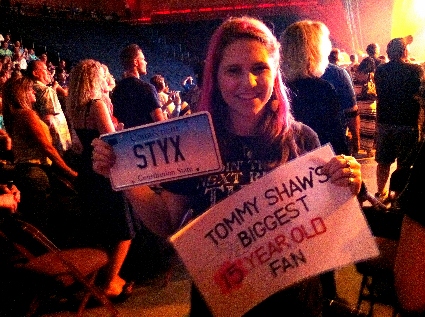 All Photo Credits are Bill Robinson except as otherwise noted