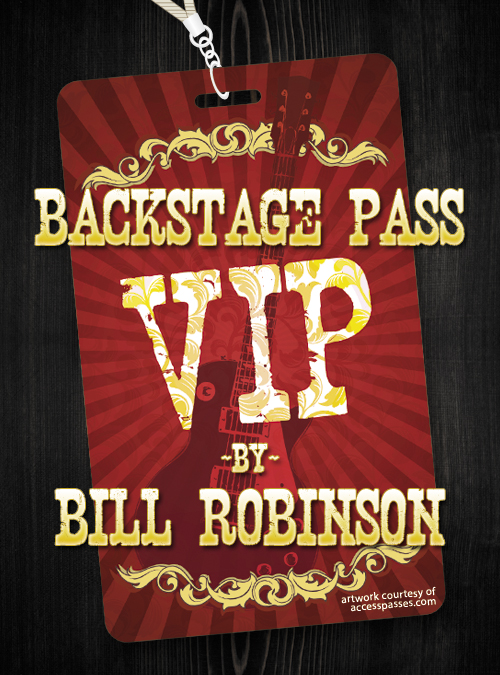 There's just about every kind of guitar you could possibly want. There are people cruising the long, guitar-laden aisles with guitar cases selling on their guitars on the fly. There's an auction of really rare and valuable instruments and of course, there's the dozens of booths where thousands of guitars beckon complete with the museum docent-type educators who know everything about them.
You want guitars? You want vintage guitars? Dallas in April has got 'em for you.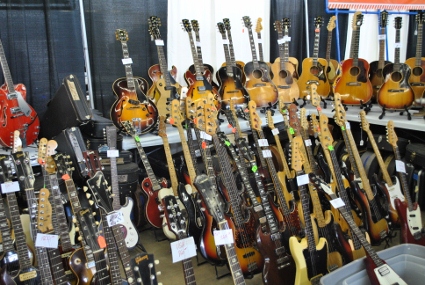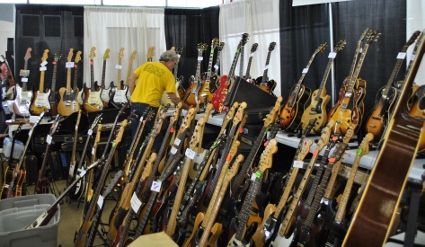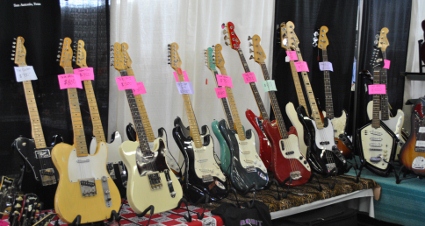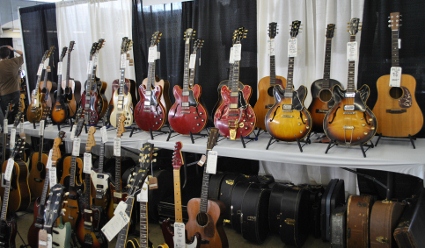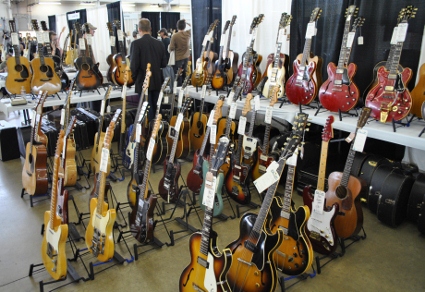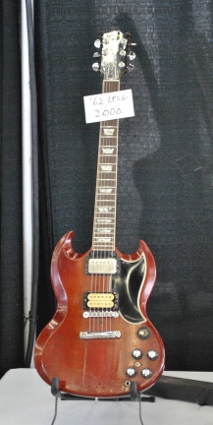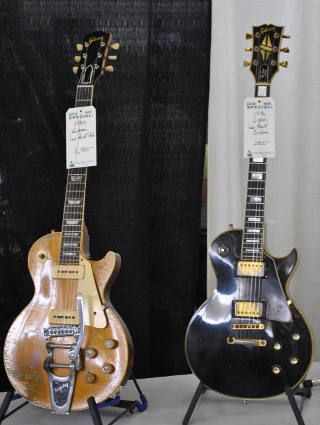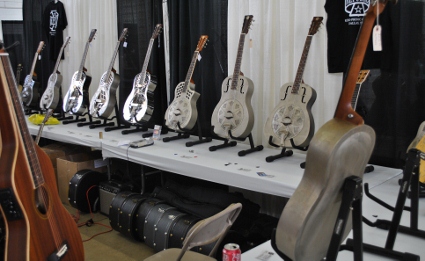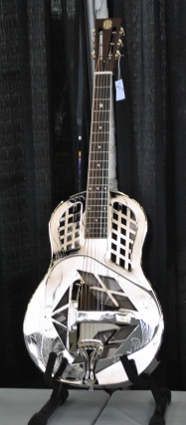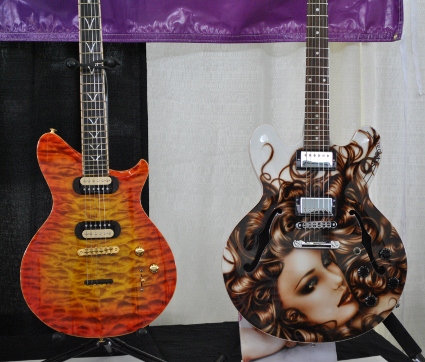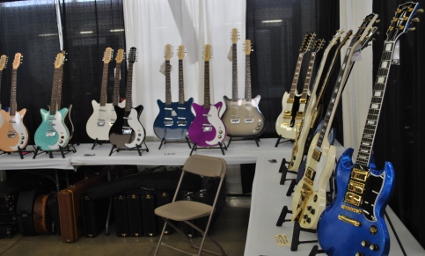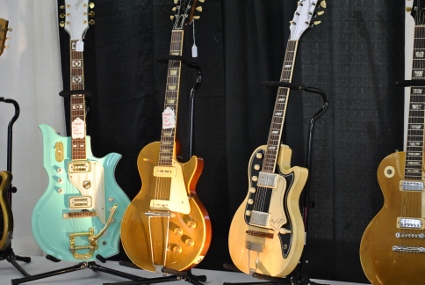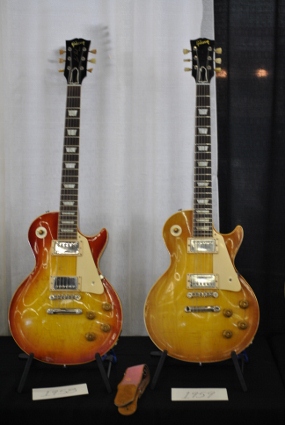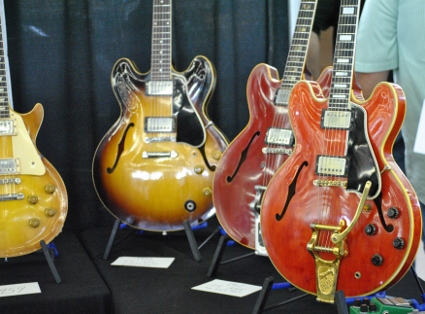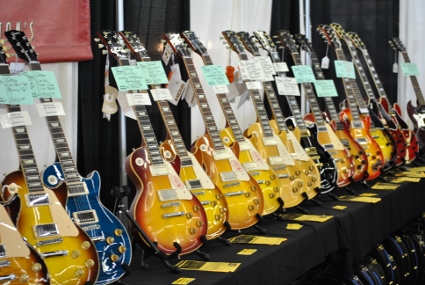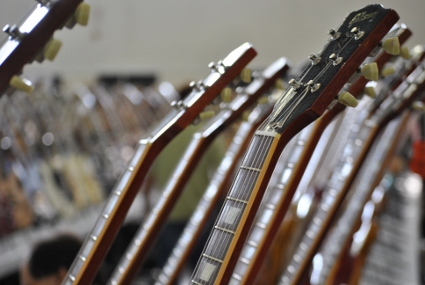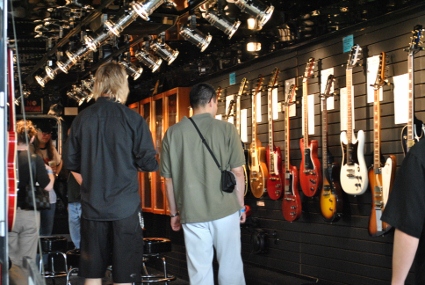 The Gibson guitar truck has a great assortment of gits people can plug in
and jam on through headphones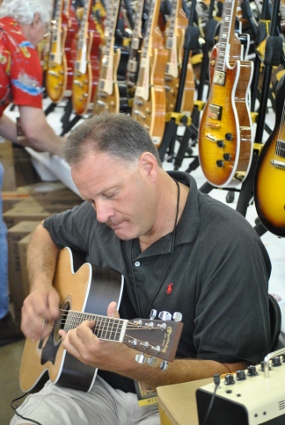 A fan checks out the action on a Martin acoustic
There were Les Pauls, Strats, SGs, ES-335s, Martin D28s, J-200s, J-45s, Flying Vs, Explorers, Dobros and all kinds of various, intriguing stringed instruments--this was guitar heaven.
I don't know and haven't verified what I'm about to say, but my best guess is that this guitar festival represents the finest and most comprehensive gathering of guitars anywhere on the planet at one time.
Lasting three days, the Dallas Guitar Fest also has some great entertainment. In 2010, I saw Ted Nugent, Neil Schon, Rick Derringer, New Bohemians, Derek St. Holmes, George Lynch and about 30 other great guitar gunslingers. This festival is for guitar players and guitar lovers who don't play.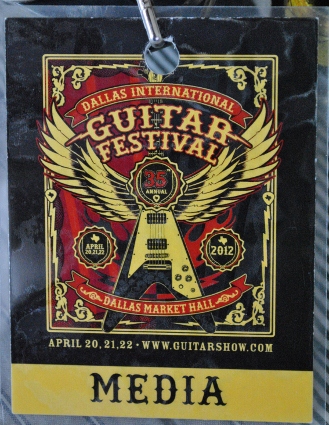 THE VENUE
Dallas Market Hall is a spacious trade show and conference center located within easy striking distance of most of central Dallas. There's great Mexican (Mia's), BBQ (Sonny Bryan's) and gourmet sandwiches (Eatzi's) all nearby. A big hotel is footsteps across the parking lot.
THE PERFORMERS
You want guitar players? Dallas in April has got 'em for you.
Eric Johnson, Rick Derringer, Derek St. Holmes, Andy Timmons, Jim Suhler & Monkey Beat, Seymour Duncan, Johnny Hiland, New Bohemians, Hunter Hendrickson, Rhett Butler, Jimmy Wallace & The Stratoblasters, Point Blank, Glitter Rose, Smokin' Joe Kubeck, Jason Elmore, Tom Murphy, The Rockin' Robert T. Band and many more lit up the multiple stages, indoor and out at this great guitar festival.
As the following photos show, renown guitar instrumentalist Eric Johnson, played and sang a set that was a stellar tribute to Jimi Hendrix.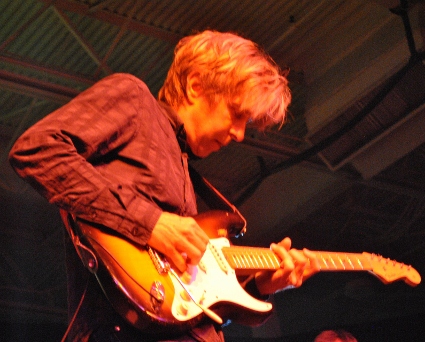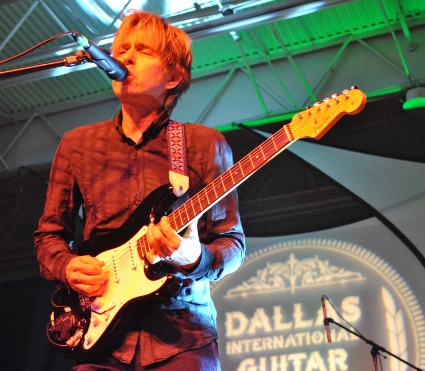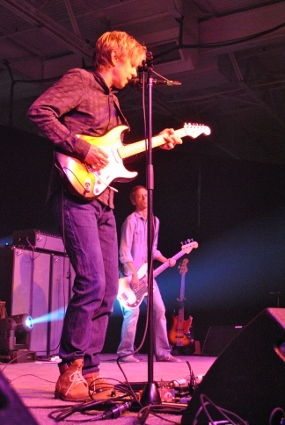 Rick Derringer, a perennial Dallas guitar show favorite played several sets with his stellar band which includes Charlie Torres (Buddy Miles, Bo Diddley, Albert King) on bass and Tom Curiale (Pat Travers) on drums. Featured amongst a strong set was "Still Alive and Well," the most-appropriate, "Guitars & Women," the 1960s classic, "Hang On Sloopy" and of course the show-closer, "Rock and Roll Hoochie Koo." Derringer's outstanding guitar licks never get tiresome, even decades later and he puts his all into every show.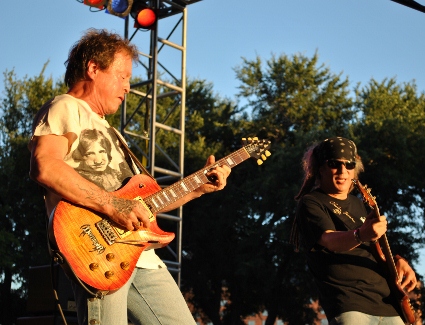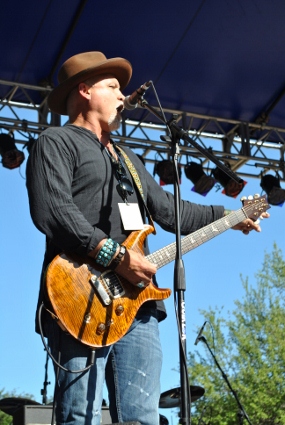 Derek St. Holmes, longtime Ted Nugent singer and guitarist can be counted on
for some wicked riffs and righteous blues vocals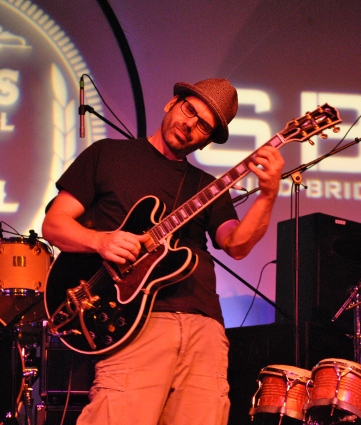 New Bohemians' guitarist Kenny Withrow hits a particularly tasty note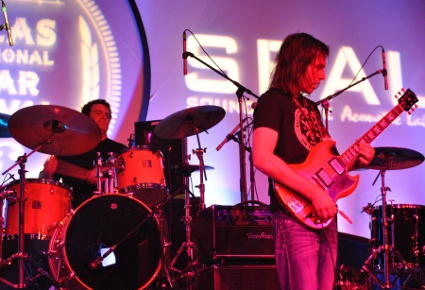 Twenty-something guitar phenom Hunter Hendrickson hits a note while
well-known Dallas drummer Jerry Saracini backs him up
Two more superb Dallas area Strat-shredders who can be counted to blow people away at the guitar festival are Andy Timmons and Jim Suhler. In addition to his band Monkey Beat, Suhler's wild work can be seen on tour with George Thorogood.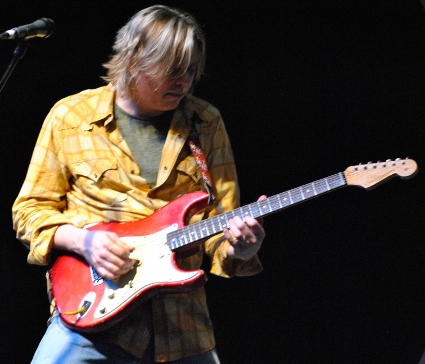 Andy Timmons, Strat Master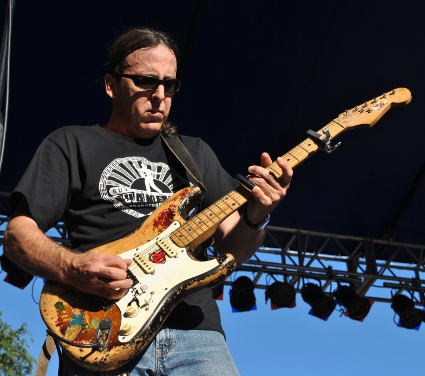 Jim Suhler, Delaware (Strat) Destroyer
THE INSTRUMENTS
Having been to the Dallas Guitar Festival many times before, my journey there this year was to search for the World's Most Valuable Guitar. But where to start?
First, one ground rule: no celebrity guitars. (A super video ranking of the world's most expensive celebrity guitars can be found here.) Nothing like this "Tsunami Guitar" which has already brought in more than $2.7 million for charities related to the Asian Tsumani ...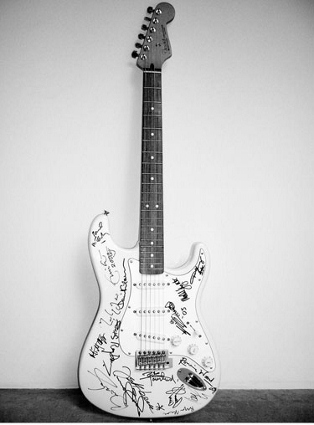 (Photo Credit: Unknown)
... and was signed by Mick Jagger, Keith Richards, Eric Clapton, Brian May, Jimmy Page, David Gilmour, Jeff Beck, Pete Townsend, Mark Knopfler, Ray Davies, Liam Gallagher, Ronnie Wood, Tony Iommi, Angus & Malcolm Young, Paul McCartney, Sting, Ritchie Blackmore, Def Leppard and Bryan Adams.
Or, this 1965 Fender Stratocaster played by Jimi Hendrix which was bought for $500,000.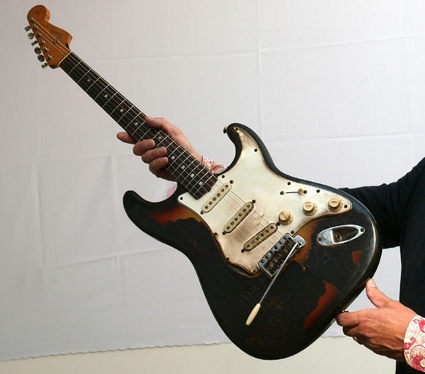 (Photo Credit: Unknown)
I had seen some Gibson Les Pauls in the $300,000 to 400,000 range and thought that might be a good place to start; with Les Pauls.
Apparently, the 1959 Les Paul Sunbursts ("Bursts") are the kings. Nothing wrong with the 1958s or 1960s, mind you, it's just that 1959s seem to be the year Gibson worked out all the kinks and got them 100% right.
There were approximately 1600 Les Pauls made from 1958 to 1960 (a few hundred at most of these were not Sunbursts) with more than 1000 still unaccounted for. One expert estimated that only 630 Bursts were made in 1959 which is what makes these axes so damn valuable.
I very quickly heard that rumor had it, one Les Paul had changed hands on the guitar show floor in a private transaction for about $400,000. I couldn't confirm that and certainly couldn't locate the principals involved. But this gave me a good benchmark.
I then went to a privately held guitar auction being run upstairs at the show. Heritage Auctions put on a vintage guitar & musical instruments auction and there were some tremendous specimens there at really good prices. Some of these magnificent guitars can been seen in all their glory with details here and in photos below.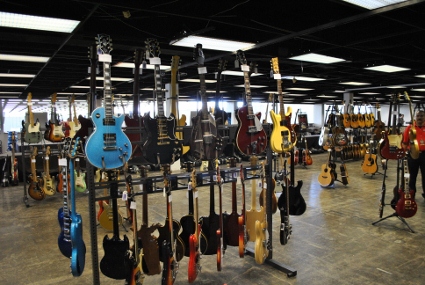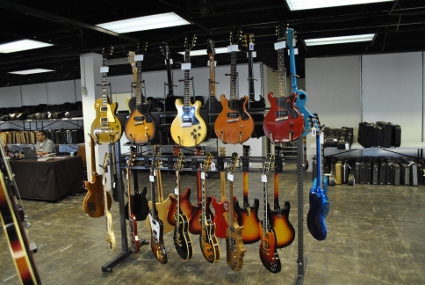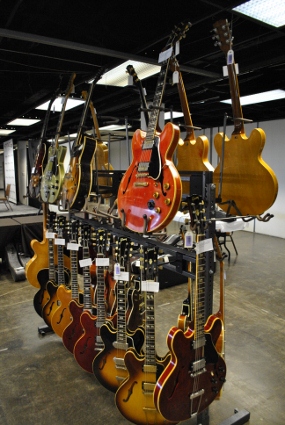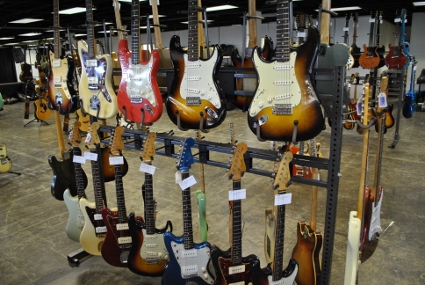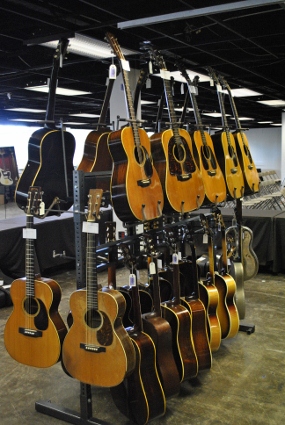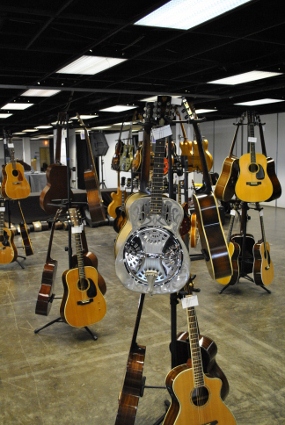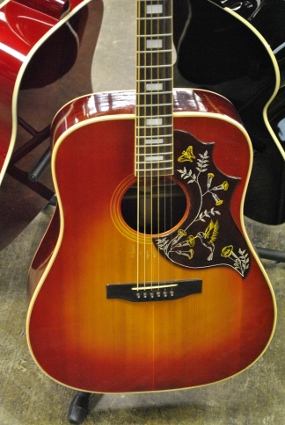 The guitar that brought the highest price at the Heritage auction was this exotic, 1949 Bigsby guitar which sold for $266,300. (Who even knew Bigsby made guitars?)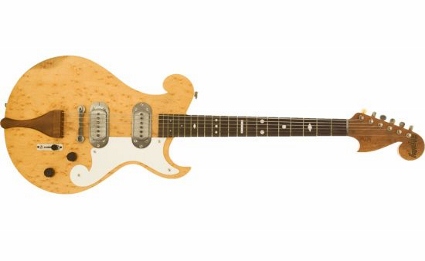 (Photo Credit: Unknown)
What the fine people at Heritage Auctions told me was that "there are only two guitars which--in pristine condition--can consistently sell for over $500,000. 1959 Sunburst Les Pauls and pre-War Martin D-45 acoustics." I went about verifying this with other knowledgeable members of the guitar world and it is the general consensus.
A pre-War Martin acoustic guitar like this one is exceedingly rare and therefore comes on the market a lot less frequently than a Sunburst.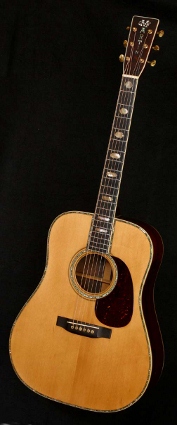 A 1940 Martin D-45 acoustic guitar offered by the iconic, Nashville guitar shop and appraisers, Gruhn's Guitars for $165,000 and was sold.
Although a few Martin D-45s can sell into the $300,000 and $400,000 range they don't come on the market as often or exceed $500,000 as the Sunbursts do.
The reason I ruled out celebrity-played guitars is because they can all come with such amazing back-stories. One such story involves 1927 Martin 000-45 owner Robbie Robertson. As the story goes, Robertson was experiencing severe writer's block during the writing of the legendary Band album, Big Pink. He turned over his Martin and saw a label inside which said, "C.F. Martin, Nazareth, PA." This helped him write the first line and the song fell into place from there:
was feelin' 'bout half-past dead
So these stories that attach themselves to vintage guitars--great as they are--can put a 'priceless' price tag on an otherwise possibly average-playing instrument.
Another example of non-celebrity guitars that can sometimes sell in a stratospheric range are the rare, late 1950s Gibson Explorers.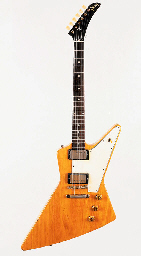 A 1958 Gibson Explorer sold by Christies for $134,500 in 1999
Jim's Guitars is based in York, Pennsylvania and had a booth at the festival. Owner Jim Singleton
had some sweet Sunburst Les Pauls on display there and sent the following pictures of cool 'Bursts' he's had or sold. (These five photos courtesy of Jim Singleton)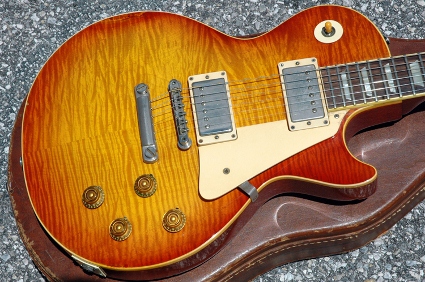 1960 Les Paul with pristine flame=$150,000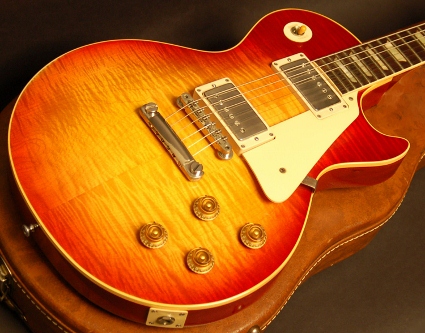 1960 uncirculated Dead Mint Sunburst Les Paul, 1 owner,
sold to James Hetfield of Metallica for $300,000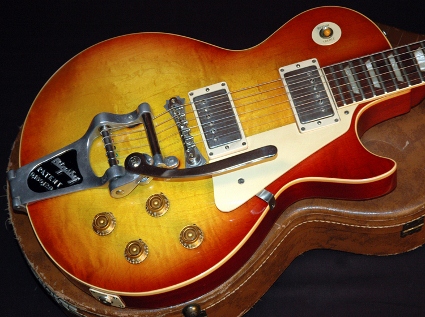 Rare factory Bigsby equipped 1960 Les Paul sold to Joe Bonamassa,
this guitar is now reissued as Collector Choice Custom Shop #3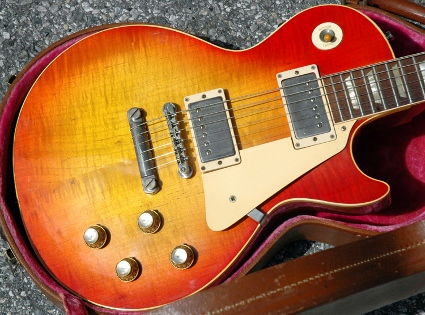 1960 Les Paul In stock for $135,000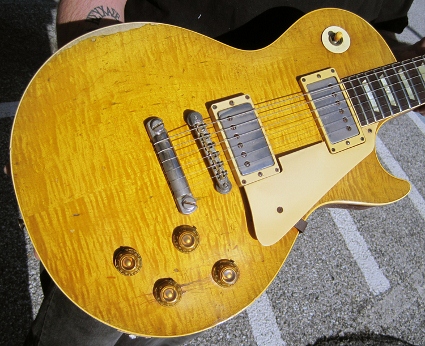 Bernie Marsden's (founding member of Whitesnake) 1959 Les Paul Standard,
"The Beast" approx. $400,000
Tom Wittrock and Bernard Groll are international Les Paul buddies. Tom is based in Springfield, Missouri while Bernard hails from Germany. These two Old Rockers eat, sleep and breathe guitars but most especially, Gibson Les Paul guitars.
According to Wittrock, who is a real expert on Bursts and owns many very valuable ones, the most valuable "Bursts" are the 1959s in excellent condition with most of the red around the edges of the body. The sun's UV rays reduce the red edge of sunburst over time and reduces the dollar value of the Burst. The secondary value-enhancer is the "flaming of the maple," according to Wittrock and this is why a mostly yellow colored Burst can be so valuable even though it lost its red (see Marsden's "Beast" above).
One prime example of this "flaming" (which simultaneously retains the red coloring around the edges) is a mythologically-enhanced Burst call the "Brock Burst." Wittrock told me that the Brock Burst may well be the world's most valuable guitar but wasn't certain.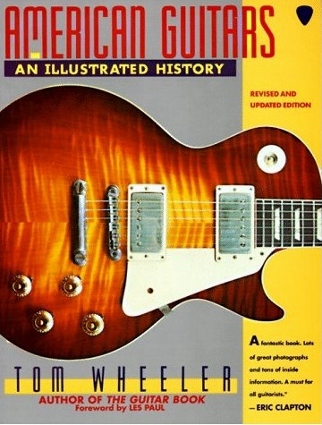 The "Brock Burst" is featured on the cover of Tom Wheeler's book, "American Guitars"
Then, Wittrock states, "I would hesitate to say there's a world's most valuable guitar because value is such a subjective thing." Collectors have one way of valuing; celebrity-played guitars command much higher value in some venues but in others, the players themselves might not think the celebrity-played guitar plays any better than a recent reissue of the same model. "I once played Peter Green's 1959 Burst," Wittrock told me, "and it was a wonderful experience but I have many other guitars that feel better to play."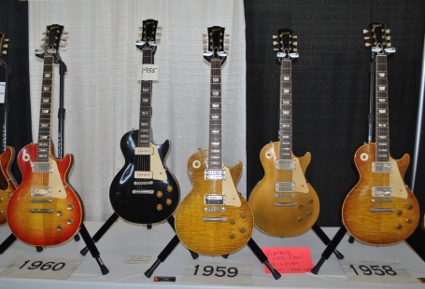 A few of Tom Wittrock's Les Paul "Bursts"--The center-pictured 1959 Gibson Les Paul Sunburst is certainly one of the "World's Most Valuable Guitars"

At the Dallas show, The above guitar, if it were for sale (it's not) would command a price of over $500,000, according to Wittrock.
But his favorite, the one he wouldn't sell for love or money, was not in Dallas.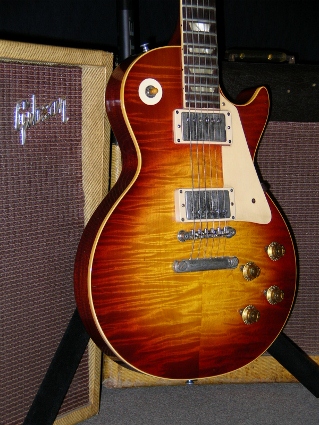 Tom Wittrock's 1959 Gibson Les Paul Sunburst, "Donna," serial number 9 1923
Wittrock told me that he estimated Donna's value at well over $500,000 but raised an interesting point. The value of a guitar is really how much someone is willing to pay for it or how much an owner is will to sell it for. Wittrock said, "I wouldn't sell Donna for 1 million dollars." Really, I pushed back, "Not for 2 million dollars?" He responded, "It's not that I wouldn't be tempted ... but, no I wouldn't sell her for any amount."
Wittrock concluded, "Some people like to say that 'everything has its price.' I hear this when I say that my Bursts on display are not for sale. My answer is: 'Prove it.' No one has, so far."
Feeling like I achieved my basic goal to find at least a few of the world's certifiable, most valuable guitars, I basked in the warm glow of Donna.
Still, I'm haunted; when or where will a more valuable guitar appear? There's no telling.
All Photo Credits are Bill Robinson except as otherwise noted