I've often scratched my head in wonderment about how many iPhone' users I see walking around tethered--tied down--to their little demons. Do iPhone' aficionados just prefer their wired ear buds? Does Apple not offer Bluetooth capabilities for their own products?
Nope, neither of those are true because I've seen a precious few iPhone' people using them but they are in the tiniest minority. Let me see: As I walk around all day long taking calls, pounding a hot sidewalk or trudging through snow, would I like to have wires or no wires? The answer is glaringly self-evident.
No wires is always better than wires in our connected world.
The proliferation of Bluetooth is improving my ability to do business and conduct my life. I am free to walk around; don't have that crick in my neck from the shoulder-to-ear juggling; and can multitask freely, accomplishing other things while having important conversations. I don't have to disconnect from my phone or get off a call when recharging. I don't have to be still.
But I don't have to highlight the myriad benefits of Bluetooth to you tech-savvy lot, do I?
No I don't because given the widening chasm between Android/Other smartphone users and iPhone users plus the expanded ability of Android-based smartphone' Bluetooth connectedness, anybody who doesn't already know is quickly finding out these freedoms. Recent numbers indicate that Android smartphones are outselling iPhones by a 55% to 24% margin globally.
Ever since I met some of the great Ericsson scientists and engineers who invented Bluetooth in the mid 1990s, I've been waiting for this wireless technology to explode on humanity and set us free from these contemptible wires. Eventually, I strongly believe, Bluetooth will become a wireless network for communications itself just like the networks Verizon, Sprint, AT&T and others spend billions to set and maintain up now. All that has to happen is the networking distance of Bluetooth has to be increased to an unlimited distance of transmission, presumably by reformatting the original Bluetooth platform from the piconet to an expanded scatternet. (I make it sound so easy--it won't be.) Think of it: no more expensive monthly bills or customer service speeches and a free wireless voice network for all to use and enjoy. Ah ... heaven.
To get to the heart of the matter, I have recently checked out and extensively used some interesting new Bluetooth gadgets from ZAGG. This Utah-based, publicly traded (NASDAQ: ZAGG), 250-person company is known mainly for one, almost omnipresent product for our smartphones: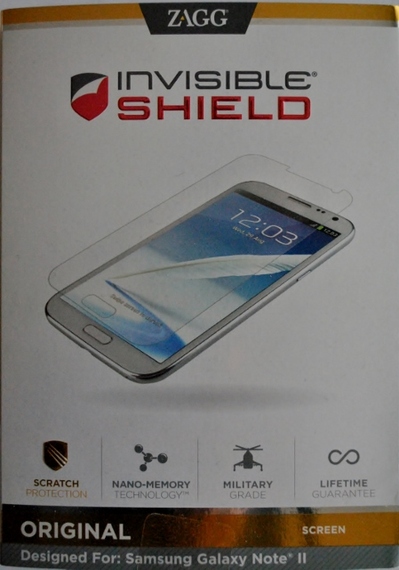 The ZAGG invisibleSHIELD is a protective covering for the delicate face of our smartphones and claims sales of over 80 million units for the users of most of the major smartphone platforms. The lifetime replacement warranty is a nice benefit too.
But ZAGG has diversified their product line from these thin film protective coverings and right into the Bluetooth arena. ZAGG's 2011 acquisition of iFrogz, has allowed them to quickly offer an entirely new line of Bluetooth products that will interest to those wanting to sever themselves from the wired world. iFrogz has been widely available in such retail outlets as Best Buy, Wal-Mart, AT&T stores, Apple stores, Radio Shack and Staples.
The first product I checked out was the iFrogz' Tadpole.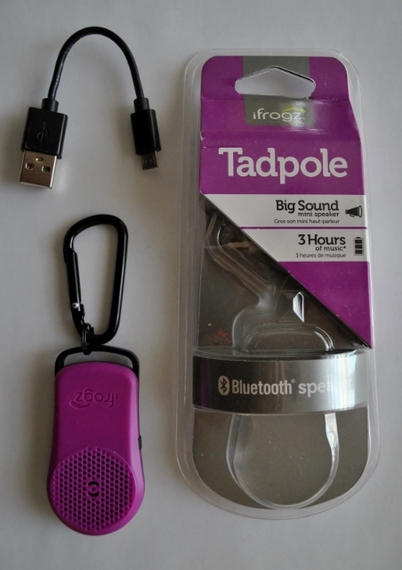 This neat little tchotchke can be hung from your key ring, purse, briefcase, book bag, handlebars or virtually any other appendage and you can have pretty decent speaker sound on the go. And from such a little speaker. (Don't however, be expecting Bose Wave-type symphonic sound; it's only little.) The super-light, 2.67 inch dynamo lasts about 2 hours per charge (depending on the volume of your play) and costs $19.99 with nifty carabiner.
The iFrogz stereo Bluetooth headphones with microphone are perfect for a busy city environment (like NYC where I tested them), where you want to listen to music and also be prepared to answer a phone call at a moment's notice. These headphones are very lightweight so they won't hurt your ears, ever ... and they do a good job of keeping ambient noise out while still permitting you to hear an ambulance' siren bearing down on you. How do they do that?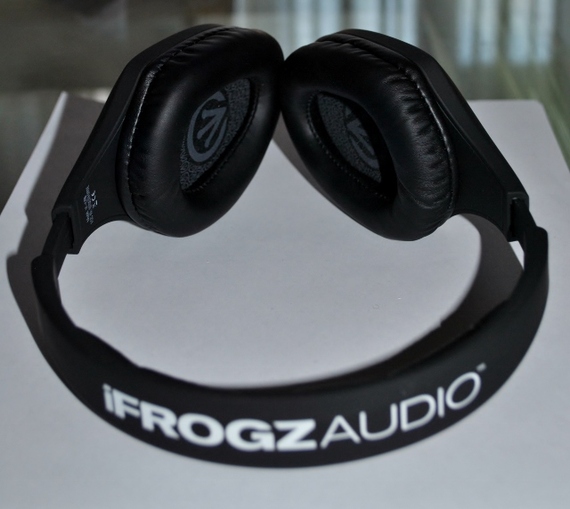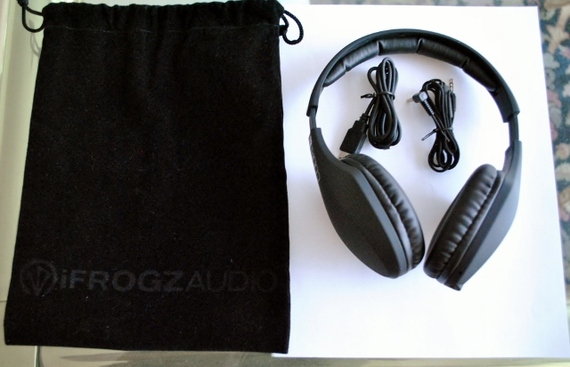 Coming with a felt bag for easy carrying; cables to charge from USB to mini-USB and a convenient wire cable in case you ever want to plug-in directly to one of your devices. I haven't yet. But it's good to have the option. These superior headphones with built-in mic are $99.99.
And the final ZAGG product I tested was one that seems obvious at first but ZAGG's is really quite good: a dual USB port recharger that plugs into the wall, the ZAGGsparq 6000 battery. This little beauty has Apple-like, space-age design with its titanium finish exterior and little blue LED lights to signal charging and charged status. The AC plug is neatly tucked into a recessed back with an on/off switch to conserve the power.