Jennifer Wang is a very smart lady, refined and soft-spoken.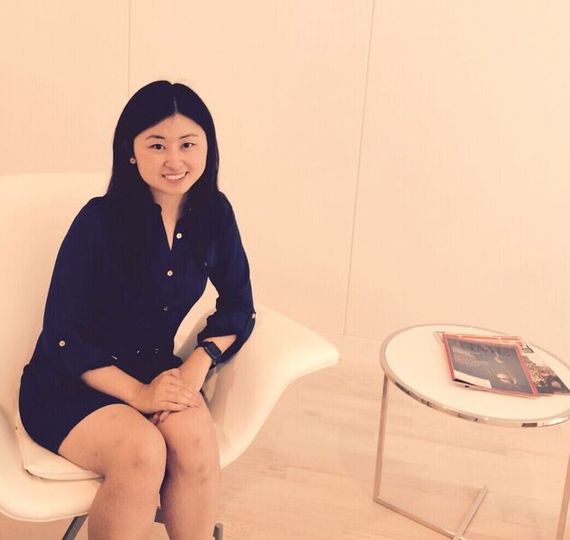 For her, I was her first media interview about her business Dealmoon. She was visibly nervous which bought her a lot of flexibility from me because I'm used to chatting with business and technology CEOs who have their rap down, mostly too much so. So Ms. Wang was a pleasant, refreshing conversation for me to have.
As it turned out, Ms. Wang is very used to dealing with the male of her species, having founded her company with five other men. Having her feminine touch at the helm--she's Dealmoon's CMO & co-founder--might just be the difference between the company's success and failure.
Especially given Dealmoon's early demographic focus on Women.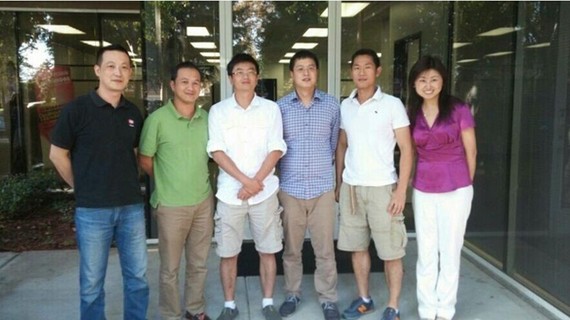 From left to right is Xin Liu (CTO); Jonathan Yao (COO); Gump Zhao (CMO Canada); Lu Shen (CEO); David Wang (CDO); and Jennifer Wang (CMO, US)
The absence of even a hint of a smile on the male faces in the photo above, tends to prove my point about Ms. Wang, who's absolutely beaming with pride and passion.
Dealmoon is a high-end, elite but bargain oriented, e-commerce website with many millions of online customers. The Dealmoon central strategy is offering luxury, brand-name products in the Beauty/Fashion; Travel; Electronics; Baby and ever-expanding categories.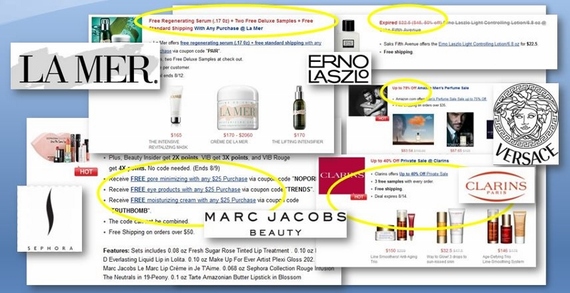 Started in the Bay Area in 2009, Dealmoon focused heavily in those early days on the Beauty vertical, then expanding incrementally into Fashion and so on. Dealmoon was cultivating a customer base of what would become 13 million global shoppers, who they say couldn't "seem to get enough." Bargains, that is.
It is growing rapidly now, but it wasn't always that way.
"Our company lifted up about four years ago," Wang began wistfully, "because we provided information to new Chinese immigrants to the US. We helped them feather their new nests; get Social Security cards and whatever would help them get established in their new country. We saw that the Chinese people were extremely brand-conscious and very loyal shoppers, preferring established luxury brands. Most people we've found, want to buy--not just look at research. These new Chinese-Americans were more so this way."
And, America is top-priority for Wang and Dealmoon. "I've been spending most of the last year trying to prove there is a great US market," Wang said anxiously.
But we get ahead or ourselves. It all started with a chance meeting between Jennifer Wang's husband, David and the then co-founder now Dealmoon' CEO, Lu Shen at a soccer match. The entrepreneurial predestination fate of this chance meeting cannot be underestimated, for without it, there would be no Dealmoon.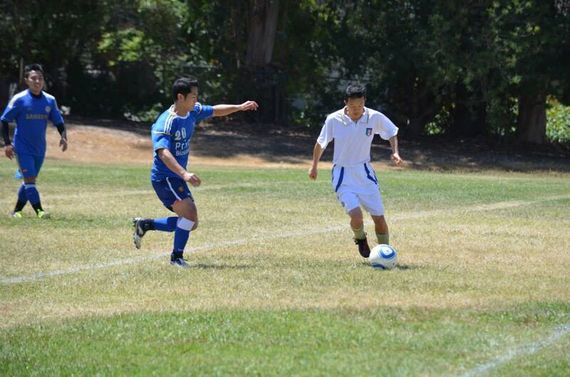 "Lu Shen, our CEO," Wang began, "is a computer science PhD. from University of Nebraska, who worked at Amazon.com after he graduated. He noticed the frequent price fluctuation at Amazon in 2005, and tried to build a price history and comparison site called Pricetrace.com, to detect price drops."
"When I met Lu, I thought Pricetrace.com was really cool," Wang told me, "I'm a really big deal-hunter," she smiled broadly.
"Lu and his best friend from Nebraska, Zhao Gump, a Chemistry PhD. and they worked at the site together. Zhao was the one who actually wrote the first page in PHP, but both of them realized soon they needed someone who is stronger in coding. Therefore, Lu reached out to yet another classmate from Nebraska, Xin Liu, who is a computer science PhD. Xin wrote most of the code for pricetrace.com, and it became a small site which is pretty powerful in doing price comparison between Amazon, Walmart, etc."
"Soon after the site was up, Lu moved to Bay Area, where he played soccer with my husband, David Wang, both David and I were computer science graduates from Berkeley. Their team is a Chinese-American team called CalBlue and I was their long-term cheerleader of the team for 15 years now. I got to know Lu at after-game parties. Looking at his site, I thought it was a brilliant idea. For example, they detected a huge printer price mistake once: the price was originally $599 but price dropped to $99. I then asked whether I can join them and help them with marketing on my free time. It was beginning of year 2007. At the time he said no. A year later, in the beginning of 2008, after I gave birth to my daughter, I asked again. This time the team said yes. Both my husband and I joined on a part time basis with my husband, David working on part of coding and part SEO."
Jennifer Wang et. al. were now on thier way to building a major online E-commerce site that would integrate elements of China's Alibaba and America's Amazon into one site by serving citizens of both countries.
And they did it the old-fashioned way, the preferred way: without the agonizing, soul-destroying, battering process of a VC solicitation and road show. Wang told me, "The six co-founders put in money ourselves and started the site, more important was our time and effort."
Becoming cash-flow positive ASAP was crucial. "If you don't count the time value which the 6 of us spent, the company became profitable at about 3rd year. Without positive cash-flow, we couldn't have hired many experienced editors in product selection and also great team to work with merchants to get exclusive offers for our users or a tech team to build great features for our site, such as our app."
But is was not easy for Wang and Dealmoon. (When is it ever?)
Wang continued, "However, after working for Dealmoon for almost one year, my marketing approaches almost all failed: press releases through free PR news, contacting bloggers, etc. The site was growing but very slowly. We realized that the price drop and comparison was smart, but the products with biggest price drops were mostly not very popular within real consumers, and most consumers are lazy to do research."
Then, an epiphany: "In 2009, we decided to build a deal-focused website, where we select some more everyday products with price drops, and feed to consumers. We actually built two websites, one is Dealmoon.com, and focused on women's products such as Fashion, Beauty and Home. The other one was more for men and focus on tech products, called HotUSDeals.com, and that one failed very quickly," Wang told me.
Not to be deterred, Wang and Dealmoon kept right on.
"We opened up Dealmoon.com and spread the word within some Chinese-American online forums. Since we have provided some good price dropped items, gradually we started to gain a lot of users. Most of our customers are Chinese-Americans, so we have decided to make the site bilingual. Chinese-Americans loved to read in their home language, so the site grew a lot more."
Currently, Dealmoon has 75 employees in and 60 in China who focus mainly on the tech side of the Dealmoon business. Wang told me that Dealmoon now has more than 13 million unique monthly visitors to its website. An app Dealmoon launched about 18 months ago has now been downloaded over one million users with five million plus social media mentions over more than 40 SM channels. One of these channels is Weibo in China, which has more users than Twitter and Instagram combined.
"In 2011, Dealmoon started its most significant marketing channel, its own Weibo' (Chinese version of Twitter) Dealmoon channel. Weibo was the biggest social network in China at the time, and all of the young students who just came to the US would have a Weibo account. Lu and the team started building the Weibo account, not only sharing the Dealmoon deals to Weibo, but also to send useful information to the students and new immigrants, by sharing with them on information such as how to buy a car, the history of Halloween, even tips on how to kill bedbugs, etc. More and more students started to follow Dealmoon's Weibo offers, and they share their own experiences with Dealmoon, and Dealmoon would re-Tweet that information out. For example, one student shared one day on 'how good Noosa yogurt tastes, how its so similar to the yogurt taste in China,' and many more students agreed with that. After sending this recommendation several times, Noosa yogurt was suddenly so popular within the Chinese-American market, that for a while, this brand was sold out in Target stores and in Chinese-American populated areas such as the Bay Area and LA."
"The success of Dealmoon/Weibo continued for a few years, Dealmoon Weibo attracted not only Chinese- Americans, but also some Chinese in China, and total number of Dealmoon/Weibo users exceeded 5 million this year. Dealmoon opened up many different categories on Weibo, including Fashion, Beauty, Tech, Baby, Travel, Cars, Jobs, and Weibo subcategory by locations like Los Angeles, San Francisco, New York, Las Vegas and so on. The Fashion & Beauty Weibo areas grew more than 1 million fans in total, so Dealmoon opened up its own Fashion & Beauty site in 2013, Fashionmoon.com." Now, Dealmoon is the sixth largest page on Weibo; has more than 50 different sub-channels on Weibo; and two million accounts on the Chinese Goliath.
Dealmoon's timing couldn't have been better. "Luckily, the rising economy in China made the new generation of Chinese-American much wealthier than before," Wang told me. "Dealmoon's users were certainly consuming at a much higher threshold than most of other deal sites in the US. On Dealmoon, you do not see many of the lower-end products, instead it's more of higher end luxury handbags, skincare, Apple products, etc. Many merchants have noticed Dealmoon's special demographics, and started partnering with Dealmoon to promote their sale events, even offering exclusive offers to increase exposure. Dealmoon now has 15-20 exclusive offers a day."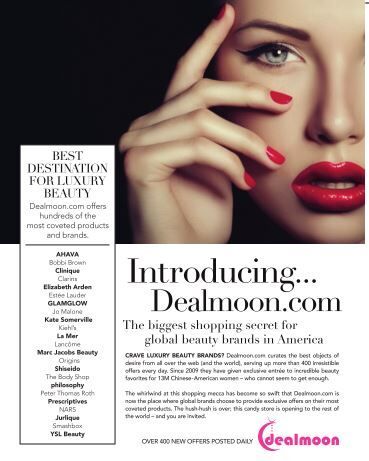 "In 2013, I came up with an promotional idea: create a 'Dealmoon Singles Day' in America. Singles Day started in China in the 1990s by a group of Chinese students, and was used by Alibaba in 2012 to do huge sale events, with discounts as much as 50% off site-wide, and became China's new 'Black Friday.' (Alibaba's 2014 sales on this holiday were $9.3 billion est. ref: Yahoo's "Chinese Valentines Day") In 2013, I introduced Singles Day to our US merchants, which at the time nobody had ever heard of it yet." That may be changing this year with Dealmoon's 11/11/15 page for exclusive offers on their site for exclusive Singles Day' offers, November 7th through November 11th.
"I expect this will be the event which many people in the US will finally hear about Dealmoon--right now Dealmoon is considered as one of the biggest secrets in the US, because we already have more than 10 million unique visits per month to our site, and most of average Americans have never heard of us."
Wang then mentions a very popular, sometimes over or poorly used word in technology: curate. "Dealmoon curates most of our products with deep information on each one by more than 50 in-house editors. These are hand-picked deals that we recommend exclusively," she told me. Dealmoon.com offers exclusives from brand such as Kiehl's, Clarins, Marc Jacobs Beauty, La Mer, Jo Malone, Kate Somerville, Glamglow, YSL Beauty, Estée Lauder, Lancôme. Elizabeth Arden, as well as retailers/e-tailers like Neiman Marcus, Nordstrom, Bergdorf Goodman, Sephora, Saks Fifth Avenue, Macy's, Beauty.com, Amazon and eBay.
Dealmoon has sold-out entire inventories of such retail partners as Kate Sommerville, New Balance sneakers for Journey's and Noosa Yoghurt with unbelievable rapidity.
"So Dealmoon moved toward more on the product recommendation side, other than just coupons and deals. Many dedicated editors in Dealmoon are picking out the fashionable and good quality products to consumers. Also we moved toward more mobile, and focused on our mobile app. Currently there are already over one million downloads for the Dealmoon mobile app."
CEO Lu Shen said, "Our goal is to discover the best products and recommend them to our customers with the best deal. We are teaming up the best (retailing) companies in the world."
Wang chimed in, "We used to have only deals on our site, but now we started having articles on our featured products and introducing our customers to these new products. We work with our top brands to generate ads on our site, offering exclusive deals."
Shen added, "Although our target market is mainly Chinese-Americans, in the near future, I can see our site be easily accessible to any customer globally. I also see a growing trend of accessing our site through mobile phone. We will put more effort on our mobile app." And of course, include those mighty recommendations on the ever-growing mobile side.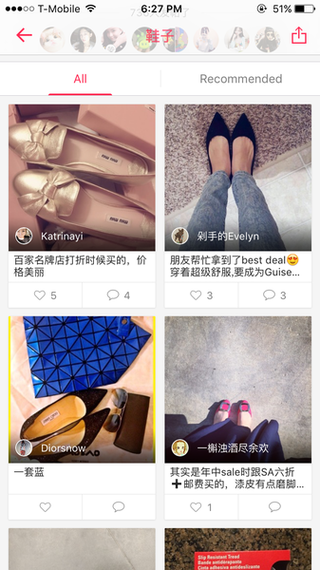 One Dealmoon focus from the beginning is not to be overlooked, however. The woman. "Dealmoon is kind of associated with the woman," Wang said firmly, "Dealmoon is kind of feminine."

What is Dealmoon's future plan? Wang was ready for the question. "Simply put, we want to introduce more of the quality products, to more people. Whether buying a price-dropped item, or buying a product based on recommendation, the key is for people to feel good about the purchase afterwards, and the product they purchased improved their life quality. Picking out the right product requires a lot of knowledge and effort, and it can not be done entirely by editors. Our plan is to use our user's power through UGC (User Generated Content) to pick out the right products in the future. In our app we just added the User Recommendation feature where users can upload a photo to show the products they recommend, and more people can benefit from it."
"Last but not least," Jennifer Wang told me movingly, "I want to say that seeing the picture (the photo above with the Dealmoon' co-founders) made tears in my eyes, as I realize it was such a lucky and wonderful experience to work through the last seven years with a wonderful group. We had a lot of ups and downs, and argue a lot but our hearts are so united. I hope you can also say how much we want to thank our employees, not only that they helped us to achieve what we have today, but also that we learned a lot from them as well. I am sure Dealmoon will become a much bigger company in the coming years; helping more people to buy good quality products at an affordable price; and improve peoples' lives."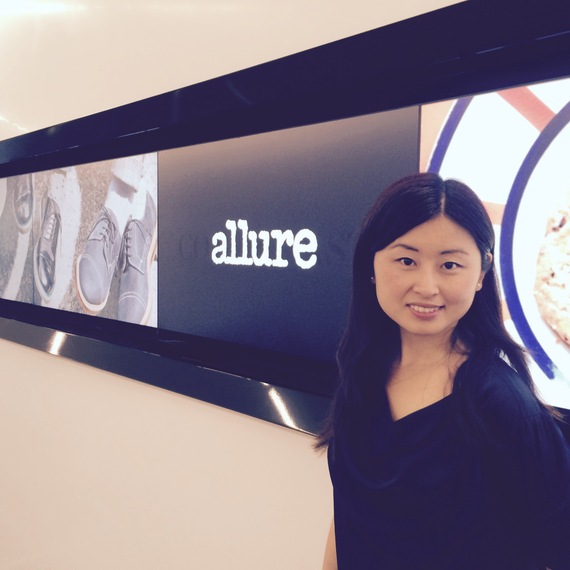 Amen sister.