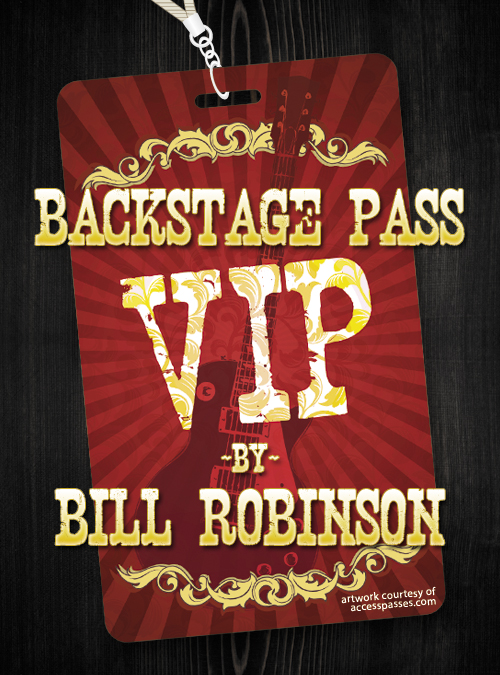 I had never seen Dream Theater (DT) before. I had never heard their music. Boy, am I glad I did.
Their recent concert at the absolutely cavernous Hammerstein Ballroom in NYC was a righteously metal affair with some of the most rabidly committed fans I've seen; yet these fans were well-behaved, even mellow.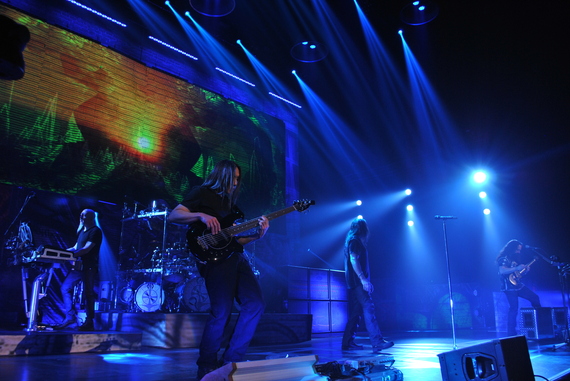 When I asked some Dream Theater fans about the band at the meet & greet and before the show as they anxiously awaited the band's appearance, I was stunned at the things I heard. "What's Dream Theater like?" I asked:
"They're like a younger, hipper Led Zeppelin."
"You've never seen them? (Asked with that extra edge of incredulity--like I must be a complete idiot.) "They're like Rush ... except much better."
Led Zeppelin? Rush? Who the hell were these guys that they get compared to those two Regal Rockers? I would quickly find out.

My first inkling that these soaring comments might be justified was at the meet & greet before the show. Dream Theater's was really something special, really active even when compared to a Metallica or Rush meet & greet. Very well organized but not rushed, the band made sure to take their time with their fans and completely kit them out with lots of Dream Theater gear.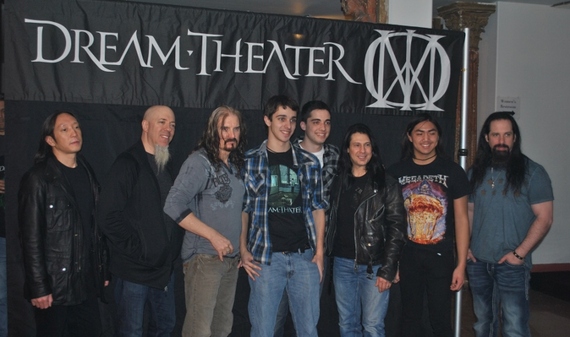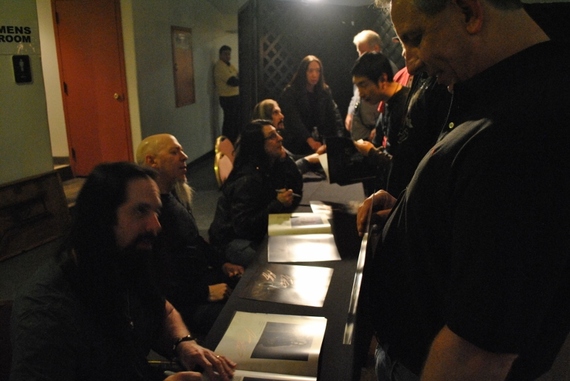 The guys in the band always had a kind word or laugh with their fans
The show and the band did not disappoint and really opened my eyes. Dream Theater was for real.
THE PERFORMERS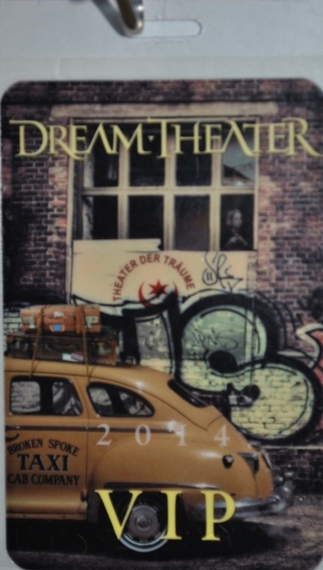 The band has an almost psychic ability to read each others' minds on the fly as they perform. Perhaps it's because they've played together for almost 30 years. But I think it's more than that.
The two remaining founding members, guitarist John Petrucci and bassist John Myung know each other well enough to be sure, having met at Boston's Berklee College of Music. Founding drummer and co-producer, Mike Portnoy left the band in 2010.
Although the three dropped their studies at Berklee, the brand of that great music school, I think, has stayed with them in terms of their writing and performances.
THE MUSICIANS
John Petrucci, Lead Guitar, Songwriting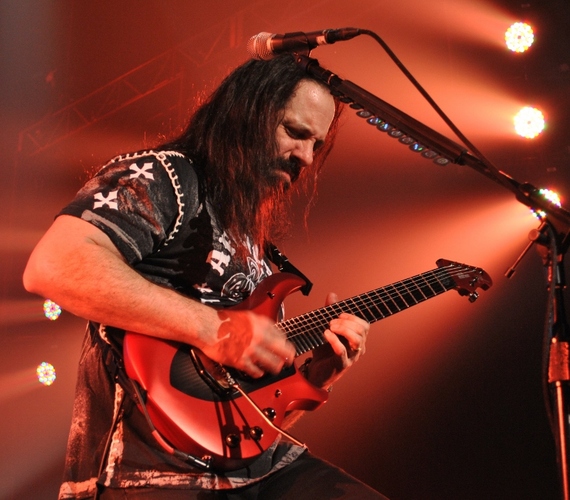 There is something almost other-worldly about John Petucci's guitar playing. Though he toured with Steve Vai and Joe Satriani on the G3 Tour, I still hadn't heard of Petrucci and his strong guitar-shredding abilities. My loss. I'm glad I finally got exposed to him.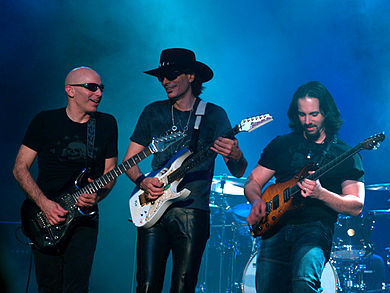 Imagine hearing these three ripping leads?
Photo Credit: Unknown
Originally from Kings Park, Long Island, New York, Petrucci started playing guitar at age eight. Putting the guitar down again until age 12, Petrucci loved unsurprisingly, Rush, Yes, Iron Maiden and Metallica.
John Myung, Bass Guitar, Vocals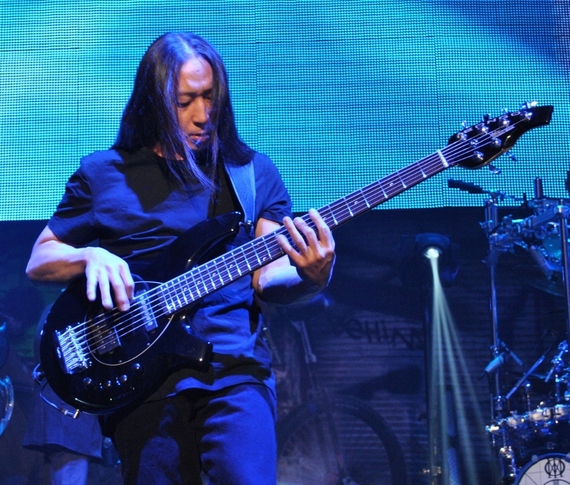 Originating in Chicago from Korean parents, Myung was voted the 'greatest bassist of all time' by Music Radar in 2010. Starting on the violin at five years old, Myung began playing electric bass at 15. Growing up in Kings Park too, Myung and Petrucci are old friends who started DT. Partially because I didn't get a chance to chat with Myung but also because he just gives off this vibe, I got the distinct impression that Myung is an intensely quiet, shy and private man.
Jordan Rudess, Keyboards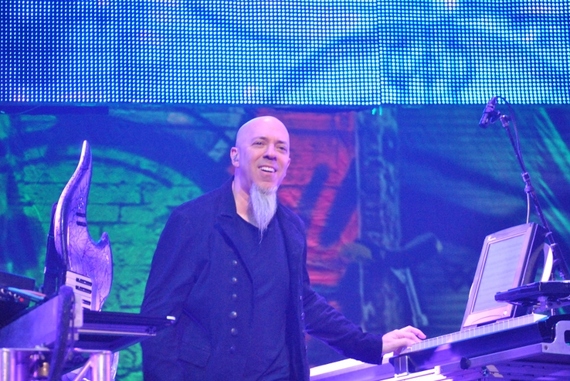 Jordan Rudess is not a shy character. He came right at me after the soundcheck and I like that a lot--somebody who comes right at me. In some ways, Rudess is the odd man out in DT because he's one of the later additions to this band (only 15 years in DT) and the only non-Berklee DT member. Having been offered a spot in the Julliard' "Pre-College Division" at nine years old, I imagine there's been a bit of "who's better Julliard or Berklee?" conversation going on at DT sit-downs. The extremely early classical training Rudess experienced has translated to an extraordinary keyboard influence within the band. His interest in and use of technology in keyboards is unusual, galloping and rampant.
Mike Mangini, Drums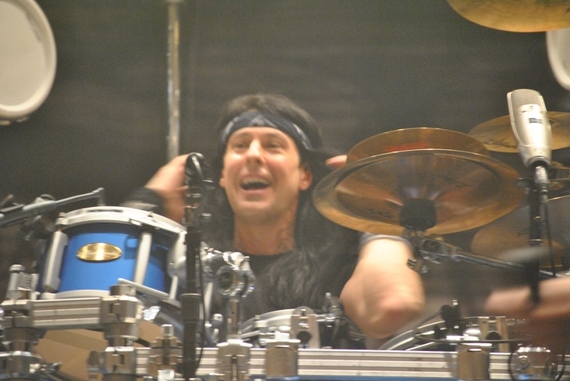 In many regards, Mike Mangini is the most interesting band member to me. Having been a drummer when I was 10 years old, Mangini's early drumming start at two and a half years old is auspicious. From the Boston area, Mangini spent 12 years as a professor at Berklee, making him an absolute authority on drumming and music. But he doesn't act like one and is totally down to earth. In addition to his tenure as a professor, he'also written two books and set five "World's Fastest Drummer" (WFD) records. The newest member of DT, Mangini replaced Mike Portnoy in 2010.
James LaBrie, Vocals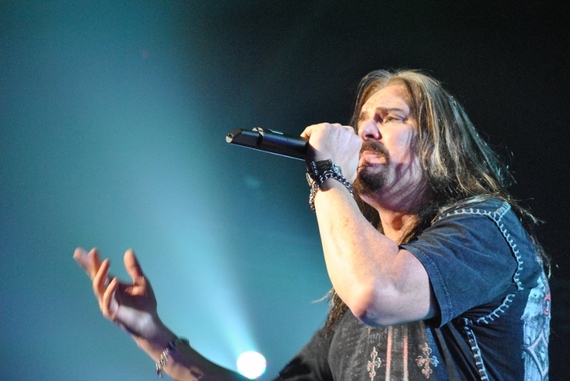 Flying in from his native Canada in 1990 to audition for the lead singer spot in DT, James LaBrie beat out more than 200 other singers to win the job. Growing up in a very small town, Penetanguishene, Ontario (which even now has less than 10,000 residents) must have been nice. It was glorious country at the tip of Georgian Bay and knowing everybody had to be a good thing. However, I'm sure at some point, LaBrie had to break out seeking the outside world. At 18, he did. Going to Toronto, Labrie became the lead singer of Winter Rose, with another metal schorcher Sebastian Bach (later Skid Row frontman).
It's funny how interconnected and unpredictable life can be. I wonder how much the DT guys knew of Labrie's connectedness with Sebastian Bach/Skid Row and their mentors, Rush. As it turns out, while playing in Winter Rose, Labrie's bandmate was Richard Chycki, a guitarist who would later become a studio engineer working on projects with Rush and Alex Lifeson.
THE INSTRUMENTS

John Petrucci an endorser of Music Man guitars.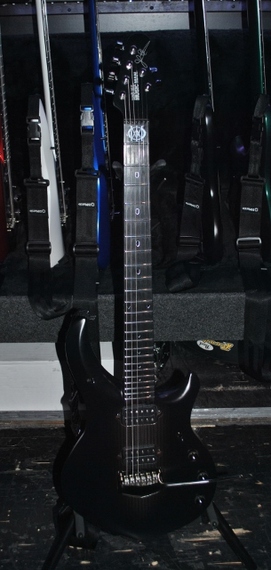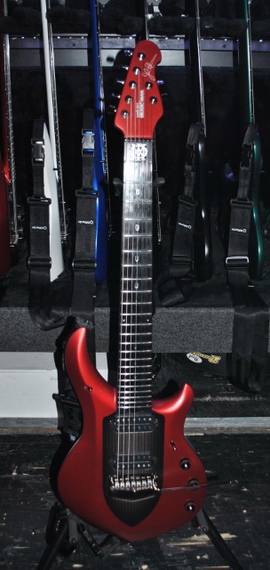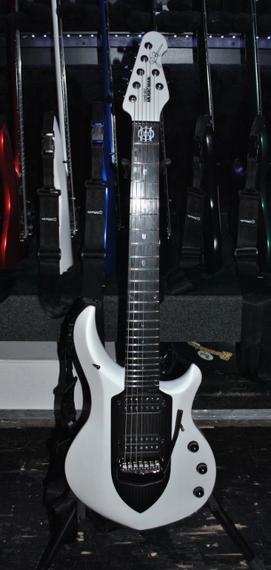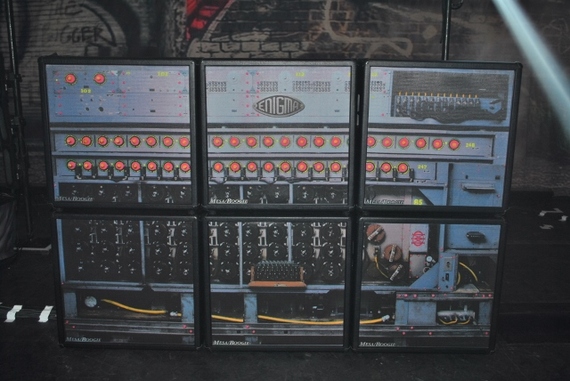 As is the case with most big touring bands these days, all the amps and guitar effects are offstage and usually controlled by the guitar techs.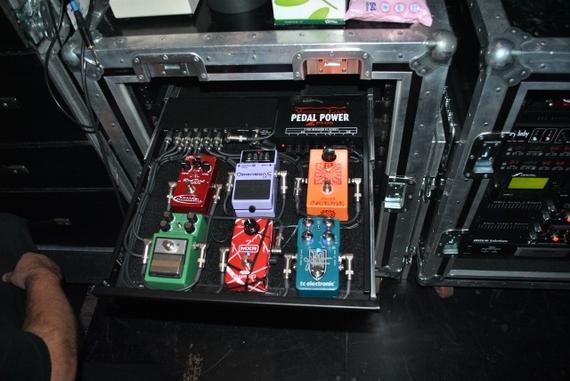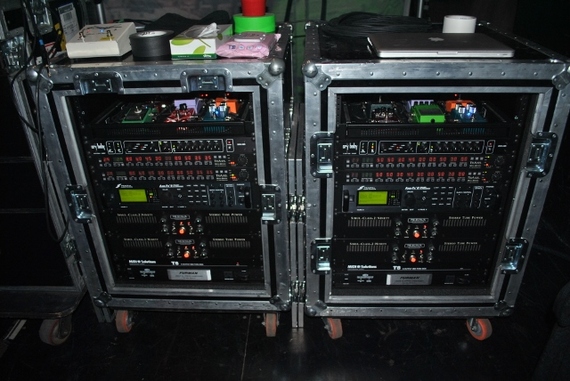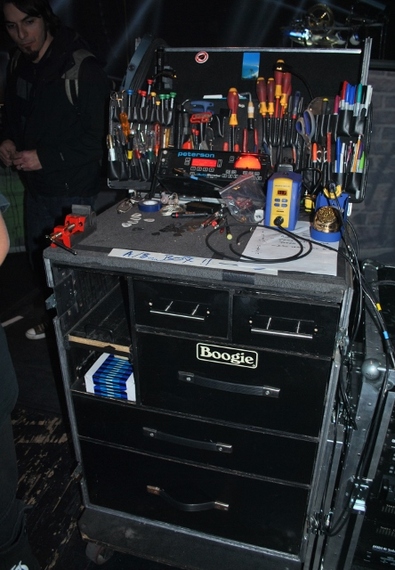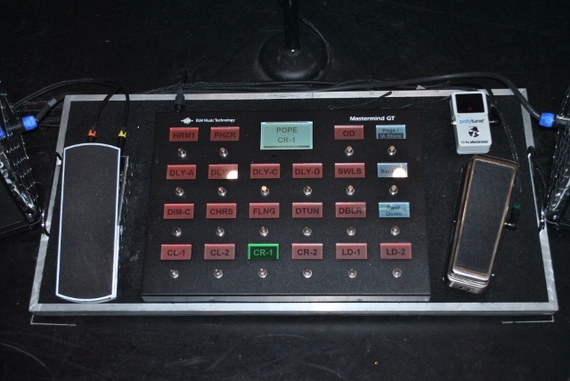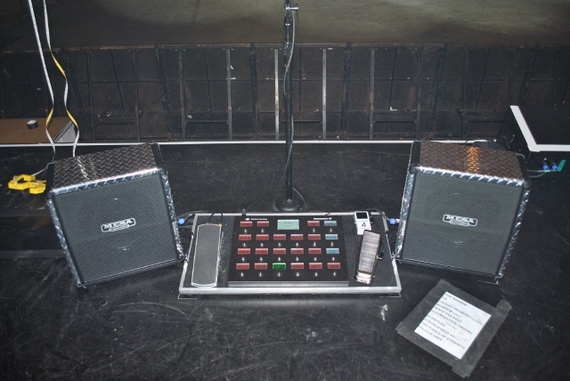 Interesting insight into Petrucci's monitor/effects rig above. When Petrucci rested his leg up on monitors for solos, his guitar tech, Matt 'Maddi' Schieferstein noticed that this was very shaky and a potential problem. So get this: he designed, built and customized two Mesa Boogie guitar amps encased in diamond steel plate that double as both killer monitors and 'footrests.'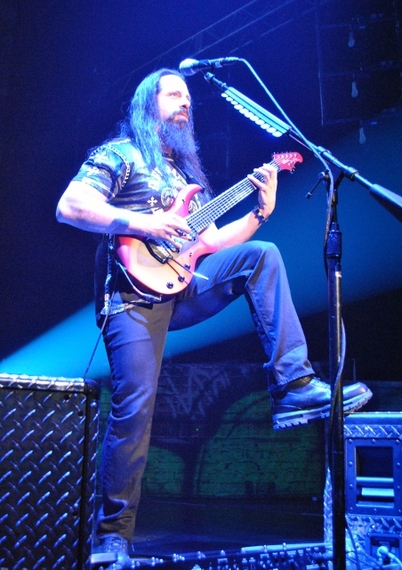 Petrucci uses his custom-made footrest
John Myung also endorses Music Man bass guitars.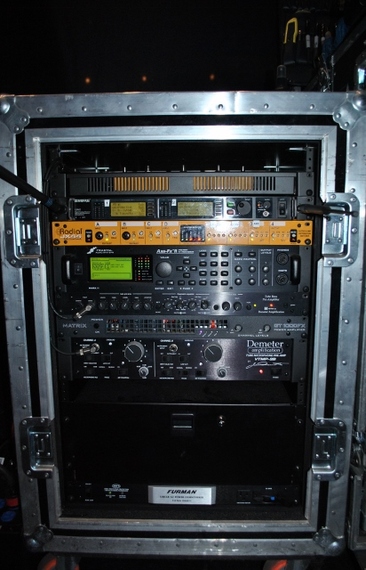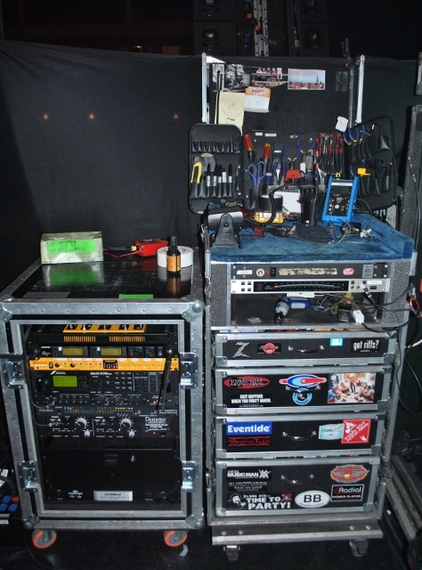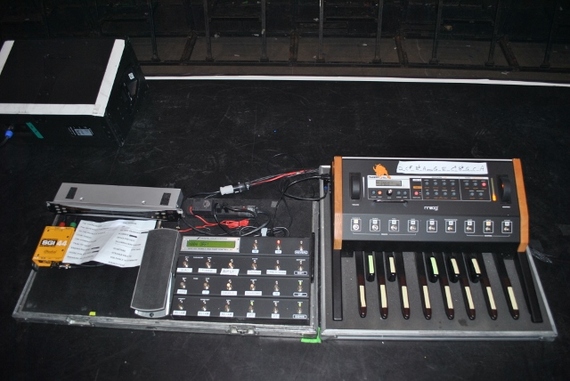 Jordan Rudess' keyboards seemed to me as powerful as Keith Emerson's or Rick Wakeman's back in the day.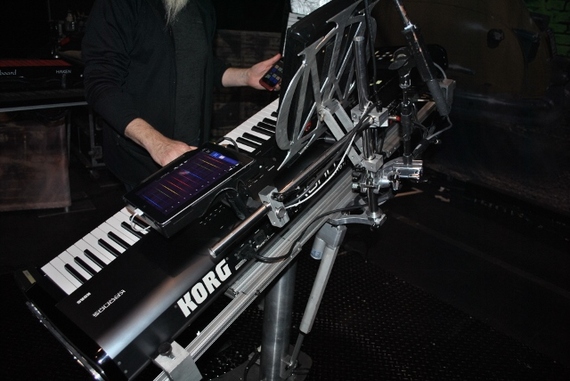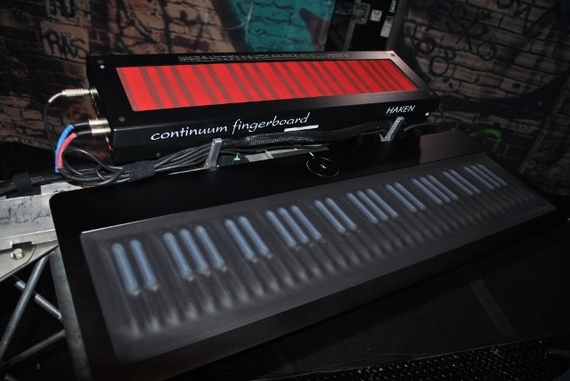 I wasn't sure what this radical-looking keyboard puppy was below but it sure sounded good when Rudess played it during the show. (Turns out, it was his custom Zen Riffer.)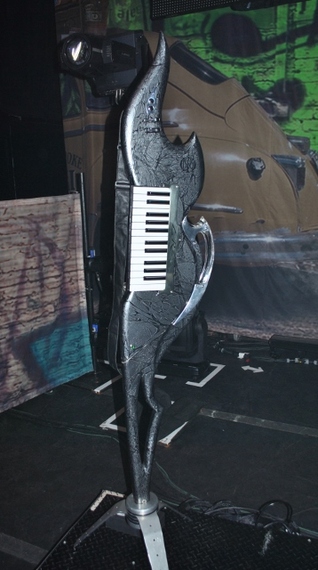 His onstage use of custom-tilting keyboards (so the audience can see them while he plays) is a real innovation.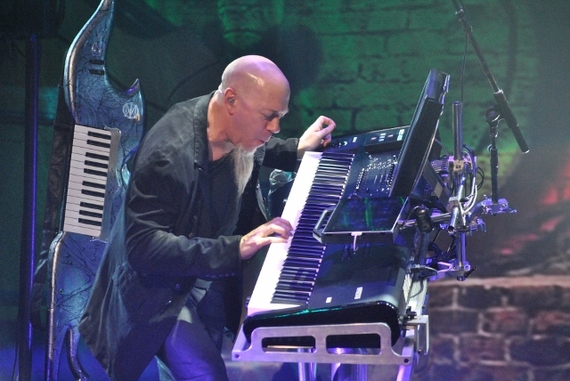 Rudess uses a Continuum Fingerboard, a Korg Kronos, a custom-made Zen Riffer and a very special little item called a Seaboard which has a super-high-tech look and feel kind of like a rubbery, 'nerf' keyboard. "Seaboard is an alternate controller that offers the next level of possibility," Rudess told me, "it has more of the guitar and violin ability to stretch and bend each note; to give each note a different voice."
To further the Rudess fascination with and involvement in technology, he has his own keyboard app company, Wizdom Music through which he directs the tech development of a number of his onstage computer apps. These little programs include MorphWiz, SampleWiz and Geo Synthesizer. Hmm ... I wonder if Mike Shinoda from LinkIn Park (Backstage Pass 5/29/13) is aware of Rudess' prowess in this area of keyboard technology.
Mike Mangini's drum kit was off-the-hook. Because of the previous fan comparison of DT to Rush, I decided to compare Mangini's drum kit with Neil Peart's, just for fun.
Mangini's: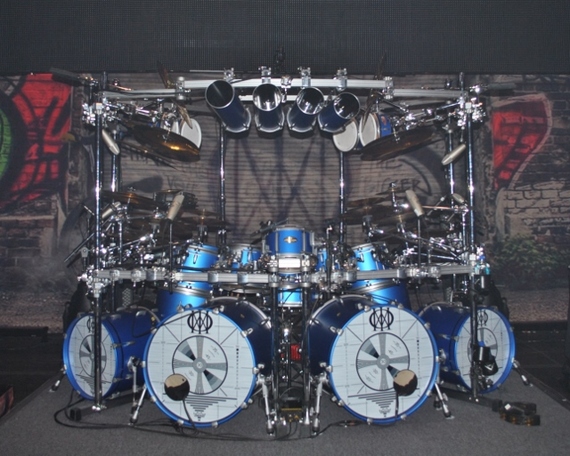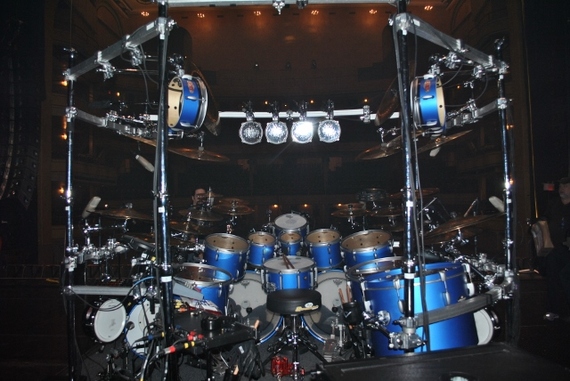 Mike Mangini uses Pearl Drums
Peart's: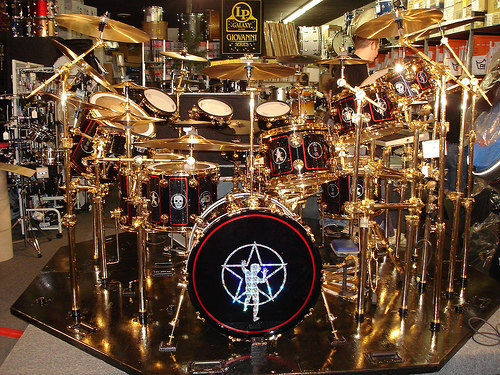 Now Neil Peart is certifiably one of the--if not the--best drummer in the world. No doubt. His drum set above has been rated as #1 in the Top Ten drum kits in the metal world. But to me, Mangini's drum set takes the cake. I had never seen four bass drums before. Two, of course. Three, occasionally. But never four. And Mangini can play them right up there with Peart in my estimation.
THE VENUE
The Hammerstein Ballroom is bigger by capacity than the Beacon Theater and must represent a real challenge for a band's sound engineer to control the sounds.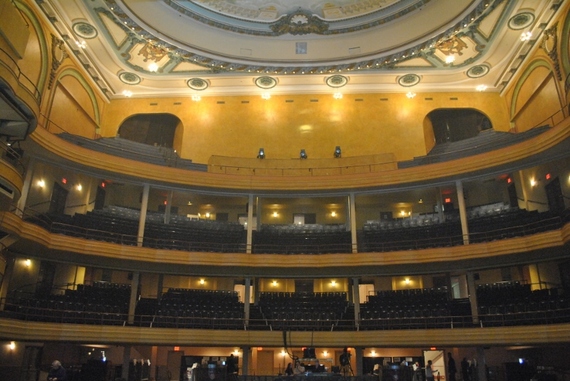 The ceiling rises up to what seems the heavens. It reminded me of the "Creation of Adam" fresco on the ceiling of the Sistine Chapel in Rome.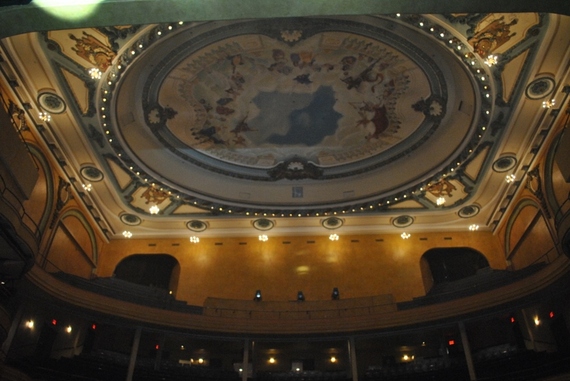 THE SOUNDCHECK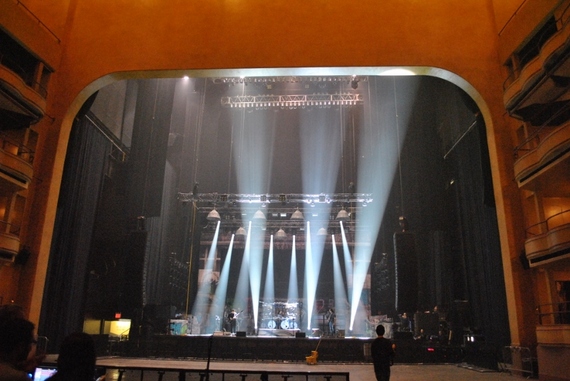 The sound-check was kind of creepy and surreal, not because of anything the band did but because the elephantine venue was so empty and with no bodies to soak up the sound and provide warmth, it seemed cold and scary.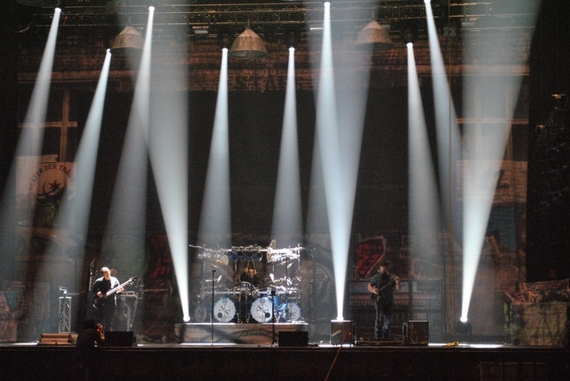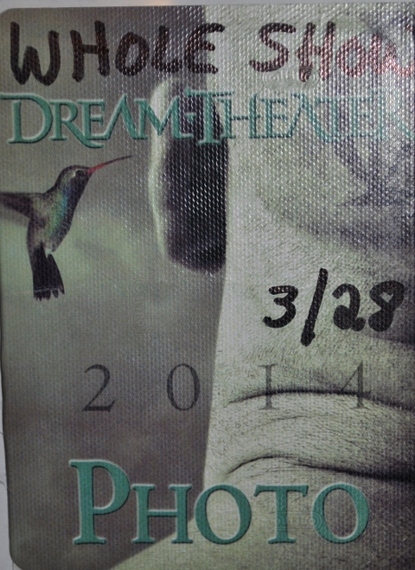 THE ARTIST COMMENTARY
John Petrucci, Lead Guitar, Co-Founder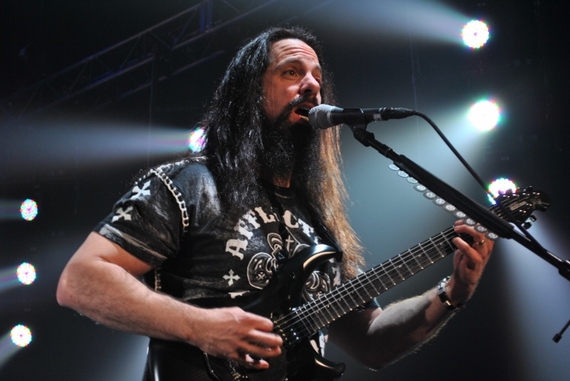 Upon hearing that John Petrucci was from Long Island, New York, I was even further amazed that I'd never heard of him or seen Dream Theater. Especially because I'd lived on Long Island for much of my adolescence and had worked for LI rock bands for a number of years.
"That's the funny thing about our band," Petrucci responded to my cluelessness above,"the people that are into us and have discovered Dream Theater, retain that kind of 'possession' of us ... that 'cult' kind of thing where they feel so invested and so passionate and so proud to be a fan. And then you have other people who have no idea who we are. They say, 'Oh, I've never heard of you' or they saw me on the G3 Tour and it was the first time they ever saw me or had heard of Dream Theater. We've never really had a lot of 'pop' success although recently with the Grammy nominations we're getting that kind of exposure." (Dream Theater got Grammy nominations in 2012 and again in 2014.)
"John (bassist Myung) and I grew up together and went to Berklee College of Music straight after high school and met our first drummer Mike (Portnoy) there and we started the band. We left Berklee, started rehearsing and got signed immediately and never had to do the bar scene. We played a couple of gigs but we really bypassed the whole local LI scene."
How is it that the majority of DT is from Berklee and keyboardist Jordan Rudess studied at Julliard, yet you all ended up shredding guitars and playing in a metal band? I asked rocker Petrucci. "I've always said, that there's a strange misconception about musicians that are schooled and then their ability to 'shred' and their ability to play with feeling are mutually exclusive, But they're not. Schooling increases your knowledge and your ability to communicate with other musicians. But whether you have the 'Rock 'n Roll spirit' is just something that's inherent; I don't think that's learned or unlearned. All the musicians, the guys I grew up with; the guys I met at Berklee; they all say 'yeah, we understand music and we learned it at school,' but everybody has a heart of Rock 'n Roll and Metal and that reckless spirit. I played the style I played before I went to Berklee, so Berklee was this great environment for me where I felt like I fit in and everybody was a musician and I felt like I could learn."
Petrucci has written the words and music for almost every Dream Theater song. "The guitar is a compositional instrument; that's the writing instrument. Jordan on keyboards, that's the other compositional instrument." What's the Dream Theater' writing process? "The way we write, most of the time it's collective, so we get together onstage or in the studio and we start to bounce ideas off and write instrumentally first. It's only when we sit down that the tough patches, personal struggles or triumphs, reflections on what is going on in the world can all come out in the lyrics. It's not your traditional singer-songwriter method of writing where you say 'I had this idea' and you sit down with a guitar. We write a song instrumentally first."
Who were your musical influences growing up? "Well, growing up on Long Island, listening to WBAB, I liked Zeppelin, AC/DC and Sabbath, Van Halen and those guitar players had an influence on me. As I started to get better at it and wanted more, I got turned on to Rush. Rush was a huuuge influence on me. Alex Lifeson was a huuuge influence. Steve Howe. As I got better and better, I had freinds saying, 'Oh, you've got to listen to Al Di Meola and Return to Forever. Funny thing is, Stevie Ray Vaughn is one of my favorites and of course Hendrix is unbelieveable but the first time I heard "Voodoo Chile" was SRV's version not Hendrix's." Add Iron Maiden, David Gilmour and Metallica to Petrucci's youthful hit list and you can see the development of Dream Theater's musical formula.
Jordan Rudess, Keyboards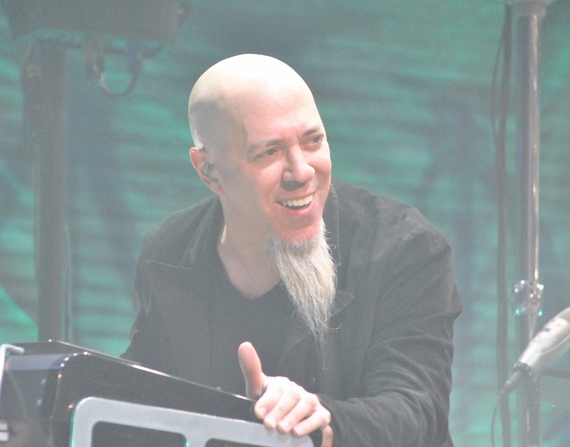 "In the Dream Theater world, it's a very exciting time. The reason is because a lot has been happening over the last couple of years, two new albums and a big transition getting Mike Mangini into the band. We got two Grammy nominations which opened up Dream Theater to a lot of new people. We had this big transition where we lost the drummer who had been with us since the beginning and we gained this character Mike Mangini and when he came into the band, he added this element. You'll see, he plays drums like no one else in the world; does things on the drums nobody else can do. It's his personal energy and musicality that took this organization to a whole new level. The band became a unified force. It opened up new possibilities. This tour--you're going to see the best Dream Theater show; this is the best experience yet. When somebody walks the concert venue, they're basically entering 'The Dream Theater Experience.' From the moment they come in, we've got this cool, almost 'planetarium vibe' going and then the music starts and we bring them into our world. We've got a lot of multimedia elements, visual things to see."
When the subject turns to technology and the products Rudess has created to use onstage and in the studio, his excitement grows. "As a keyboard player, I'm totally into sounds and all my crazy programming and apps I create. That's my world: making sounds. The most popular app that I made was MorphWiz which is an app that combines the world of audio and visual together to morph audio wave-forms and video wave-forms together simultaneously. I'm mostly a musician but I got into this business because I'm passionate about next-generation musical ideas. I love the idea that technology can lead us into new kinds of expression and I dream about that."
Mike Mangini, Drums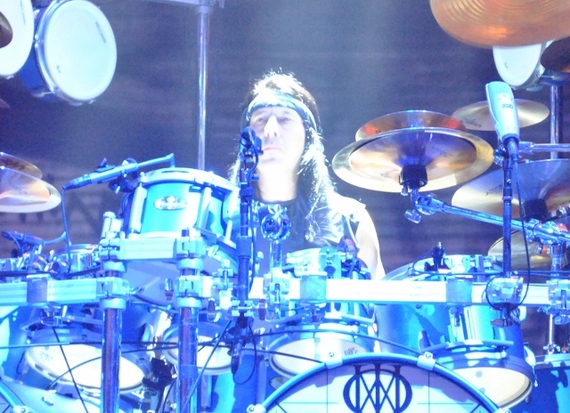 As Mangini and I chatted, he rapidly drummed on pads in the dressing room. Like most drummers I know, Mangini is hyperactive and always moving. For 11 years, Mangini was a professor at Berklee College of music.
"I was on the road with Extreme and Steve Vai before Berklee but I've always been a teacher," Mangini started off. "My being a teacher forced me to understand how to explain myself to somebody else meant I had to understand cognitive science and a lot of the sciences. And a lot of different world religions too because we had a lot of international students as well. The teaching has always been important to me and learning more about myself is tremendously important. However, since the music and sports programs have been cut in our schools it's got to be one of the worst things in world because when you're a kid those two things are fun. And those open up passageways in the brain, make people think and make them happy. They don't seem like work. And the fun thing about Dream Theater is and you'll see this tonight, the music appears to be complex, and it sure is as far as the meter and the changing, but it's not a quick listen; we're not a fast-food; you're going to a nice restaurant and paying for well-prepared, great food. After a number of listens, people who see Dream Theater start to get it."
"The whole point of my drum set is it's designed for ambidexterity, left and right. With that drum set, it's designed to reflect the 'orchestr-ality' of our music. I look at all those toms as one entity. I can match our guitar player's hitting higher notes by going up on the toms. I also have pads that trigger the sounds of the timpani. temple blocks, cowbell and all the other forms of percussion but I have a drum module to make all those sounds. I have four triggers for my hands and four for my feet."
When I told Mangini that I was 10 when I got a blue-sparkle Ludwig drum set for Christmas but hadn't kept up with it, he encouraged me strongly. "Go get another one!! Get another drum set. Let me tell you something, look it, your joy and your intention is really, really important at any age. Not everybody has to be the end all and be all at anything they do. You can just enjoy what you're doing."
Then, Mangini and I as two drummers sitting around rapping started discussing the intricacies of drumming. It was an education for me. "As a drummer, you have to develop an 'inner voice,' in your mind, you have to develop selective attention. Where you hear an external time source like a metronome and you pay attention to it and then you also have to focus on which limbs are landing where on the drums, and then, you also have to focus on where you are in the song, and then you have to focus on the management of your balance. All of these things, you only have one brain to manage them, so you have to develop a modular reality where you layer ... you now how Photoshop can layer? Well a drummer can layer different thoughts and sounds." Does he ever get distracted and lose time on a song? "I am the center of the time for everybody onstage, so in my mind my center of time is my inner voice keeping time. Or an external time source. Not much can really crack me. Unless I get lazy. Then yes, something that happens with another musician can crack me, something I see visually can crack me or some thought that comes into my head about what I ate for dinner can throw me off. Because I'm losing the order in which I prioritize my thoughts. I'm using my inner voice a lot to subdivide time. I'm thinking in noise and numbers."
What other drummers do you like to listen to? "If I'm in a groovy mood, I'll listen to Steve Gadd who has a plain, almost military sound to him. If I'm in an artistic mood, as far as the use of cymbals and drums on the kit, I'm going to look to Terry Bozzio. If I want to hear someone who takes something complex and simplifies it, I'm going to put on Neil Peart. You know what's so wonderful about Neil's playing and Rush is they take time signatures that don't have a standard, simple beat to it and they make it sounds so musical. They're just fabulous."
"Let me sum it up: we're drummers--we hit things. What I do for a living is I hit stuff and I count stuff."
THE SETLIST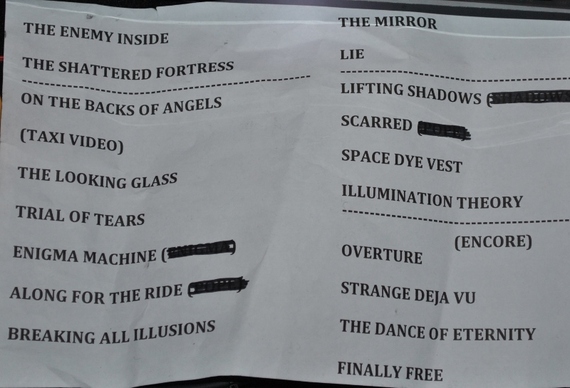 THE AUDIENCE
The sun had gone down and the lights of NYC were coming up as the DT fans stormed the Hammerstein Ballroom.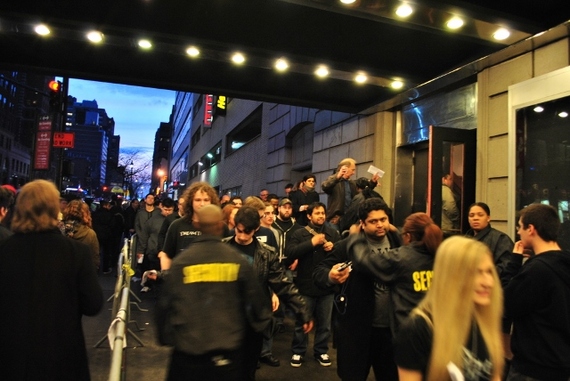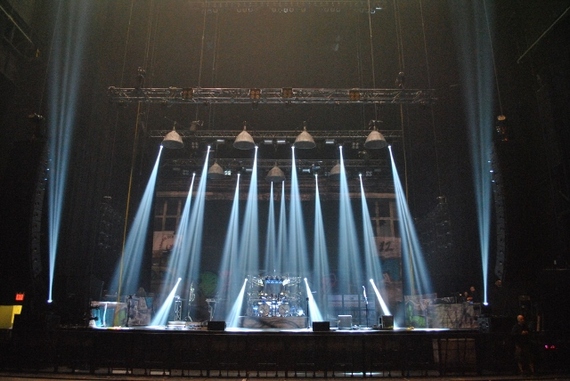 As the crowd filled and warmed the commodious ballroom, the stage was set; the room was ready. And the crowd was anticipating. Dream Theater was close at hand.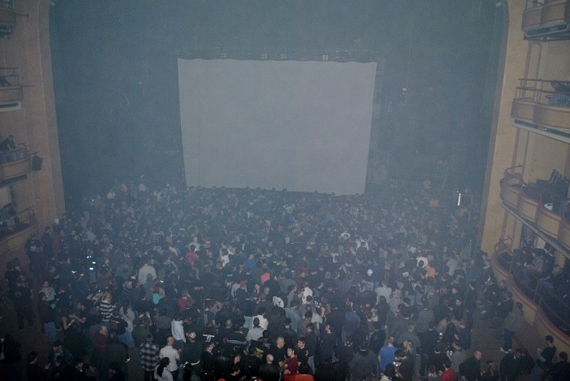 THE SHOW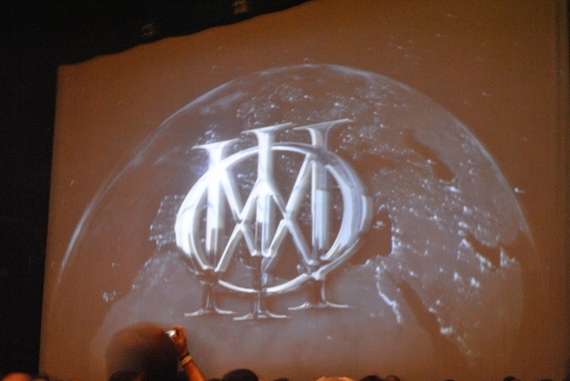 As the show kicked off, I was keeping an ear out for a sound like Zeppelin or Rush but immediately thought DT sounded more like one of my absolute favorites, that other great Canadian rock band, Triumph. (To this day, I still get chills up my spine when I hear the beginning of their "Lay It On The Line.") DT however, has a sound all its own.
Opening with "The Enemy Inside," Dream Theater kickstarted their fans into a frenzy right-quick. The official video for this song contains interviews with US military veterans and is a paean to war and those brave enough to fight one. The dreams some of these brave warriors come back with are unbearable.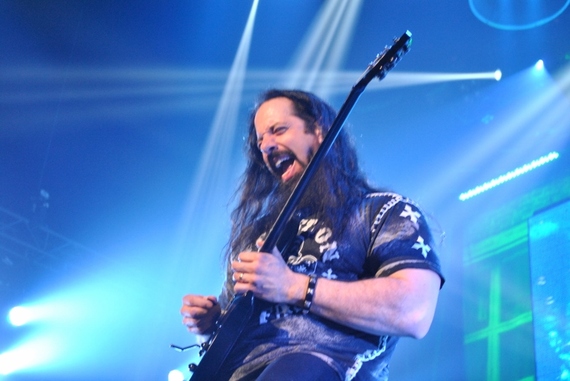 "The Shattered Fortress," "On the Backs of Angels" and "The Looking Glass" followed, whipping the DT crowd into a minor frenzy. Petrucci's solo on "Fortress" was scorching (just like this one), while LaBrie's soaring vocals were complimented perfectly by Mangini's manic drum fills.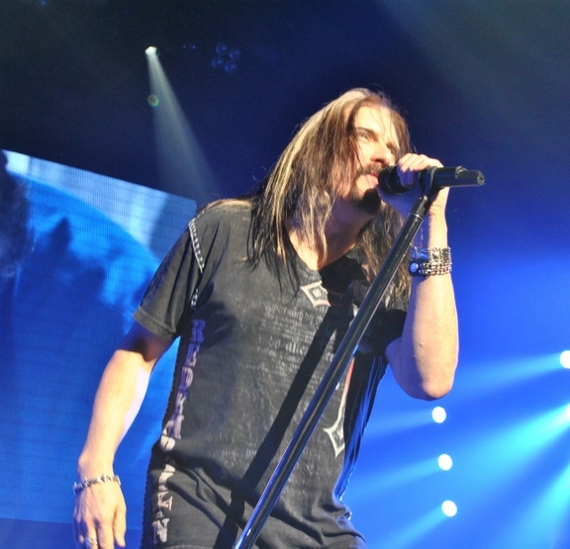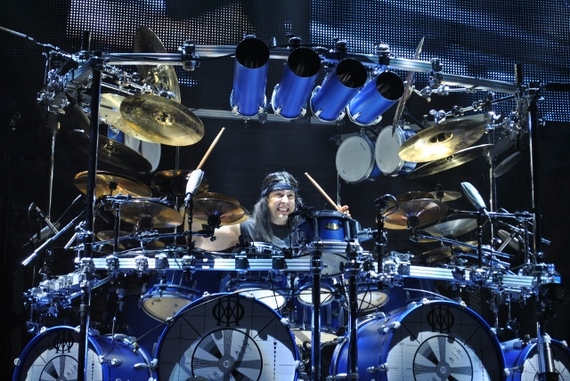 "Trial of Tears," "Enigma Machine," "Along for the Ride" and "Breaking All Illusions" comprised a great run of what were for me, songs I was hearing for the first time. Each one was different with a similar DT theme and sound. "Trial of Tears" featured some great high-tech keyboard magic by Jordan Rudess to open the song.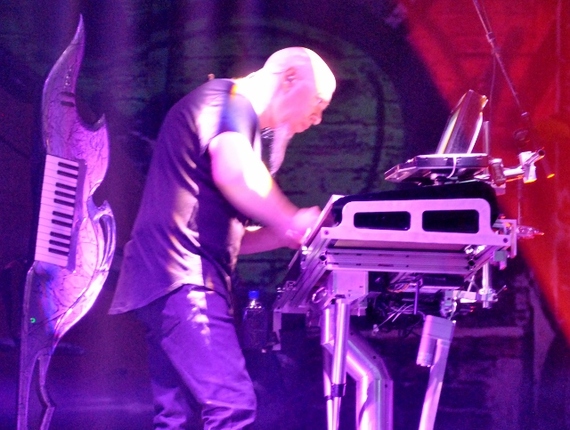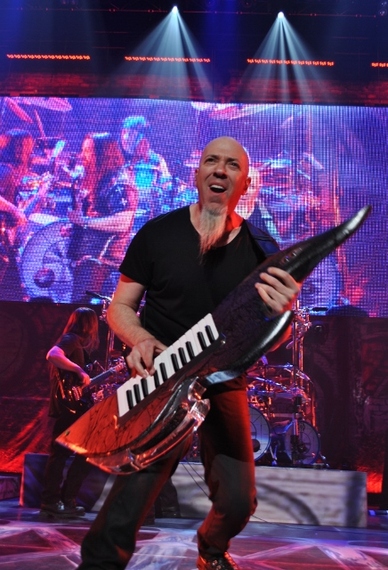 The Zen Riffer made an appearance on "Trial of Tears"
Mike Mangini's drum solo on "Enigma Machine" was second to none. An example of the Mangini spectacle solo I witnessed is this one posted a few years ago as "The Best Drum Solo Ever."
"The Mirror" and "Lie" seemed to be real DT fan favorites and segued together. "Lie" turned out to be my favorite DT song.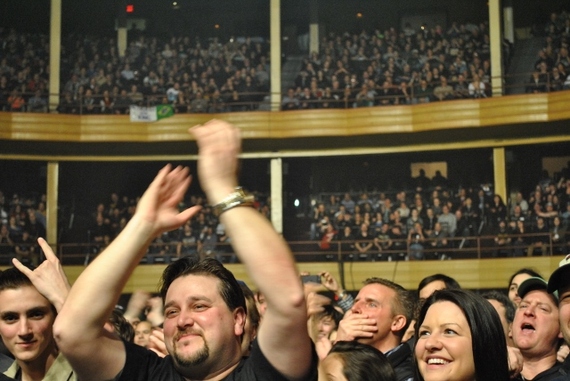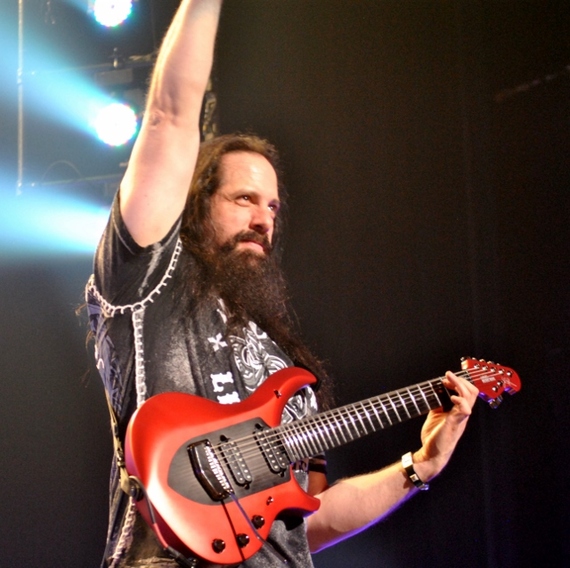 John Myung's booming bass riffs laid the foundation and he played amazingly all night long.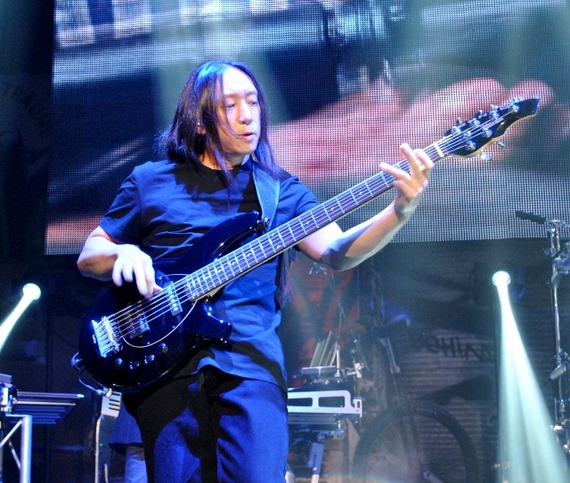 "Lifting Shadows Off A Dream," "Scarred," "Space Dye Vest" and "Illumination Theory" rounded out the show in heavy metal style.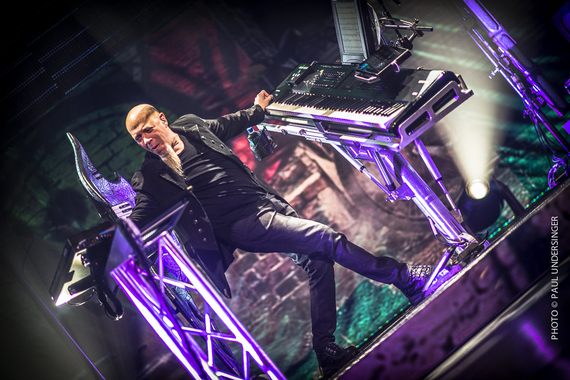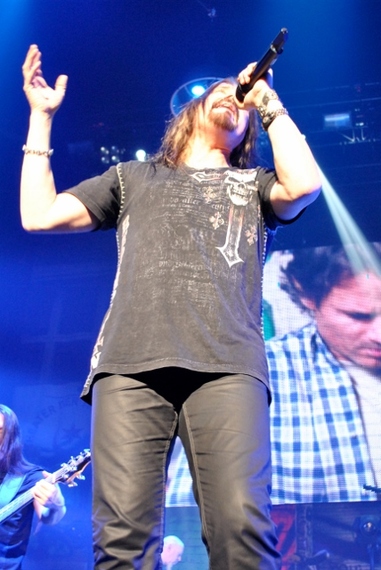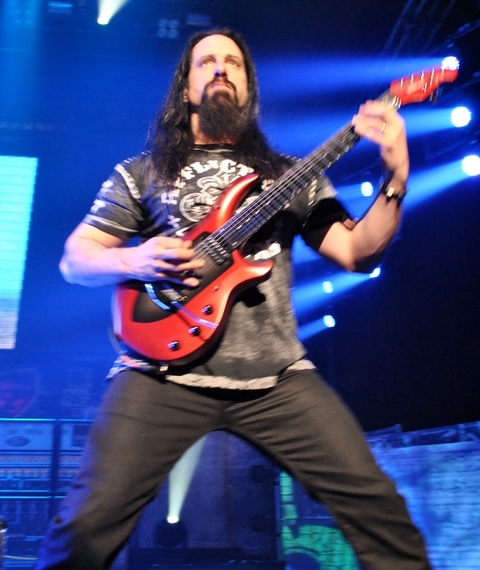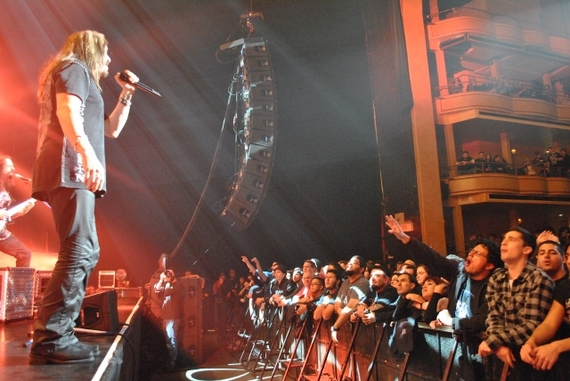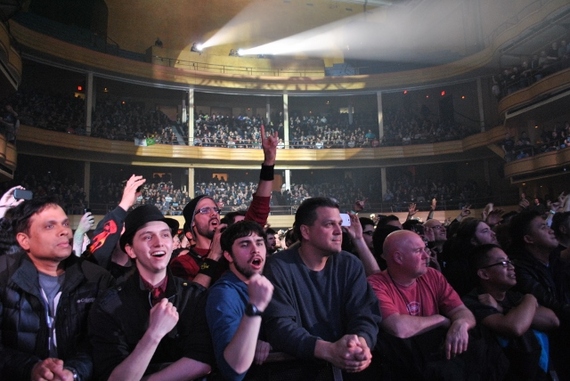 Then DT came back out for one of the most significant and substantial encores I've seen featuring "Overture 1928," "Strange Deja Vu," "The Dance of Eternity" and "Finally Free."
And for the entire two and a half hour show, the Dream Theater fans cheered their heroes. And Dream Theater didn't let them down.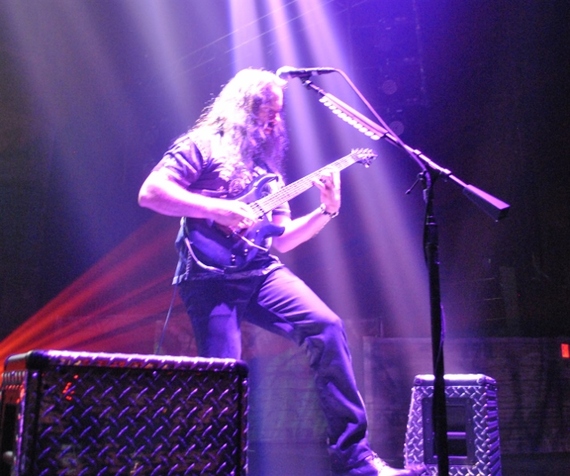 All Photo Credits are Bill Robinson except as otherwise noted