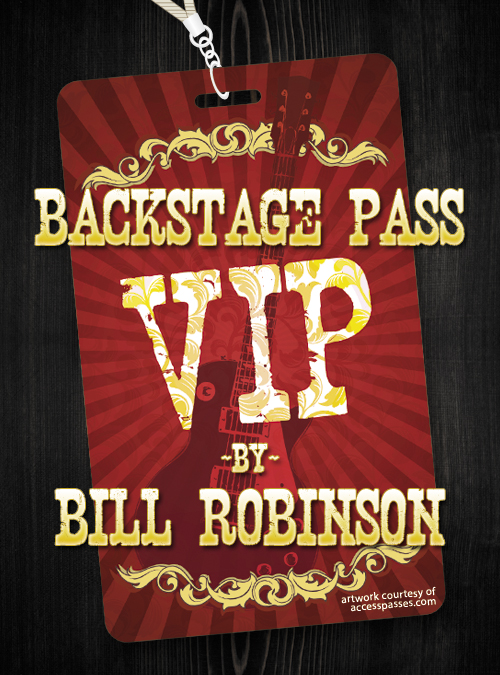 If Hellyeah were a girl, you probably wouldn't bring her home to meet your parents anytime soon.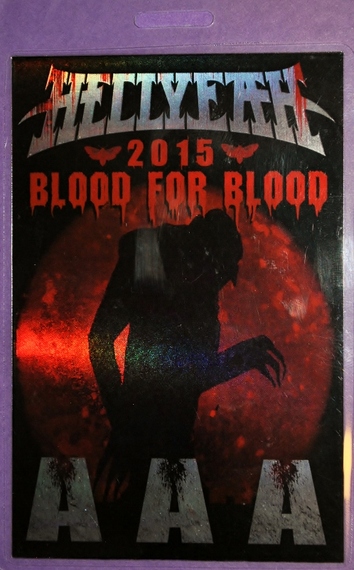 The Heavy Metal band, led by Pantera and Damage Plan veteran drummer Vinnie Paul (Abbott), would probably drink too much at dinner; throw up on that nice new, white couch; start trashing the furniture and breaking your Mom's Hummels; then, cap off the evening by breaking into Dad's gun rack.
That's the image I got anyway from their recent performance at Mohegan Sun Casino in Connecticut, which was as animated and energetic as could possibly be. Unstoppable. (Humor aside, Vinnie and the band are nothing like the above imagined scenario.)
Of course, "Big Vin" as he's sometimes referred to, is also the older brother of the late "Dimebag" Darrell Abbott, Pantera' and Damageplan' guitarist. Having been through the most shocking thing a person might go through, Vinnie Paul has recreated himself and the band he and his brother had envisioned.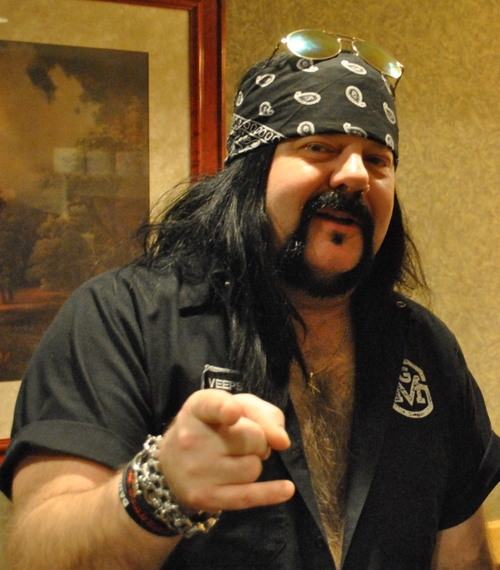 This Backstage Pass column however, will not be going into any of those horrible events, only covering the show, Vinnie Paul's and Hellyeah's history. (Disclosure: I've been writing a screenplay telling Dimebag's story, "Cemetery Gates: The Fast Life & Short Times of Dimebag Darrell" for the last eight years.)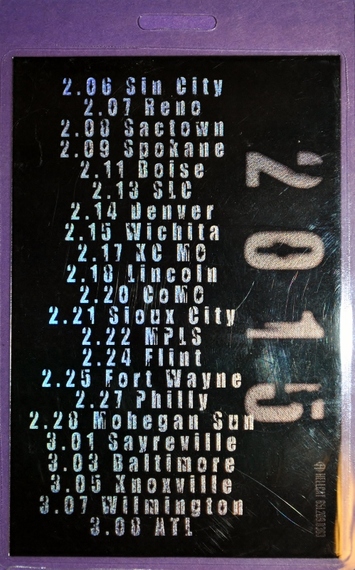 THE PERFORMERS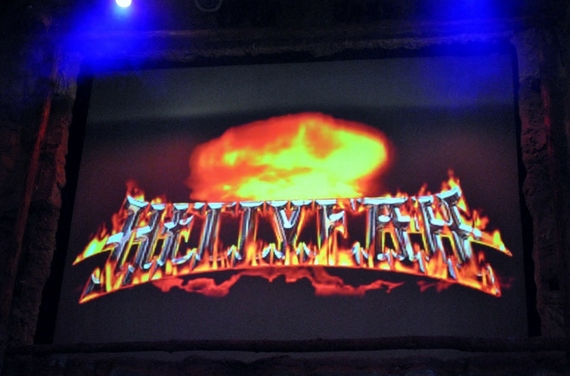 Hellyeah is perhaps not the last stop on Vinnie Paul's and Dimebag's musical journey but certainly a major part of the trip. The Abbott brothers grew up in a Texas household with a Country music songwriter, producer and musician father. Beginning with Pantera in 1981 and riding that through a cathartic road to break-up; second stop was Damage Plan from 2003 to 2004. 2006 brought a rebirth of interest and a chance meeting and then continuing conversation between the lead singer of one heavy metal band and the guitarist of another.
Regardless of its genesis, Hellyeah seems to me a very important development in the life of Vinnie Paul both for musical and for healing purposes.
THE MUSICIANS
Vinnie Paul, Drums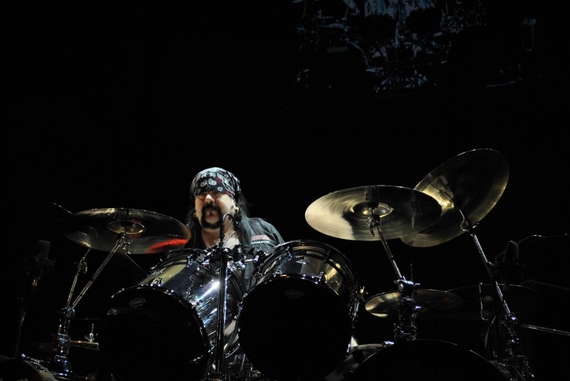 Like all drummers, Vinnie Paul lays the back-beat foundation for his band. But unlike the vast majority of drummers, Paul seems to put a real personal imprint on Hellyeah's music. His drumming style and crowd adoration is more similar to an 'out-front' singing drummer such as Don Henley or Phil Collins--though he is obviously nothing like those two musically.
Chad Gray, Vocals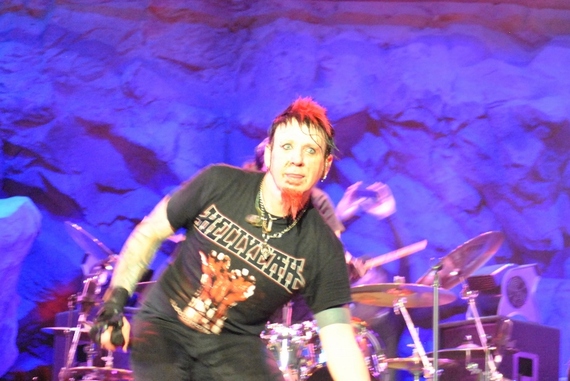 Gray was a co-founder and lead vocalist of heavy metal band, Mudvayne and during a chance encounter with Tom Maxwell of Nothingface, on the 2001 "Tattoo the Earth" tour with Mudvayne, Nothingface, Slayer, Slipknot and Sevendust, hatched the idea that birthed Hellyeah. Though not as smooth, Gray has a voice in range and strength like Chris Cornell.
Tom Maxwell, Guitar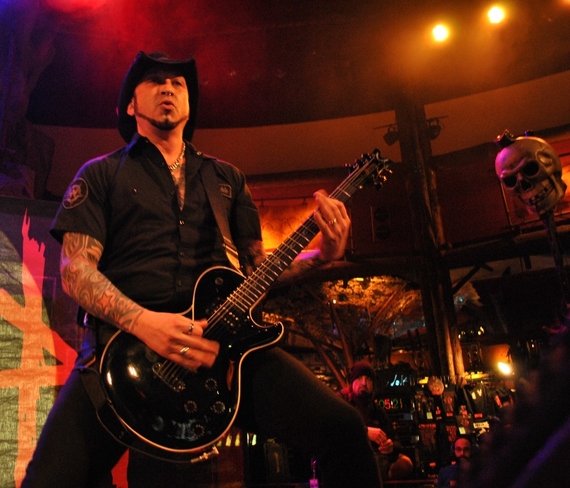 According to previous reports, Maxwell and Gray met and became quick friends on a Nothingface/Mudvayne tour and a conversation started between the two leading eventually to the formation of Hellyeah. From Baltimore originally, Maxwell still lives in Maryland with his family.
Kyle Sanders, Bass Guitar, Vocals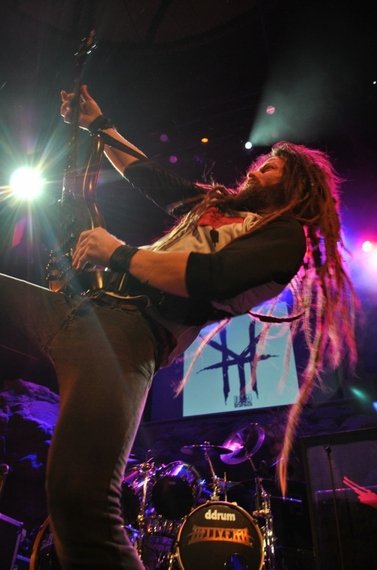 A former member of Bloodsimple from 2002 to 2008, Kyle Sanders is one of the most active stage-men I've ever seen. Just getting a decent photo of him that isn't blurred is a challenge. He makes Angus Young look like a statue. It was on tour with Bloodsimple, opening up at Ozzfest and for Disturbed, Avenged Sevenfold, Alice in Chains, Korn, Metallica and Hellyeah, that Sanders presumably got to know Hellyeah and later, became part of the band.
Christian Brady, Guitar, Vocals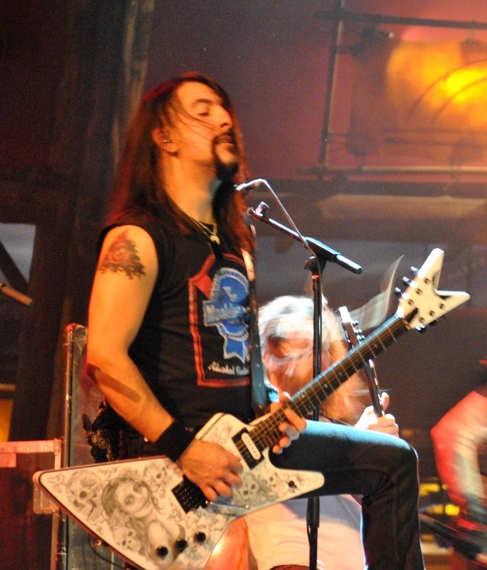 A Las Vegas native, Brady was in Magna-Fi and after the band's appearance at OzzFest in 2004, his star was rising. The newest Hellyeah member, Brady joined up in mid 2014.
THE INSTRUMENTS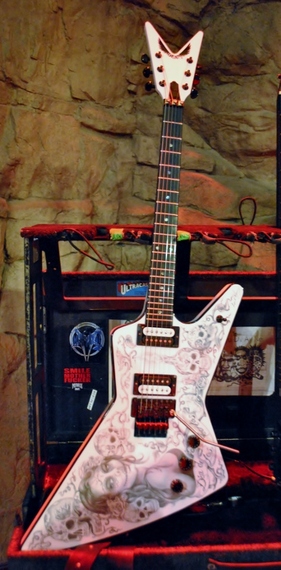 Christian Brady's Z Series Dean guitar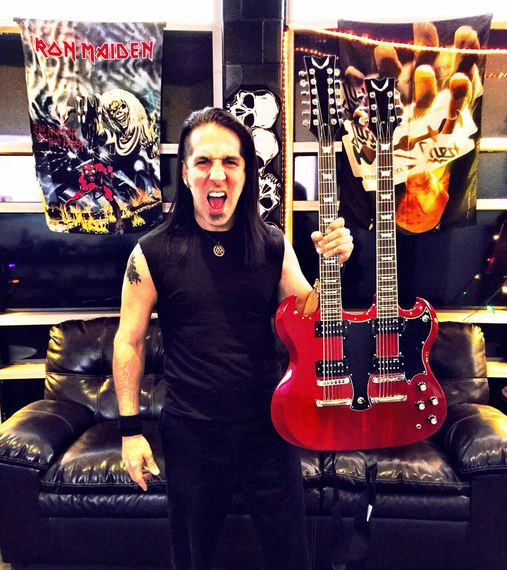 Brady on tour recently with his new Dean USA Custom, double-neck GS
Photo Credit: Unknown


Tom Maxwell endorses Dean Guitars and they made the "MaxHell" Soltero guitar especially for him

Both Hellyeah' guitarists are Dean endorsers, which makes sense, following as they are in the footsteps of one of the most popular Dean' guitarists, Dimebag Darrell.

Photo Credit: Unknown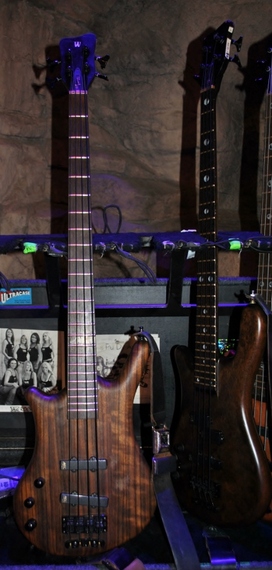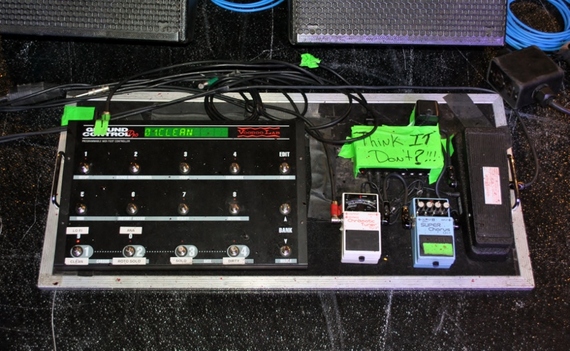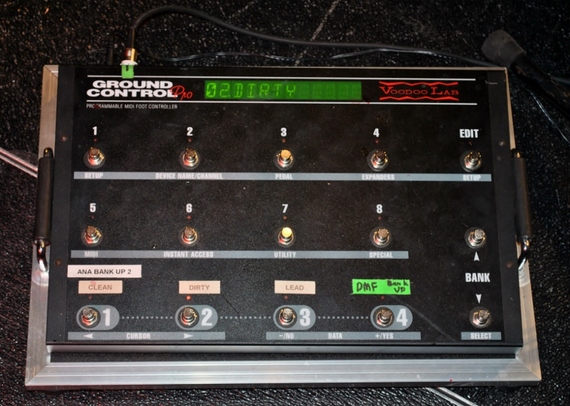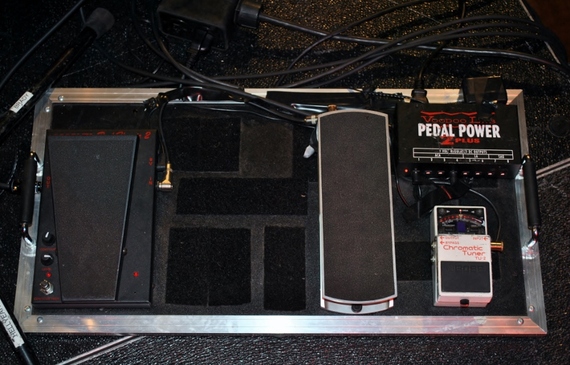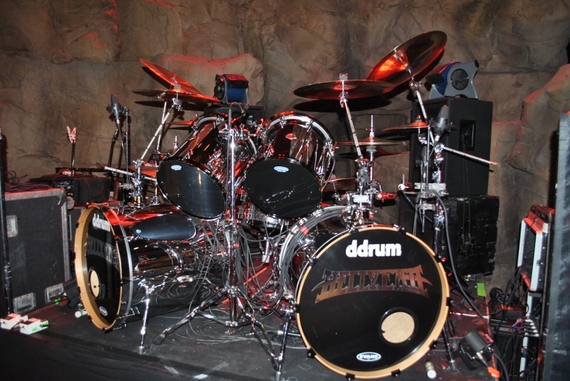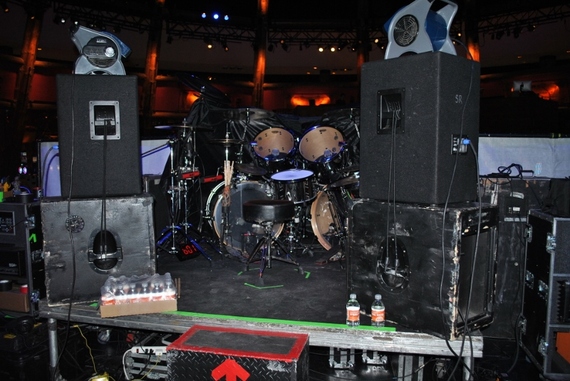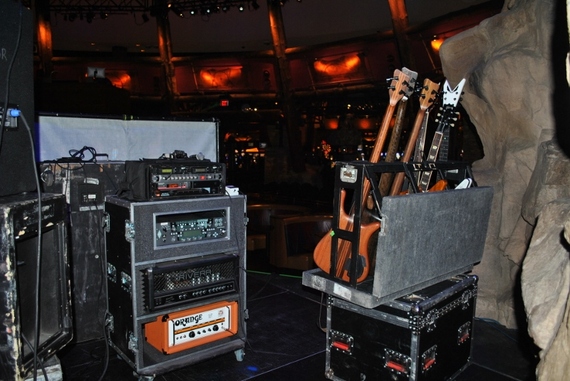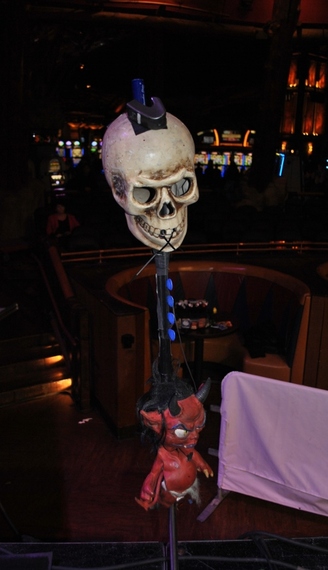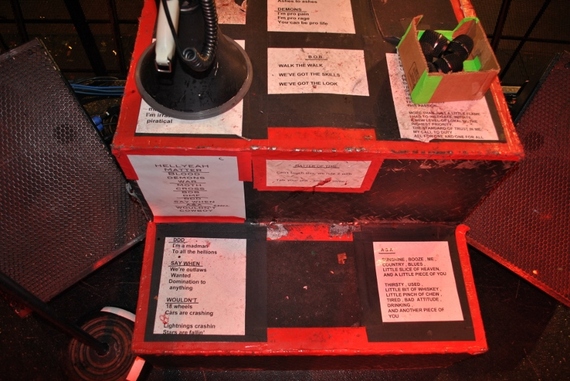 THE VENUE
Mohegan Sun is one of the two largest casinos in the America. In rural Uncasville, Connecticut, Mohegan Sun's massive hotel, arena and multiple casinos rise out of a forest and are perched on a picturesque lake.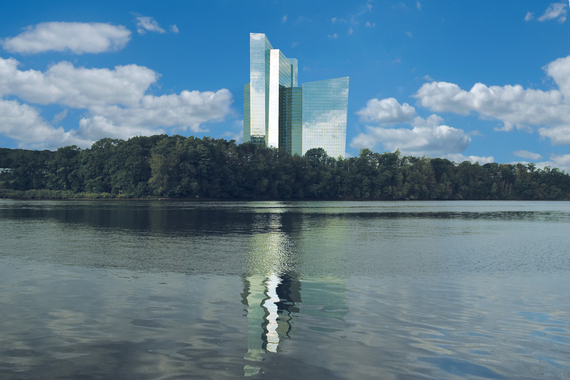 Photo Credit: Mohegan Sun
Mohegan Sun has more than 30 restaurants including everything from Todd English's Tuscany, Michael Jordan's Steakhouse, Bobby Flay's Bar Americain and Vallo Italian restaurant to Johnny Rockets, Frank Pepe's Pizza and Ben & Jerry's ice cream. Retail stores include Tiffany's, Brookstone, bareMinerals, Coach, Trailblazers, Sunglasses USA, Swarovski and Tommy Bahama.
Offering a full hair salon and 25,000 square foot spa, Elemis, with indoor pool and outdoor terrace that turns into a nightclub in the summer, Glo.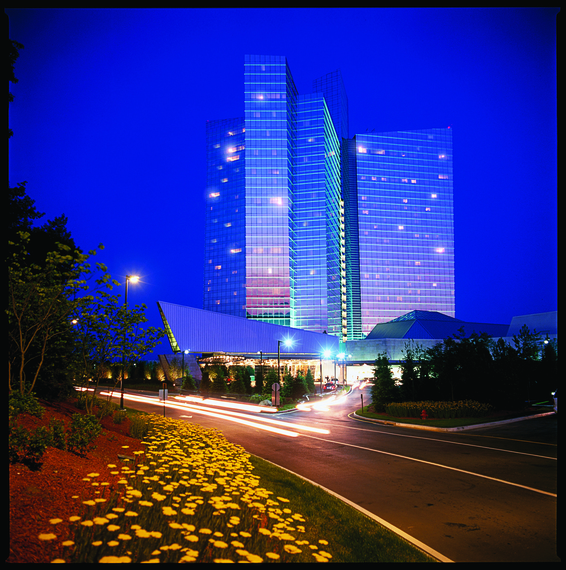 Photo Credit: Mohegan Sun
It's a great place to get away; see a show; have some fine food, drink and gamble.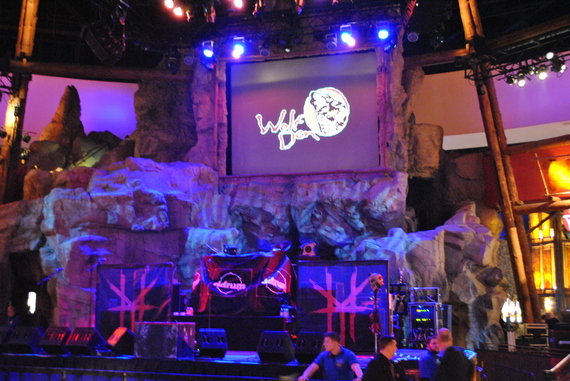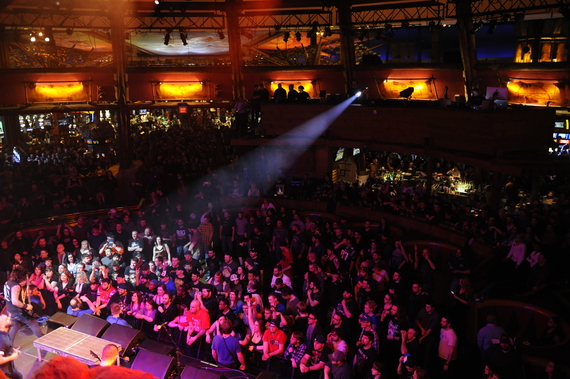 The Mohegan Sun Casino' Wolf Den is a great 'small' venue to get up close to your favorite bands
Photo Credit: Mohegan Sun
THE ARTIST COMMENTARY
Vinnie Paul and I sat in the dressing room at Mohegan Sun's Wolf Den.
"Hellyeah!" Paul said in a throaty yell to start off our chat.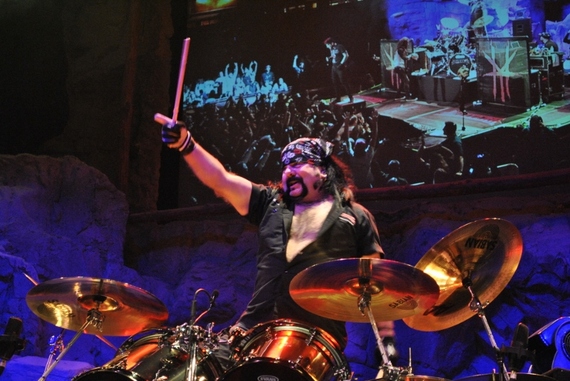 Q: I saw some of your influences in drummers ... Peter Criss of Kiss, huh?
Paul: "Yeah man, you know as simple and as plain as he was, Criss was very influential on my drumming. His was the first band that I fell in love with, it was to me a metal band that was larger than life, obviously. The "Demon" and the "Catman." One of the first things I ever learned on drums was the 'God of Thunder' drum solo."
"It was that simple. You didn't have to be that technically advanced to learn it but it was so cool and everything Peter Criss ever played was almost as memorable as a guitar lead. It made you want to play air guitar except to drums. All that stuff was very memorable and made me want to play drums."
"We got the pleasure of being on Kiss' final reunion tour, I believe it was 1998 in South America. We did Buenos Aires, three sold-out nights in Mexico City and then we flew from Mexico City to Santiago, Chile with them and it was my birthday. And they were in first class while we were in business class. And about halfway through the flight, all four of them came back and sang 'Happy Birthday' to me, in four-part harmony, I felt like a 14-year old kid again, I just shrunk in my chair literally laughing and crying at the same time. I was like 'Wow, Kiss is back here singing to me.' They gave me the brand new 'Kissstory' book autographed by all of them, and then they had a autographed drum-head with all their pics taped around it. I still have that hanging up in my house. That's my 'Rock 'n Roll moment.' If anybody ever asked my what mine was, that's be it: having Kiss sing to me on my birthday."
Q: One of the things I keep coming across, is your and Dime's love for Kiss. Like playing their songs in your basement growing up. You really idolized them, didn't you?
A: "Loved 'em, man. They were super, super influential and their music will always be part of my life. You know people say, 'Music is a soundtrack to your life,' well them, Van Halen, Judas Priest and Black Sabbath, those are the four that did it for me. Especially the Van Halen brothers. There's so much similarity between them and me and my brother. I always thought of Pantera as the heavy metal version of Van Halen."
Q: That's a great point; God, I never thought of you and Dime as Alex and Eddie.
A: "You know, we all started on drums and then I got better than my brother on drums and I wouldn't let him play them anymore and the same thing happened with Alex and Eddie. I met Eddie for the first time in 2004 when they were doing the reunion tour with Sammy, right before what had to happen to my brother in December, and we'd never met before. We had those four bands we'd always wanted to open up for and we'd done Kiss; we'd done the reunion tour with Sabbath in 1999; we'd done Judas Priest in 1990, the "Painkiller" tour in Europe--our first tour ever--what a way to get broke-in. But we never managed to play with Van Halen. You know, and we had never met any of 'em. So I get a call when I'm out to dinner one night and I get a call from my manager and he's sayin' 'Eddie Van Halen is in the club and want's to meet you.' My first thought was 'are you sure?' Well they are playing in town this weekend. He says, "No, it IS Eddie Van Halen and he wants to meet you.' So I get my driver and we drive back down to my club (Paul owns "The Clubhouse" in Dallas, Texas) and sure enough, he was sittin' there by his self, drinking a bottle of wine. He gives me a big hug and we started talking and maybe five minutes into the conversation, Eddie says to me, 'This is crazy. We've been talking for five minutes and I feel like I know you a lifetime. We have so much in common, man.' I said 'would you mind getting on the phone with my brother?' He said, 'No man, I seen that cat in Guitar World a bunch of times. I wanna talk to this dude.' So I put them on the phone together and they talked for about 45 minutes. So we had a show that weekend in Boston, and we flew out to the show. When we got back, Van Halen was playing in Lubbock and we flew out there. He sent a limo out to pick us up from the airport, brought us to the venue, brought us right downstairs with them, took us to see the sound-check, offered us catering, I mean it was like a dream."
Q: Did you call your brother Dime or Darrell?
A: "Yeah, Dime."
Q: What did Dime say about his phone conversation with Eddie?
A: "It's kind of ironic but I remember the exact words he said to me--I'll never forget it--when we were flying back home from Lubbock on the plane that night. Dime said to me, 'You know what man, if this plane were to go down right now and kill us all, I'd be happy. I got to meet the guy who made me want to play guitar.' And dude, he was just like a kid, so excited. Very, very inspired. They were in the backstage room and Eddie would play a lick and hand Dime the guitar, and Dime would go 'Wow, I'm playing Eddie Van Halen's fucking guitar!' It was some really great moments."
Q: The first time I met you was at the soundboard of a Nickelback concert in Frisco, Texas. They did that song about Dime, "Side of a Bullet." What did you think of that?
A: "It was cool for them to honor him."
"It was really strange that as we progressed from a little bitty band to being a bigger band, we always told ourselves that we wanted to keep our feet planted in Texas. We never wanted to move to LA or New York or develop that 'Hollywood attitude.' I still to this day, if I have to go to New York or LA, I do what I have to do, and then I get the fuck outta town on the red-eye as fast as I can go. It's just not my place, you know? I have my home in Dallas and a house in Las Vegas, which I love. I spend about half my time there, half my time in Dallas and the rest of my time on the road."
Q: Kids? Family?
A: "Nope, I never married or had any kids. That's why I love music so much. I've been in love with it my whole life. I know what it takes to do this and you really have to give everything you've got. So many people, you know, try and do it with a wife and kids and it just ends up wrecked, there's some people who've pulled it off but I've always known to do this you have to be that dedicated to it."

"But back to the story, a lot of Metal bands' fans are jaded, you know, they want nothing but the heaviest of the heavy and Nickelback's a great band, man. We became friends with them and no matter who we played with we treated them with respect. Whether it be Nickelback or Limp Bizkit or bands that were different than us but you can still appreciate them."
Q: So what's going on with Hellyeah?
A: "We've got a new CD that came out last year, it's the best we've ever had. It's called 'Blood for Blood' and had a #9 single from it. First time we've been in the Top Ten as a band. We spent most of last year supporting other bands and this year we're doing more headlining ourselves this year. Things are really happening for us now."
"We got this tour which wraps up in about a week and have about three weeks off. Then we start back up on another leg of radio shows, a lot of shows with Godsmack and a lot of headline shows. And that goes to the end of May when we go straight to Europe and do all the big festivals, like Download, Wacken, Graspop, etc. We're really looking forward to a great summer."
Q: Is there any kind of Dime Foundation or charity he loved?
A: "You know, I always tell people if their fans and want to make a donation, he was a fan of 'Little Kids Rock.' They get instruments and give them to the kids who need them in schools, that normally wouldn't have them."
Q: Any thing else you want to say to your fans?
A: "Just that I'm excited about the way things are going and thanks for the love. Thanks for all your support and we'll see somewhere this year on tour with Hellyeah."
One other thing Vinnie mentioned was that "there's something big coming out about this summer for a big tour we're doing." That turned out to be the Rockstar Energy Mayhem Festival where Hellyeah will be headlining with Slayer for 26 dates across America.
THE SETLIST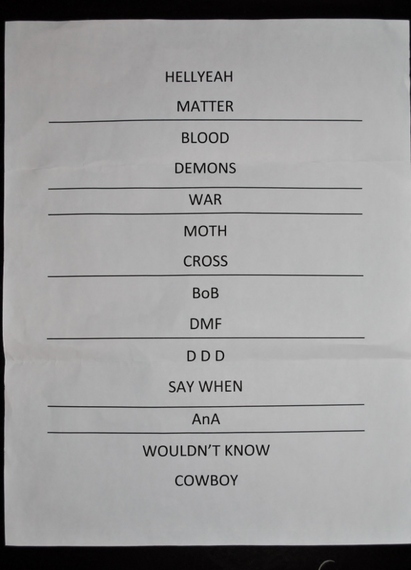 THE AUDIENCE
A Hellyeah' crowd is not a docile thing. Not in the least.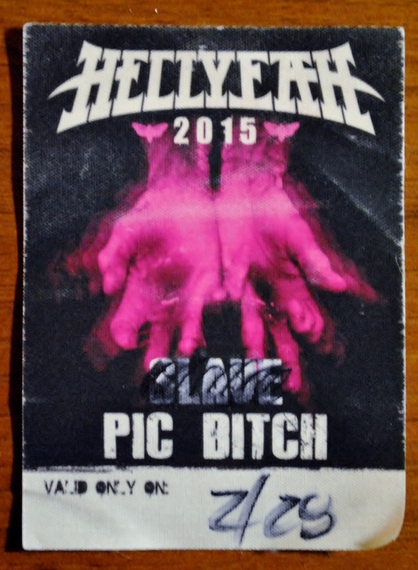 Getting there early and staying late is one hallmark of Hellyeah fans. Another would be a kind of mosh-pit aggression when the band is playing. They percolate. They froth. And they seethe.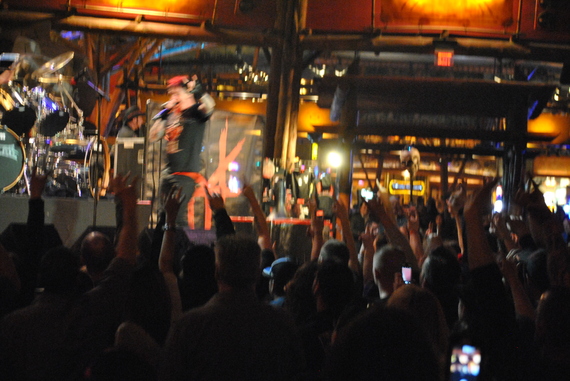 A band and fans in motion--seething together as one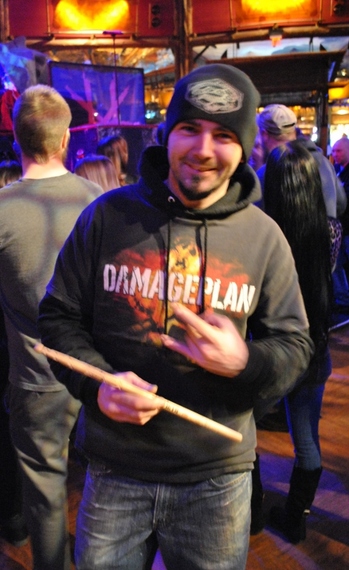 A post-seethe Hellyeah' fan
THE SHOW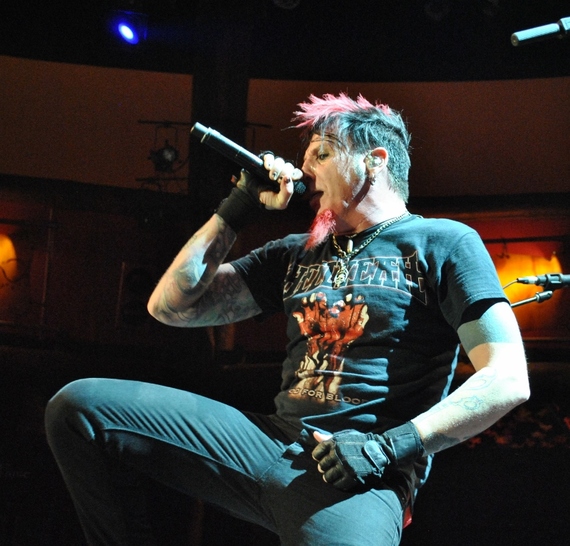 Opening up with the eponymous "Hellyeah," the band didn't waste a bit of time and neither did the crowd.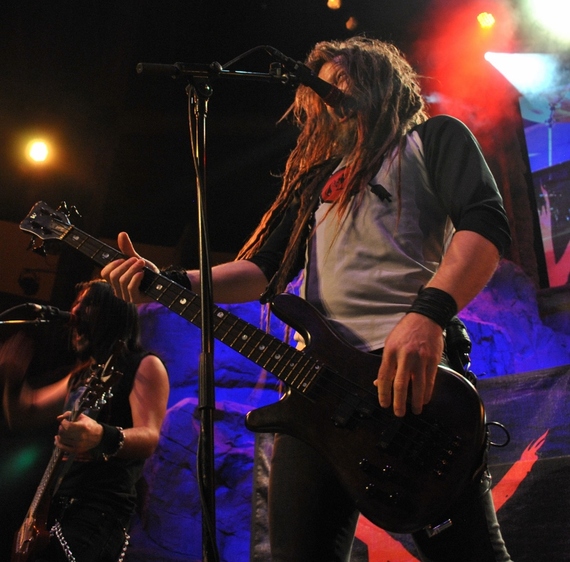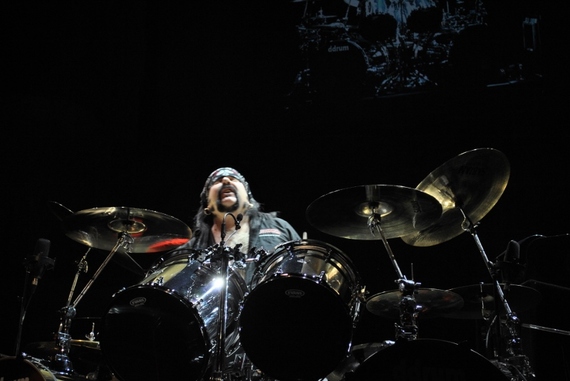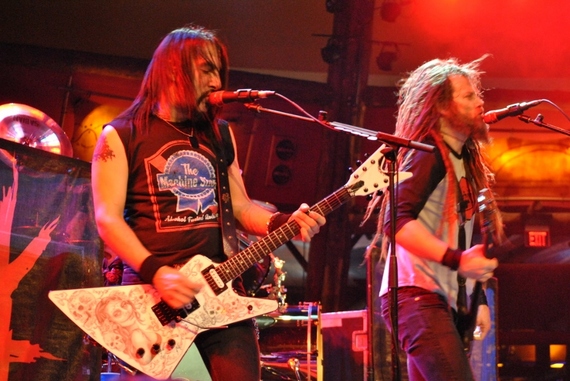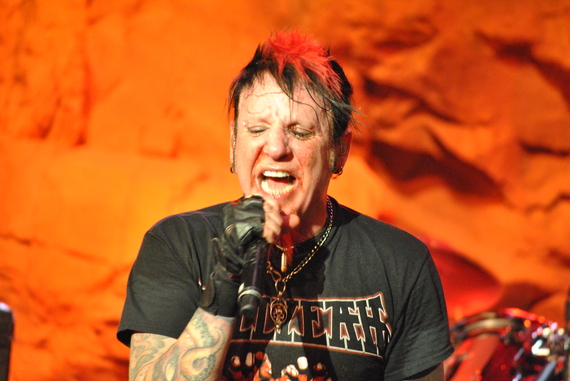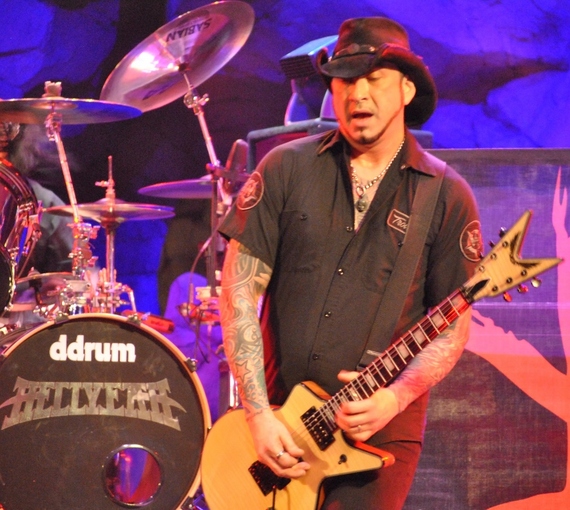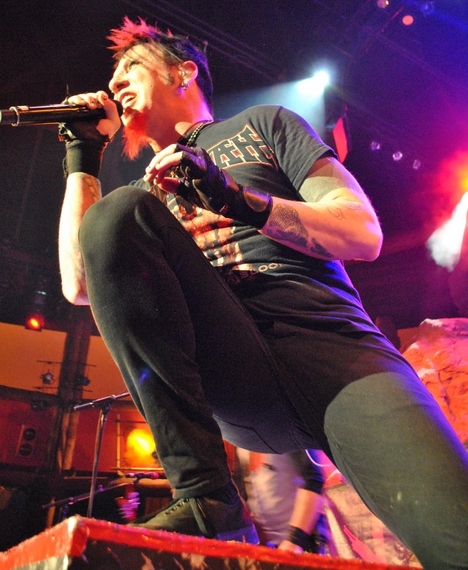 Always a commanding presence behind the kit, Vinnie exhorts his crowd to roar.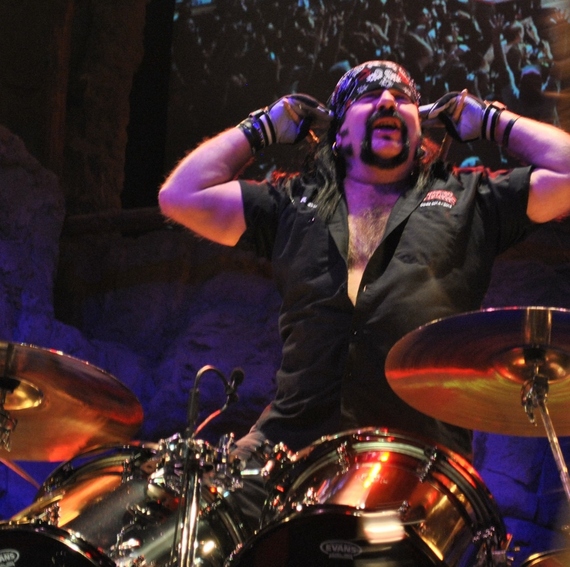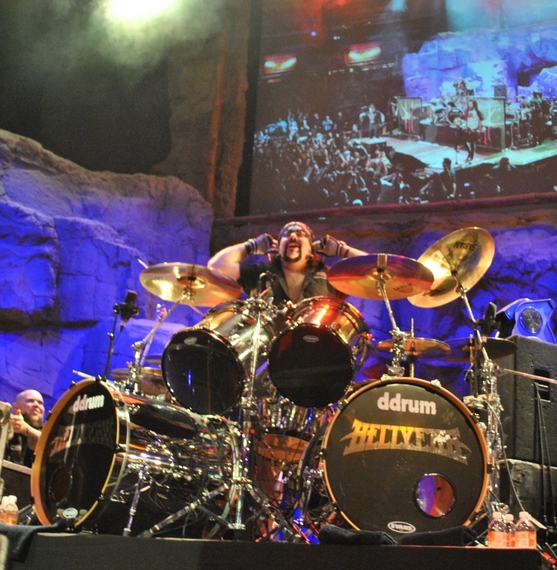 When the band kicked into the opening, ballad-like riffs of "Moth," the crowd settled a bit but that didn't last long.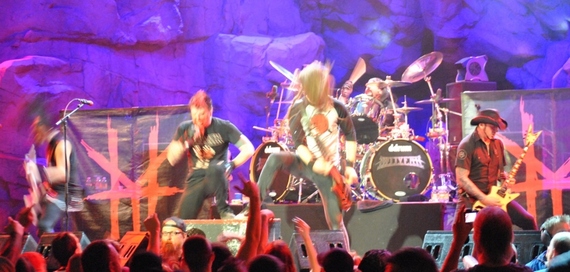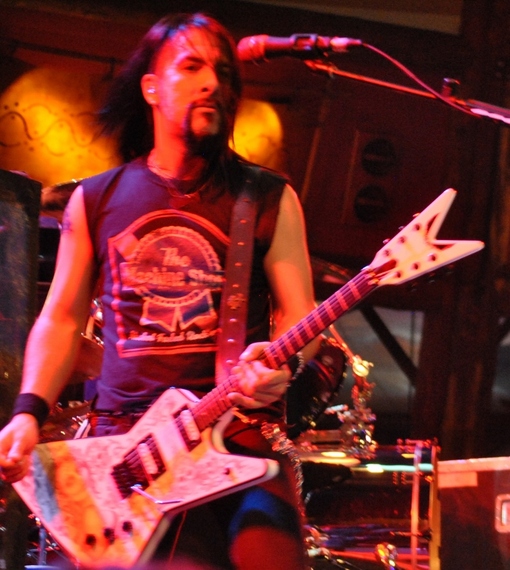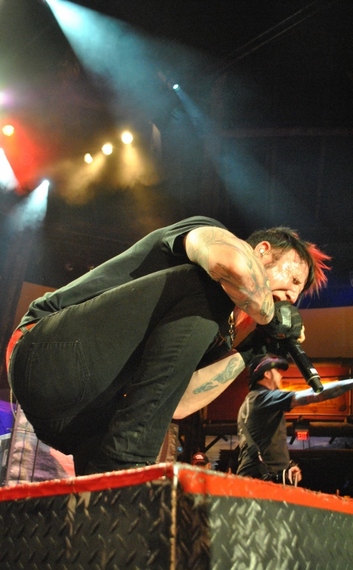 "Band of Brothers" whipped the drinking and gambling headbangers into a frenzy with Vinnie's manic drumming and Chad's insane vocals.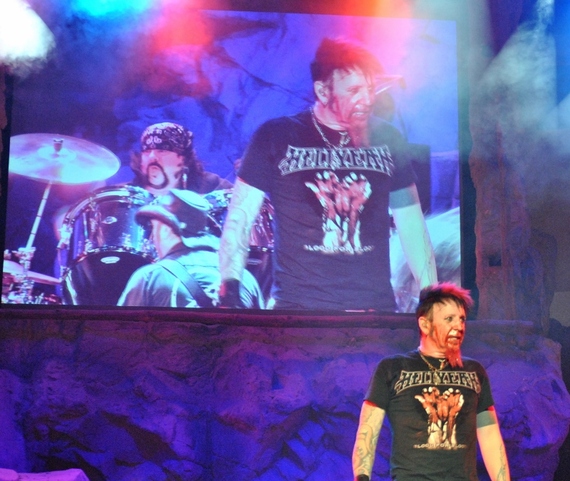 And the dreadlocks of Kyle Sanders were always in motion.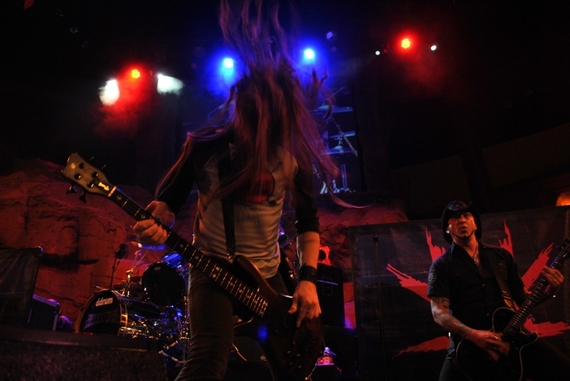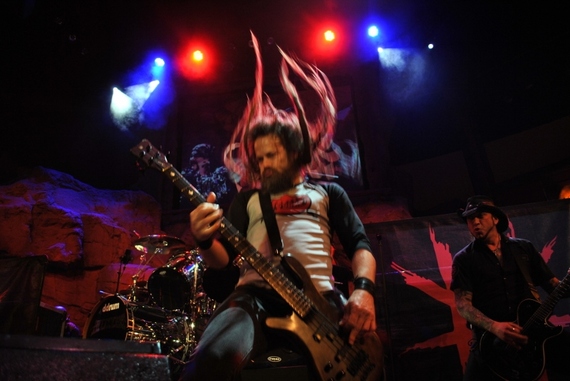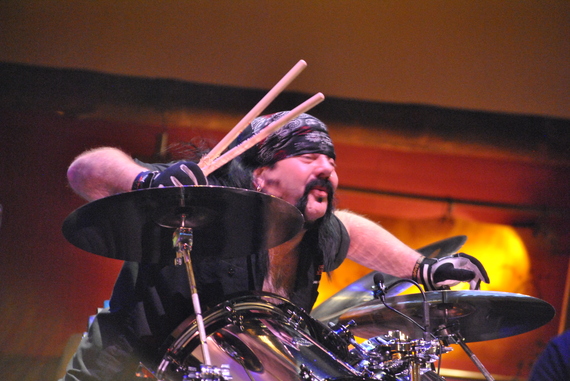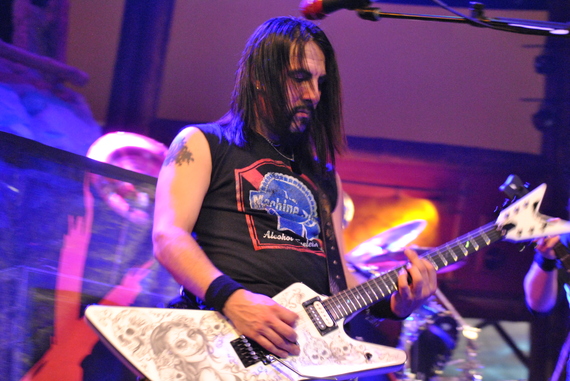 "Drink, Drank, Drunk" took the feisty crowd to new levels of combat.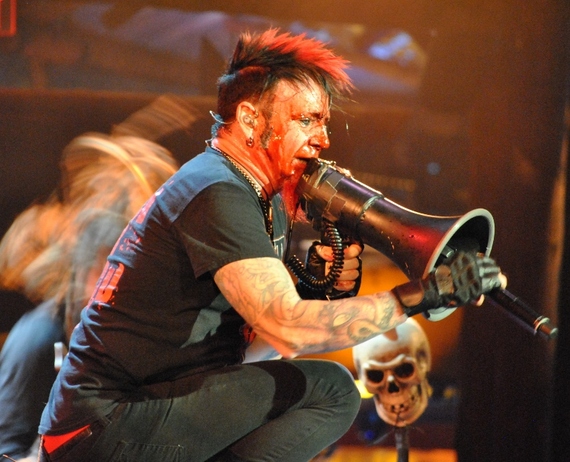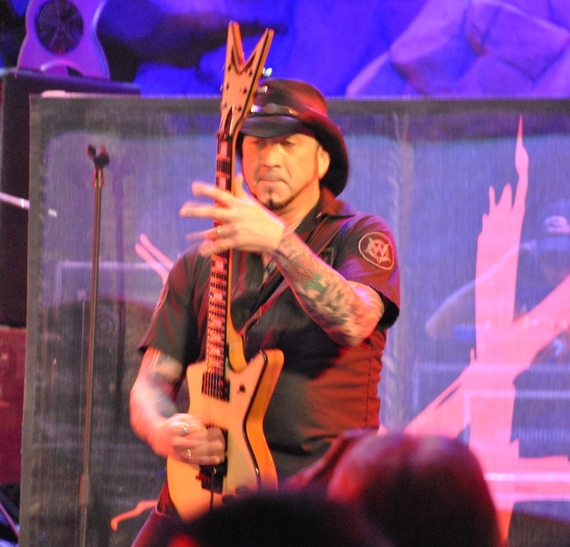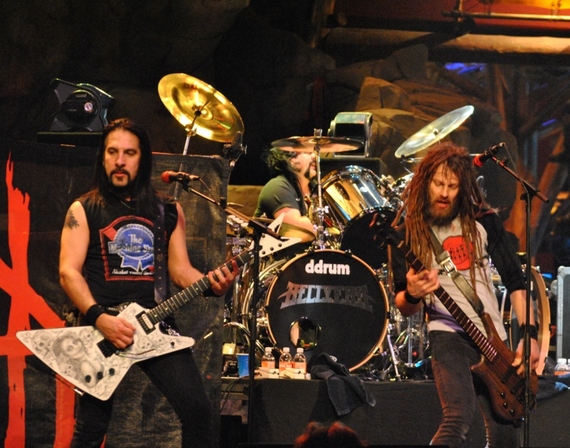 Before leaving the stage prior to an encore, Hellyeah did one of my favorite songs, that Hellyeah purists may not necessarily love. "Alcohaulin' Ass" was done to near perfection. "Pour another drink in my glass ... " condenses the general feeling in the Hellyeah crowd and me that night.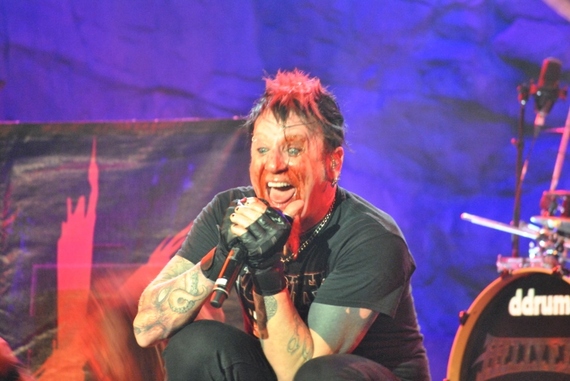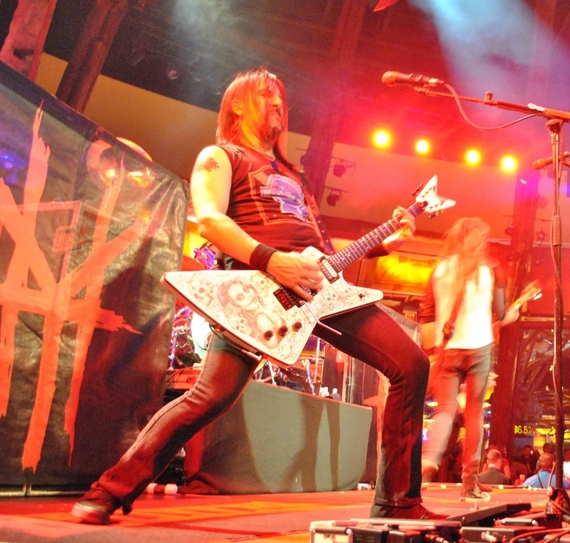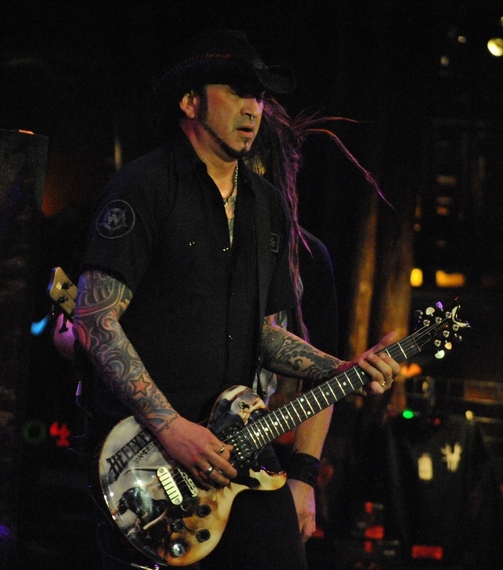 Those are Kyle Sanders' dreadlocks behind Tom Maxwell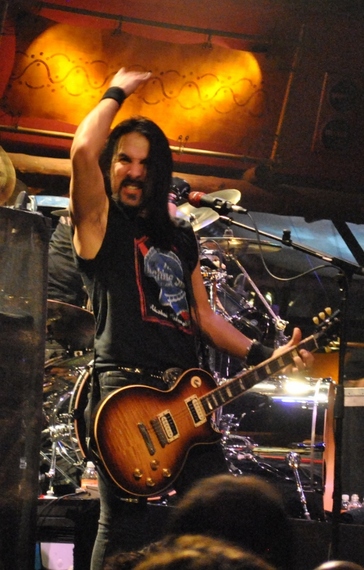 After that killer "Alcohaulin' Ass," Hellyeah took a break before coming back for a two-song encore of "You Wouldn't Know" and "Cowboy Way."
Chad Gray's trademark screams didn't leave the audiences' ears until sometime the next morning.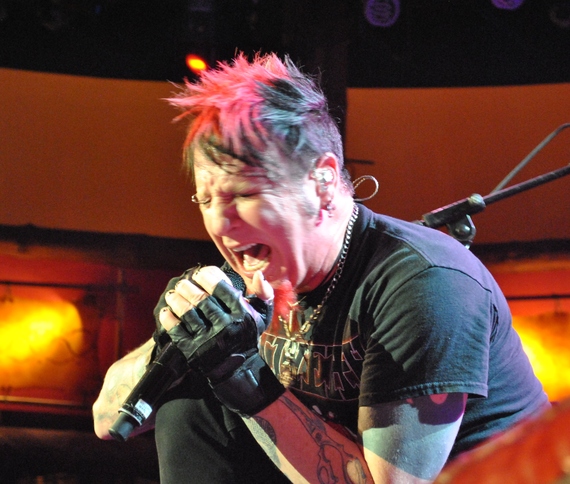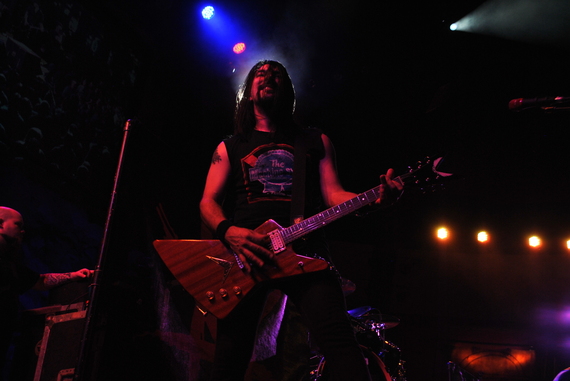 And Vinnie Paul was like a proud parent after going through hell getting their kid to graduation. He must have felt very good indeed.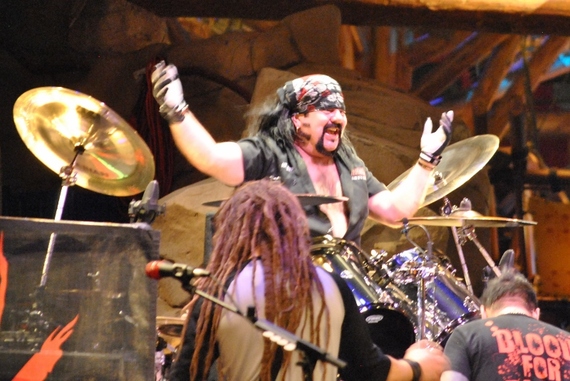 All Photo Credits are Bill Robinson except as otherwise noted