I've always been fascinated by identical twins.
Are they really connected mentally and telepathically? Do they truly feel each other's pain even when far apart? Can they really be each other's best friends in the world, superseding even their spouses, their children?
On the flip side: Don't they get sick of each other? Isn't it one big, excruciating headache having another 'you' around all the time?
Without a brother to play with, I always wished I had one--especially an identical twin brother. Has anybody ever felt the same way?
And what of identical twins in business; as entrepreneurs? Is it possible 'identicals' might have a clear, almost unfair advantage such as a 'two-man day output' instead of the customary one?
Well, a study was done by Case Western Reserve University a number of years ago on the genetics of entrepreneurs on just these questions. The study, which surveyed 609 pairs of self-employed identical twins, concluded "much of entrepreneurial drive is genetic" and went on to say that "this study shows a clear genetic predisposition toward entrepreneurship and makes it now possible proceed with studies to identify the specific genes involved in being an entrepreneur." Neat, huh?
And Entrepreneur magazine did an article on identical twins in business entitled "Double Take" which surfaced similar possibilities. I had no idea there was such an intense interest in twin entrepreneurship.
Lucas & Lee Brown are identical twins. They are also each other's inimitable best friends.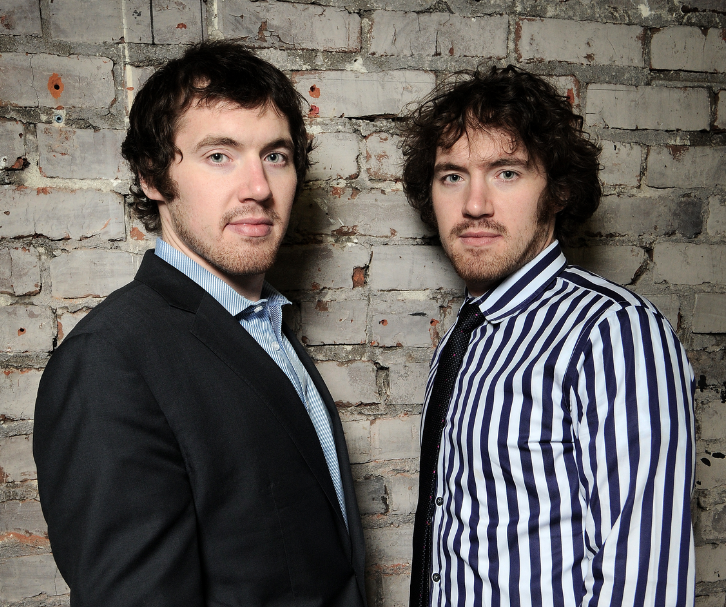 Lucas & Lee Brown
And though they look alike, they have distinctly different and complimenting personalities. While both are charming, there is slight, almost imperceptible difference in the energy they exude. A true dichotomy: the same but different.
Walking into the cavernous Javits Center in NYC several months ago for ad:tech, a huge digital media trade show, I fully expected to see the usual culprits: Google, Yahoo, Microsoft et. al. And, I expected these ginormous, billion-dollar brands to be right up front in the biggest and priciest trade show real estate as I and thousands of others walked into the exhibition floor.
To my utter amazement, the biggest booth in the entire show, placed right front-and-center at the entrance was a company I'd never heard of. In fact, most had never heard of them: HasOffers.
This small but passionate start-up had a booth beyond compare; I liked their scrappiness. Big, sleek, high-tech and well-staffed, their booth easily out-classed the aforementioned big, omnipresent tech brands.
Positioning themselves as an "affiliate tracking software as a service" developed by the brothers to solve the thorny problem of millions of web sites trying to figure out where their customers are coming from, HasOffers seemed to be well-funded and professionally run. They boast clients such as Sears, Adknowledge, Zynga, LivingSocial and Tapjoy.
Almost immediately, I was accosted by Lucas who literally stood in front of me trying to get a look at my name badge (which I had purposely and annoyingly for most booth denizens, turned around). Lucas, I would find out later, is the "outgoing" one; Lee the allegedly "quiet" one.
Lucas talked energetically with a broad smile on his face about HasOffers. Then he told me about "another initiative" he and his twin had going.
Lucas suggested I go around to the other what I would term 'mirror side' of the booth which was dedicated to HasOffers' sister company and potential spin-out, Mobile App Tracking which was staffed by among others, Lucas' 'mirror brother' Lee. There is a certain quiet strength when you speak to Lee; he exudes confidence.
Mobile App Tracking originated when clients such as Yahoo!, Zynga, BigFishGames and some other gaming sites that really needed to track who was downloading their apps. Launched in October of last year, the brothers are very excited about the initial client response to this service.
These two intertwined companies are much like their founders; joined at the hip. It's not surprising that a company within a company developed from brothers who shared the same cell phone in school. "Lucas had it all the time," Lee reflected sadly.
"We're always together on birthdays," said Lucas, "we've never missed one. Three times we went to the twins' convention and found it really interesting to see what other twins are doing with their lives." Lee added, "Lucas and I met some twin girls online in high school and dated them for about 18 months; it worked out great."
Hailing from Elma, Washington their father is a judge and mother is an elementary school teacher. "Our little sister," observed Lucas, "has a very outgoing personality." One doesn't have to wonder why that is with twin older brothers around she undoubtedly had to break through all the 'white noise.'
Attending Babson College, consistently ranked at the top of all entrepreneurship centers of learning in America, the brothers thrived and soaked up all the entrepreneurial spirit they could.
While Lee studied finance and Lucas learned legal studies, Lee always kept a hand in technology, "I'd been developing web sites since 8th grade so I really enjoyed coding and developing web content." 16 years of programming proves Lee's passion for technology; he started when he was 11.
As the twins earned their stripes in business-building, they started an Internet marketing firm called Tatto Media which would have Business Week tout them as 2007 finalists for "Best Young Entrepreneurs." In 2009, Tatto was purported to have more $100 million in revenues.
Though no longer involved in Tatto, that start-up experience emboldened the twins to start HasOffers and provided them with the necessary funding to invest in and bootstrap the enterprise.
Now at age 27, the Brown Brothers run a two-company mini-empire which has 41 employees; is cash-flow positive; and 2010 revenue of $1.4 million. They estimate revenue growth of 100% or more in 2012 and beyond.
To expand the mix a tad, I performed a little research and found the wealthiest and most successful identical twins in business: Britain's Barclay twins (no relation to the venerable UK bank, Barclay's). These two have completed one of the most stunning reversals I've encountered in business. From their bankruptcy in High Court London in 1960 after the failure of their tiny shop in Kensington, the Barclay twins now own the Claridge's, Berkeley and Connaught hotels as well as the famed Ritz Hotel on Piccadilly; bought one of the Channel Islands near Sark and proceeded to build a ₤60 million castle home; and have been regularly featured in the UK's "Sunday Times Rich List" with a collective net worth of ₤1.8 billion. Not too shabby.
The downside to having another one of you? As one 'identi twin' writing an article entitled, "Double Trouble: Twin Entrepreneurs Build a Business" states, having a "walking and talking mirror" around all the time might get tiresome especially when that mirror-image was always exhibiting and throwing your worst traits right back in your face. But this twin too is very happy overall to have his "mirror."
As I wrap up the conversation, Lee talks more about the twins' white Siberian Huskie puppies, Byte and Tera. It's obvious by the way they talk about them that they're crazy about these dogs born at the same time, from the same litter. It's as if they are the canine counterparts of Lee & Lucas.
The longest time these two have been apart was for three weeks when Lucas was in LA and Lee in Seattle. It's not that the twins need to be together so much as they want to be, "we're just so interested in doing the same things together," Lucas pointed out emphatically.
Lee said positively, "We're always going to be working together," while Lucas chimed in right on his heels, "I can't ever see us working apart for other people."