A new Bill Robinson column on Entrepreneurs who may not fit into the "TechScape" column because they are low-tech or no-tech, straight ahead businesses
I don't know about you, but the idea of attending a fashion show much less Fashion Week in NYC, makes me start to look for a rafter from which I can hang myself. This would be my worst case scenario: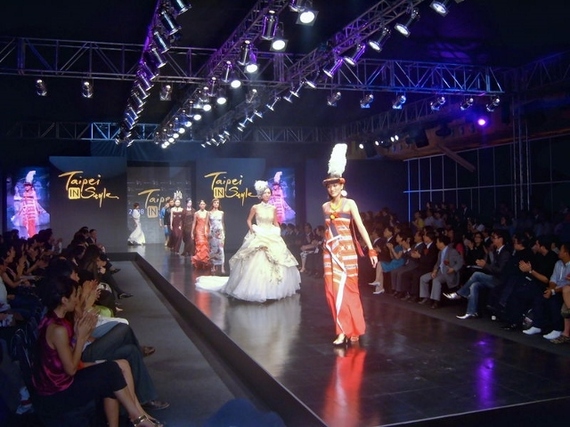 In this, my own personal nightmare, I'm literally forced to go to one of these fashion thingys by my girlfriend after first trying like the devil to get out of it. "I have to have my gall bladder removed on that day," I weakly offer up; to which she responds, "OK then, we'll have you wheeled in to the show on a gurney." There's no getting out of these 'chick events' sometimes.
But were she to invite me to something like this ...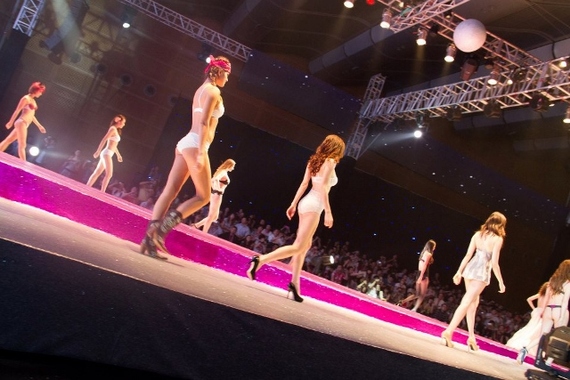 and I were to see this ...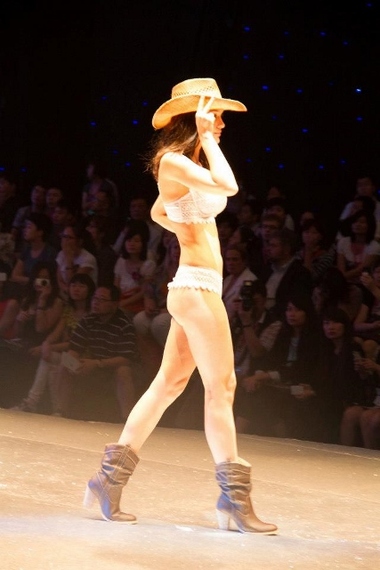 or anything even approaching this ...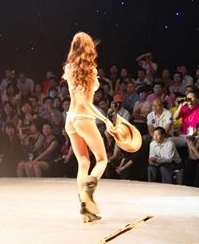 ... well then, like most guys, I think I'd be most agreeable to attend.
Kate Liegey is the founder of Vintage Heartland, a country-oriented lingerie company built by Liegey to be green, sustainable and worker-friendly.
And, of course being lingerie, inherently ... sexy.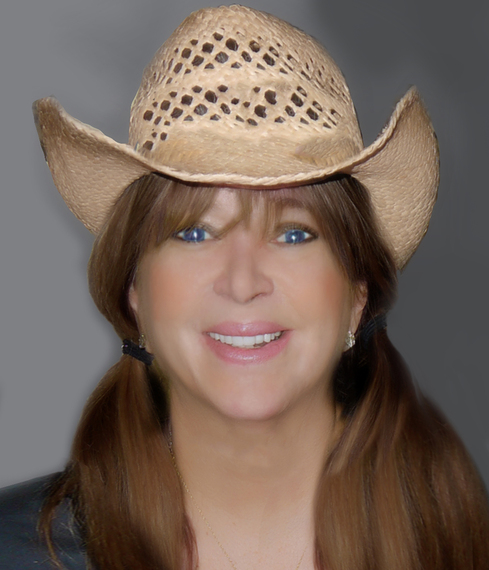 Kate Liegey. She's a little bit Country ...
Liegey (lee-A-jay) is a real Yin-Yang type of person who is just at home eating escargot at Per Se as she is riding her horse in Nashville. (Well, she's infinitely more at home in Nashville, but you get my point.) It's this country side, balanced with a city sophistication, that gives the company she created such verve. Even the company name belies her split personality: "Vintage" for old-time, traditional and in some instances, metropolitan; and "Heartland" to signify Country values, work-ethic and a fun, wholesome 'outdoors-iness.' These photos of Vintage Heartland lingerie are indicative of the style Liegey is trying to achieve: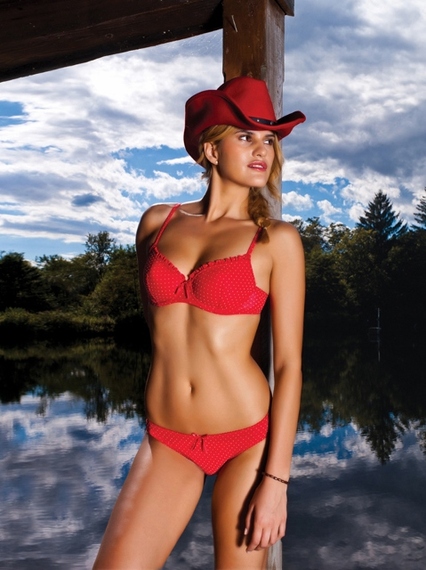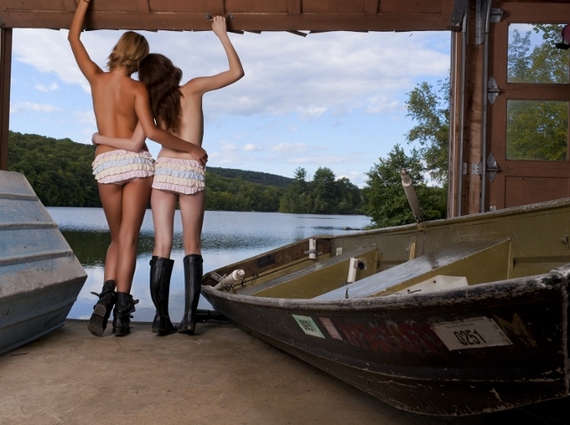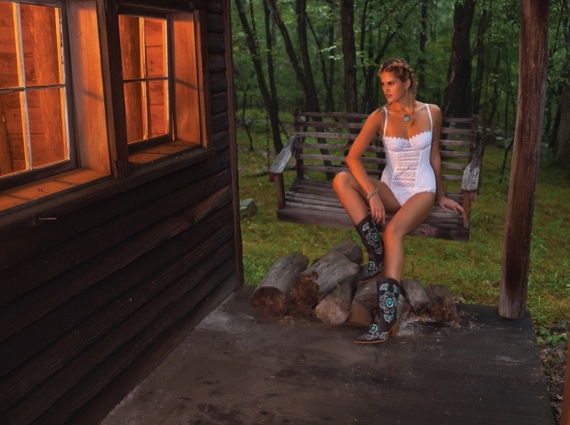 Photo Credit (photos above): Sean Micah Siegal
Why did she start this business? The high-level answer is, as she told me, "I had just gotten fired, spent a year in China and wanted to build a company that was socially-conscious."
"I took my two loves, Country music and Lingerie and fused them into creating a lifestyle brand called Vintage Heartland, a global e-commerce site for lingerie and sleepwear. I make quality lingerie, that not only fits well but is also priced under $40 department store prices. Not to mention, it's really comfortable and beautiful."
"Redefining lingerie, by evoking a wholesome, fresh playfulness ..." ("Love The Way You Miss Me" by Casey James used with permission)
But there was so much more: "I wanted to create an American brand of lingerie and sleepwear then t-shirts and more, that would educate consumers to know where their products are made. If you ask 100 people where their underwear is made (Liegey meant here, both where in terms of geography but also in terms of working conditions), I guarantee you nobody will know. I want the consumer to know that we are truly 'socially-conscious' ... we don't use child labor and our working conditions will be immaculate." Liegey is even trying to put a video camera inside her Vintage Heartland factories, so consumers can go on the web and see the working conditions for themselves.
I can try to boil-down down Kate Liegey's myriad reasons for starting her new lingerie company thusly:
1. She has a vast (sometimes turbulent) sea of background, experience and wisdom in the fashion/lingerie industry over 20 years;
2. While she has been a designer and enjoys it tremendously, she has also learned along the way how the manufacturing, production (particularly in China), supply-chain, sales/merchandising and ultimately, distribution works for fashion products;
3. Because of certain first-hand experiences and an issue of principle for Liegey, she is fiercely against the usual and frequently omnipresent production tactics using child labor and atrocious working conditions to manufacture clothing with the fattest profit margins. This mission by this woman is a central reason she's building Vintage Heartland in the way she is: green, sustainable and concerned with the workers;
4. Liegey is interested not so much in how she can manufacture her product but how she can create a system for others to manufacture, first clothing, then manufacture anything and have it be done in a green, socially-conscious and sustainable manner. But that's part of another business she's cultivating and perhaps the subject of another column because it is big;
5. Everything Country has started to really take off in our society, culture and country, as well as other countries too. Take the music teenagers are listening to these days. It was up until recently all about Rap and Hip-Hop, gang gesticulations, 'putting a cap in your ass,' booming car stereos deafening even passersby and in general, as I would qualify it: degenerate cultural idiocy. But over the last few years, there's been a stunning (and for the Rap music sector, alarming) transition of our childrens' listening and cultural attachment to music ... it's all gone Country. With the timely emergence of youthful Country artist, Taylor Swift, a kind of more positive transition was stimulated; all of a sudden kids stopped listening to 50-Cent, Li'l Wayne and other highly-destructive rappers with horrible messages. They quickly began listening to Swift, Blake Shelton, Garth Brooks, Brad Paisley, Miranda Lambert, Gretchen Wilson and even in a cultural rebirth or renaissance, Willie Nelson, Dolly Parton and the 'old school' Country artists that have been around for many decades. This is a very good thing in my estimation. Liegey sees this, I think, as an opportunity of timing and influence which she wants to attach her little, red wagon to and ride to success. Because nobody else has connected Country to lingerie yet.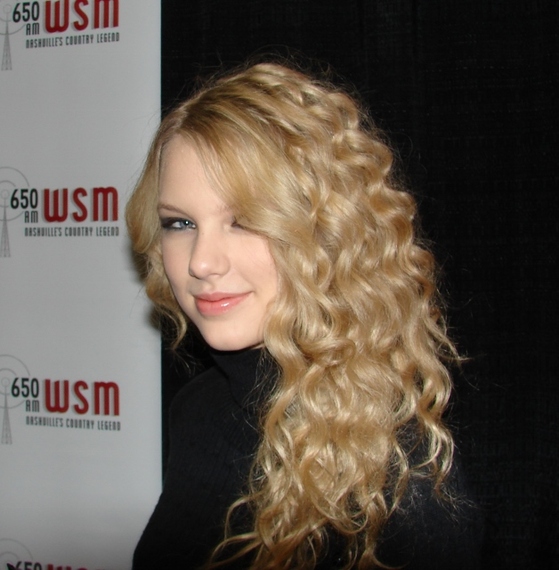 A photo I took of Taylor Swift in Nashville when she was 16 and just fixin' to break on the world and help start a Country phenomenon. Doesn't she look determined?
So this cultural-marketing strategy of Liegey's to literally capitalize on the strong popularity of all things Country, seems apropos and dead-on. "I'm going for Middle America," Liegey said forcefully.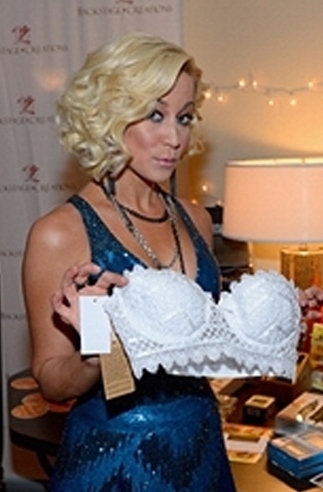 Country Music star Kelly Pickler holding a Liegey bra
Photo Credit: Bryan Steffy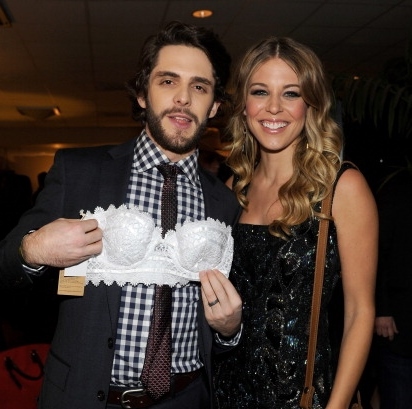 Nashville recording artist Thomas Rhett and his wife, Lauren Akins
Photo Credit: David Becker
"When I was 10," Liegey recalled emotionally, "my father who worked for Singer, got me a sewing machine. It was an old one but it was the best one they ever made. However, I quickly wanted a new one and so my Dad said to me, 'If you learn how to take it apart and put it together again, I'll get you an upgrade by the end of the month.' He shouldn't have challenged me like that," Liegey laughed, "because don't you know I knew that machine inside out within days." This vignette informs us not only about Liegey's determination but why and how she got fascinated by clothes and their making.
From the outset, the Garment Center in New York and its manufacturing centers in China have a pivotal role in both Liegey's background and the evolution of Vintage Heartland lingerie.
After a two-year stint at Macy's to get a sense of the big retail business, Kate Liegey started out working and then designing in NYC's infamous Garment District. I say infamous because while it's ground-zero for most things in the US fashion industry; I'm also aware that it possesses a long, time-honored reputation for stealing and knocking off designs; using child labor for fun and profit; creating and supporting the worst working conditions and worker treatment in all the third-world countries they've been exploiting to make their product; using the most toxic manufacturing processes; and finally, treating women in their business with nothing but contempt, except when they're trying to maneuver them into the sack.
These are all things that most people know and things she specifically built Vintage Heartland to avoid and eventually, she hopes, will eradicate. Liegey said, "I'm an eternal optimist and I'm creating a fashion company that's very different."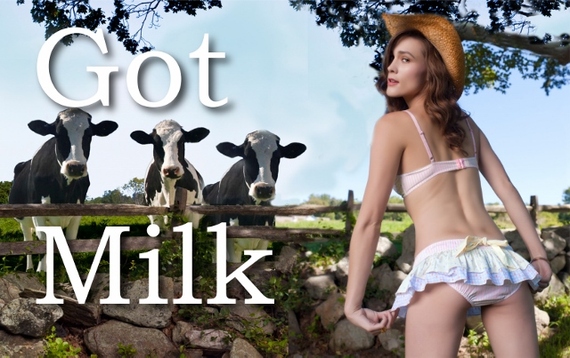 Photo Credit: Sean Micah Siegal
Liegey's trial by fire began there on 37th street and Seventh avenue in Manhattan and it took her from there to designing and managing lingerie divisions for Tommy Hilfiger, Ralph Lauren, Avon and the elite fashion industry brands interested in developing or expanding a line of lingerie in order to compete with a fast-rising and then dominant Victoria's Secret.
A chance meeting on a NYC street with Joe Nakash, founder of Jordache enterprises, led Liegey to begin working for Nakash and by the end of the next five years, the intrepid Liegey was managing six divisions for Nakash. It is impossible (for any of us old enough) to forget the way in which Jordache jeans completely took over (albeit it temporarily) the US blue jeans market in the late 70's and early 80's. Levis, Wrangler and Lee didn't know what hit them.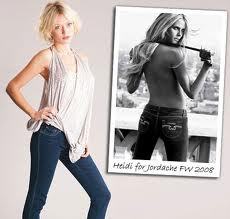 "To this day," Liegey said, "I love Joe Nakash, he was such a nice man to work for."
During this period at Nakash's Jordache, Liegey's own special brand of Type A, Alpha-female style led her to refuse to take 'no' for an answer and accomplish some amazing things.
One example of Liegey's fine marketing mind is FUBU. "In 2004," Liegey said, "the 'Rapper fashion brands' were dead." FUBU founder Daymond John (now a 'shark' on ABC's "Shark Tank") was a partner of Joe Nakash's. Liegey continued, "One of my favorite accounts was Family Dollar (NYSE: FDO, $10.4 billion in 2013 revenue); I really loved them. So I went to Joe and said 'How about we take FUBU to Family Dollar?'" Within hours, Liegey was on a plane to the North Carolina headquarters of Family Dollar. One of Liegey's true strengths is presentations; pitches to executive decision-makers. "I flew down six big-booty, black ladies with gold lame tops and hot pants and produced a big, boom-box, booty-shaking, dance presentation for 300 Family Dollar executives. Afterwards, I was afraid I had offended them with this event. But I got on the plane with a $60 million first order." Soooo-wheeee.
Liegey has consistently cobbled together the most amazing celebrity fashion lines and this key marketing activity has helped produce billions of dollars in revenue for her employers and lingerie/celebrity partners. Nelly and his line of "Apple Bottoms" jeans would be the next Liegey-guided success followed by her initiative with Tyra Banks.
"While working with Nelly," Liegey told me, "I said, 'We need an African-American woman to represent the lines of clothing.' I locked on to Tyra Banks and set out to get in front of her. I knew Benny Medina managed Tyra (he also managed Mariah Carey and Jennifer Lopez; and interestingly, Medina was the real-life model for the show "Fresh Prince of Bel-Air") and hopped on a plane to LA. I had no appointment or anything but I was committed to getting in to see him. As soon as I walked in his office door, I got the usual 'do you have an appointment?/he won't see you' routine. My response was my routine, 'That's ok, I'll wait here until he has some time for me.'"
Now I've used this strategy many times before myself, and there's always a very uncomfortable receptionist, whispering all kinds of alarm throughout the organization but it has to be done. "I waited all day long and Benny, whom I love, finally came out and talked with me. He listened and tried to get rid of me. I said, "No, you don't understand. I need to show you my story boards." Medina let Liegey into his office (big mistake) and after seeing her boards, said to her, "Tell you what, come back tomorrow morning at 11am. I'll see you tomorrow."
The next morning's meeting included Tyra Banks. Liegey said, "Tyra and I got along beautifully from the get-go. She told me something that I already understood quite well, Tyra said 'I can't get anything to fit me--an African-American woman--in Victoria's Secret.'"
With regard to China's importance in Liegey's background and Vintage Heartland's development, the 'Asian Tiger' was crucial. While in China on one of her regular trips to the clothing factories there, Liegey met someone special. Albert Lee became a good friend and huge supporter of Liegey and her Country-flavored lingerie line. "Albert and I have been friends for over 10 years," Liegey said, "and he's always been a tremendous source of support and ideas. He kept me going when I didn't know if I could."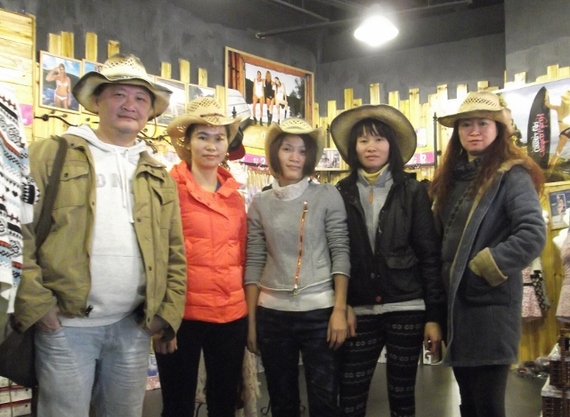 Albert Lee and his "Cowgirls"
Albert Lee sent me an email with some quotes about Kate Liegey and Vintage Heartland. Here are some highlights:
"How I start Vintage Heartland concept Kate do. When I was 14 years old just move to Miami from Hong Kong, I was just so intriguing with Country Music. The first TV show I watch in USA was call Hee Haw, it was so funny and the music was so great. I had been following the Country Music since that time. I wear country hats and clothes. From all the Kenny Rogers, Dolly Parton, John Denver to Carrie Underwood and Luke Byran now. I love the Cowboy images, it is so cool like Clint Eastwood with that big Gun Smoke."
"A few years ago, I had an opportunity to work with Kate to develop Jessica Simpson Lingerie line. That's how we start Vintage Heartland concept--we had good time doing so I want to work with her again. We participate the Shenzhen International Lingerie Show to a rousing success. I said to Kate, why don't we open an Western Theme Store in China. Western is just limited to Levi or Wrangle Jeans to the Chinese. We can sell the western and USA freedom culture through our garments. 2013, a year later, we open our first store and our customers love our concept. Our goal is to design and produce USA made products to this huge markets. We are not only selling a piece of garment, we are selling America culture and value. That's the path for our success."
In May 2012, when Liegey was in China, the Chinese media and people went wild for Country. Apparently (who knew?), the entire country of consumers has been waiting for an American cultural phenomenon, ironically like America waited for The Beatles and the 'British Invasion' so long ago. "The Chinese people went crazy over our lingerie. Over 500 Chinese websites and national TV featured us," Liegey recalled. In this video, it becomes clear exactly how excitedly Liegey and her lingerie line was received.
And, this massive, increasingly-affluent market wants to buy American-made goods. Liegey's ready to comply.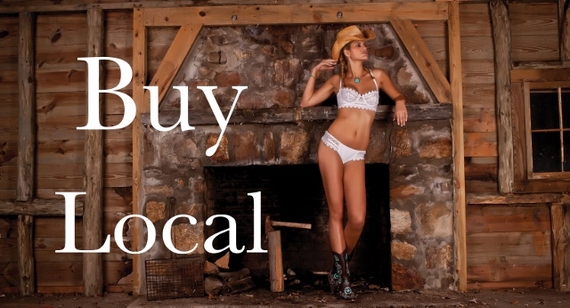 Photo Credit: Sean Micah Siegal
The "Green" aspect of Liegey's entrepreneurial vision for Vintage Heartland comes from her 'country-girl' orientation and her long time interest in farmers and farming of all kinds. "My mission is to help sustainable farming," she told me firmly, "Remember: No Farms--No Food. Our goal is to provide jobs in the USA, and use as many sustainable products as possible. I support the American Farmland Trust and the reason I do is that we're losing one acre of American farmland every minute. I want my business to do what it can to stop this."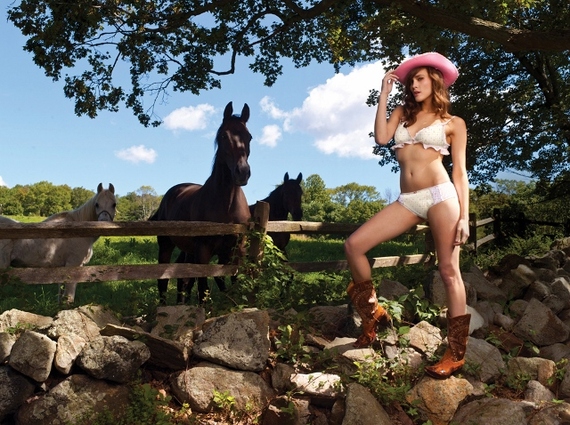 Gerry Means is an experienced Finance industry pro with deep experience in investment banking and advisory services. In May of last year, she happened to be visiting NYC from her Texas ranch home for a graduation. "Instead of getting a hotel room," Means said chirpily, "my family and I decided to rent an apartment for our stay." That turned out to be Liegey's luck, as the apartment Means and her family rented was fortuitously located in Liegey's building.
"We were riding the elevator one day," Means continued, "and there was a woman in the back corner of the elevator. At some point during our conversation, she chimed in and a conversation evolved.
"It was kind of 'divine intervention'," Means recalled, "so you just go with it."
Still in the elevator (a true 'elevator pitch') and mentioning her business in a passing way, Liegey started a snowball. "What kind of company are you starting?" Means inquired further. Liegey responded, "A cross between my two loves: lingerie and Country Music." Liegey didn't know it at the time but Means and her husband had recently started investing their personal money in interesting start-ups.
Means is now a 10% shareholder of Vintage Heartland.
"Kate is an idea-a-minute person," Means told me, "she shes trends. Investing is all about the people involved in the investment and we have great faith in Kate," she concluded.
The Vintage Heartland website launched on January 18th and Kate Liegey is ecstatic. "I plan on expanding Vintage Heartland into a full-blown line from lingerie and sleepwear into t-shirts, cowboy boots and apparel of all kinds. It's going to be a brand with a heart and also made in America," she told me excitedly.
But Liegey is also looking for the next big thing. "I lost myself over the years in the garment center and didn't like the person I had become--so I went back to my fundamental roots and started a company that has a heart, lends a helping hand, is driven by passion and my dream to build 'Sprout Pop-Up Factory' and put Americans back to work smarter. I believe: God always offers you a second chance ... and it's called tomorrow."
It hasn't been easy. But with supporters and friends like Gerry Means and Albert Lee, I wouldn't bet against her. Lee said to her upon the launch of her website, "Miss Kate, you fell so many times I didn't know if I could pick you up again. But I did and I'm proud of you."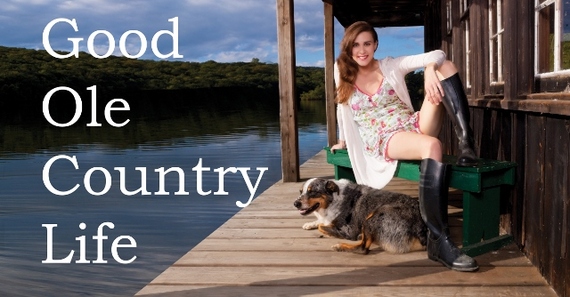 Photo Credit: Sean Micah Siegal