Alex Romanov arrived in Toronto, Canada when he was eight years old wearing Lederhosen, a white shirt and yellow suspenders. Coming in from from Bremen, Germany and descended from a combination of Russian, Italian, French and Croatian backgrounds, Romanov stuck out like a sore thumb.
But look at the successful Canadian entrepreneur now (note the absence of Lederhosen):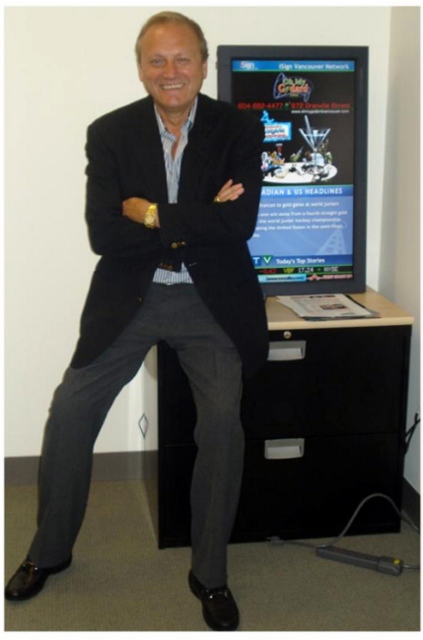 Going from that culturally-contradicting arrival to founding and building a wireless, Bluetooth, Canadian ad tech software company, iSign was quite a journey for Romanov.
In between, Romanov was very busy. He studied engineering, "real Barney Rubble stuff," he says; worked at ASEA more than two years and then Motorola for six years; jumped over to Motorola client Alps, building that company into a major North American electronics brand; and finally, founded iSign.
Romanov studied business at Seneca College of Applied Arts and Technology and engineering at George Brown College, both in Toronto.
While working in an early job at the Swedish engineering giant ASEA (now ABB), Romanov recounted, "My colleague Mike told me that that I had 'to learn how to speak to people,' so I wanted to step away from the drafting table and learn how to sell."
Taking a job which would certainly get him talking to people, Romanov then became the public relations director at Easter Seals which meant Romanov traveled around to hundreds of Rotary Clubs in Ontario giving talks to learn how to talk to the aforementioned "people." As Romanov told me this was a transformational and necessary experience for him.
With that great gregarious experience under his wing, Romanov headed to Motorola where one of his accounts was a Japanese company called Alps about whom he says, "the Japanese loved cassettes at that time."
Romanov then invested the first $50,000 in Alps in 1979 and ended up as a shareholder and founding CEO in Canada/North America. This superb opportunity ended well for Romanov, as it took him down a 20-year run while building the unknown Alps into Alpine Electronics which any baby boomer will know as the market-dominant car stereo of the 1980s. Who of us hasn't slid a cassette tape into an Alpine car stereo?
One central way Romanov built Alpine into a juggernaut was by getting the big car companies to install his stereos into their cars. Romanov's first big contract was Honda, followed rapidly by Mercedes, Chrysler and Lamborghini. Not too long thereafter, Alpine was selling $30 million per annum which later peaked at $50 million.
The Lamborghini 'get' for Alpine was most instructive. "The Lambo car and trademark," Romanov recalled, "was at that time negotiated in exchange for about 250 Alpine radios to be installed into the 250 Lamborghini Countach models that were built annually. This was a very exclusive car in the mid seventies to the beginning of the nineties." Getting their radios in this particular car at this particular time was superb brand marketing timing.
And, in a true business case study, Romanov didn't forget to have some fun himself. "The 1986 Lambo model was the Quattrovalvo and I ordered it from the factory where I observed it built and tested and had it delivered to Montreal for pickup and a great road trip to Toronto," Romanov said with glee. "We gave away the '82 and '86 models to winners in a contest which yielded about 160k to 200k ballots with about 30 marketing questions and a winner was drawn. The winner of the car was a young Canadian soldier who faced a $12,000 insurance policy and so I bought the car back from him again." Not too shabby; a Lambo road trip and key marketing data for your business to boot.
Starting iSign in Vancouver in 2007, Romanov is now based near Toronto and the company has 11 employees. iSign is a SaaS (software as a service) digital signage software application which senses customers' (or prospects') smart-phones via Bluetooth and sends a merchandising offer, promotional offer or immediate discount to shoppers as they have their phones in their hands and wallets open.
Digital signage typically involves placing TV-like LED monitors or kiosks (View image) at strategic locations around a retail store. The cash register, heavily-trafficked entrances, elevators and the coffee station in a convenience store (where for instance breath mints or gum can be offered to counteract 'coffee breath') are all key locations where iSign can increase sales dramatically.
To ad industry and digital media professionals, this is known as DOOH or Digital Out Of Home advertising.
A key problem with digital signage in retail locations is that these monitors are generally silent and are only effective when a consumer's eyeballs are locked on to it. It doesn't 'reach out' in any direct way.
So Romanov tried to rectify that situation through his iSign technology. iSign sends out a personalized message to shoppers phones inside or nearby a store. Called "location-based content delivery" this process is sometimes referred to simply as "selling."
Proximity-based, anonymous, private and offering the recipient the right to opt-out; iSign can locate and send discount or promotional messages to shoppers from as far as 300 feet. Their range is adjustable down to three feet and this is important in order not to splatter an ad message outside of its intended audience (such as the coffee/breath mint scenario above).
The iSign system provides a few key benefits to their retail customers who were stuck using only the visual form of digital signage:
--Fundamentally, iSign helps the retailers/merchandisers 'capture the audience,' according to Romanov. The digital signage alone is not enough to grab the attention of passing, distracted shoppers. It is clear to me that the Bluetooth/mobile phone connection iSign provides is a good extension because a Morgan Stanley study revealed that 91% of Americans have their mobile phones within their reach 24 hours a day, seven days a week. This meant to Romanov that our phones are a great way to engage us.
--iSign offers a opportunity for the retailers to get important real-time consumer marketing data on customer uptake of special offers, discounts and timely offers constructed around their immediate purchasing interests or previous buying habits. Adjusting these offers on the fly as the consumer takes them up or refuses them is the key to promotional marketing success.
--"We respect your privacy," Romanov said. iSign gives an opt-in choice to the shopper and if they say 'yes,' that's the first measurement which goes back to the retailer. Then if the recipient of the iSign offer downloads and uses the coupon, that proves redemption for the retailer.

A new iSign Smart Antennae (View image) has further productized the company's service. This video shows the broad capabilities of the iSign system.
After completing an installation in Singapore of 160 Interactive Marketing Solution (IMS) units in January of this year, Romanov tells me the interesting story behind the deal.
The original opportunity apparently began in 2007, "we had just filed our patent and partnered with IBM," Romanov described, "when we received a call from an ad agency in Singapore who had Best Denki as a client." Best Denki was a major Japanese department store with nine giant stores in Singapore whom this agency represented.
"What a fantastic break for us," Romanov recollected, "and when I asked how we were discovered being so new the answer was 'my wife is your patent attorney in Vancouver.'"
"This relationship resulted in installation of 160 of our IMS units in all 9 stores which interacted with over 500,000 mobile devices per month and maintained a steady download rate of 23%. This increased store sales 6% and both loyalty and extended warranty sales increased by 20%. It was a great source of metrics and testing to fine tune our performance and in January, 2009 at the DSE (Digital Signage Expo) our technology won 'Best Bluetooth Solution' for mobile." (View image)
After partnering for a year with Pinpoint Media who pays software fees to use iSign's software in their 5,600 digital signs in 1,400 locations across Canada, Romanov ended up buying Pinpoint Media in October, 2011 for 7.5 million iSign shares.
Romanov and iSign have also recently inked a deal with one of the largest convenience store chains in the world, Couche-Tard (CT). CT has more than 8,000 stores not including more than 4,400 Circle K stores the parent company owns.
A strategic relationship with Intel is also a solid sign of things to come for iSign. All of this activity has brought iSign to the attention of analyst and investors.
iSign is currently connecting with more than 900,000 mobile phones and moving toward 1.5 million phones per day, Romanov said.
"This is a first for the digital signage networks of the world," according to Romanov, "and first ever real-time metrics for the retail, advertising industry and all enterprises wanting and needing guaranteed and measurable exposure to existing and new customers. Enterprises gather anonymous mobile device data and measuring response and redemption to increase ROI and build loyalty membership."
Moving from the retailers and advertisers concerns to the consumers--the most imperative part of the food chain, Romanov observed, "Crucially, shoppers benefit with convenience and savings."
What lies in store for iSign and Romanov? Well given what they've accomplished with 11 employees, I would say quite a lot of good things. "Is iSign an acquisition target?" I ask Romanov. He doesn't miss a beat, "I would like for Apple or Google to acquire us," he concluded optimistically.
I wouldn't bet against Romanov.