Every once in a while, best buddies decide to start a business together. Sometimes, this can spell disaster for their friendship.
But ever so infrequently, their friendship can overcome all the trials and tribulations of working so closely together and pave the way to success. And the simple concept of building a business that makes friends, simply because you are friends with your co-founder seems perfectly geared for commercial success.
This is the story of such a friendship and such a business.
As far as business pedigrees go, Philipp Triebel and Beri Meric have rock-solid, top-notch credentials. Goldman Sachs, Morgan Stanley, Cambridge University, Brown University, London School of Economics and the business-academic, 'granddaddy' of them all, Harvard Business School (HBS) amongst them both.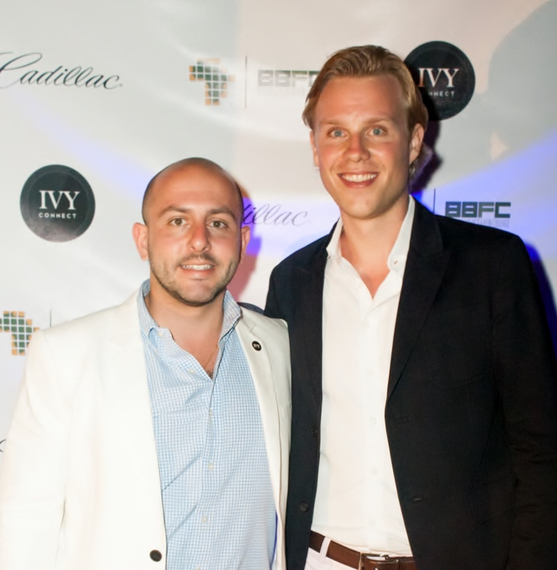 Meric, left and Triebel ... best friends, working together
When you chat with them however, there's none of the 'poshness' associated with the 'old school tie' paths they have traveled--they're approachable, down-to-earth, young, excitable entrepreneurs having fun and building an online community.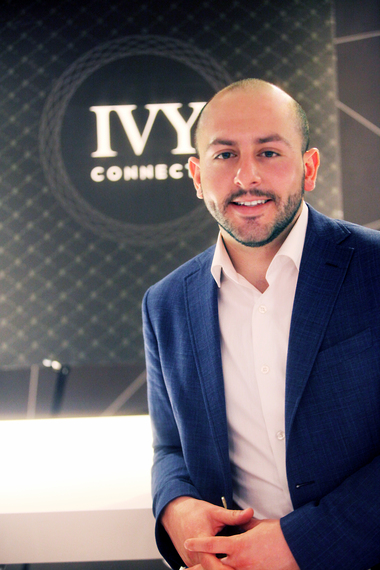 Beri Meric, 29, is Turkish, originating from Istanbul. His family moved from their Turkish homeland to Glasgow, Scotland when Meric was 11. "Moving away at such a young age," Meric said, "definitely made me who I am. I spoke not a word of English and missed home at first, of course. But I decided I'd better get on with it and in two months had a good understanding of the new language."
After seven years in his adopted Scotland, Meric left for an Ivy League education in Providence, Rhode Island and Brown University. "What I liked so much about Brown, as opposed to all the other Ivy League schools was that it wasn't so business-centric. All the others have this concentration on business and I wanted something different. I was strongly attracted to this great liberal arts education at Brown and all the great things to study like philosophy, literature, art and so on. I loved Brown; majoring Economics and International Relations." It would be the international relations part which would lead Meric to his current role in his new company. From Brown>Morgan Stanley>HBS was Meric's itinerary.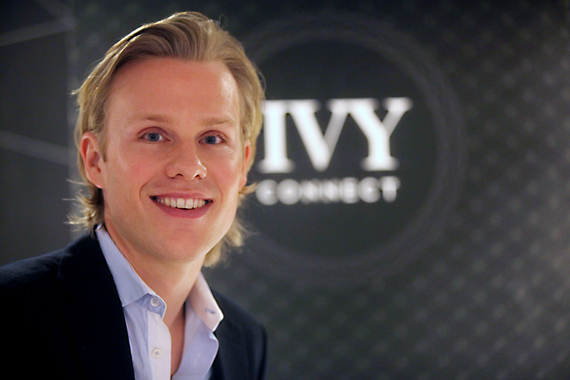 Philipp Triebel, 32 is German from Dusseldorf. Triebel grew up with a twin brother, Toby and says, "I don't know what life is like without having a twin, of course we're very close." When the twins were 16, they went to a boarding school in Canterbury, England. "We originally went for only a year to learn English; then I really liked the experience, stayed on to finish school there; do my 'A levels' and eventually went on to the London School of Economics (LSE)."
Post LSE, Triebel told me, "After getting my bachelor's degree in economics, I enjoyed it so much, I decided to get a master's degree in economics at Cambridge University--that was very quantitative, very analytical and taught me how to think." Tiebel's itinerary was similar to Meric's: LSE>Cambridge University>Goldman Sachs>HBS.
The business these two bon vivants started together is IvyConnect, an online and real-world social network revolving around their top-notch events involving the arts, music, culture, business, investment, entrepreneurship and intelligence.
Meeting at a HBS orientation party in London, Meric and Triebel found they shared much in common. "It was an informal dinner in Chelsea (London)," Meric recalled fondly, "Everybody was incredibly excited; pausing their career, their work and going back to school at HBS. This evening was a huge inspiration to us to start IvyConnect. When you meet people in business, it's hard to keep in touch. Bringing culturally-diverse and intellectually-stimulating people together and having them become close friends is what we do."
"Beri and I both lived in London in 2008," Triebel remembered, "and after the HBS dinner, five or six of us went back to my flat with two other roommates and Beri and I got to know each other much better. I knew immediately that Beri was somebody I could trust 100% and got to know him well enough that I could see we complimented each other perfectly; which is great because you know there's always somebody there who's got your back and you trust their opinion. That's so important."
Triebel was working in the "Special Situations Group" of Goldman Sachs in London. "This group invested Goldman Sachs own money," Triebel told me, making him what I viewed as an important part of Goldman. Similarly, Meric worked very long hours at Morgan Stanley in London, as an analyst. "I was working on the privatization of industry in Turkey," Meric recalled, "which for me was very special, because I grew up in a family of entrepreneurs in Turkey."
Philipp Triebel told me, "The undergraduate experience for me was the underlying psychology--this was the last time people were in an open-minded, intellectually-curious place, was after college. In a big city like New York, to have such amazing people in such a tiny area--it can still be taught to find like-minded people. That's what we wanted to recreate with IvyConnect."
At HBS, our two entrepreneurs-in-training encountered much commercial/
intellectual stimulation. Like a course entitled, "Monetizing a Social Network." I was unaware that this seemingly impossible conundrum had been solved, but apparently there are a lot of smart people all over putting thought into this enigma--not just at Google and Facebook. Their mentor was Misiek Piskorski, a professor at HBS at the time (he's now teaching at IMD Business School). Piskorski is an acclaimed expert on social networks and most importantly, how companies can leverage profitability from same.
After the trials of HBS, the pair first started Mind Armada, which was a social network designed to connect MBAs from top schools with small businesses. When that didn't take off, Meric started IvyDate as a dating service that brought people together romantically and finally developed it into the bigger idea of IvyConnect.
Meric told me, "There really wasn't a first day of IvyConnect. After beginning our collaboration at HBS, we've been working on this ever since. If you're so passionate about something, you just put everything you've ever learned into it."
Triebel added, "We launched and took the IvyConnect site live 2013; we really spent a lot of time and attention to detail in building the platform using our in-house team." I found the website clean, sharp and easy to navigate.
IvyConnect is not just for Ivy League graduates. But it certainly is for those with a special talent, drive and ambition, who want to connect and push forward their careers, businesses and lives with special and specially-developed content--lectures, museum tours, concerts, parties and events with others. "These are very curious people who love to travel and go to our events in other parts of the country," Meric told me excitedly. Now, IvyConnect members can attend Ivy events in NYC, Chicago, Washington, LA, Boston and San Francisco. Soon, as the man behind Ivy events and global expansion, Meric will hit the road internationally.
Now, the "Social Platforms" like Facebook, Match.com and even virtual retailers like Amazon have never been good at what I would characterize as "real-world, bricks-and-mortar--not virtual only--events" for their customers/users. In fact, they've ignored them completely.
Though we've seen some initial attempts at rectifying this, with real, Amazon stores popping up and Match.com cooking classes--it's not enough. I see a massive migration of humanity beginning: People are growing tired and bored of these fruitless, sterile, cold and impersonal online 'relationships.' They are not relationships at all but 'connections' with no lubrication; no reason to check-in and 'see how you are' or say to another real human being who can hear your voice, "let's have a beer, whisky, coffee, tea" or anything at all. It's not real.
So the "people," as I like to call them--not "users" or "browsers" or "eyeballs," "web traffic" or "UMVs"--are moving back to real, personal and offline relationships.
And the online-only social networks will have to follow suit or risk extinction in their virtual cocoons. This is why we see them coming back to join us in reality with real-world events. This real-world connectedness is one facet of the IvyConnect strategy which I've identified as spot-on.
Connecting and empowering "friends" online is the clear raison d'être for Facebook and all but belly-up predecessors Myspace and Friendster. "Philipp and I were both born in one place and then, moved to another. We both became adept at making new, best friends. When we talk about lifelong, collaborative bonds, it's not just an abstract concept," Meric opined. You mean like the lifelong, collaborative bonds that always come out of Facebook? I think not. IvyConnect is seeking to build deeper, more meaningful relationships cemented in a drink and great lecture, art exhibition or pool party.
"It's not the numbers of the social network that are important," Triebel cautioned, "but the depth of the relationships that is crucial. We interview all IvyConnect members, so we get to know their goals, aspirations and dreams. That's the power of IvyConnect: we help our members reach their goals by facilitating connections and introductions."
As IvyConnect is what I would call an "event top-heavy" organization that sees its success as wrapped around putting on fun, lavish events for their members, I knew I would have to attend a few in order to write intelligently about them.
So the first IvyConnect event I went to was just before Labor Day weekend this year and was called "The Hamptons Pool Party & BBQ presented by Cadillac."
A small start-up like IvyConnect can't afford to put on the kind of exorbitant events they do without sponsorship money and Cadillac is the perfect sponsor. Providing brand-new, loaners with the stickers just removed, Escalades and other snazzy Cadillacs for member use and display around the pool; there were also educated, sophisticated ladies showing IvyConnect members all the luxury and performance these cars offer.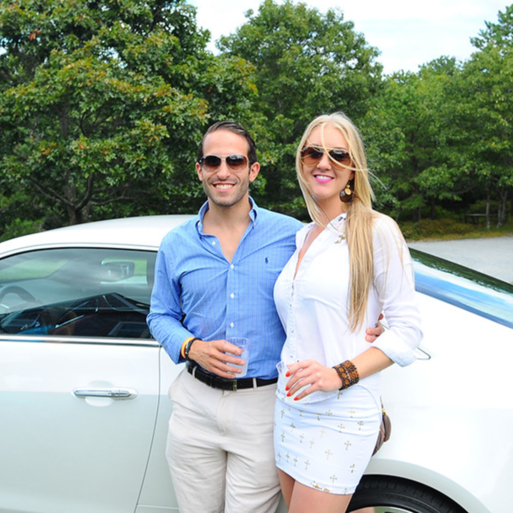 Held at a private estate, there were Friday sunset cocktails around the pool; the Saturday pool party and BBQ with open bars all around, all day long; and finally on Sunday, a splendid poolside brunch. One element of IvyConnect is their interest in charity and philanthropy--helping others. On Saturday, they held a successful "charity soiree" for "Building Blocks for Change." Meric told me, "We want to have a positive impact on the world, People like us care about helping our community--kind of an 'IvyGive.' Ultimately, people are looking for new relationships but giving back can be the best feeling."
This event was spectacular.
"We wanted to bring people together!" Beri Meric said ... and so, they do
Afterward, it occurred to me what a funny old world we live in. While publishers, advertisers, digital media, corporations, social networks and it seems all commerce are chasing their tails trying to create "content" to "engage" their audiences, all you really have to do is bring people together with your brand and create the right environment to make friends. This is IvyConnect's USP (unique selling proposition).
The second event I attended was entitled the "NYC Salon Discussion & Cocktail Reception: Life By Design" and featured Barry Schwartz, professor of psychology at Swarthmore College and author of several books including, "The Paradox of Choice: Why More is Less."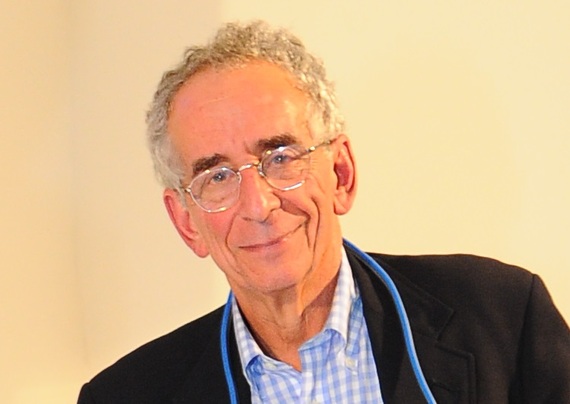 Schwartz was outstanding, with none of the professorial pontifications omnipresent with academic lectures. I'm paraphrasing here but Schwartz opened up with words similar to, "I understand you all here tonight will be running the world someday ... and that's great because the people running the world so far have really fucked it up!" The young cell of audience members, having been satiated with exotic drinks and hors d'oeuvres, responded with laughter and chatter. Schwartz had warmed them up and held them at rapt attention with his common sense observations. Another rousing event success for IvyConnect.
Just so you don't think these two events I attended were flukes or put on especially for a member of the press, take a look at one recent, busy run of IvyConnect events:
• September 4: Salon Discussion in Boston -- Beethoven & Brotherhood: The Enlightenment vs. 21st Century. Harvard Professor Thomas Kelly lead a fascinating discussion about the historical and cultural significance of what is perhaps the most famous piece of classical music of all time - Beethoven's Ninth.
• September 5: Salon Discussion in New York -- Films That Changed America. This was an unforgettable salon discussion led by legendary Yale Professor Mark Lapadula! A great group of members came together to view and discuss some of the most pivotal moments in American film and examine how film has impacted the course of American history.
• September 9: Salon Discussion in DC -- "Genius of Duos." Members came together for a fascinating discussion led by renowned author Joshua Wolf Shenk regarding the Genius of Duos.
• September 12: Art Gallery Reception in San Francisco -- The Subliminal and the Sublime @ The McLoughlin Gallery.
• September 13: Polo Game in New York -- 30th Annual Harriman Cup Polo Match.
• September 18: Cocktail Reception in New York -- End of Summer Cocktail Party @ Mercedes Club.
• September 19: Art Gallery Reception in Boston -- Private Art Viewing & Cocktail Reception @ Adelson Gallery. Our Members enjoyed a private art viewing and lavish cocktail reception featuring the incredible works of artist Sam Earle and his exhibition "Circus."

• September 23, 24, 25, 29: Advance Film Screenings in DC, Boston, LA & New York -- Special Advance Screening: Men, Women & Children. We partnered with Paramount Pictures for a special advance screening of MEN, WOMEN & CHILDREN by award-winning director Jason Reitman (Juno, Up in The Air, Thank you for Smoking). This thought-provoking film follows the story of a diverse group of individuals as they attempt to navigate the many ways that technology has changed their lives. These screenings were presented by Cadillac.
• September 28: Salon Discussion at RAND Corporation in Los Angeles -- The Future of Justice: Danger, Data, and Deterrence. This will be a highly engaging private salon discussion at RAND HQ, entitled "The Future of Justice: Danger, Data & Deterrence" led by renowned preventative policing expert Jessica Saunders.
• September 30: Salon Discussion in Boston -- Art & Science of Giving Salon and Cocktail Reception featuring Nicholas Kristof. This was a fantastic evening with an inspiring discussion around the art and science of giving, led by one of today's most beloved human rights advocates. Kristof will also be signing copies of his new book, "A Path Appears."
• October 2: Launch event in Chicago -- Private Cocktail Reception & Salon Discussion. This was a special Cocktail Reception and Salon Discussion featuring a fascinating keynote from world-renowned psychology expert Dr. Catherine Sanderson as we launched IVY Chicago.
• October 7: Private Supper Club Dinner in DC -- Top Chef Supper Club @ Béarnaise. This supper club was hosted by world-renowned Top Chef Spike Mendelsohn.
But Meric & Triebel didn't build IvyConnect alone.
Bo Kim is a dazzling young lady with a steep background in consulting and corporate operations for top brands like Accenture and Avon. She is also VP of Business Development for IvyConnect.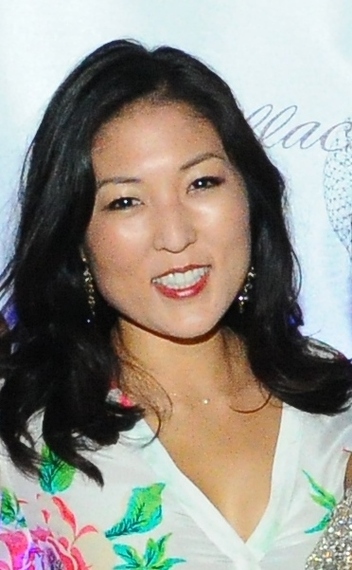 As a way of elucidating me on how much fun she's having, Kim told me about the differences between working for a far-flung, global organization and a start-up such as IvyConnect. "The greatest challenge of a start-up is the resource constraint. Start-ups have much fewer resources. This forces us to think out-of-the-box and look at different avenues; attack different channels. This is the real difference between the big organization and the start-up." And Kim is clearly enjoying her work as one of IvyConnect's earliest employees. "Bo is very business-savvy, a strategic thinker and great at building relationships," Philipp Triebel observed.
I like the real-world thrust of IvyConnect in this online, virtually-connected--insane--world of ours. I think these kinds of truly reality-connected businesses will save humanity. And, that they will put the 'humanity' back in technology.
So as IvyConnect expands in America and soon internationally, Meric and Triebel keep their friendship front and center. Meric concluded beautifully, "It's rare for best friends to create something special that makes new best friends among others and then, makes us, Philipp and I, even closer."