Let's say you're in the market for some new Home Decor products because you've just moved and are looking at wide expanses of empty hardwood floors. You're scouring the web for nice sofas, chairs, drapes, lamps and other accessories for your new home. And you have a theme with patterns in mind.
Let's say you find a sofa that's perfect in size, style and form for your needs on the IKEA website but you don't like any of the patterns. When you've seen the pattern you wanted--if you've seen it elsewhere--the sofa is all wrong. So you want the IKEA sofa with your pattern. Can't have it.
Or, perhaps you're creating an Impressionist motif in your living room and want a Monet pattern lamp. You can't find one. Can't have it again.
Wouldn't it be nice if you could have the home accouterments you want? Well, here's why you can't ... yet.
For time immemorial, designers have had a huge distribution headache: getting their hard-fought designs into production with manufacturers of the products that would bear them. They had to be mini-Marketing machines; targeting the precise right products on which their designs could ride; kick-in those doors to start those conversations; negotiate the deals; quality-assure production; and so on ad nauseam.
Then after all that was done successfully, they were pillaged on the royalty end by a greedy supply/distribution chain which gave them only a teeny percentage of the profits. They were literally taken to the cleaners as too many middle men shared the pie.
And then, the manufacturers had to ensure they weren't making too many of certain patterns lest they get caught with their inventory pants down, which puts more businesses out of business than anyone can imagine.
Finally, the distributors have always tried to tell--no, demand--of the designers, designs they thought their customers wanted but we're frequently wrong, then leading to the designer's sales suffering.
Well, Henry Lo has got a solution for all these headaches ... simultaneously.
I interviewed Lo extensively for a "TechScape" column I wrote on him and his company, Solid Line Products ("Turning Your iPad into Bizpad") in November, 2011. At that time, Lo had told me excitedly about how he not only was providing innovative cases for iPhones and iPads unavailable elsewhere but that he was seeing unusual activity in terms of his customers wanting to personalize their cases themselves ... to design them their selves.
Lo was looking forward to expanding the personalization abilities of his company's product line and this was a big topic of conversation between us. He was right in the throes of a new company forming, one which would afford his consumers the option of completely designing their products, cases initially, or of what I would call 'micro-licensing' well-known designers patterns for all of their products. All of a sudden, Lo found himself embroiled in a new, previously unknown world of enabling consumers to have real choice and their own choice too.
Little did he now it would take him almost three years. But Henry Lo is a patient man; a methodical man.
Keka is Lo's new creation and he's already signed-up more than 1,500 designers to provide their designs including thus far, sofas, chairs, lamps, dishware, pillows, coasters, travel bags and growing. The vehicles for Keka's design network to rise are limitless. "Our designers are the heart and soul of Keka, where we have one of the largest communities of licensed surface pattern and fashion designers from around the globe," Henry Lo said. "Our award-winning designers create for leading brands such as Vivienne Westwood, Alexander Wang, Kate Spade, Oscar de la Renta, Calvin Klein and many others."
"In 2012, I was attending SURTEX in NYC," Lo recalled, "and that was the real opportunity eye-opener for me." SURTEX is the largest trade organization for pattern designers and shortly after Lo's experience there, he started the thinking path that begot Keka. "We chose Home Decor because it's brand agnostic. When people buy a chair, they want a Herman Miller chair but don't want to pay that much; so they buy a replica that's just as good."
But the most important aspect of Lo's vision for Keka, I think, is the consumer seeing the exact pattern they want on the product they want and that new dynamic empowering the entire design community that Lo's building. It is all about the designers but the consumers are driving that innovative designer success.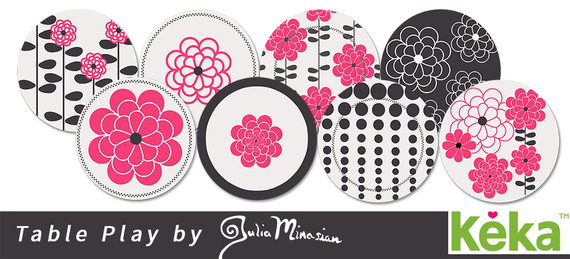 Julia Minasian-designed, Keka dinnerware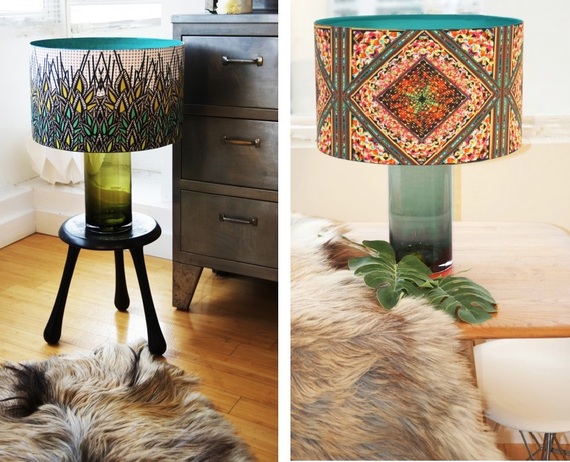 Keka designer' lampshades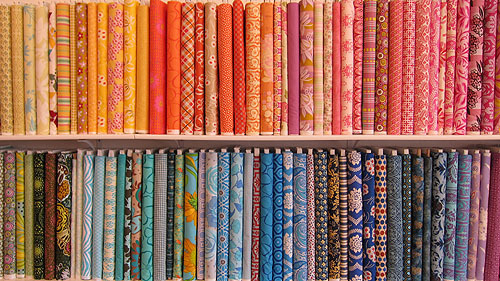 Keka desginer fabrics for any soft goods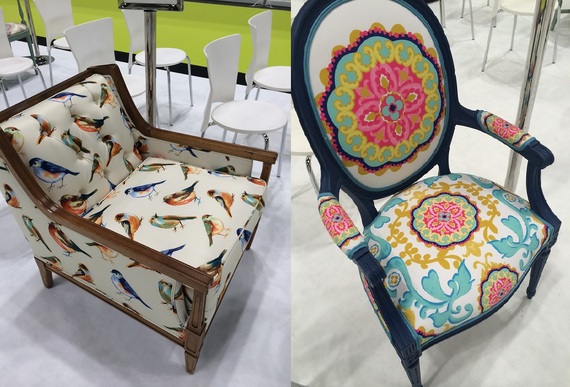 With Keka, you can have home furnishing designs that nobody else can have and/or design them yourself
But Henry Lo isn't a Design guy learning about Technology. He's coming at it from the other way around. He's very much into "The Long Tail," a retailing strategy proved successful by Apple, Amazon and Yahoo! "Not only is it a long tail," Lo told me, "but it's also wide in terms of all the designs that we can make available. We see ourselves reinvigorating manufacturing of all kinds while on our main mission of promoting designer's designs."
"I'm all about wiping out the inefficiencies in the marketplace. Keka helps our designers sell more products and get their designs on more stuff, and then help consumers buy more products with the designs they like on them. Because pattern outlives product life-cycles, Keka technology is enabling new markets."
Shooting for nothing less than "the Democratization of Design," as Lo refers to Keka's mission, Keka has stealthily gone from 12 Keka' designers in 2012 to over 1,500 today. Lo sees the opportunity for designers to create Keka ' collections carrying their designs as having huge dimensions. "Soon, we'll have 2,000 designers with 10 designs each that equal 20,000 separate designs and then when they're printed on 100 different products, we've got 2,000,000 beautifully designed products," he predicted.
"The first marketing message was to the designers," Lo said, "I think we accomplished that. The second message is to the consumer end, and get them all saying to themselves, "I can't wait to share that design--or my design--with my friends!' The third message is to Merchants/Retailers/ Distribution."
Henry Lo takes an anarchistic, almost grass-roots approach to Keka's business evolution. "It's very disruptive how Keka and our designers challenge internal design teams which are being told by corporate marketers what they have to design. Let the people decide, let the consumers decide, let the crowd decide.
"We're opening up high-end fabrics to the 3D printing renaissance that's going on right now. The product is growing right now, whether the printing pattern is on fabric, stainless steel or porcelain. The problem we're is solving is that consumers are confronted with too much choice when it comes to design choices. Keka connects consumers with the design choices that speak to them, and for them! The Home Decor sector is dependent on the supply-chain for choice. So we create more ways for individual designs to go to market."
And traveling to market with Lo and Keka are his beloved designers. "We're taking designers from their niche to whole new categories," Lo exclaimed, "Who's to say what designs are best? Let the crowd decide. At Pottery Barn, you can only buy the designs Pottery Barn likes."
What's Keka's competitive advantage against a monolithic Pottery Barn? "How can a Pottery Barn' internal design team, out-design Keka when they have such a huge cost structure and we don't?" The answer of course is Pottery Barn couldn't; Keka is like a large crowd-sourced army of designers.
Lo's Keka has offices in San Francisco and London with eyes on opening a new NYC office soon. "We have an infrastructure of 10 employees to keep everything going but we sell a virtual product that's real. So unlike the big retailers or big designers, we really can answer the consumer question, ' How can I get something I want quickly in three days from design-to-doorstep?' We're building a 'MOMA meets Dell' type company in Keka."
"Our success is really through the success of our designer community," Lo concluded, "If they can succeed by selling a entire collection through Keka ... BOOM!"