Since entrepreneurs came out of caves, looking for tracks and scrounging for food to eat, tracks of prey--or leads for sales have been crucial to the survival of man and our businesses.
Good ones--leads, that is--are always rare, hard to find and hard to come by. After all, as I always say, "I've never met a small company without a sales and distribution problem."
And an early, big key account win or strategic partner can make or break a small or start-up business. It's that simple.
So how have these struggling, industrious, brave-hearted people been getting their leads to crucial new business? Going to conferences? Yes. Targeting big players in their sector? Yes. Striking up conversations with strangers? Yes. Buying lists of all descriptions; telemarketing, email, whatever. Yes.
But has this worked for them?
By and large ... NO.
And the CRM revolution has been nothing more than hope dashed. Little more than a more complicated Act!; a place where potential customers' data is still input manually, Oracle's, Seibel Systems' and Salesforce's expensive CRM products can't help close any prospects. They can't even help paint a clearer picture of who's to be targeted.
So what are the activities, the tasks, the extra things that these programs might do to actually get one (or three) steps closer to automating the Sales & Marketing process through software?
**Data Mining
**Self-Populating the program with fresh, personal information about each prospect without having to manually enter each bit of info
**Predictive Analytics
These three things, in my estimation, will go a long way toward creating and refining the process of converting targeted lead to customers.
"In Israel, the army (IDF) comes and collects you at age 18," Amnon Mishor told me. "I was part of the elite intelligence unit, '8200' which became the Harvard/MIT of the Israeli military. Back in the early 2000's, we went through all the 'Big Data' solutions before industry did. It was a big, unstructured data revolution and there was no room for mistakes on our part--it was national security. You can't just use one algorithm for national security; you need to find unique approaches."
"I was on the side that really uses the technology and was kind of the Product Manager. When I left the army seven years later in 2003, I went into the business world and told everybody I met that I wanted to do the same things I did in the army ... except without the uniform."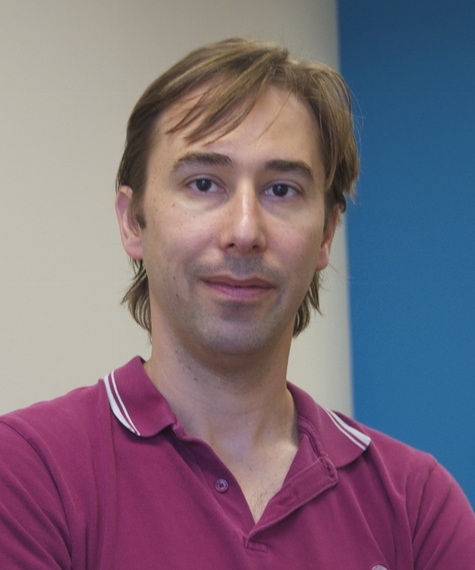 Mishor didn't strike me as your run-of-the-mill tech geek; quite the opposite. Three seconds into a conversation with him however, it's readily apparent he knows and loves his technology. "I was always more intrigued by the problems of big corporate," he told me, "I saw the gap between the professional user and the data he had access to and the gap there. The opportunity was to employ back-end semantics technology to solve the big, unstructured data problem."
In 2007, Amnon Mishor co-founded Data Essence with Yaron Karasik, at the Technion Entrepreneurial Incubator ("The Technion," is the first Israeli high-tech university has been referred to as Israel's 'MIT'). The Technion Incubator was heavily supported by the Israeli government and funded by Battery Ventures and Vertex, another Israeli investment firm.
As a little luck and a lot of investor interest in Big Data start-ups would have it, Mishor, Karasik and Data Essence received about $1 million in seed funding from Battery and Vertex through the incubator.
Then as funds began to run low later, Mishor told me, "Going into 2009, at the worst possible time to raise venture capital, Data Essence was forced to rethink our app and reinvent ourselves. Leadspace started in 2010 and evolved from the semantic and web mining technology we developed at the incubator. But then, we needed to raise its Series A round of capital," Mishor recalled glumly.
In July of 2010, the converted Leadspace nailed $3 million in their venture capital Series A round from Battery and Vertex (again), Technion Seed and Jerusalem Venture Partners as a new entrant. Mishor told me, "We were grateful to Scott Tobin of Battery, who felt that the DNA of the team that had proved itself to them before was a good investment again. We knew how to sell and they knew that."
"Another guy worth mentioning is Yochi Slonim, who was one of the founders of Mercury Interactive (sold to H-P) and Identify Software (sold to BMC for $150mm)" said Mishor. "Yochi really helped us to choose the new direction--he had very strong feeling about the problems in B2B sales and marketing that he experienced as a CEO and saw the connection between our platform and how it potentially can solve these problems. And, he served as Chairman of Leadspace in the early days."
"What Leadspace really does," Mishor told me, "is help our clients understand and engage their buyers better. B2B is about finding a very small group of customers who really care about your product and then separate them from all the big noise and gigantic numbers of people who don't care about your product."
At this point I bring up the program I always used in the olden days, Act! The old contact management software is still alive and Mishor likes the analogy. "If we talk in the larger context than Act!, we're a larger product in our space. We're helping clients understand that you can't solve everything with statistics. We're more humble. We ask our clients to tell their buyers stories; to key-in on the personal characteristics of the decision-makers."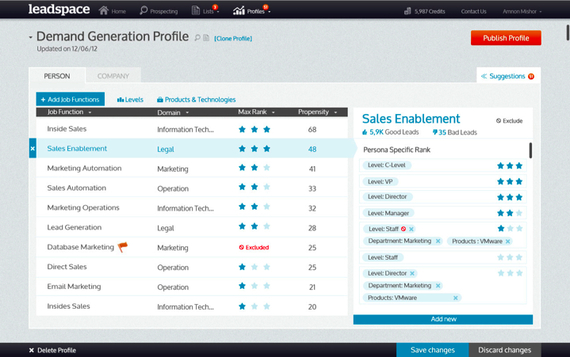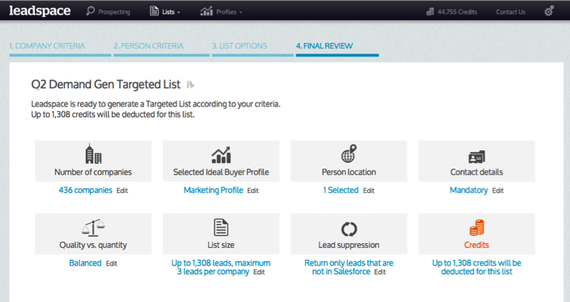 Mishor continued, "We look at the people who have bought before. Create a profile of those who bought before; employ Predictive Analytics; create a virtual database. Every time you need more data, we go out and do a search--not just a Google search as many salespeople do--but we use the Social Web to get fresh data that's not old, not stale. We focus on the B2B buyer at first. 'Predictors' tell us what a person is like such as signals. We learn the profile of your ideal buyer and then help you reach them."
With clients such as Oracle, Autodesk, Citrix, SAS, IBM and over 100 others now, Leadspace is a lead-generation product with which to be reckoned.
And if the Leadspace' success at getting blue-chip clients isn't impressive enough, consider their latest C-level hire, CEO Doug Bewsher. He's the former CMO of Skype, CMO of Salesforce.com, SVP of Digitas and Global Director of Customer Marketing for Vodafone. If there's a better background or more qualified guy for the leadership role at Leadspace, I don't know what or who that might be.
Bewsher told me, "Amnon and the Leadspace team have turned a unique application of intelligence-gathering technology into one of the most effective solutions in the Big Data and analytics space. Now, Leadspace is on a similar trajectory as companies like Waze in becoming industry 'unicorns'--$1 billion businesses that have succeeded by moving beyond just technology to providing complete solutions that solve real problems. Leadspace is bringing that same business focused approach, backed by military-grade capability, to B2B demand generation, a market which desperately needs a truly transformative product which gives marketing and sales teams the ability to rapidly generate new pipeline and grow revenue."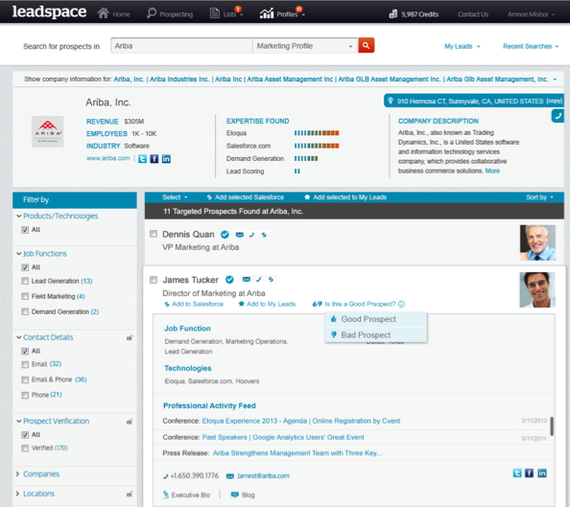 What's the product vision perspective moving forward? "We really strongly believe that there's a real gap on the dashboard of the CMO," Mishor said. "There's no one system that you can ask to describe your perfect buyer. We think this next step will be powered by the Social Web. Today, we are working on a focused, socially-powered, demand-generation platform. How do I create demand? Who are my clients? How do I engage them? Leadspace helps you understand your ideal customer in a way you never could before."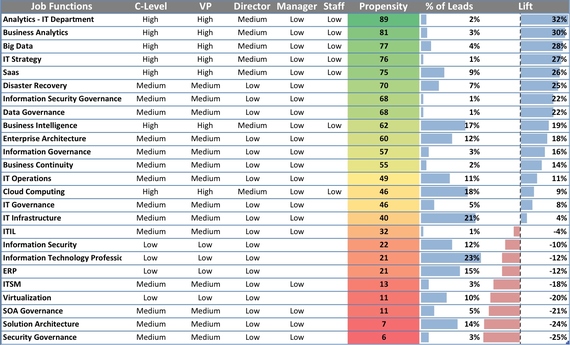 I asked Mishor about the "Lift" and "Propensity" metrics in the Leadspace system. "We created a new grid; a good model that really describes your customer with more specific attributes. We use rich attributes to obtain a meaningful way to approach potential customers. We thought, 'let's put some more science into it.' 'Lift' is when a client who doesn't use Leadspace might have a sales conversion rate of, say 2%, then with Leadspace gets a 4% conversion rate. That equals 100% Lift. 'Propensity' is predicting the probability of a lead to convert into a qualified sales opportunity. Typically we compute it as a "lift" - comparing to average conversion rate. We of course, use the unique social-based insights and predictive model of "Ideal Customers" to support this prediction."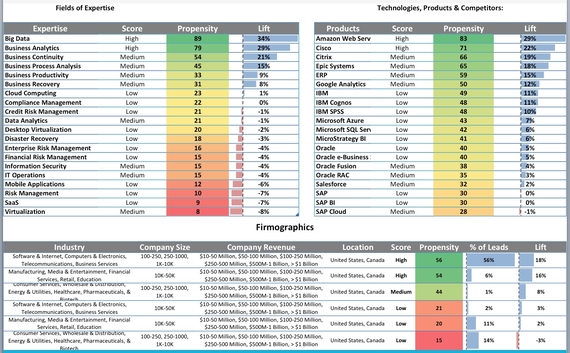 "It's very hard to get a good statistical model in B2B," Mishor observed, "and finally, getting Marketing & Sales aligned, so they both have the same vision is key. We call our system, 'Pandora for leads' because it allows the salespeople to feedback to the system and Marketing about the leads."
What lays ahead in the future for Leadspace?
"We really want to grow aggressively. We want to capture market share. We're almost tripling our revenue year-over-year, so will be seeking a Series B round of funding soon to fuel growth."
"I'm doing what I like most and what I'm good at," Mishor concluded looking inward, "my heart is really in Leadspace. Do I get tired and are there fires to put out and crises? Yes. But from my humble and small perspective, I'm making a difference by doing what I love."
And that would seem to me to be a golden key to success.